Interview with Elisabetta Geppetti
Le Pupille, Maremma
Elisabetta Geppetti has been making wine in Maremma for twenty-five years as the head of the Fattoria Le Pupille in Morellino di Scansano territory.
She was the first chairperson of the Consortium of Morellino di Scansano and the first woman to achieve the award from the German magazine Der Feinschmecker and Wein Gourmet of "Winemaker of the Year".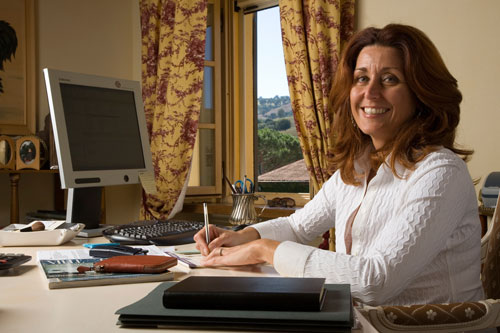 Elisabetta Geppetti in her office at Fattoria Le Pupille
Sufficient reasons indeed to seek an interview with her as a woman winemaker in Maremma, but when I learnt that she was also the owner of a restaurant and wine bar and the mother of five children, I was more than intrigued and had to ask her if she would be willing to tell me something of her story.
And she was. I visited Le Pupille one bright March morning and met her and her lovely staff.
The interview
You have been making wine in Maremma for over 20 years: what made you decide to choose wine as a career? And what have been the high and low points for you during that time?
I have always had a passion for wine since a young girl. When I was 17 years old I met the man who became my husband a few years later. His family owned the estate Le Pupille: a classic Tuscany farm producing many things from vegetables to cows and sheep, with wine in between. After a couple of years when I was about twenty, my father-in-law died and I managed the first harvest alone.
From that small Morellino vineyard, over almost 25 years, Le Pupille now has almost 80 hectares of vines. It was difficult in the beginning. I was so very young and a woman. People in this land did not treat me in a serious way. It is an area characterised by men as is the agricultural business generally speaking. So in the beginning it was not so easy. But I was animated by a great passion and wanted to reach to the top of the wine. So this helped me a lot in this male world.
You were among the founding members of the Consortium of Morellino di Scansano and its first Chairperson. How did you find that role?

I believe that I was chosen amongst other wine producers to be the first chairperson because my winery was already successful in 1991. At that time wineries here did not have such a great success. During those years the area was not known and to sell Morellino was not so easy.
What unique dimensions do you feel that women bring to winemaking?
I don't think that we can make a distinction between a wine estate run by a man or a woman. I think that generally speaking, women are more strong than men, more passionate and so dedicate themselves to a great passion.
But specifically in producing wine with state of the art technology, I don't think that there is such a great distinction between a great wine produced by a woman than that produced by a man. Attitude is the driving force.
What advice would you give to a young woman starting a winemaking career and wanting to make it to the top?
A difficult one. I have four daughters so, this is pertinent.
To put all the effort to reach the top of the quality that means sometimes you must take very difficult decisions. Not so easy to make.
Then to work hard in the vineyards because it starts from there.
Nowadays it is more and more important, sometimes more important than the quality, to make the show - to be good in PR. When I started I used to spend a lot of time in the country and take part in the harvest and now all those things have disappeared. Now my time is spent traveling and attending tastings and talking about wines and showing my face. This part of the job is probably the most difficult for someone who is young.
How do you achieve a balance between being the head of Le Pupille and the mother of five children?
It is not easy.
Tell me about the award of "Winemaker of the Year" in 2006 - you were the first woman to receive the award.
It was a very big emotion. Probably the biggest in all of my career because it is an event organised like that of the movie world. There were all of the different categories in five nominations. It was a costumed event held in a very important medieval castle between Dusseldorf and Kirn, with 1,500 people from all over the world together with well known wine journalists. One of my daughters was with me and she was crying.
What are the challenges for Fattoria Le Pupille over the next 10 years?
Now the market is very difficult. It is a big challenge. This is the most difficult moment I have passed through since I started my job many years ago. There is very important financial crisis in the world and in the wine world too, It is a struggle to keep your market without loosing too much in price and quality too.
Do you that wineries should play an active role in attracting tourism to Maremma? If so, what?
Yes. It could be one more thing to help people better understand this unbelievable land. It is such a beautiful and fascinating place, but it is not so well known. Few people know Maremma. It has become better over the last five years, but we still have to work hard in this direction.
What I think is that wine could be something to attract people to this area.
What Maremma wines would you recommend to someone contemplating purchasing them for the first time? And what foods would you pair with them?
Morellino di Scansano. It is the only wine that is part of the tradition of Maremma. Now more than before, people have to have something linked to the past. In this way, Morellino di Scansano is the oldest DOC from this area - it was established in 1978. Whereas the Monteregio di Massa Marittima DOC was established more recently. Even before the creation of the DOC area, between Scansano and Magliano there was a big tradition in producing a grape and wine of Sangiovese local people used to call Morellino.
For the Morellino di Scansano (to be drunk in the year of production), I would suggest a fish cooked with tomatoes as is traditionally prepared along the coast at Orbetello. There they make a wonderful fish soup with onions and garlic called "Caldaro", which is similar to the French Bouillabaisse.
With the Morellino di Scansano Riserva, a special food coming from medieval times, typical of this area and a different way of cooking from old Tuscany: Piposo. The heart of a fillet of beef covered with pepper and cooked in wine.

What do you consider to be the top three wines from Maremma?
If you are thinking of wines to drink now, then:
Saffredi 2001
Avvoltore 2004, and
Carlo Baccheschi Berti Terre di Vico 2004
Three reds as Maremma is the best expression for red varieties.
And, lastly, what is your favourite place in Maremma?
My favourite places are Isola di Giglio and Isola Giannutri: I cannot choose between these two islands that I love.
---
My thanks to Elisabetta for her invitation to tour Le Pupille and for finding the time for the interview.
Visit the Fattoria Le Pupille website - www.elisabettageppetti.com - for more information about the wines, the vineyards and the winery, and to book a wine tasting session with them (at a cost of Euros 20,00 per person).
Elisabetta Geppetti
Fattoria Le Pupille
Piagge del Maiano, 92/A
Localita Istia d'Ombrone
58100 Grosseto
Tel: +39 0564 409517 or 409518
Fax: +39 0564 409519
email: info@fattorialepupille.it

Elisabetta's wine bar and restaurant is called Rosso E Vino and may be found in Piazza della Palma (Via Colombo Cristoforo, 4) in the historic centre of Grosetto in Maremma. Tel. +39 0564 411209.