A Maremma Farmhouse for Sale in Tuscany
Unique real estate Tuscany Italy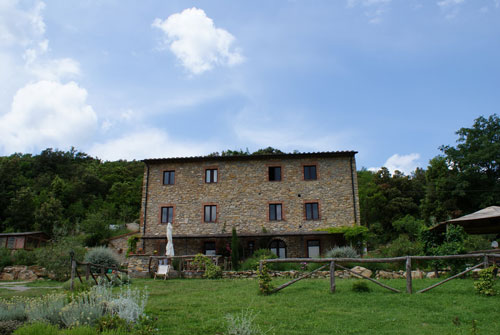 This unique farmhouse for sale in Tuscany is one of the special Maremma real estate properties that I am delighted to showcase in my guide to Maremma.
I have visited the "azienda" - farmhouse - and the words below are mine combined with the specific information such as the size of the building and hectarage of the land that the owner and agency have provided.
If it captures your imagination and you would like some more information about this property or other farmhouses for sale in Maremma Tuscany, please contact me via the link at the bottom of the page.
The farmhouse is an "azienda agrituristica", a combined farm and agriturismo farmhouse holiday property, best described in Italian as "rustico classico toscano". A classic Tuscan country farmhouse located deep in Mediterranean macchia reached by a four kilometre asphalt country lane. Situated at 200 metres above sea level in the locality of Frassini near Monterotondo Marittimo, it has spectacular uninterrupted views of the Maremma countryside. Now when I say spectacular I don't just mean lovely: see below.
Short drives away are the wonderful medieval cities of Suvereto (8 kms), Campiglia Marittima (15 kms) and Massa Marittima as well as the beaches in the Golfo di Follonica and along the Costa degli Etruschi (Etruscan coast). You will need to cross a wooden-slatted bridge over the Val di Cornia river to reach them! An experience in itself!
What was an abandoned and ruined farm with no roof and some land fifteen years ago has been transformed with a foresight for sustainable and ecological living, passion and hands-on hard work by its owners into a 100% organic farm, now with farmhouse holiday apartments and extensive land set to olive groves, lavender fields, cereal crops, bee-keeping, and more. Even the African-style sun parasols are made from organic materials.
The Tuscany farmhouse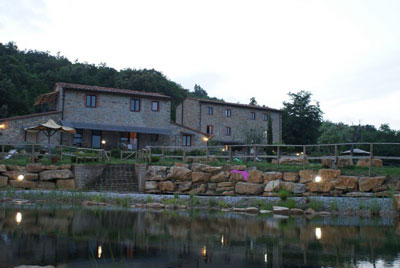 A unique Maremma farmhouse for sale in Tuscany
The restoration of the farmhouse and its hayloft - the "fienile" - has been undertaken using traditional local materials such as "cotto" (terracotta tiles), "travi" and "travetti in castagno" (supporting wooden roof beams in chestnut wood), and sustainable wooden flooring prepared in three dimensions as per the age old practice in local peasant homes.
In total, the property comprise of 500 square metres of accommodation and is licensed as an agriturismo to sleep seventeen people.
The central heating boiler is a biomass one fueled by wood, pellets, corn maize, nuts and wood chips. The hot water system in the hayloft is supplied by three Viesmann solar panels.
The main farmhouse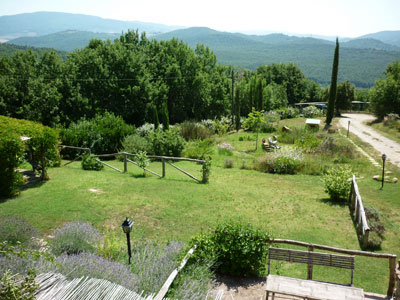 If you have ever dreamed of a large farmhouse kitchen with a Tuscan view, then you won't be disappointed: this one was used as the restaurant kitchen when the owners also offered lunches and dinners. Now it is solely used as the home kitchen.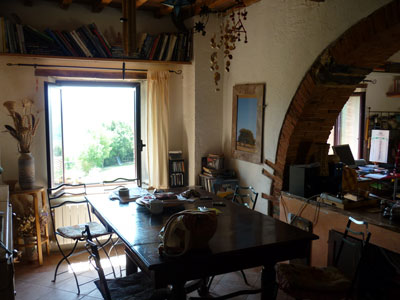 A unique Maremma farmhouse for sale in Tuscany
Each of the guest rooms in the main farmhouse have a private bathroom. The first floor rooms have a private terrace with shady area for sitting out and the top floor room has a panoramic view of the Val di Cornia - the Cornia valley
The "Il Fienile" - Hayloft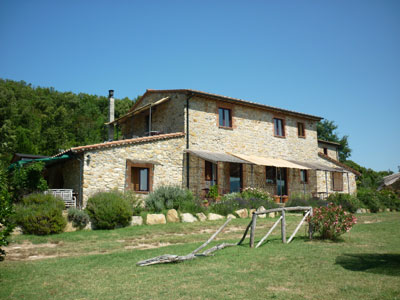 A unique Maremma farmhouse for sale in Tuscany
The apartments in the "fienile" are of two or three bedrooms. Each has a combined living room and kitchen, a separate room, and a veranda overlooking the gardens, the pool and surrounding countryside. Their sun-filled rooms with wooden floors, splashes of colour and modern bathroom fittings combine to make them attractive rental apartments.
For the uneducated such as me, you wouldn't know it, but their design also follows the Feng Shui practices and guests repeatedly tell the owners on the first morning of their stay that they have slept their best night in ages.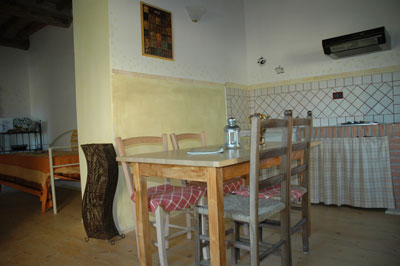 A unique Maremma farmhouse for sale in Tuscany with holiday apartments
The farms "laboratorio" (laboratory) where the lavender products, honey and perfumed candles from the bees wax are produced is also located in the fienile.
The Studio
The studio is a large open-plan room which is used for yoga, relaxation and dance classes.
The land
In total the property covers twenty-eight hectares, with three hectares of olive groves with 700 olive trees some of which are over a hundred years old, two hectares of lavender with 1,500 plants, three hectares of cropland, twenty hectares of woodland and eight bee hives in production.
And for a taste of Provence in Maremma there are two hectares of lavender with 1,500 plants that produce essential lavender oil used in the preparation of the farms own lavender water, massage oil, shower and bath products.
The woodlands surround in the property lie within a protected nature reserve in which it is illegal to hunt the wildlife such as the wild boar that live within them. In this respect, the properties pure tranquility remains undisturbed by Tuscan "cacciatore" (hunters).
The biological pool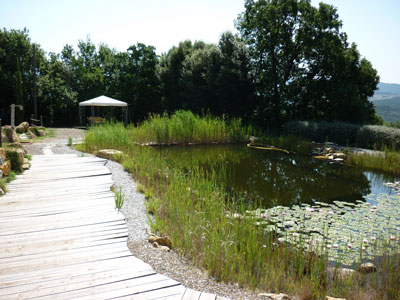 The farmhouse has a ten metres by fifteen biological pond that is unique to the Provinces of Grosseto and Livorno (and probably further). It is totally chlorine-free and simply beautiful in its own right with its floating pink lily pads in full bloom, reeds and hovering iridescent dragonflies. Take a dip in its waters and then catch some sun on the wooden decking or take a siesta under the shade of the awning.
Future potential for the farm
The future potential of this farm is substantial and varied and as such it is an ideal investment property in Tuscany. From constructing further agricultural buildings, building a hot water swimming pool and spa facilities using the natural volcanic thermal energies of the locality, establishing a horse riding and trekking school, or planting a vineyard - the area lies within the Monteregio DOC wine area - and constructing a cellar...
The owners have to hand all of the information you might need about available funding support and subsidies from the local Comune etc.
More information
For further information about this farmhouse or to inquire about other special properties for sale in Maremma in Tuscany etc contact me.
Arrived on this page but have never heard of la Maremma? Then take a tour in these pages and start a love affair that will never end... believe me it happens!