A Farmhouse renovation in Tuscany
waiting, oh so patiently, for the right person to find it
Ever dreamt of undertaking a farmhouse renovation in Tuscany? Then I have a rather special one here for you to day dream over for a few minutes. And then, maybe, take the plunge to find out some more. And then take the next step onto a plane to see it. And then. If it is the right one for you. Against all the most practical reasons why not, to find that you are stood in front of it telephoning home. To tell someone. Someone who will understand. That you are about to take that leap that you always wanted to. And buy an old, stone, farmhouse with a view in Tuscany.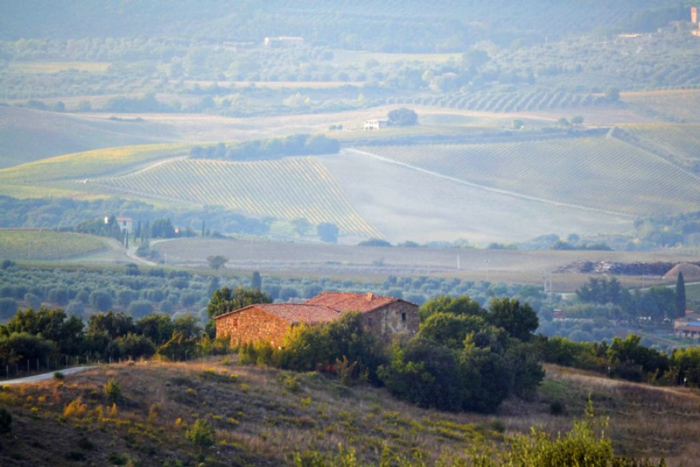 And what a view. Three hundred and sixty degrees of uninterrupted, cannot believe it is true. View.
Surrounded by bright green vineyard after vineyard. And nothing less than a castle as your neighbour on the next hill. With nothing to disturb you but the flutter of Swallowtail butterflies.
A rare find. It is one of the very last unrestored and still standing stone built farmhouses in the Montalcino area. Tuscany wine country at its most famous. With views towards the very special Val d'Orcia valley.
And it is crying out for some love. Big time. Before it is too late.
It is a big property. A lofty 580 sq. metres. That will take some hard graft to shift bucket loads of rubble and dung-filled straw to clear it inside. Leather gloves and clippers to cut through the brambles outside. And skilled hands to repair its roof and walls and give it new doors and windows. But it is doable.
And the biggest hurdle is all done and dusted. For it comes with up to date planning permission. To renovate it. And to make it even bigger. Up to 1,000 sq. metres if wanted. And add a swimming pool.
NOTE. The planning approval can still be modified if it isn't what you would want to do with the property. And with such large rooms and space to play with, you won't be short of options.
Looking back along the lane you have driven to reach it.
The farmhouse.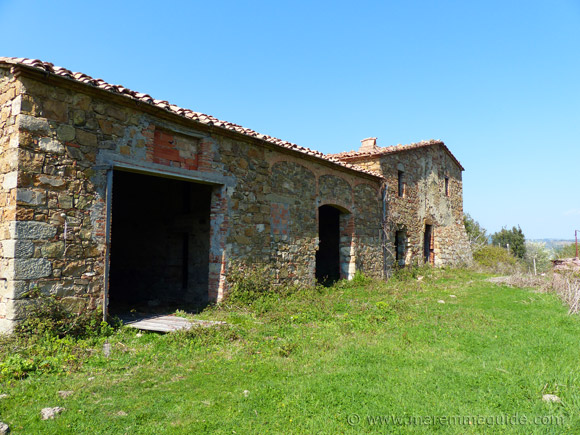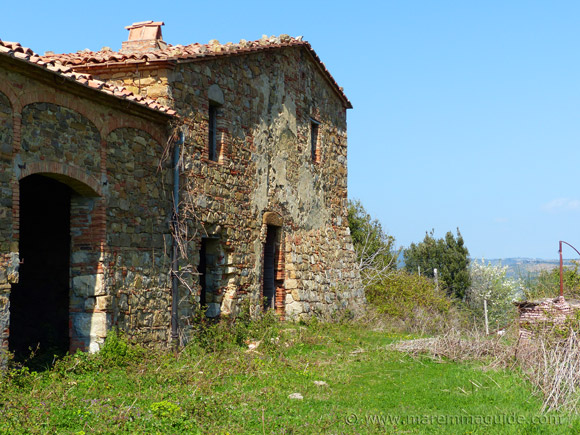 The view across the valley on a spring morning.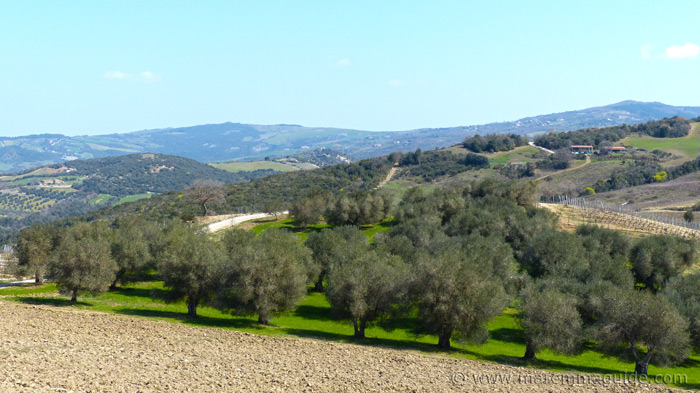 The ground floor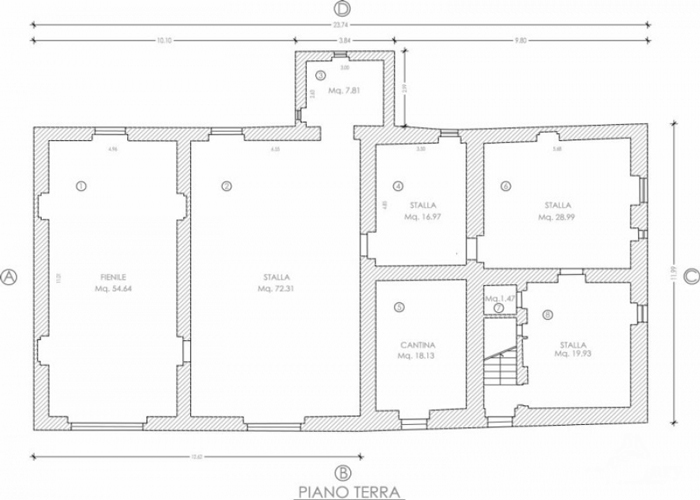 The hayloft
The hayloft - "fienile". Originally a two storey room that today comes with fresh authentic dung!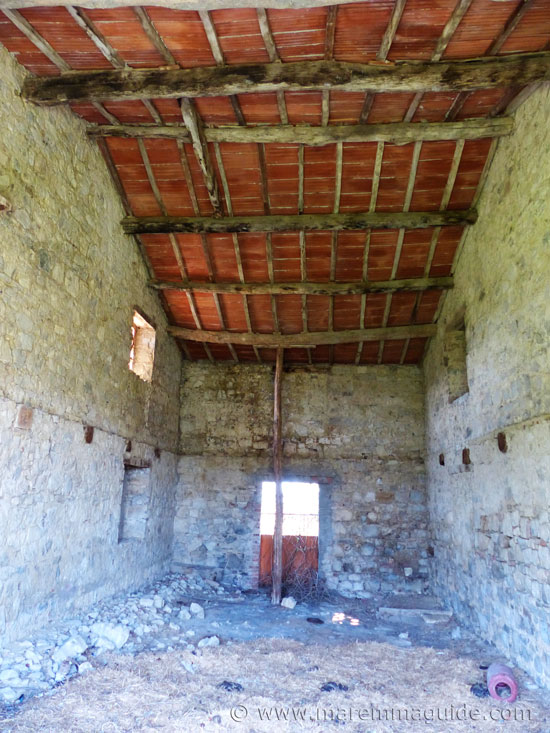 The stables
The first, and largest, of the original four stable rooms. Easily big enough room for a whole, independent, apartment.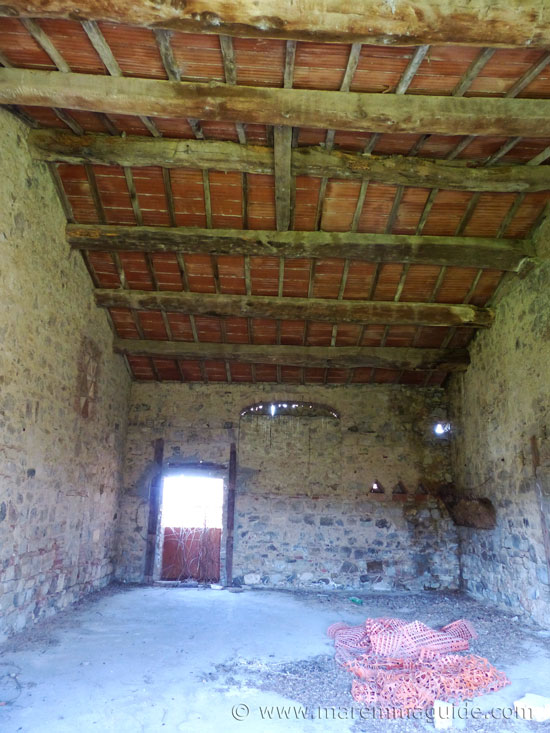 The farmhouse
With four ground floor rooms.
The original fireplace and built-in wood oven.
The first floor
There are five rooms on the first floor.
Going upstairs
The bedrooms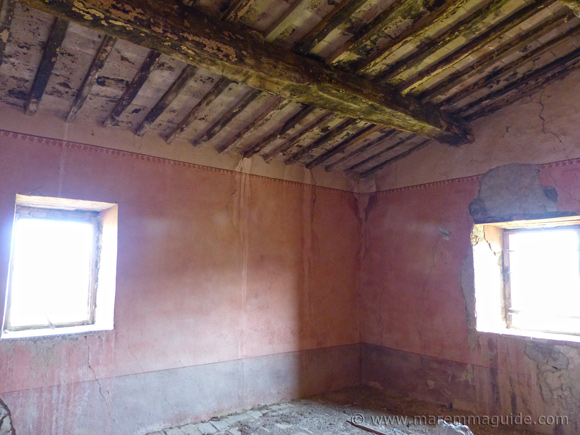 I know that the renovation of this Maremma farmhouse will completely remove all of the original plasterwork. But the details of life that this farmhouse has witnessed - who chose the apricot/pink colour and decorated this room for example - fascinate me. I would leave a little piece in one place as a reminder. I wouldn't obliterate it all. But then I am a romantic at heart. Always have been. Always will be! Even when it comes to buildings and homes.
The view from one of the bedroom windows. To no less than a medieval castle.
Your neighbour on the opposite hill. The Castello di Velona.
The Castello di Velona thermal spa and winery.
This bedroom already has very happy guests!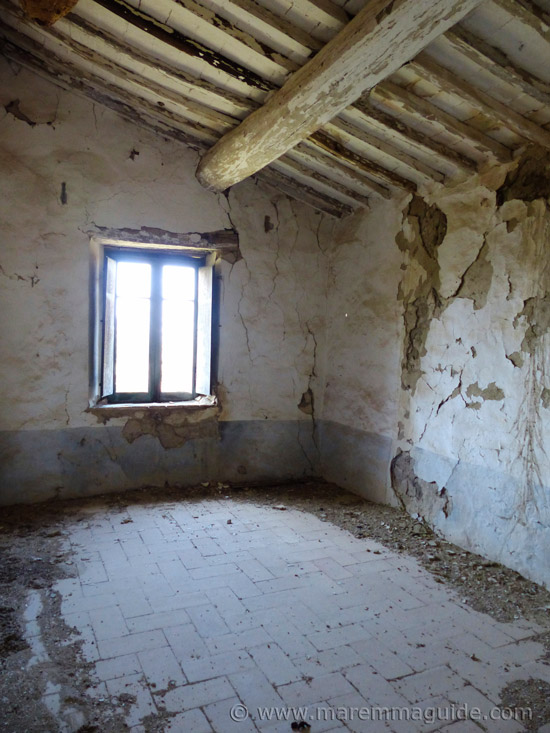 They will need to be evicted I know. But isn't their construction a marvel to look at.
Back outside
The front door.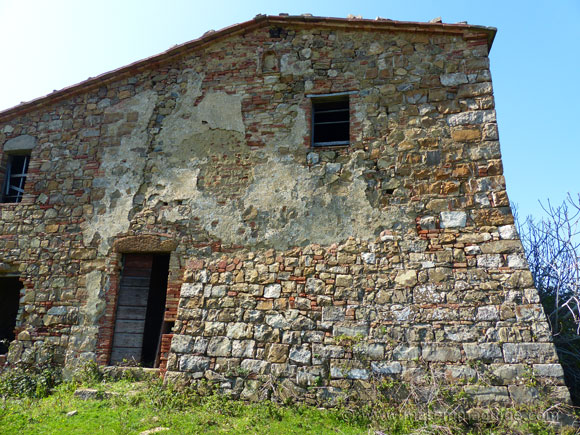 And the little alcove under the eaves that would probably have housed a Madonna.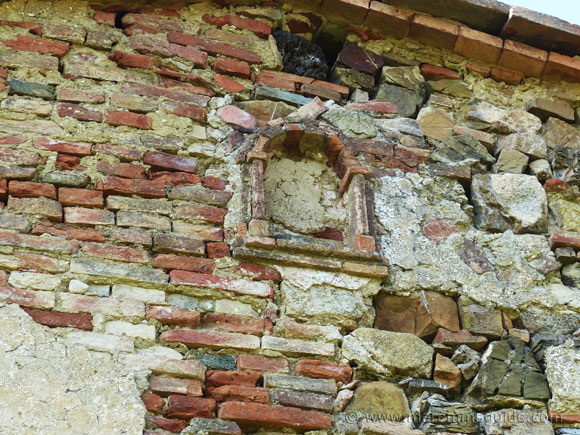 Just a few feet away in the garden is the farmhouse's well. It will need repairing and a check to see if it is still supplied with fresh water. But what a treat if it is.
The side wall.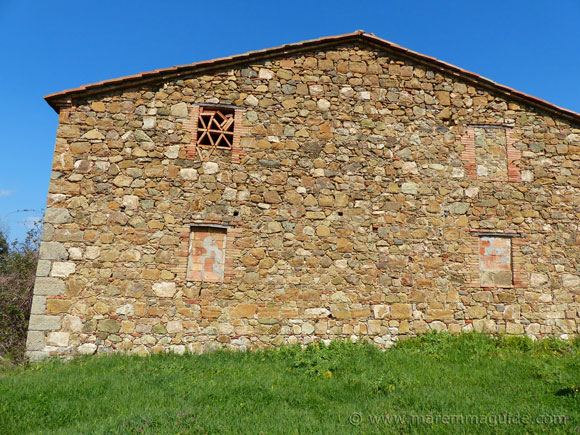 The view from the back garden. Just part of it. I couldn't fit it all in in one shot.
The land and location
The farmhouse comes with 3 hectares of land, and a few olive trees. They will need some attention to get them back into shape. But nothing that a hard prune and a year or two of new growth and another prune wouldn't put right.
Once you leave the "main" road from town - we are still talking country lanes - the gravel access lane to the farmhouse takes you all the way down from the top of a hill into the valley below. And then part of the way up the other side. The lane is in fairly good condition - a few bumps here and there, but nothing to write home about. You don't need a four wheel drive.
The nearest town is just 6 km away. Castiglion d'Orcia a 15 minute drive. Montalcino twenty minutes. Pienza and Montepulciano just thirty.
And Maremma's coast, with long sandy beaches, an hour away.
Airports
The nearest airport is Firenze, at about an hour and a half's drive away. The Aeroporto Internazionale dell'Umbria in Perugia is less than a two hours drive. Whilst both those of Pisa and Roma are about a two and a half hour drive.
Need help with organising the renovation?
The real estate agents who are handling the sale of this old Tuscany farmhouse - the husband and wife team of Rita Renzi and Riccardo Giuntini of the Tuscanary real estate agency in Maremma - are old hands at property renovation.
If you would like help organising the renovation, let Rita know. She will be happy to prepare a tailored package for you that will include overseeing the works and engaging experienced local builders and tradesmen if you need them.
More information
For more information, the asking price (which is negotiable) and specific location details etc, contact Rita and Riccardo via the email form below.
Water and electricity aren't connected to the property, but the connections are close by.