The Federico Gemma "Punta di Corna" watercolour exhibition
Make a special trip for this if you can. The stunning light-filled watercolours of Federico Gemma on show over the summer here in Maremma. In the old olive mill that is now the Parco Regionale della Maremma visitor centre in the village of Alberese.
I LOVED his Maremmano cattle.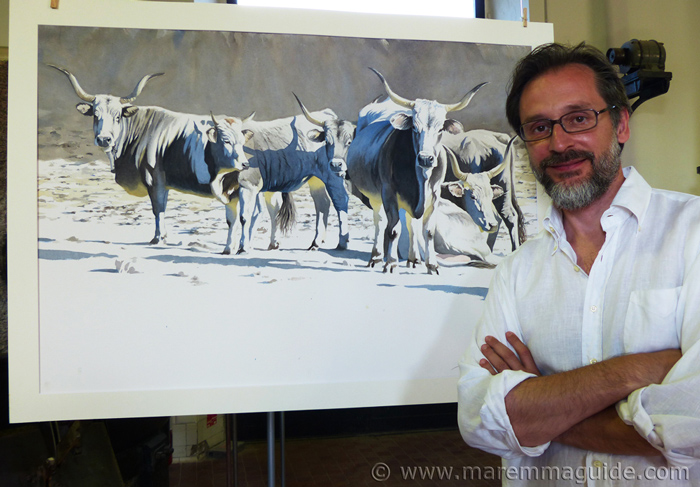 And the way his birds merge with their environment.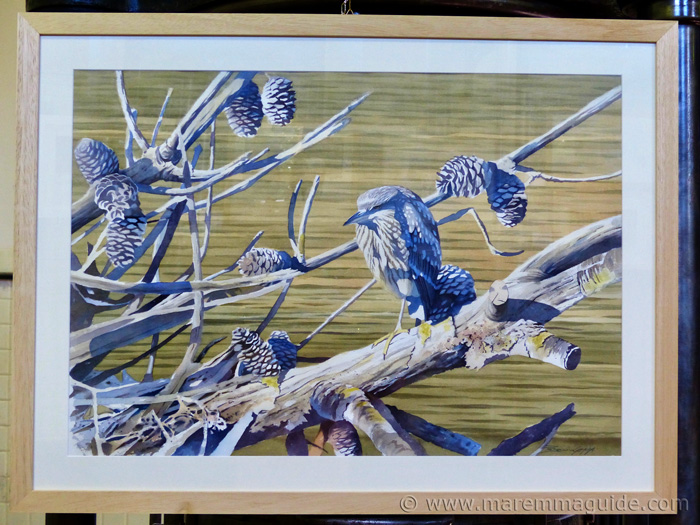 Nitticora su ramo.
PS. You will have to excuse the window reflections in the photos and their quality: my images don't do justice to the Federico's work. The detail of his use of layer upon layer of watercolour and the granulation of the pigments, not to mention the expressions he has captured, you will need to see close-up yourself.
As a taster then.
Maremma's famous "Butteri" cowboys at work.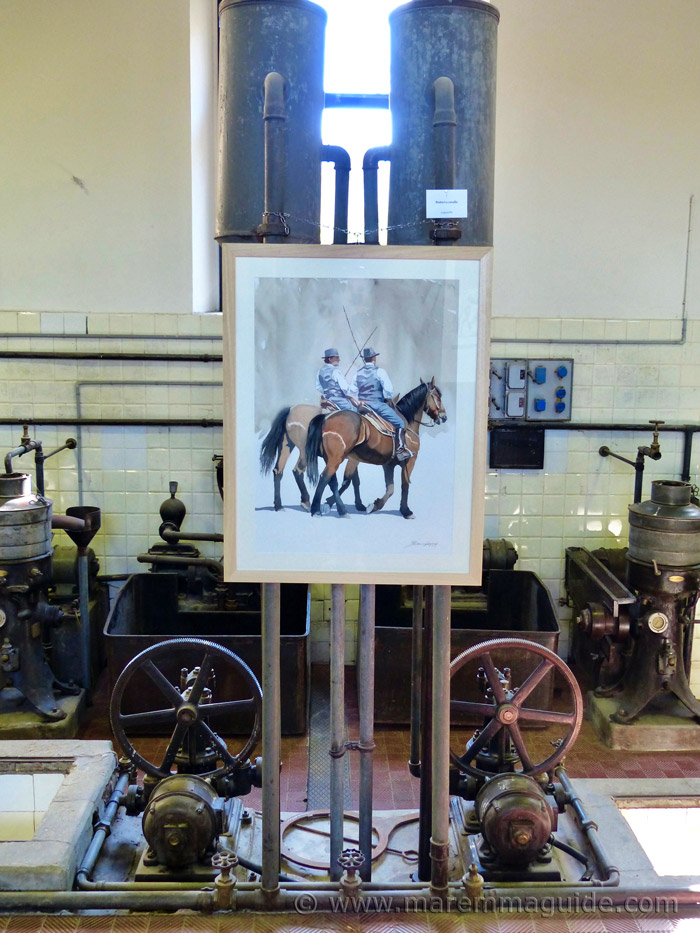 Butteri a cavallo.
I wanted to take this one home with me :)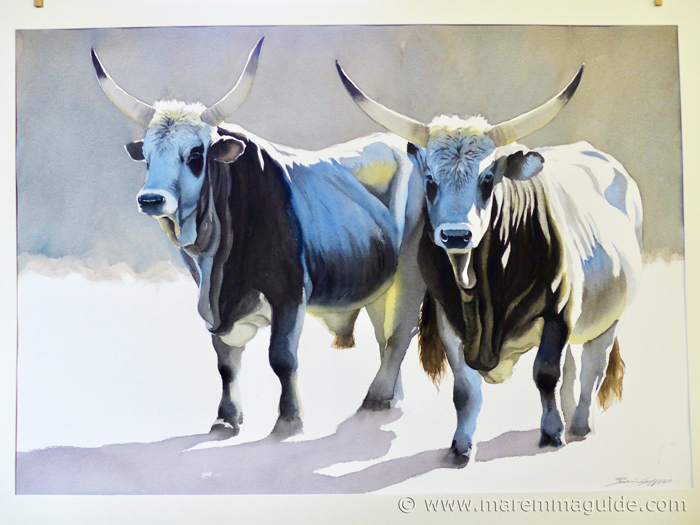 Due tori maremmani.
And this one!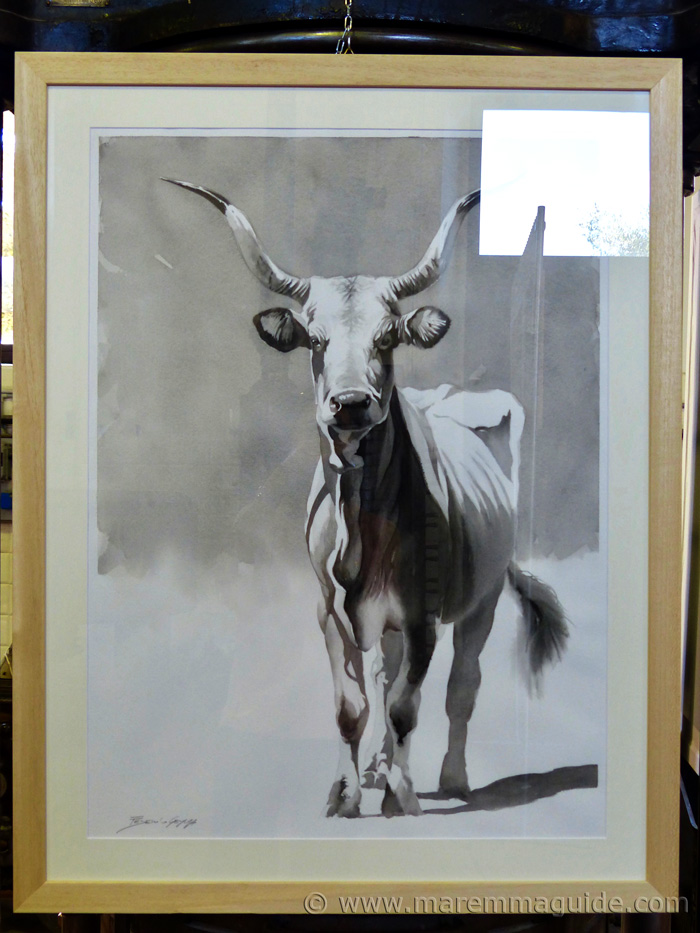 Vacca maremmana monocromo.
My mum would go crazy over these this chicken and her cockerel: Federico told me he has a commission to do for the UK and I'm not surprised. It's a peculiar British thing that many people just love chickens and the idea of raising them.
Federico is fascinated instead with their dinosaur-like talons.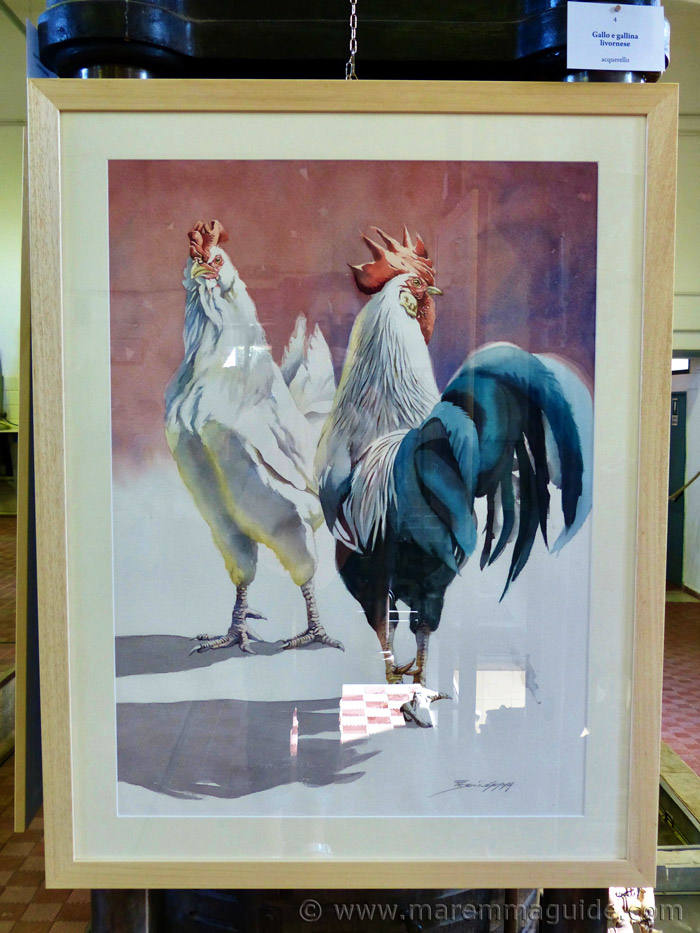 Gallo livornese e gallina.
His bold use of Phthalo blue - a colour many watercolour artists avoid because it is a very unforgiving colour that is impossible to remove from watercolour paper if you no longer want it there - is perfect for the tail feathers of the cockerel.
A cool, showy splash against the warm pink/red backdrop.
Peregrine falcon studies.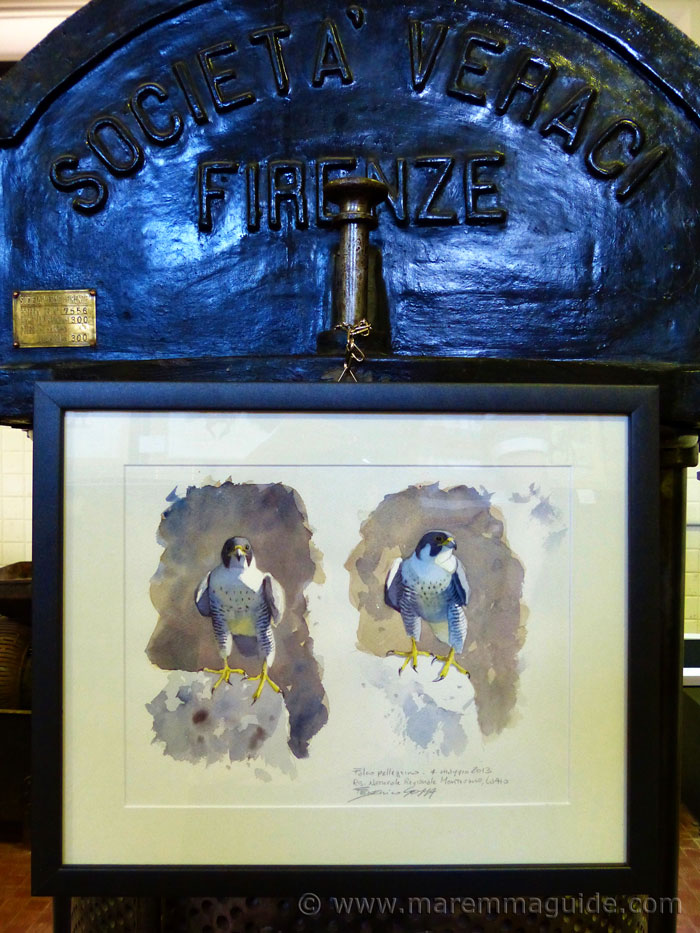 Falco pelegrino.
I saw this young black-crowned night heron straight away as I approached the painting. But, the longer I lingered in front of it, the further he disappeared into the branches behind him. A brilliant use of the continuity of a limited colour palette throughout.
And. Of course, a master at work who knows his birds like the back of his hand.
The single touch of a bright orange/red for the heron's eye takes the painting to another level.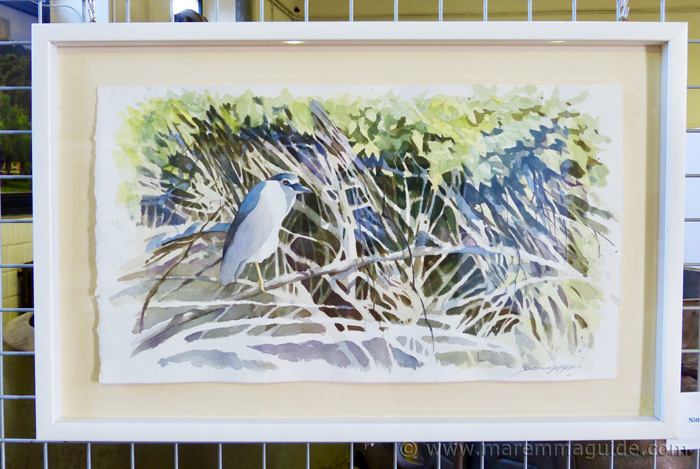 Nitticora giovane tra i rami di un pino.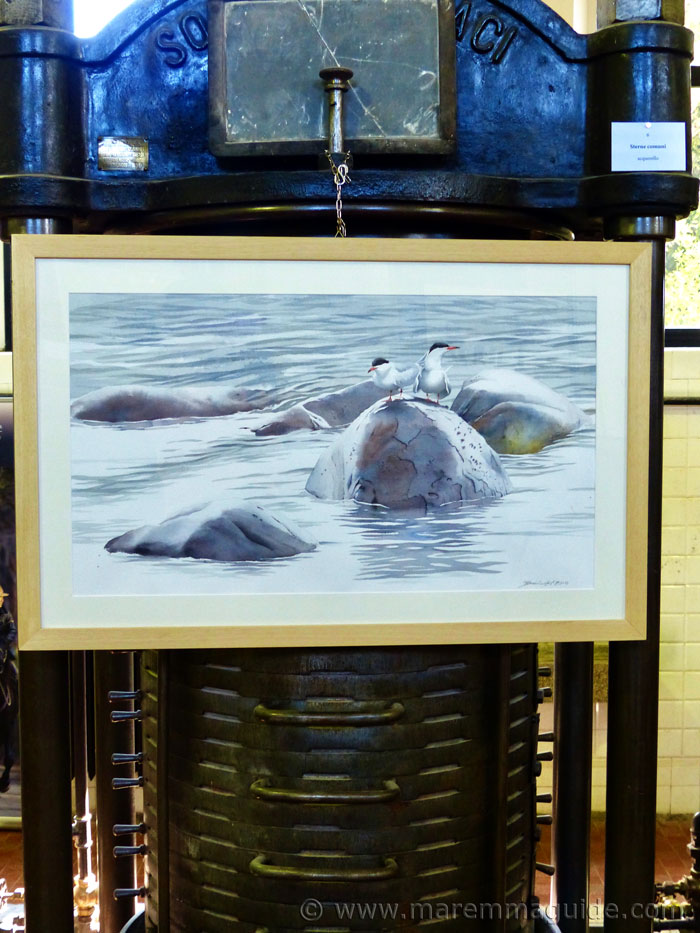 Sterni comune, Varangerfjord, Norvegia.
A pencil and charcoal study.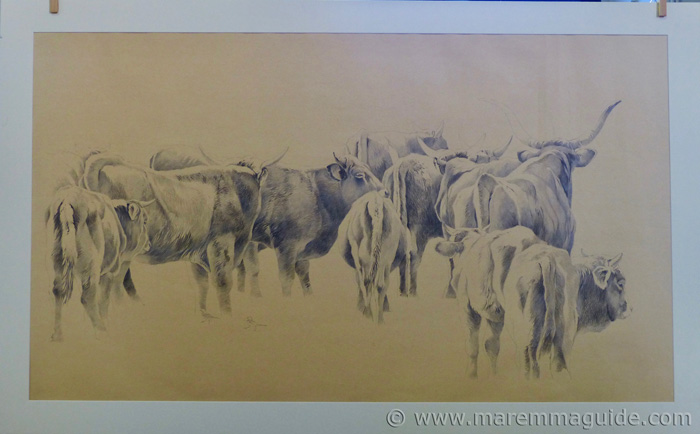 This photo is terrible I know, but I have included it nonetheless because standing in front of him, I could almost hear what this bull was saying.
Another masterful capture of these very special cattle.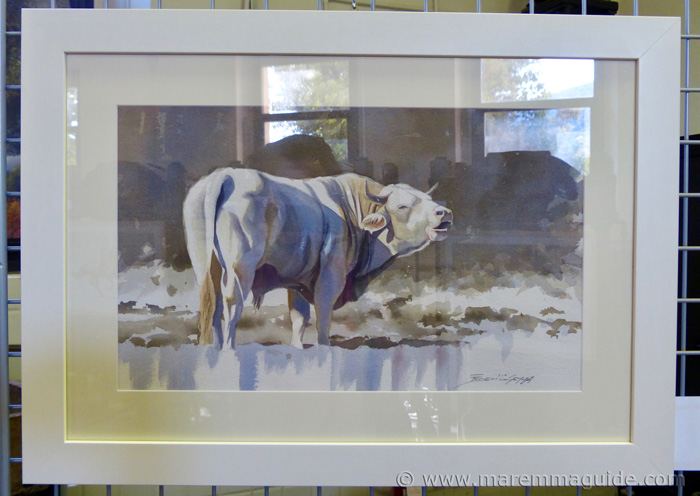 Vacca bianca.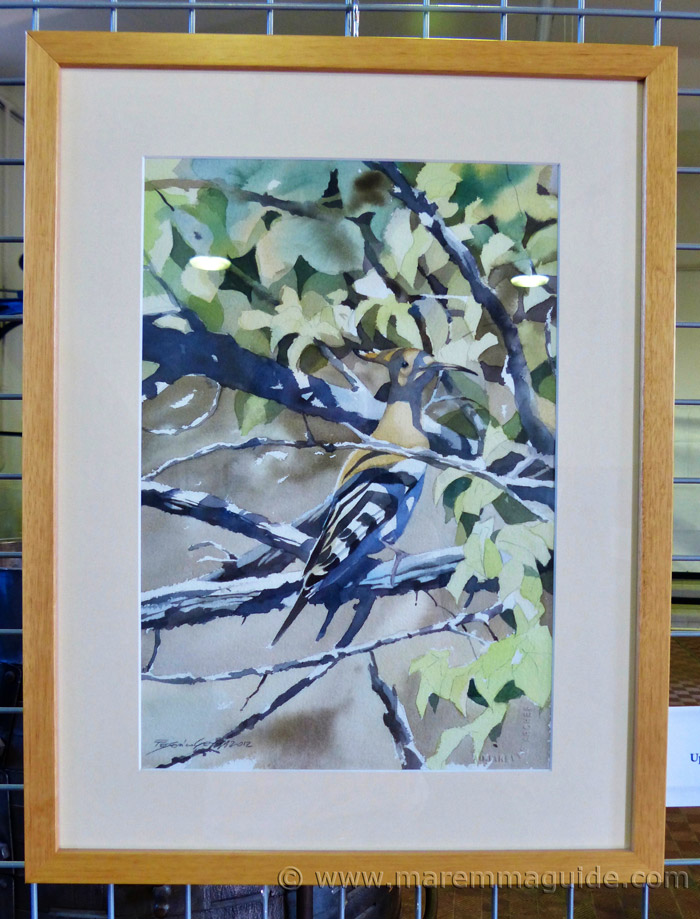 Upupa tra i rami.
The Federico Gemma exhibition opening times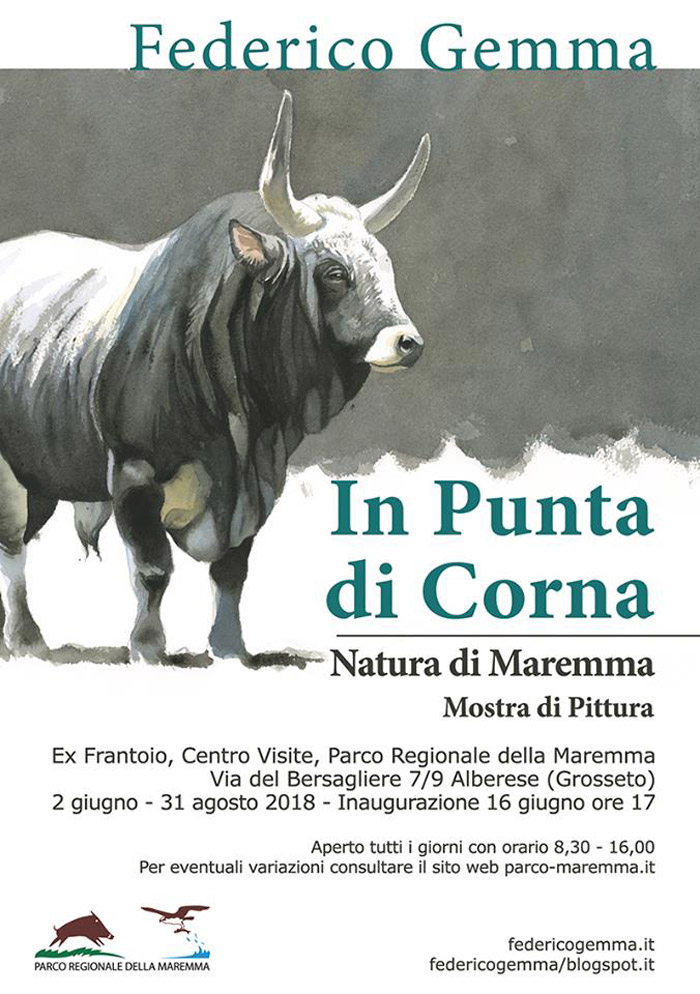 The exhibition is in the old olive mill that is now the Visitor centre for the Parco Regionale della Maremma in the village of Alberese. If you are planning a trip to the stunning Marina di Alberese beach, you are bound to be visiting the centre anyway.
It is open from to 2 June to 31 August 2018. Every day from 08:30 to 16:00.
Entrance is free.
And the paintings are for sale. Prices start at around Euros 130,00 and go up to ten times that.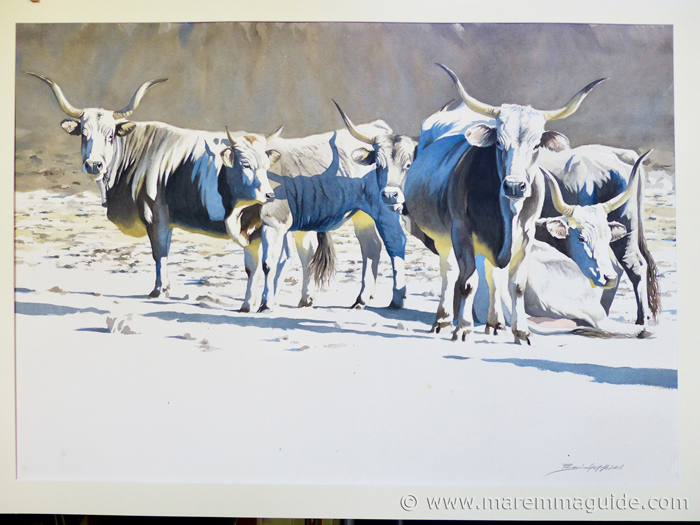 Mandria di vacche maremmane.