A Travel Guide:
Lazio & Southern Tuscany
An unusual travel guide to Lazio and southern Tuscany: "Etruria: Travel, History and Itineraries in Central Italy". There are very few guide books to Maremma written in English and so when a new one comes into print I am always keen to delve in and check them out.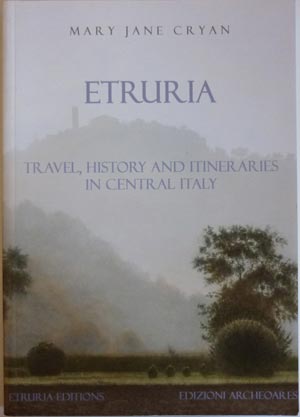 This one is written by journalist Mary Jane Cryan who lives in Lazio and, although not a travel guide in the modern sense of the series of pocket handbooks you may be used to, is a treasure trove of information nonetheless and well worth a read.
Mary Jane's research has turned over stones for you and followed stories across countries that bring the history of old fountains, gardens, churches and ruined palaces alive.
The tales of many of which leave you wanting to know more and would readily make the beginnings of epic novels or costume drama films.
This book would make a perfect read whilst on your journey into Maremma and Lazio to help you see things and explore more of the history of this part of Italy than you might otherwise. As a traveller with Mary's book in hand, you will probably find yourself lingering longer than you had intended in order to round another corner and explore a legend or two some more on your own. And that I am sure would please her no end.
Alternatively, if a previous visit to Maremma and northern Lazio has ignited a desire to return, then this book will surprise you with the treasures you didn't know you had missed the first time!
The Etruria that Mary has explored as a local takes you south out of Tuscany and deep into northern Lazio, traversing the southern-most borders of Maremma Laziale into the Province of Roma (Rome).
Want to know where...
... in Maremma
is Europes most perfectly preserved medieval quarter?


there is the only city in the world outside of England under the protection of the British crown?


D H Lawrence proclaimed was the most beautiful view in the whole of Italy?


is the "city of beautiful women" laid to siege by a Roman noble desperate to take the hand of a local beauty?


the first Papal enclave was held that lasted eighteen months and only came to a conclusion after food water and the roof were removed!
Or,
in which church - also the first national monument in Italy in the 1870s - you can see captured flags from the Saracen pirates Barbarossa and Draghut?


on which Maremma beach you are about to sunbathe on, the famous Italian painter - Caravaggio (Michelangelo Merisi) died whilst awaiting a boat to escape from Papal guards and the Knights of Malta?
where there is a buried Roman city or long stretches of unearthed Roman roads that one day will rival those already well known?


lies an abandoned city within a nature reserve that has been the backdrop and set for many a horror movie?


where in Lazio you can find natural spas in the countryside and even a sauna?
And, if you are a lover of frescoes, Mary has spotted them all, including many that still await study and identification of the artist.
Or, if you take after my own heart and legends and tales set your imagination running...
Then this book is for you. Read of:
secret passageways under a harbour waters;


underground worlds;


the unsolved death of an American socialite at the foot of the steps of her palace and her missing jewels;


a princess who became a saint, and


a red haired Irish girl who ruled northern Lazio.
The last two chapters - the tale of an antique chair of hers and the restoration of her home - are oddly out of context from the rest of the book, but make for interesting reading nonetheless. The latter will make you weep and run a mile if you are considering purchasing an old Italian property to live in! Mary's words tell the nightmarish story of her palazzo so calmy, belying an experience that would have driven this woman "pazzo" (mad). I'll leave you to read it for yourself.
What this book won't tell you
Although the index will take you to places (and people) you may be interested in, its isn't a travel guide book in the traditional sense in that it is a collection of Mary's essays and lectures. For suggestions of places to stay or eat, or train or bus schedules etc, you will need a The Rough Guide to Italy
or Lonely Planet Italy (Country Travel Guide)
.
Lazio Map
My only critcism of the book - and it is a minor one - is that the small scale of its one map of Lazio and southern Tuscany entitled "castles and towns of Etruria", with all of the places mentioned in its contents clearly marked, is such that the place names are unreadable. My suggested accompanyment would be the Touring Club Italiano Lazio Map
or the Michelin Road Map
.
How to purchase
Etruria: Travel, History and Itineraries in Central Italy by Mary Jane Cryan is priced at Euros 12,00 and is available directly from Mary Jane via her website at:
www.elegantetruria.com with discounts for multiple orders for schools, groups and book clubs.
Or:
in bookshops throughout the Viterbo Province,
at Anglo American in Rome
or a variety of agriturismo farmhouses and castles (see Mary Jane's website for more information).
Alternatively, the ebook can be purchased from the publishers www.edizioniarcheoares.it
Postage within Italy is free.
ISBN 978-88-96889-09-1