Locanda la Pieve hotel Semproniano
the hotel you arrive at by a twist of fate
The Locanda la Pieve hotel in Semproniano isn't a hotel that you go looking for on the internet because you have heard of it. Nor, by any means, is the quiet hill top town in Maremma Tuscany that it resides in. Semproniano.
So, how has this hotel become one of the very best in the whole of Maremma? In Tuscany? With, "amazing", "superb", and 10 out of 10 reviews? And guests that can't wait to return.
March 2018 Special Offer
See below for this month's special offer for two.
Well.
Because.
When you arrive there by chance. By a twist of fate. Because in all probability that is how you will. You'll start to ponder on what run of the mill experience awaits you when you find it's front door, in a nothing to particularly write home about street. And climb the stone stairs. Why it was that the hotel you had booked in the first place in another part of Tuscany, one that you had heard of, had to go and double book and cancel you at the last minute. Why you then chose Semproniano as your alternative...
And then. At the top of the stairs.
Your shoulders will drop. Of their own accord. As the smile and greeting from Angela or Enrico - the owners - or both of them, involuntarily makes you relax. Big time.
They'll tell you that the hotel is their home too. That they live there. Full time. At which point a little apprehension will creep back in as to what that might mean for you as a guest.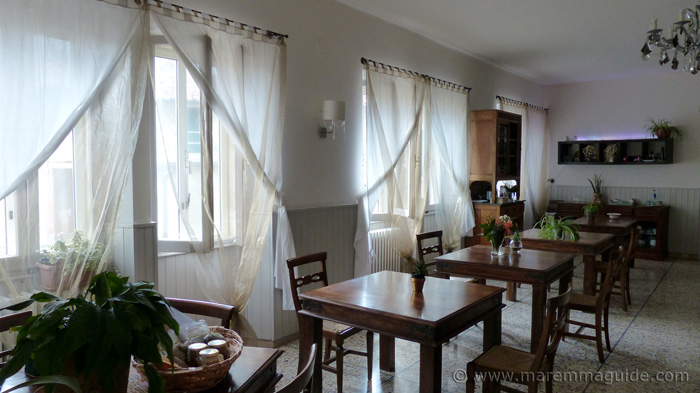 Until that is you are sat in the restaurant that first night and dinner arrives. And then everything is alright. More than alright. You can't imagine wanting to dine out anywhere else. And everything about the place comes together and feels just right. And then you'll try to remember how it was exactly that fate brought you there. So that you can tell a friend the story of how one small thing changed what you thought were your well laid plans for Tuscany. And gave you exactly what you needed. When you didn't even know that you needed it.
And from there on in it gets better. Day by day. As you find incredible places to explore and experience a way of life until now you have only ever dreamt of. All within easy reach of the town. And find yourself, glass of oh so wonderful wine in hand, cooking your dinner with Enrico, Italian-style.
So that your last day comes too soon. Much, much too soon.
And you have to return for more.
That is how the Locanda la Pieve hotel has its guests writing the reviews they do. It isn't about the rooms. Although they are lovely. It is about the experience that Angela and Enrico have created. Their ever so gentle hospitality. And where in the world you find yourself.
Off the track, in a part of Tuscany that indescribably gives each and every one of of its visitors exactly what they yearn for.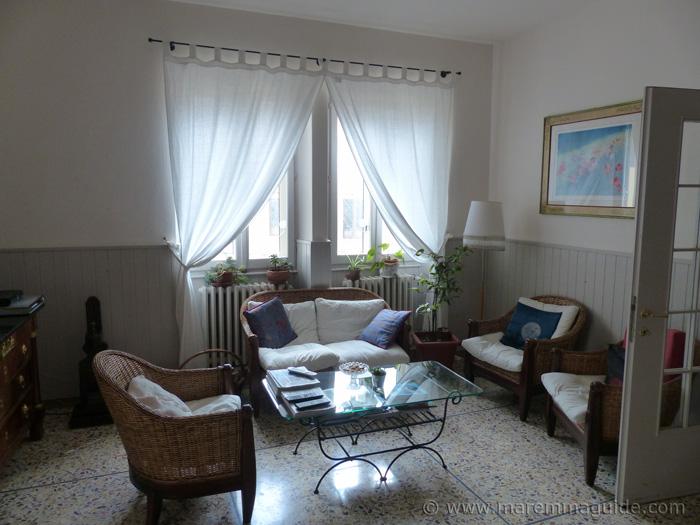 The restaurant
Enrico is also the hotels professional chef. His menu changes daily depending on what is in season and available from local farms. The majority of the produce he uses is reared and grown on the land around Semproniano.
Stay for a few days and you'll get to try a range of traditional Tuscan dishes, updated, but with a keen eye on preserving the very nature of their simplicity. Plenty to write postcards home about, or for an Instagram photo or too!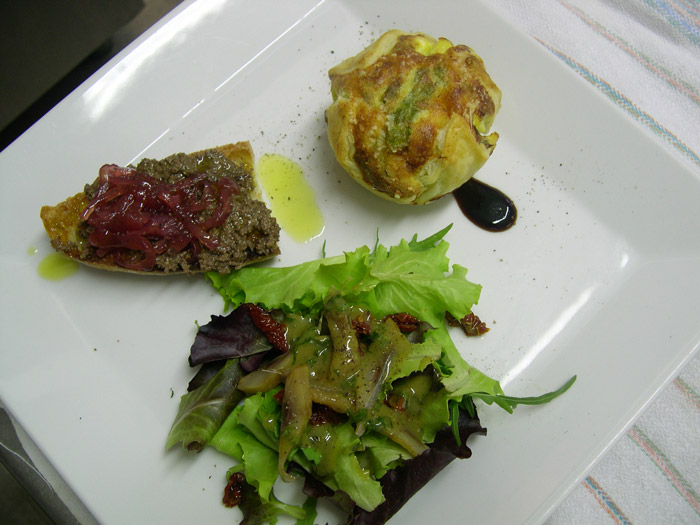 The terrace garden
It's here on the terrace that you can begin the day with breakfast, sip an aperitivo, and eat dinner in the warmer months.
The bedrooms
There are only eight. All en-suite. And all decorated differently. So if one particularly takes your fancy here, let Angela and Enrico know when you get in touch. (See below.)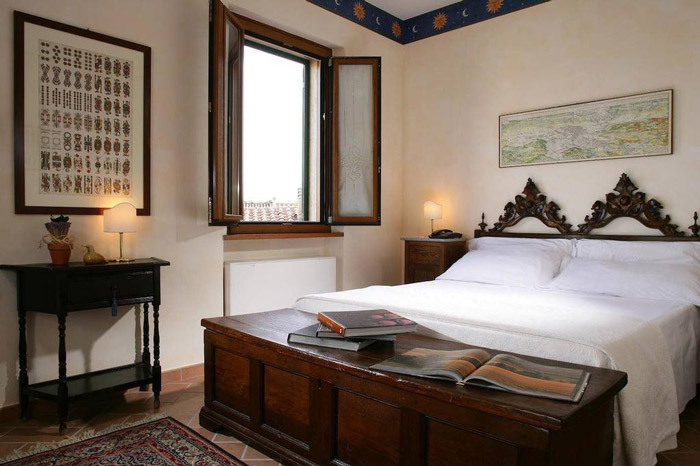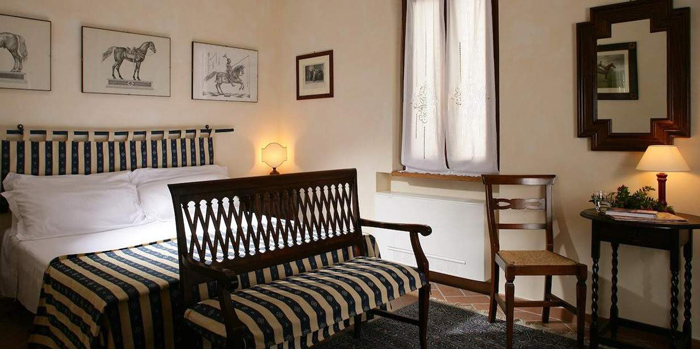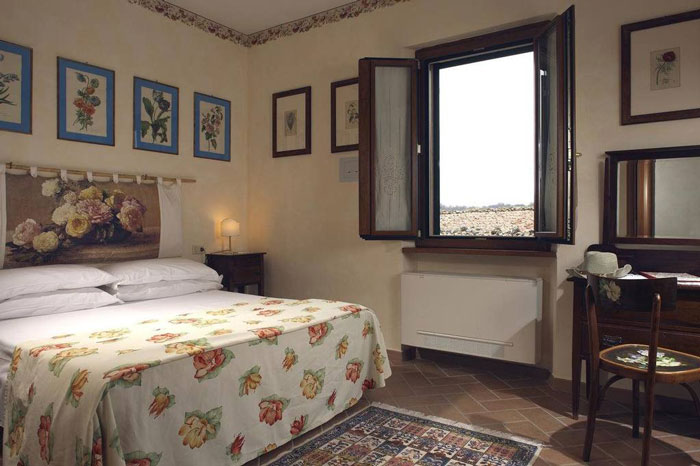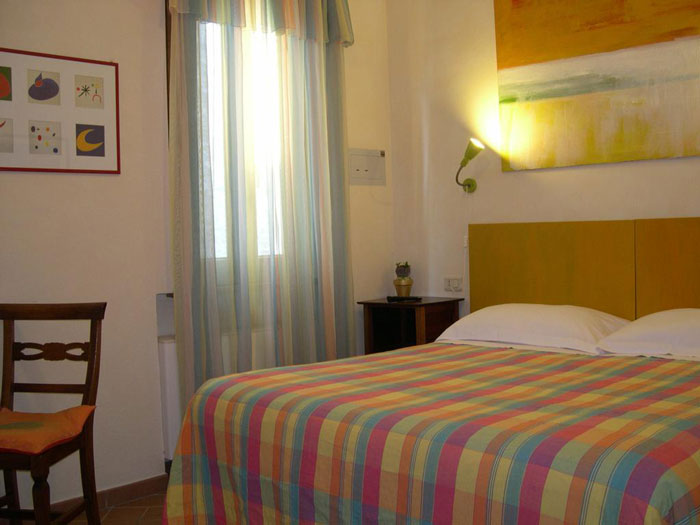 Plus Tarot cards and Hogworts bedrooms!
The perfect location
If you have ever dreamt of waking-up in a Tuscany hill town, with terracotta roof-tops to the left, the right, above, and under you, then you'll find it here. In Semproniano. Along with a silence that might take some getting used to.
Don't get me wrong. This isn't a dead town. It is just that rural life in Maremma's hill top towns is like that. Apart from an occasional radio on, a conversation floating out of a window, and a kid on a trike, most of the day you can hear a pin drop in them. Until "passeggiata" time, when the daily social walk around town and gossip happens.
And every stone and pathway crammed with a history that goes way back before paper records, and beyond. Twenty-nine centuries of it to feel under your feet.
Nearby towns to explore
And when you feel like exploring out of town, you'll find Roccalbegna just a hop and a jump away.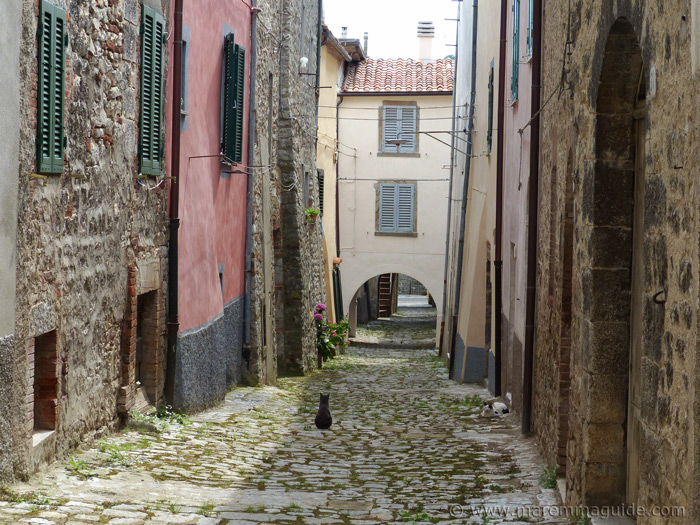 The stunning tufa hill towns of Pitigliano and Sorano.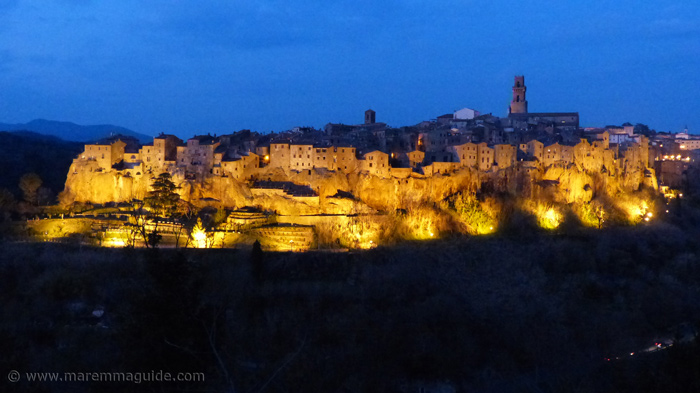 And Maremma's coast to while away a day on, all the while gazing upon a view of the Tuscan archipelago across a glistening turquoise and emerald sea.
And more. So much more.
Tuscany Thermal Spa discount
The Saturnia natural thermal baths and waterfall are just 9 kilometres down the road. One of the not to miss experiences of visiting Tuscany.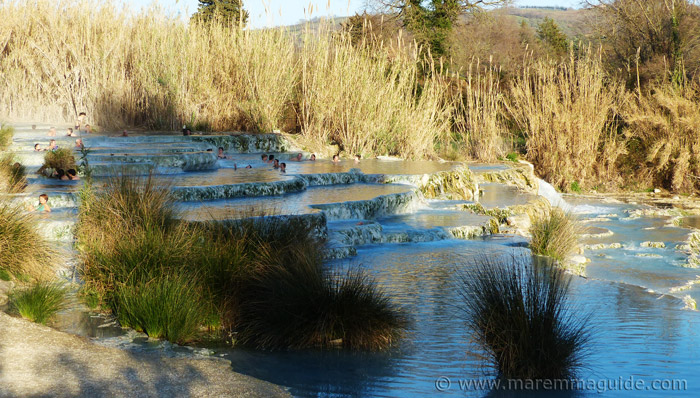 But if you fancy a bit of pampering, a stay at the Locanda la Pieve includes a 20% discount at the Saturnia Spa Resort and Golf course. Just across the road from the (free) cascades. The same hot healing waters, but with bath robes and massages included.
Trekking, guided tours and wine tasting with dinner
Angela and Enrico will happily organise treks with local professional environmental guides. There is both a WWF Oasis and a Nature Park right on the doorstep.
Bike hire for those days you fancy taking to the road on two wheels. Even electric ones for when you don't want to peddle up all of those hills!
Wine tasting that finishes with a home-cooked dinner. And more.
All you have to do is let them know what it is you would like to do, or have a chat about what is around nearby, and they will happily suggest the best itinerary for you to explore for the day.
Take a Tuscany cooking class
Cooking lessons in Tuscany don't come much more convenient than this.
Once you have tried Enrico's dishes at dinner, learn how to prepare them with him over an afternoon that runs into evening. A whole meal, from antipasti to first course, a meat second course, vegetable side dishes, and a dessert. All authentic, made from scratch, Tuscan-style.
Starting first with the secret to every great Tuscan meal. Fresh, in season ingredients. Simply combined with what you have to hand. Enrico's classes concentrate on learning the basics of Italian cooking that you can put to use with confidence straight away at home.
Like the preparation of Maremma's poor man's soup, Aquacotta.
Poor in the sense that it was prepared with boiling water and whatever vegetables the shepherd's wife had to hand to throw into the pot that day. But certainly not in taste.
You can make pasta by hand with him if you want to too - and it is fun to do - but he isn't convinced that you'll do it on your own when you get back home. That you'll reach instead for the supermarket pasta! I know, I do! And I live here.
So he prefers to teach you secrets and skills that you will be able to put into effect without expending any extra effort or time than you normally would in preparing lunch or dinner. But ones that will transform your dishes into true Tuscan meals and have your family asking for seconds!
Meals that, in all probability, will actually save you time and money to boot.
Oh, and did I tell you that this is a really relaxed class. You learn a lot. But if you fancy sipping a glass of wine or two during the proceedings, then Angela and Enrico will happily open a bottle of Maremman wine. Just the best, of course, hand picked by them from small local wineries. For you to taste.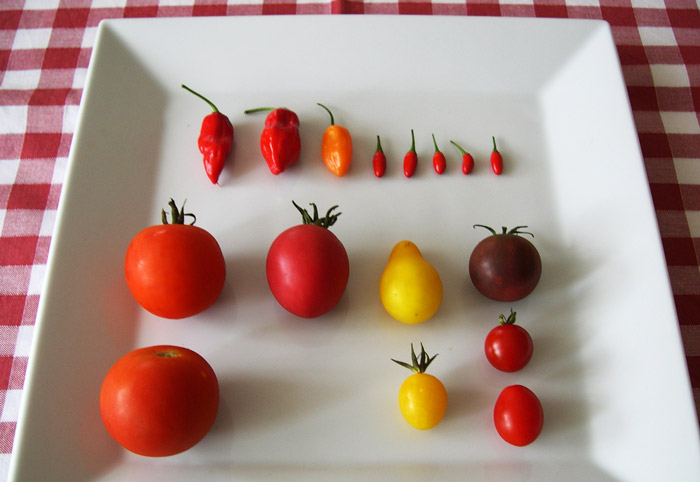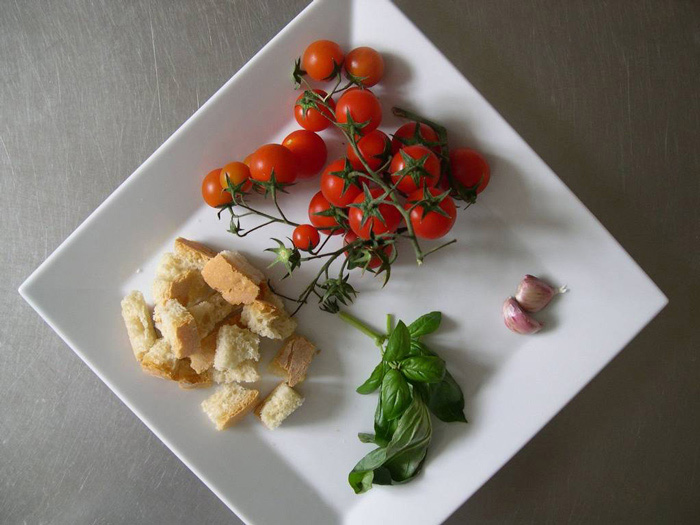 The scary bit! No, not really! But the meal you cook with him is dinner that night for all the guests! So if your friend or partner isn't taking the lesson with you, they'll get to check-out your new found skills really quickly!
Don't worry, not one of his cooking lessons has ended with a disastrous dinner! On the contrary. Go on, give it a go! You don't have to make-up your mind now. Meet Angela and Enrico first and when you are ready, let them know that you'd like to take a class.
Contact Angela and Enrico direct at the Locanda la Pieve
For more information and to check on availability, you can contact Angela and Enrico directly via email using the form below.
March 2018 Special Offer
Tell them that Donna sent you and take advantage of a special March offer for Maremma Guide readers.
Two nights in a double room, with breakfast.
A pre-dinner glass of Prosecco.
Dinner for two with a surprise menu, from starters to dessert (drinks not included).
Price Euro 220