Italian Christmas Markets in Maremma and Tuscany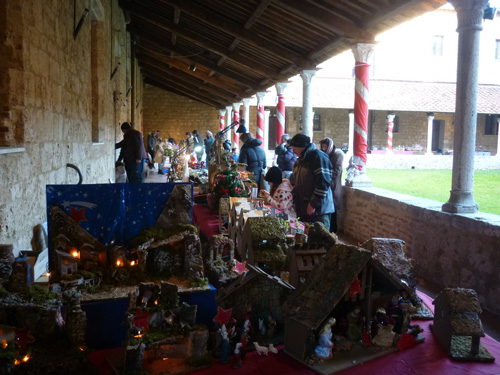 The Italian Christmas markets - "Mercatini di Natale" - in Maremma and surrounding rural Tuscany aren't anything like on the scale of those more famous elsewhere in Europe in Prague, Barcelona, Berlin, Tivoli in Copenhagen or the Christkindlmarkte of Vienna. They are much smaller and more intimate affairs.
Expect instead a collection of small stalls with traditional foods, crafts and Christmas decorations, along with a selection of nativity scenes with battery operated waterwheels and streams!
Rather than with an intent to fulfill all of your Christmas shopping needs (unless you are really keen on the hand-knitted and crocheted variety and all sorts of homemade jewelry), go instead for the Christmas lights, to chat and take a stroll with friends and family and to realise just how warm indoors at home it really is when you return and take your hats, scarves, gloves and fleeces off!
The Christmas markets in the nearby beautiful city of Firenze, however, are much larger and fill Florence's gorgeous squares, especially the annual German Christmas market that satisfy's local Florentines apetite for a taste of wurstel, German beer and no end of candies. (TIP: Great for good quality handmade hats too - I've still got and wear mine!)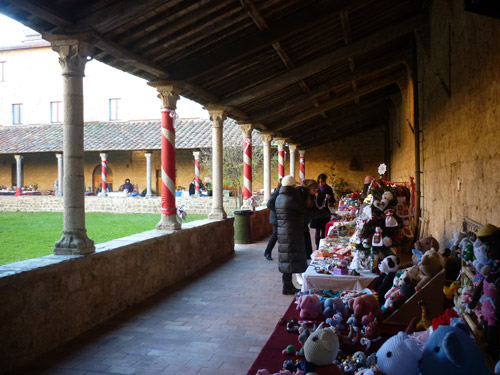 The Italian Christmas Markets -
"Mercatini di Natale"
25 November - 23 December 2012
Livorno
Mercatini di Natale
Every Sunday from 08:00 to 15:00 in Via dei Pensieri.
28 November - 16 December 2012
Firenze
"Weihnachtsmarkt" Mercato di Natale
This is a German Chrsitmas market that runs everyday from 10:00 to 20:00 and fills Piazza Santa Croce. You'll find food and drink (beer too!) as well as hats, decorations, ornaments, bags and a whole load of other stuff.
30 November - 2 December 2012
Firenze
Mercato di Natale della Croce Rossa Italiana
6 - 9 December 2012
Lucca
Mercato Medievale Natalizio - Medieval Christmas Market
In the Piazza Cirradella and Via di Poggio in the centre of the lovely walled city of Lucca.
7 - 9 December 2012
Pisa
"La Fabbrica di Babbo Natale"
Friday from 10:00 to 20:00, Saturday and Sunday ffrom 09:00 to 22:00 in Stazione Leipolda and Piazza Guerrazzi.
8 - 9 December 2012
Massa Marittima
A really pretty setting in the Chiostri di Sant'Agostino, Terziere di Cittanuova in "new town" (anything but as it's medievall!) in beautiful Massa Marittima. A really small market, but if you are in the area anyway you never know you might a handknitted knitted mouse or jumper might take your fancy, if not a bag of traditional Italian Christmas cookies baked to centuries old recipes with local chestnut flour and sticky figs... Or homemade marzipan dipped in dark chocolate, Mmm...
8 - 9 December 2012
Firenze
"La Fierucola"
From 09:00 to 19:00 in Piazza SS Annunziata.
8 - 9 and 22 - 23 December 2012
Manciano
Opens at 09:00 in Via Marsala.
8, 15 & 22 December 2012
Pitigliano
Opens at 17:00 on the Saturday in the Piazza della Repubblica.
15 - 16 December 2012
Bagno di Gavorrano
Mercatino di Natale
From 10:00 to 20:00 in Via Marconi, Piazza di Vittorio and Piazza Mariotti.
15, 16, 22 & 23 December 2012
San Vincenzo
I Laboratori di Natale
Handmade crafts in Piazza della Vittoria.
15 - 16 December 2012
Siena
Mercato del Campo
A gastronomic medieval market of over 160 stalls spread over two days in the atmopsheric Piazza del Campo in the centre of Siena.
16 December 2012
Massa Marittima
From 09:00 to 19:00 in the wonderful setting of the cathedral square, Piazza Garibaldi.
23 December 2012
Sarteano, Siena
"Sapori e colori del Natale" - The tastes and colours of Christmas

Information via www.prolocosarteano.it