Another Italian Menu in Italian
from Maremma restaurants in Tuscany
This Italian menu in Italian is from a restaurant in Tuscany right on the beach: Ristorante Le Bocche in Marina di Grosseto.
The Marina di Grosseto is a popular beach location in Maremma, catering to those who both love their beaches with bars for aperitivo's and restaurants for lunch and dinner to hand just a few feet away from their sun loungers. As well as those who like them without and a little wild: for it's wide golden sands stretch a long way from the town's residential centre all the way along to its northern end of pine tree backed dunes to the beach of Le Marze.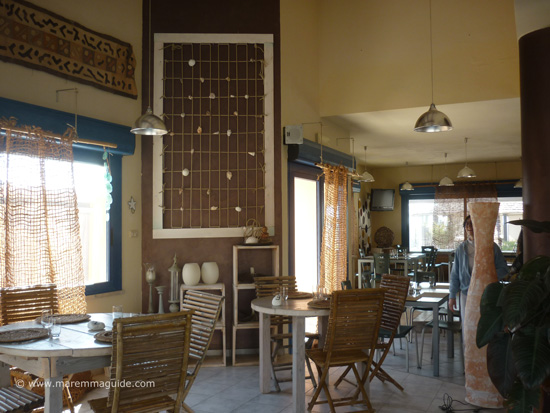 Ristorante Le Bocche is part of the Bagno Stella - a beach sun lounger, parasol, bar, restaurant and children's play area facility - backed by a wide paved promenade with palm trees and places to sit and chat away the day. As you would expect from its seaside location, the restaurant's menu is dominated by fish, but you will also find one traditional meat for each course too.
The Marina is home to small local fishing boats and if you get up early in the morning you can greet and meet them to purchase your own seafood for lunch or dinner from their catch of the day. It is well worth it as there is nothing like fresh fish Italian style.
The menu:
Antipasti
Insalata di mare tiepida
Polpo con carciofi
Zuppetta di moscardini
Zuppa di cozze con pomodoro fresco e basilico
Coppa di gamberoni con crema allo zafferano
Gran piatto di mare freddo e caldo (min 2 persone)
Spada affumicato con souffle di finicchi e cuore di arancio
Tar tar di gamberi e avocado con scaglie di agrumi
Tortino di zucchine con gambero in tempura
Antipasto misto di terra
Primi Piatti
Risotto con frutti di mare e lime
Tagliolini al nero in carbonara di pesce
Strigoli allo zafferano con vongole veraci e asparago
Spaghetti di gragnano alle ostriche belon
Stracci di pasta cozze e grana
Tagliolini all'astrice (min 2 porzione)
Spaghetti con vongole pachino e julienne di zicchine
Chicche verdi con rana pescatrice olive taggiasche e pomodori
Tortello di baccala su crema di patate e cips croccanti
Tagliatelle o gnocchi al ragu di carne
Secondi piatti
Tagliata di manzo pecorino con riduzione di aceto balsamico
Scaloppa con carciofi
Spiedino di gamberi e totani
Grigliata di Montecristo con vedure grigliate
Frittura mista di paranza, totani e gamberi
Frittura di totani
Pescato del giorno all'isolana con patate e vedurine
Pinzimonio di crostacei con salsa tsatziki
Tagliata di tonno in crosta di mandorle con sformatine
Involtini di pescatrice profumati all'alloro e cous cous