Le Rocchette Surf
Maremma Tuscany Surf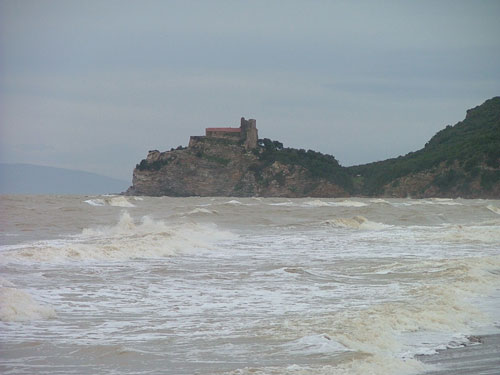 Le Rocchette surf: surfing in Maremma, Tuscany. A surfboarding location near Castiglione della Pescaia with waves of intermediate and advanced level difficulty.
Surfing at Le Rocchette,
Castiglione della Pescaia
By Simone Fedeli.
Type of Surfing: Surfboarding - Surf da Onda
This surf location at Le Rocchette beach is suitable for surfing - "surf da onda"
Type of wave - Tipo di Onda
Here surfing is on the right wave. The bottom is rocky close to the cliff, and sandy as you approach the beach.
The start is steep and fast, initially collapsing and tending to close, after which it loses steepness and slows down, then returning vertical creating a small tube when the wave is over two meters high.
Waves of intermediate and advanced difficulty.
Qui lavora un onda destra, il fondale è roccioso vicino alla scogliera, e sabbioso man mano che ci si avvicina alla spiaggia.

La partenza è ripida e veloce, inizialmente frana tendendo a chiudere, dopo perde ripidità e rallenta, per poi ritornare verticale creando un piccolo tubo quando l'onda supera i due metri.

Onda di livello medio e avanzato.
How the wave is generated - Come si genera
The wave of Le Rocchette is generated exclusively from a north-west swell, or by the Mistral wind, and is surfable also during an active sea (while the mistral still blows).
L'onda delle Rocchette si genera esclusivamente con swell provenienti da NW, ovvero dal vento di Maestrale, ed è surfabile anche con mare attivo (mentre il maestrale soffia ancora).
How to reach the spot - Come raggiungere lo spot
From the SP158 that links Follonica and Castiglione della Pescaia, take the road to Rocchette just before the pinewood of Roccamare - "pineta di Roccamare".
Follow the road until its end, where you will reach a roundabout used for parking. The surfing spot is just next to the cliff on the beach.
Dalla SP158 che collega Follonica A Castiglione della Pescaia, immettersi nella strada provinciale delle Rocchette, appena prima della "pineta di Roccamare".

Seguire la strada fino alla fine, dove raggiungeremo una rotonda adibita a parcheggio. Lo spot è appena accanto alla scogliera sulla spiaggia.
YOUR favourite surf in Maremma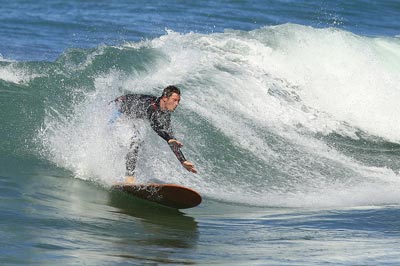 Share your best surfing locations along Maremma's coast with a page of your own in this Guide.
Your Best Maremma Surf
Tell me about your favourite Maremma surf location or surf story here...