Lunch in Maremma Tuscany on a budget
Are you going to be visiting Maremma in Tuscany on a tight budget and planning to eat "panini" (filled rolls) for lunch sat on a beach or in a park in order to keep costs down? Actually some of best lunches in my life have been just those kind :) But would really fancy a sit-down, in the shade, traditional Tuscan lunch, eaten with locals for company? Then I have just the place and the meal for you.
This wonderfully tasty lunch, called "Abbuffata", costs 12,60 euros for two :)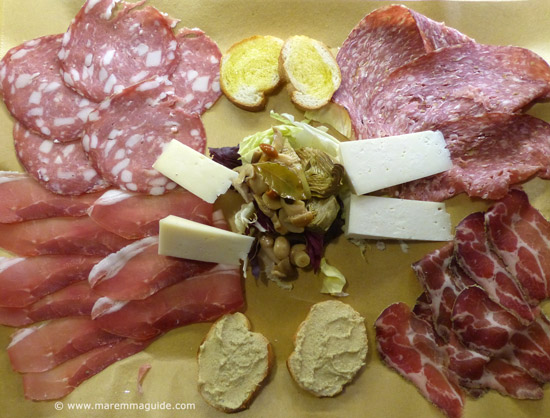 I asked Massimo and Roberto who prepare it and "panini" too if you want, at my favourite deli, La Novella, near Massa Marittima, what "abbuffata" means and they explained that it is a descriptive term for when you eat and eat and eat food because it tastes so very very good and fills you with joy doing so.
I later looked the it up in the dictionary, which gave me the American word, "pigout", and the slightly nicer "nosh-up". And the verb "abbuffarsi", gave me "to stuff oneself", "to gorge", "to binge"...

All of which so lack all of the Italian passion for eating well that Massimo and Roberto so expressively described. But therein lies just one of the magical things about Italy.
The "Abbuffata" lunch comprises of:
Bruschetta con Olio Extravergine di Oliva toscano
Bruschetta con crema di olive nere
Prosciutto toscano
Salame toscano
Capocollo
Finocchiona
Pecorino toscano
Pecorino toscano stagionato
Vedure sott'olio
Crema di aceto balsamico
Gelatina per pecorino
Pane - a basket of freshly-baked that morning bread
Two of the bruschetta in the photograph above weren't with cream of black olives, as Massimo decided that day to use "crema di carciofi" - cream of artichokes, instead.
NB. I had started to translate the menu into English, but to be honest it just doesn't sound the same to say, an "Italian dry-cured pork... prepared this way or that", so I stopped. You need to eat them to understand!
You can sit at tables indoors in the winter with a wood-burning stove ablaze, surrounded by bottles and casks of Maremma wines. Or outdoors in the shade in the summer (likewise indoors too, if you prefer).
In the winter there is often a daily special of hot Tuscan soup too to warm the bones!
A glass of wine or bottle of water aren't included in the price, but they will only set you back:
a glass of "vino di tavola" - red or white table wine - 0,2l - 1,00 euro
1/2 litre carafe of wine - 2,50 euro
a bottle of Moretti beer - 2,50 euro
water 50 cl - 0,80 euro
water 1,50 litre 1,50 euro
a "bicchierino" (glass) of Vin Santo - 1,00 euro
glass of grappa - 2,00 euro
For cheese lovers...
If the two of you love cheese, then there is also the "Del Pastore" for two at 15,60 euros, with:
Pecorino fresco
Pecorino stagionato
Pecorino "speciali"
Scaglie di Parmigiano
Crema di aceto balsamico
Miele
Pane
Exploring Tuscany on your own or in a group?
If you are travelling on your own, don't worry, they also serve a wonderful variety of mixed plates for one.
And if there is a group of you, then the "Tra Amici" - between friends - selection for three to four people at 31,00 euros, will give you a a plate full of flavours to write home about
Prosciutto toscano
Speck di Cinghiale
Salame di Chingiale
Salame toscano
Salamella
Pancetta arrotolata
Pecorino toscano
Pecorino toscano stagionato
Vedure sott'olio
Crema di aceto balsamico
Miele per pecorino
Pane
The really friendly team at La Novella will bring your tray to you, but there isn't service at the tables, so you will need to let them know if you would like water etc and get your own from the fridge.
Taking the flavours home
You can buy the flavoured balsamic vinegars, and olive and artichoke "creams" (NB there isn't any dairy cream in them), as well as many other wonderful things to take away with you for lunch in your apartment or even for gifts for friends back home.
They will happily slice and vacuum-pack any of the meats too, or a whole salame, or string of the tiny black wild boar ones, if you want!
Where to find La Novella
The map.
Localita Valpiana
Massa Marittima (GR)
58024
Tel: +39 0566 919005