Maremma Amara
...bitter Maremma
If you really want to know about a land, listen to its folk songs.
"Maremma Amara" is the most well known folk song from Maremma and, in few words, tells so eloquently of the impoverished life to be had in Maremma not so long ago where daily hardships, suffering, and death from malaria were common place in a "terra infida", treacherous land of bandits.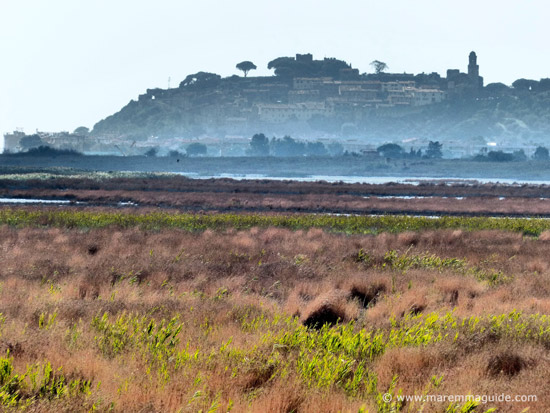 Sung slowly - for that is how it should be - the words of this Italian folk song convey a tangle of sadness, desperation and hope.
The origins of the song can be traced back to the first half of the 19th century, when the organised drainage and reclamation of Maremma's expansive marshlands was initiated by the then Grand Duke of Tuscany, Granduca Leopoldo II dei Lorena, and the passage from livestock farming (of the Maremmano horse and Maremmani horned-cows) to an agricultural existence commenced.
Forever changing the fortunes of Maremma.
Today, Maremma's lands are simply stunningly beautiful: metalliferous hills that are home to a multitude of medieval hill towns and villages, all so well preserved that it is difficult to see the footprint of the twentieth century upon them. To a coast with stretches of some of the most beautiful beaches in Italy and views across the Ligurian and Tyrrhenian seas to the Tuscan archipelago. Dense holm-oak wooded hills and Mediterannean macchia that remain wildernnesses and home to wild boar, deer and wolves.
People born in Maremma know its true worth and rarely leave this land for others. Those that do, return often and write with passion about its place in their heart and soul... just like Maremma Amara.
Listen to the song
The two renditions that I like the most both have five star ratings and have been viewed thousands of times on You Tube.
This modern version of the two is by Nada (4:33 minutes long). It isn't her only rendition - in her career as a singer she has sung it many times and you can find more recordings of her doing so on YouTube.
But I love this one the best: it is nothing less than stupendous. If anyone doubts how a land can stir a soul, they only have to listen to this. The heartache and passion for a "terra" called Maremma...
The second is sung by Amalia Rodrigues
(2:01 minutes long), with a voice that you could easily imagine as coming directly from the time about which she sings. A truely captivating rendition.
The video contains photos of the Maremman Butteri cowboys, including an old image of them with Buffalo Bill, Maremmano cows, and Maremma landscapes.
The Maremma Amara lyrics
Tutti mi dicon Maremma, Maremma...
Ma a me mi pare una Maremma amara
L'uccello che ci va perde la penna
Io c'ho perduto una persona cara.
Chi va in Maremma e lassa l'acqua bona
Perde la dama e mai più la ritrova,
Chi va in Maremma e lassa la montagna
Perde la dama ed altro non guadagna.
Sia maledetta Maremma Maremma
sia maledetta Maremma e chi l'ama.
Sempre mi piange il cor quando ci vai
Perché ho paura non torni mai