A Maremma by the Beach Wedding Location
A very unusual venue for an outdoor wedding in Tuscany
A new Maremma by the beach wedding location in Tuscany that is very unusual: you won't find another wedding venue in Tuscany or in Italy like it and because of that it won't suit many couples. But, if you like the out of the ordinary and don't care much for fashion, then this venue might just be for you.
Before I go any further and you start imagining a beach idyll, I have to tell you three downsides to this wedding venue by the sea. The venue is not on a beach: it is located on a large terrace area cut into the cliffs immediately behind the beach, and enclosed by a fence and so you cannot walk onto the beach.
And, the beach - Cala di Terra Rossa - the Cove of Red Land - isn't what you will have in mind if you are wistfully dreaming of golden sands like those on a Hawaiian or Caribbean beach, but a (red) rocky cove.
And its not "pretty" as in at all feminine and fluffy! but, as always, when writing this Guide, I like to take you to places that others don't.
Still reading?! Ok, the positives. I have it on good on very good authority - a Tuscany wedding planner - that there is no other place by the sea in Tuscany where you can get wed with a civil ceremony, as opposed to celebrating your wedding after a formal ceremony in a different registered location.
So, if you are thinking of a wedding in Tuscany and your dream is to do it by the sea, where you can see and hear the waves lapping on the shore and have the blue of the Tyrrhenian sea in Gulfo di Follonica laid out before you and the Isola d'Elba (the island of Elba) silhouetted in the distance, then read on.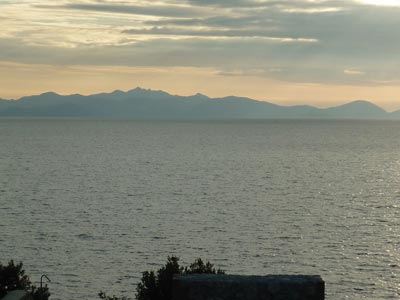 If you are a girl - I'm assuming that you are as most fellas aren't that interested in the details of a wedding to go researching on the internet! - and you like the unusual and by chance have a passion for geology, then Cala di Terra Rossa - the Cove of Red Land - is likely to be perfect for you.
The cove lies between Cala di Portiglione and Cala le Donne (the coves of Portiglione and Women in the Gulfo di Follonica) and marks the exit of the closed Scarlino pyrite mine - "mineraria". The whole complex is now part of the Parco Archeologico Minerario a Portiglione - Puntone.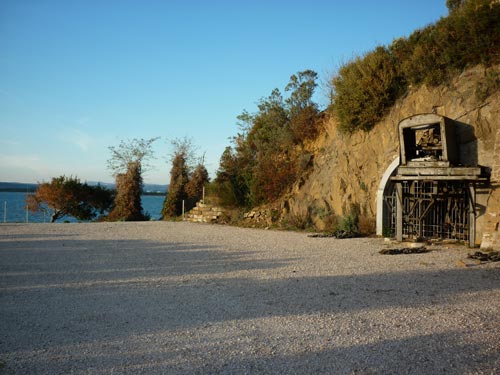 Even if an old mine doesn't fascinate you (I appreciate that it isn't everyone's cup of tea!), if you are a girl who likes the out of the ordinary/unique and doesn't follow everyone else's fashion, then the structure of the mine makes for a dramatic wedding location that everyone will talk about for a long time after and no one will forget.
Its definitely not a typical Italian or Tuscany style wedding venue, but that doesn't mean that your wedding breakfast and celebration afterwards cannot be! Mix a unique Tuscany location with a traditional Tuscan wedding celebration and you have the ingredients for an unforgettable day for everyone.
Unusual doesn't come more unique than this.
The location bonuses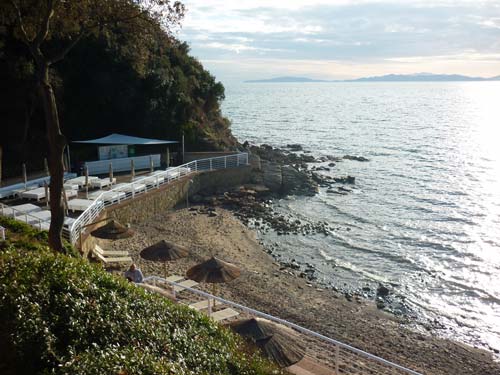 The bonuses of this site are that literally a few feet away is one of the most popular fish specialty restaurants in the area - the Ristorante Il Cantuccio - with a panoramic seascape view both from inside the restaurant and from its outdoor terrace.
And, there IS a beach (again a rocky cove) called Cala Felice (photo above) that you CAN walk and relax on just a few metres away, and it comes with its own resident beach club/bar and restaurant which caters for wedding receptions and wedding breakfasts etc that go on after the sun has set.
And if you are a lover of sailing, then the very new Marina di Scarlino is just right next door.
The video
The details
The plans are for Cala di Terra Rossa to be made available for weddings from May to October each year, on weekdays and Saturdays from 09:00 to 13:00 each day, and on one Saturday afternoon and one Sunday morning a month.
The fee will be Euros 450. For more information about this Maremma by the beach wedding location contact the Comune di Scarlino.
And for information about the Tuscan Mining Geo Park, the Parco Nazionale delle Colline Metallifere Grossetane http://www.parcocollinemetallifere.it