Maremma property for sale
a rare find in a Tuscany hamlet
This Maremma property for sale is a rare find because it is an independent house with a beautiful garden and private parking, all inside a tiny hamlet.
And it is fully restored, keeping all of the traditional Tuscan features, with really easy maintenance.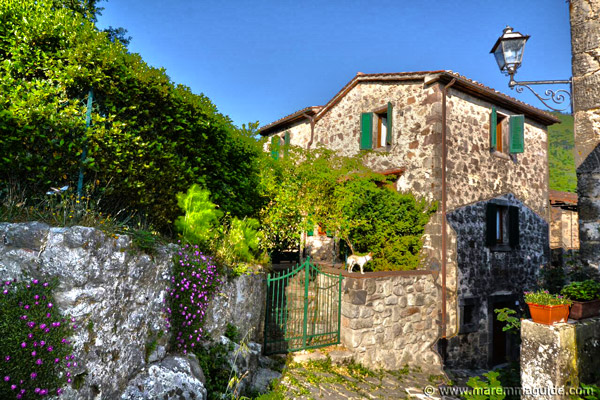 You'll find it in a hamlet with a twenty-five metre drop waterfall near Arcidosso, in Monte Amiata countryside in Maremma. With a backdrop of green wooded hills - this is chestnut country - the hamlet was once the centre of wool production (you can still see the remains of the old mills) and is now home to a great restaurant and a bar. So you don't even have to drive to eat out well of a night: just walk down the lane :)
The hamlet is called Bagnoli and has its own little food shop too, so you don't even have to drive for basic supplies. And that restaurant is famous for the way it cooks its meats: over a wood-fired grill. But the wood isn't any wood. It is a local one selected for its perfume and the flavour it sears into the meats :)

And if you want to go shopping, the town of Arcidosso is only a ten minute walk away.
The accommodation is on three floors. The ground floor is accessed from the garden and comprises the living room and kitchen.
Upstairs there are two double bedrooms and two bathrooms.
Downstairs, you get your own stone-floor cellar and laundry room.
All in all, one hundred and ninety square metres of living space and four hundred and sixty square metres of well-tended, easy to maintain garden.
Bagnoli is only a 45 minute drive from Maremma's stunning coast, 35 minutes from Montalcino, one hour from the heart of the city of Siena... And, only 25 minutes to the ski slopes of Monte Amiata. So much to do close by: what will you choose? Sipping an aperitivo in a Piazza in Siena or tasting the famous Brunello wine in its home town of Montalcino? Beach combing, skiing, or both in the same day? :)
The living room
From the garden, the front door of the property opens into the living room, with wooden beam and terracotta tile ceilings, polished wooden floor and a traditional Tuscan open-fireplace.
The whole renovation - undertaken ten years ago by the current owners, a Swiss and Italian family - had easy upkeep in mind. Including the large garden.
The result is traditional Tuscan with all the modern comforts you need and little work to keep it looking beautiful. It would make for a perfect second holiday home in Tuscany.
Or a permanent spacious family home. But not just for a family of four. Read on...
The kitchen and dining room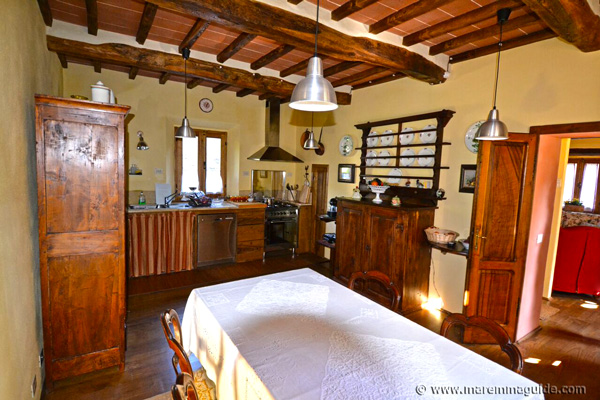 The bedrooms
The house has two double bedrooms and both come with lots of wardrobe space.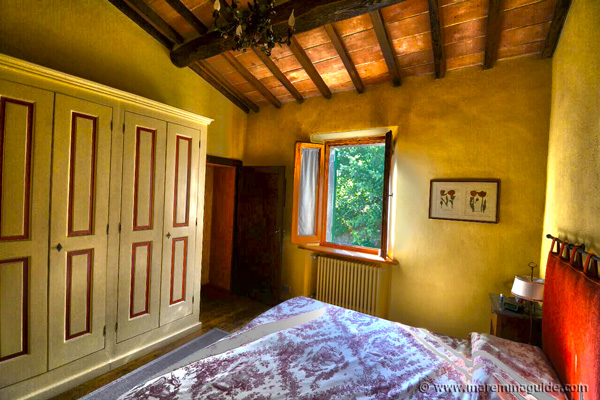 The bathrooms
Both bathrooms have a shower, mosaic-tiled floor, and ceiling-light windows. One also has a window that opens onto the lane.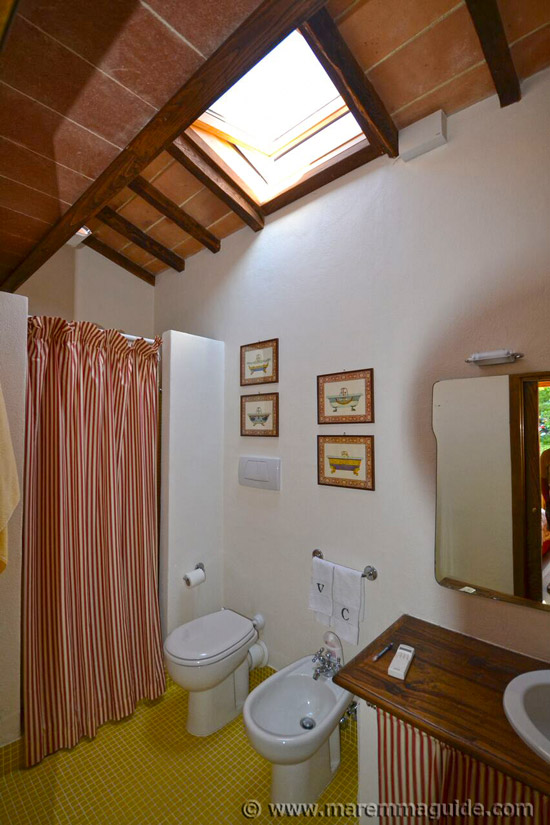 Laundry room and cellar
The stone-floor laundry room and cellar can be accessed from either the lane that passes the house or from the internal staircase.
That lane by the way is a quiet one and pedestrian only: no car can get down it!
Your laundry room door.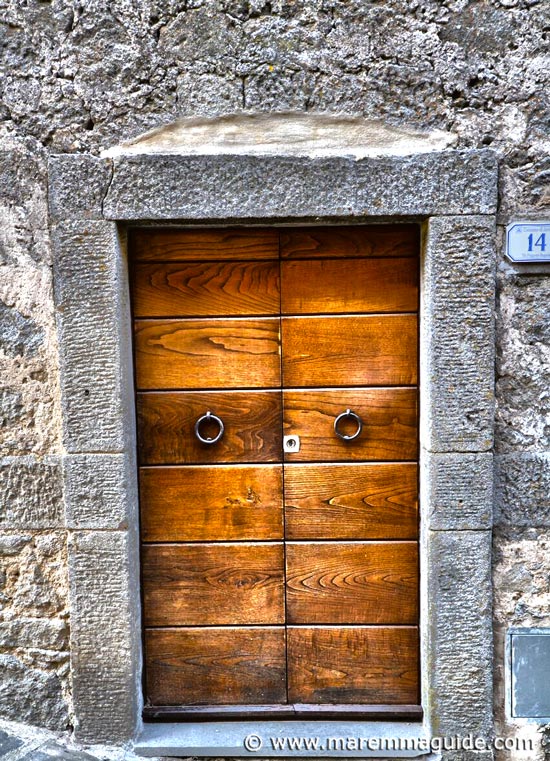 Even though this house in Bagnoli has already been lovingly restored, it still has a potential waiting to be realised ;) It is the cellar and laundry rooms.
All three floors of the house are of equal dimension - around 64 sqms. The cellar and laundry rooms are fully functional as they are, but the owners had the foresight to also install central heating in them when they did so in the rest of the house.
With their own front door, heating and amenities, the downstairs of "Casa Bagnoli" could easily become a studio, or another self-contained en-suite bedroom and more. Perfect for visiting friends or a family with teenagers that will one day soon need their own independent space.
The garden
The large private garden is mainly laid to lawn with rhododendron, fragrant lavender, rosemary, and jasmine bushes. It has an irrigation system to take the hard work out of keeping it green.
The front door and paved terrace perfect for dining outdoors.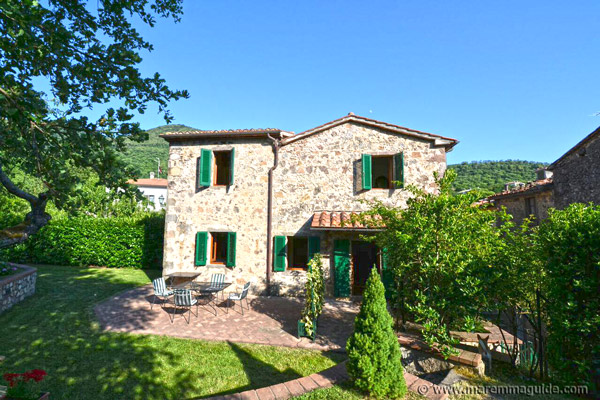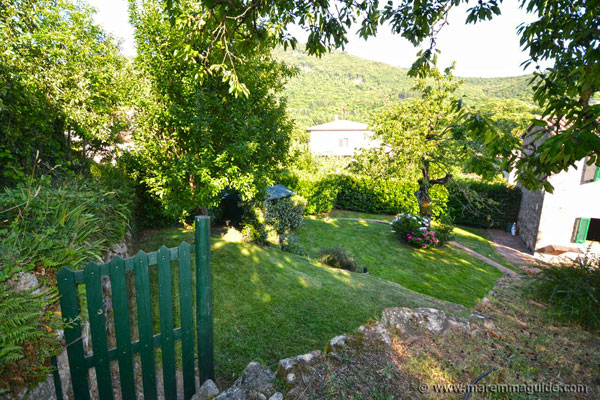 The ever so rare to find private parking space - for one car - is on paved extra land alongside the garden.
For more information about this Maremma property for sale
All the main utilities are connected to the house.
It is for sale via the Tuscany real estate agency that I recommend you use if you are looking to purchase a house in Maremma, Rita Renzi and Riccardo Giuntini's "Tuscanary".
You can contact them directly for more information via this email form.
Happy house-hunting in Maremma!