The Best Maremma Surf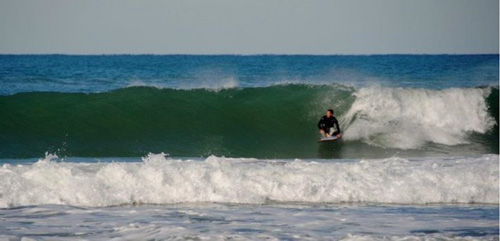 Where to find the best Maremma surf? Easy! Ask a Maremma surfer who can be found riding the waves nearly every day! So I did, and these are his seven recommendations for fabulous surfing in Tuscany.
Simone is one of my neighbours and a passionate surfer so I asked him if he would be willing to share with me the places he considers to be the best surf locations in Maremma. He was delighted to do so and the very next day these photos and his maps and words arrived.
The above photograph was taken at Castiglioncello near Livorno in Tuscany.
The Best Maremma Surf
by Simone Fedeli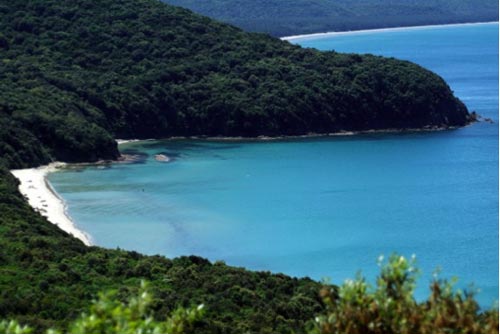 After the islands, Sardinia and Sicily, the Tuscan Archipelago is one of the most popular destinations for water sports in Italy. The low declining depths, and the winds that blow under the stiff breeze throughout the spring, summer and autumn, and no dangerous fish, make the Maremma a great place for those who want to embrace this wonderful world.
Dopo le isole, Sardegna e Sicilia, l'arcipelago toscano è una tra le mete piu gettonate per praticare sport acquatici in Italia. I fondali da basso declino, ed i venti a regime di brezza tesa che spirano durante tutta la stagione primaverile, estiva e autunnale, e l'assenza di pesci pericolosi, rendono la maremma un luogo ideale per chi vuole avvicinarsi a questo meraviglioso mondo.
The Gulf of Follonica is the perfect place to learn and practice kite surfing and windsurfing, the wind that blows in summer is generally a thermal wind created by the difference in temperature between the cold of the night and the heat of the day. If there are no disturbances to interfere with it, the thermal wind blows almost every day.
Il Golfo di Follonica è luogo perfetto per imparare a praticare il Kitesurf ed il Windsurf, il vento che soffia d'estate è generalmente un vento termico creato dalla differenza di temperatura tra il freddo della notte ed il caldo del giorno. Se non ci sono perturbazioni che lo interferiscono, il vento termico soffia quasi tutti i giorni.
The top 7 best surfing spots in Maremma Tuscany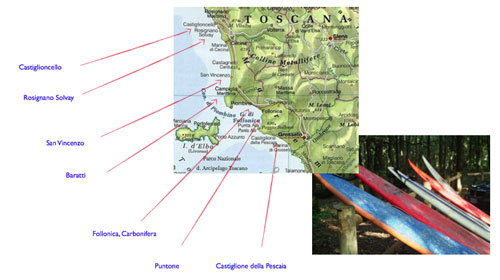 Simone's map above from north to south along the Maremma coastline, lists his top seven surfing spots in Maremma in Tuscany as Castiglioncello, Rosignano Solvay, San Vincenzo, the Bay of Baratti, Carbonifera beach Follonica, Puntone, and Castiglione della Pescaia.
Puntone Beach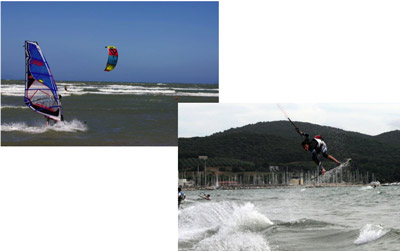 The beach where you can learn to soar with a kite, windsurfing, catamaran, sailing boat, or engage in the learning of other water sports like canoeing, wakeboarding, surfing, Standup Paddle you will find at Puntone (the locality of Scarlino). Here there are qualified instructors and equipment rental available (www.surfrelax.it); also dogs are allowed on the beach, and there are sun lounger and parasol "bagni" facilities.
La spiaggi dove è possibilie imparare a veleggiare con kite, windsurf, Catamarano, Barca a vela, oppure cimentarsi nell'apprendimento di altri sport acquatici come canoa, wakeboard, surf da onda, StandUp Paddle si trova al Puntone (localita Scarlino). Qui sono a disposizione istruttori qualificati e attrezzature a noleggio; inoltre sulla spiaggia sono ammessi i cani, ed ogni utente ha diritto a sdraio ed ombrellone.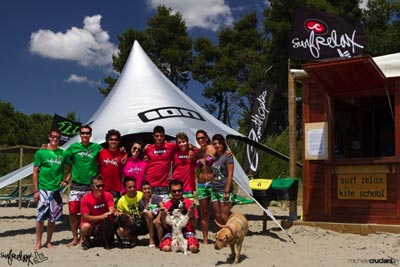 More about Puntone beach.
When to go surfing in Maremma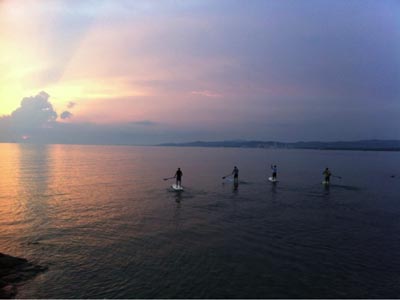 If summer is the best time to learn, the autumn is the season suitable for advanced surfers. The quiet summer thermal wind ceases to blow, leaving room for the first major disruption of the change of the season.
The winds blowing from the north western quadrant of the Mediterranean Sea and the southwestern quadrant give rise to the "Swell": the trio of intensity, duration, and the width of the sea on which the wind works ("Fetch"), and the waves arrive.
Se l'estate è il periodo migliore per imparare, l'autunno invece è la stagione adatta ai surfisti avanzati. Il tranquillo vento termico estivo cessa di soffiare, lasciando posto alle prime grandi perturbazioni di cambio stagione.

I venti, soffiando dai quadranti nord occidentali del mar mediterraneo e dai quadranti sud occidentali danno vita allo "Swell": il trinomio tra intensita, durata, e l'ampiezza dell'area di mare su cui il vento lavora ("Fetch"), e arrivano le onde.
Tell me about YOUR best Maremma surf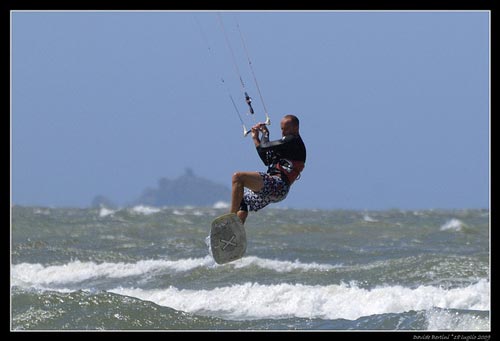 Do you have a favourite surf spot in Maremma? A great surfing story to tell? Add your own surf page to this website and share it with the thousands of Maremma Guide readers each month.
This great shot of kitesurfing in Maremma (with the distictive small island of Isolotto dello Sparviero or Troia in the background) is by kind permission of daberto.
More Maremma Tuscany Surf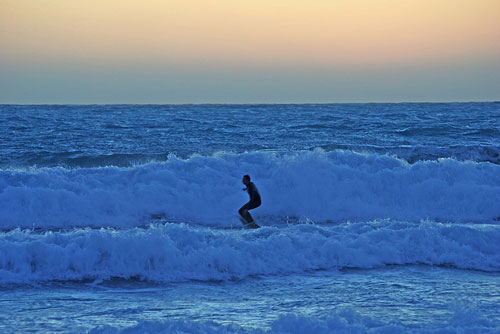 Read about more great surfing and windsurfing locations - from those for beginners to advanced sites for expert surfers only - go from the best Maremma surf to the main Maremma Tuscany surf page by clicking on the Surfing link below.
"Surfing in the sunset" at Castiglioncello near Livorno by kind permission of Francesco.