Unique, enchanting and simply the best Massa Marittima Apartments
Residenza d'Epoca Palazzo Malfatti
Unique, enchanting and simply the best Massa Marittima apartments there are. You'll love them.
I feel I want to write a Shakespearean play whilst writing about the self-catering apartments of the Residenza d'Epoca Palazzo Malfatti, so indulge me a little, as I set the scene.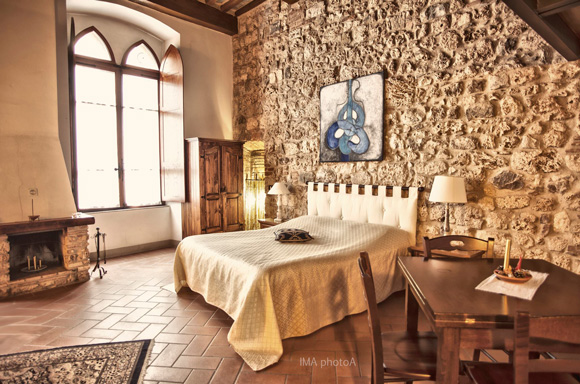 "La Maremma" is a very special part of Tuscany (and Lazio). Not because it has an Uffizzi or a Leaning Tower, or any other attraction of such similar size or noteworthiness at all. It doesn't. But because, until not so very long ago, it was an inhabitable and hard land that most travellers avoided if they could or passed through as fast as they could in order to avoid dying at the hands of malaria.
Then after the second world war, the drainage and reclamation projects that started with the Grand Duchy of Tuscany Leopold II in the early nineteenth century were finalised with the help of men and women of Venezia (who stayed on afterwards). And it is that fact alone that means today that the majority of Maremma is relatively untouched by man. The last wildernesses in Tuscany are here. Real wildernesses.
And Maremma's attractions are in their hundreds of thousands. Myriads of hill top hamlets, villages and towns in which time has all but stood still and in which the greatest thing to stir will be a sleeping cat checking you out by lifting one eye-lid or the church bells ringing. Rare birds, frogs, toads, lizards, dragonflies and butterflies... Pristine beaches backed by thick woodland and Mediterranean macchia home to deer and wild boar. Etruscan tombs and medieval silver mines... all for the exploring.
Maremma, then, is Tuscany's treasure chest of uncut gemstones.
And Massa Marittima is, without a doubt, the polished jewel in the heart of Maremma.
And Palazzo Malfatti is in the heart of Massa Marittima.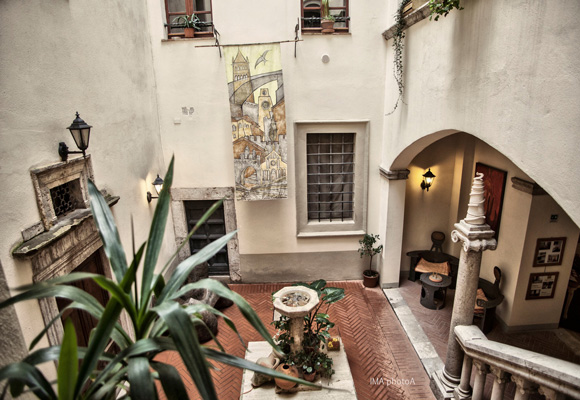 You might, if you were curious and sufficiently brave, have peeked into the inner private courtyard of this medieval palace whilst you were here and looked at the photographs of the apartments on display on the internal wall. And not been that impressed.
But nonetheless have taken a business card from the table under the frescoed and vaulted ceiling because the sound of the trickling water in the fountain, the colourful art, and the view as you looked up to the sky caught your imagination and reminded you of a Spanish villa in Seville or Granada. I did years ago. And have peeked many times since.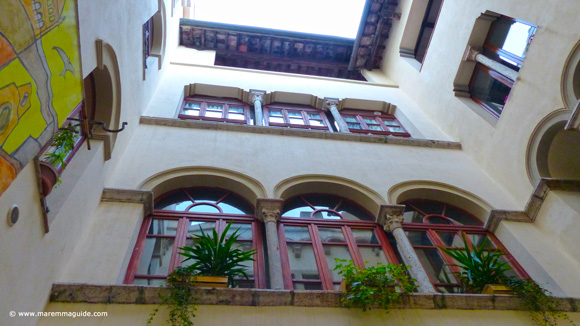 Over the years my interest about this palace grew for a reason other than wanting to know what the accommodation was like inside.
Because, whilst researching and writing pages for this guide, I came across the story of Margherita Aldobrandeschi, the last noble lady to rule Maremma. In fact, the only woman to have ruled Maremma. I learnt that the love of her life, Lord Pannocchieschi - the one she had to wait the duration of five marriages to be with - had built the palace for her. Palazzo Pannocchieschi.
And that it was whilst they were living here in Palazzo Pannocchieschi, when they had everything they had waited for for so long - to be together - that their young son (who Margherita had given birth to out of wedlock when they had been together before she had had to marry another and whom was subsequently taken from her) died. Drowned in the well within the city walls. By all accounts murdered at the hands of a rival noble family.
A heartbreak so devastating that it destroyed their love forever.
And then by chance, one day, the owners invited me to visit :)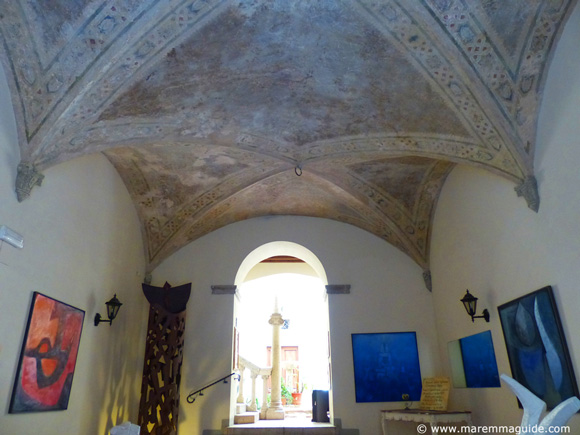 Now Shakespeare and medieval love and murder mystery stories aside, I was blown-away by the apartments. Take it from me their photographs on display downstairs do not tell the truth. They are not the spartan, cold looking, rooms in those images. They are wonderful. We laughed about it and the photographs in this page are the new ones they have since had taken, mixed with some of my own.
If you are looking for apartments in Massa Marittima, look no further. You need to stay here.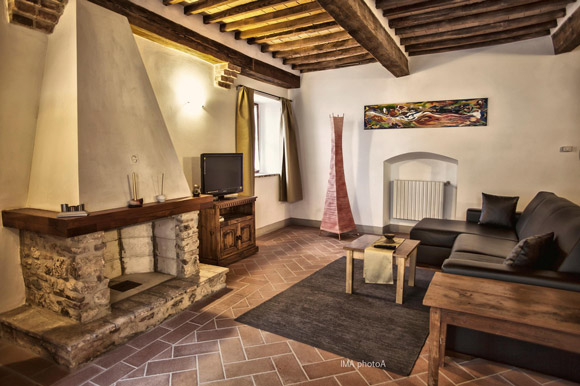 A little of the buildings history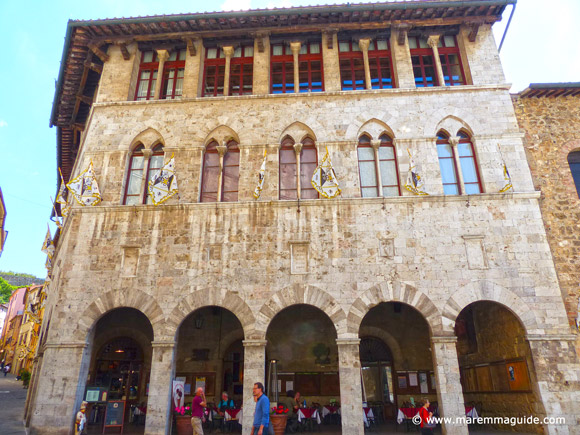 The original palace was constructed in the thirteenth century. But the majority of what you see today isn't the original Palazzo Pannocchieschi. When the rule of Massa Marittima by the city of Siena came to an end, Lord Pannocchieschi and his supporters had to leave. The building later became the property of the Malfatti family - rich mineral extractors - who had it extended during the sixteenth and seventeenth centuries.
The arched loggia that you see in the photograph above was demolished for safety reasons and re-built replicating its original medieval design in 1902. You'll find a fine original 1627 fresco of the Madonna and saints inside. The whole of the palace was subsequently lovingly restored with great attention to preserving the medieval interior. Now the apartments.
The Massa Marittima apartments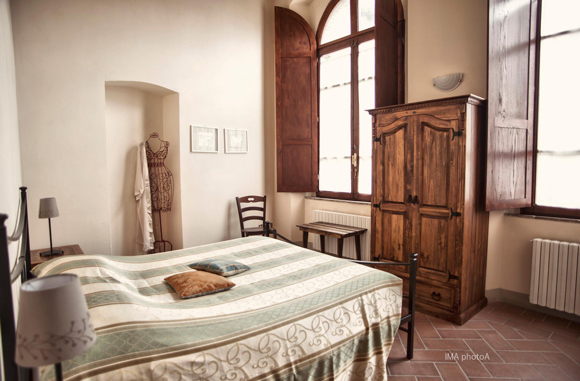 There are five apartments, all with their own front doors and en-suite bathrooms. They are immaculately clean and presented with great care and attention.
Some of them are so huge - yes, huge, not large! - that their floor area is two to three times the size of the average family apartment in Maremma. So if you are planning on sharing an apartment with family or friends, you certainly won't get under each other's feet here. There is ample space for everyone, children included, to have their own window with a view.
And if you want some social time out of the apartment, the accommodation includes a shared central living room overlooking the internal courtyard with a dining table, sofa, televison, wi-fi and kitchen for brewing-up some tea or coffee together.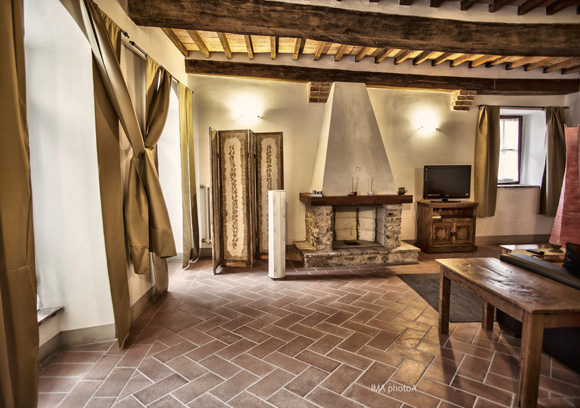 Everything you could need within a few feet away
The best holidays in Tuscany are those where you go out during the day on lots of mini adventures and return early evening to a wonderful base, from which you have everything you need. With no need to worry about whose turn it is to forgo another glass of local red wine in order to drive the rest of you home.
Where there are bars in which to sip an aperitivo, piazza's in which to sit in and streets to explore explore after dinner.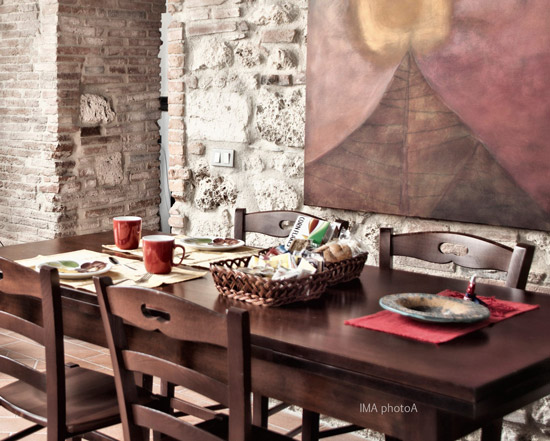 Palazzo Malfatti is just such a location.
When your wine glass is empty there is a great Enoteca/mini delicatessen downstairs on the ground floor next door to the palazzo entrance.
When you fancy a cappuccino and a chat with the locals there is a bar under the arches.
The best "gelato" for miles around is in Bar Centrale just ten feet from the front door.
Morning bliss...
Taking care of breakfast couldn't be simpler: just pop down into the street below for fresh pastries and some fruit. No need to get all made-up to do it, go Italian-style. Just pop on some sunglasses, a sparkly ring and put your hair up ;)
And then back up again to put the coffee pot on the stove. Open the windows and watch the world go by...
The chemist and bread shop just one door each further down. Bookshop, clothes shops, a toy shop, florist. Green grocers, butchers, hairdressers, and even a haberdashery.
The local COOP supermarket - perfect for daily supplies of fresh bread, cheese, hams, meat, fruit and vegetables - is a walk up the hill through Porta alle Silica, past the Sienese fortress. (It is a walk.) But if you don't want to go that far, there is also a mini supermarket just alongside the cathedral.
There are restaurants opposite and all around.
And at night, medieval city walls, the entrance gateways, the duomo, the churches, the Sienese fortress walls and Clock Tower - the Torre del Candeliere - are all lit up and the nighttime romance with Massa Marittima begins.
Car parking
Parking isn't a problem either. Although the historic centre is closed to all traffic (except deliveries etc), there is a central car park and plenty of places around and within the city walls. Massa Marittima doesn't have the traffic problems of Firenze, Pisa or Roma!
Planning a wedding in Massa Marittima?
If you are planning to get wed in Massa Marittima - and who wouldn't, as it is one of the very loveliest of locations in Maremma (I got wed there!) - then it is worth noting that if you opt for a civic ceremony in the Town Hall with its two thirteenth century towers and fourteenth century middle, it is the building directly opposite the Palazzo Malfatti palace.
You can see it out of this window.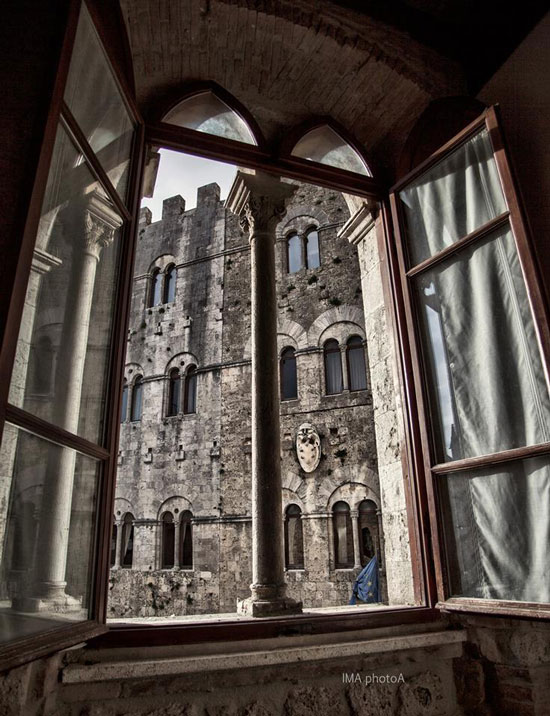 Couldn't be simpler: get ready at leisure and walk across to get married. And if your small group of friends and family are staying with you too in the apartments, there are no car or transport problems to think about.
Check availability & book your stay
Read the reviews of those who have stayed here:
Send the owners - Enrico and Vittorio - a message to check availability and latest offers: