Mostra La Rocca
Roccatederighi
Magical summer days out in Tuscany
The Mostra La Rocca in Roccatederighi in Maremma, is one of those things you first come across quite by chance and which transforms an exploration of an already intriguing medieval hill town into something really quite magical. And then has you returning the next year to see what Maremma's artists have come-up with this time, and where.
Because to discover them, you will need to wander up and down Roccatederighi's medieval streets. Climb a rock outcrop or two. And enter dark rooms down equally dark and dank alleyways :)
Last years show was less geared to families with young children and colourful than the last. That isn't to say that it wasn't worth a visit. It was. It is just that the structures and sculptures were smaller and there weren't any lizards, spiders and their webs, or metal men, that my daughter and husband and I loved the year before.
But there were still some interesting things for little ones to see...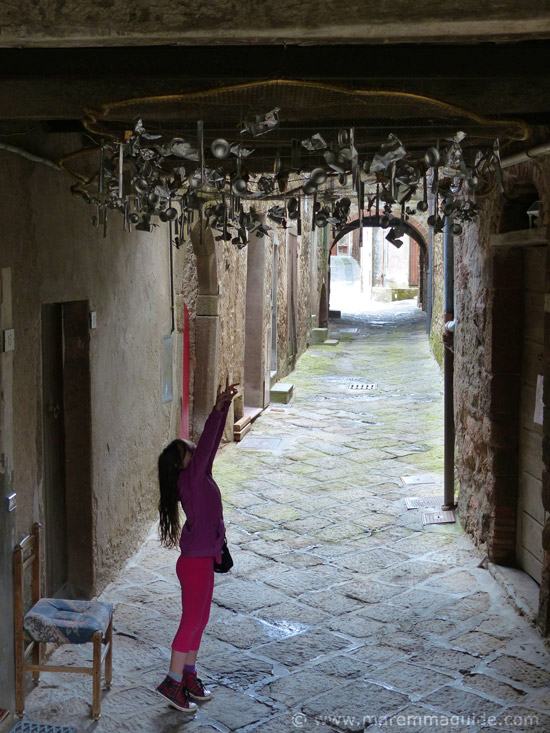 Sad news: Mostra La Rocca 2017
It saddens me to have to tell you that one of the highlights of summer here in Maremma won't be taking place this year - 2017. The - voluntary - organising team that normally get to work on the next years programme as soon as the current year's has been dismantled, have advised that due to lack of time and funds they have been unable to put on a show this year.
:(
Sophia and I had already started to wonder what we would find this year and plan our day out with dad.
Let's hope that a solution can be found to reinstate this wonderful outdoor contemporary art event.
The sword in the stone and gallant gentlemen
A sword in the stone just waiting for some young knight in armour or damsel - after all we are in the 21st century now ;) - to pull it out and be crowned king or queen of Maremma!
That's my knight. Not so much shining armour as an Angry Bird's T-shirt!
And my damsel. Her first attempt in 2014.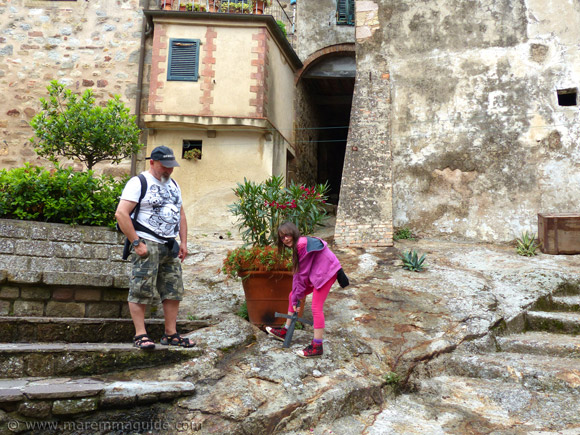 A lot of spinach and year later. Bigger. Stronger. And still she cannot pull it out! But we had fun trying!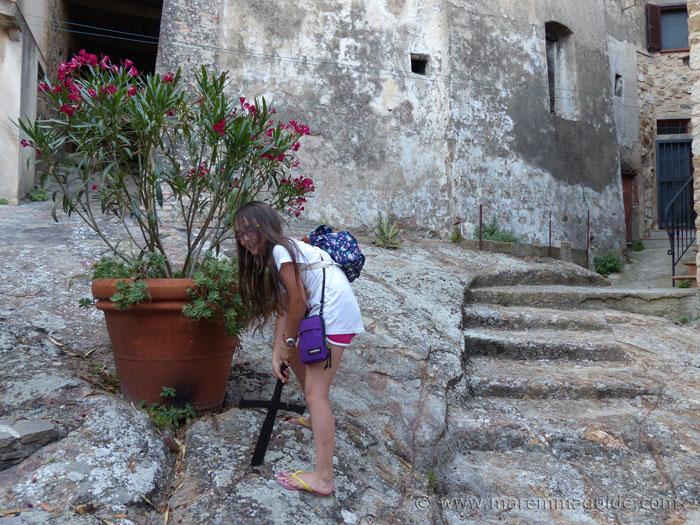 Thinking of having a go? This is what you are up against, close-up. Take it from me. It is stuck in that stone real good!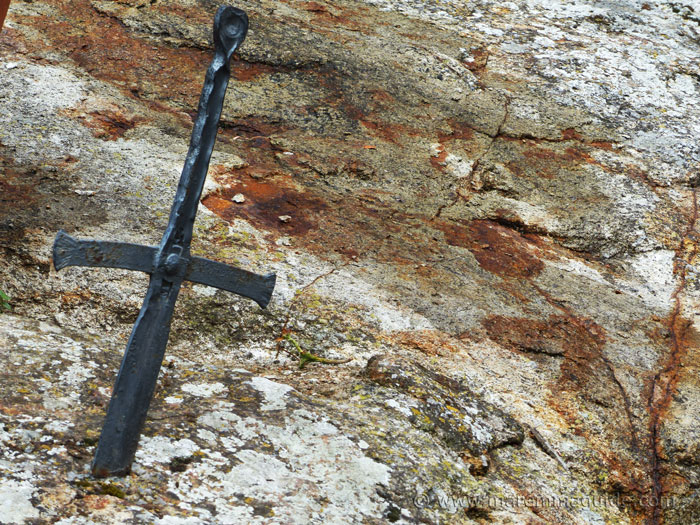 Gallant gents bearing flowers.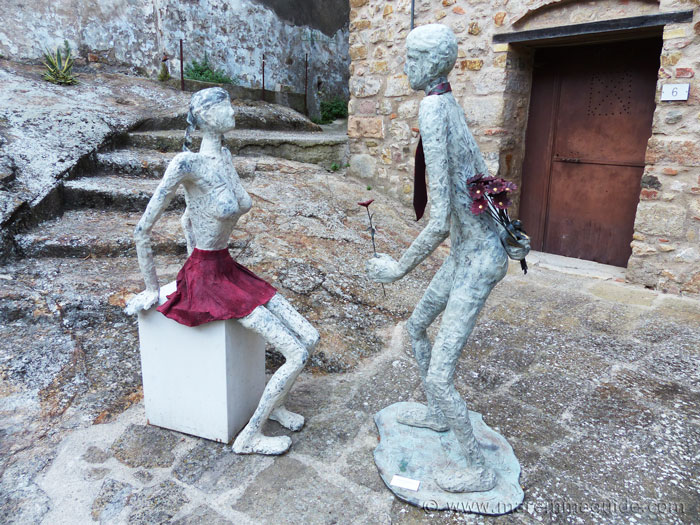 Flying babes
Flying babes and a wonderful olive tree in the piazza in front of the oldest of the two churches in Roccatederighi. The tenth century Chiesa di San Martino Vescovo.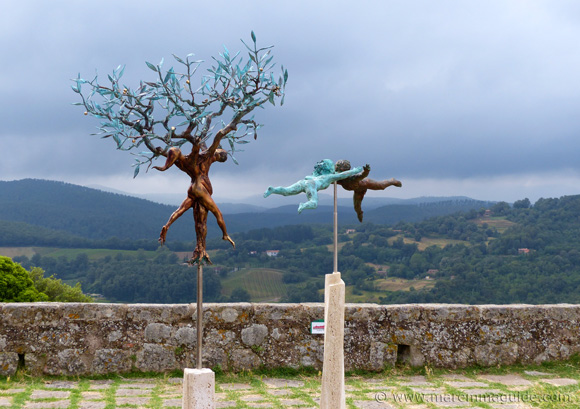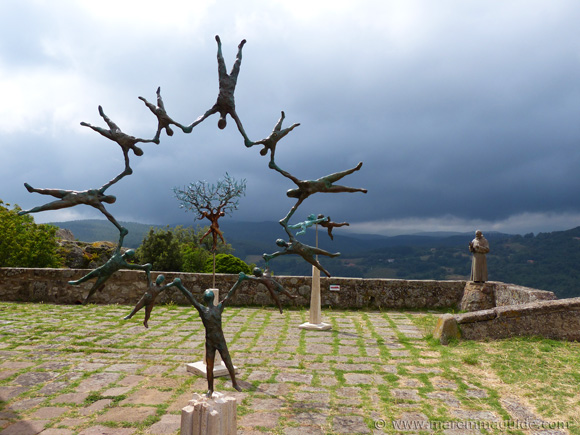 Free fall divers
You'll need to climb the "rocca" to see this man and find out who his diving companion is.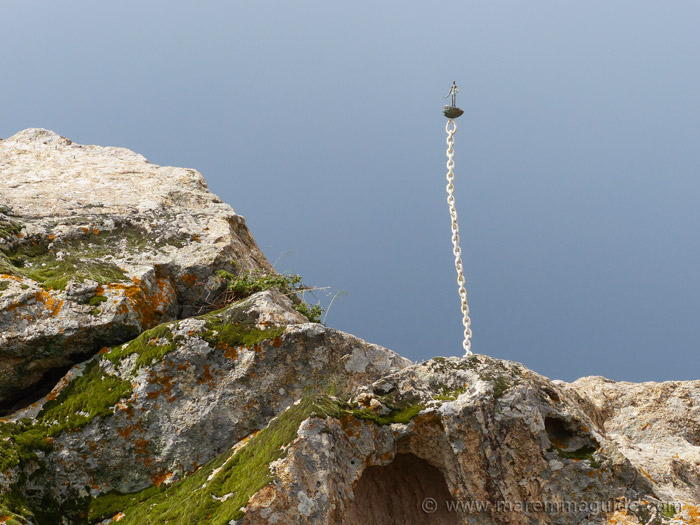 Going barefoot
A room whose doorway is covered so you cannot see what is inside! In which to enter, you are obliged to remove your shoes and go barefoot. Onto its floor of salt!
And another in complete and utter darkness. Best viewed when it is night and the alleyway that leads to it is lit up with thin neon tubes.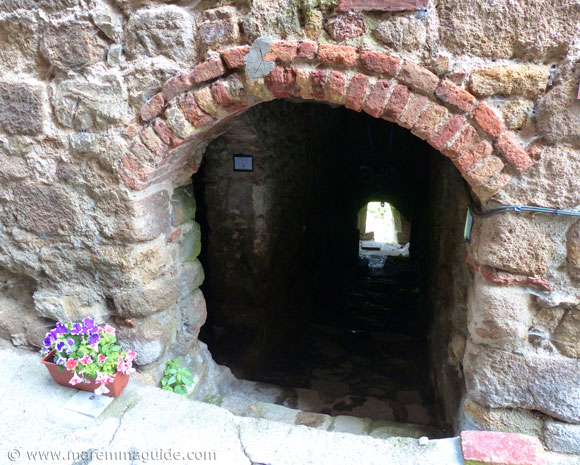 A heebie-jeebie moment
Now I appreciate that everyone interprets and appreciates art differently, but this particular "installation" in wool gave me the heebie-jeebies. And even did whilst preparing the photographs I took for this page.
I have it on good authority from one of the organisers that it is meant to represent an aspect of life. But it is it's chosen location, hanging in the dark part of an arched medieval alleyway, that disturbed me. Too similar for comfort to images from films of murder and torture that my little one has yet to see in her life.
Having said that she was completely unrattled by it and told me quite clearly that she couldn't see why I didn't like it. Which, as you can imagine, I was happy to hear.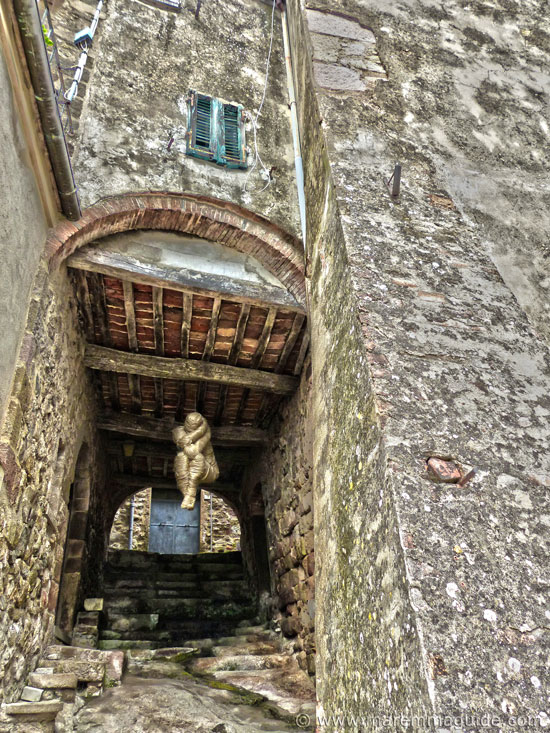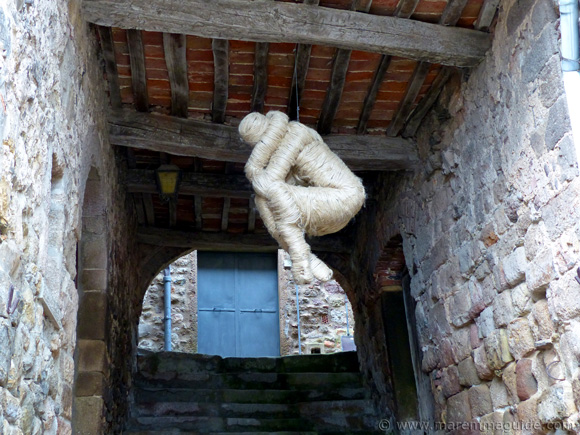 The Mostra La Rocca dates
The Mostra La Rocca this year runs from mid-June to the beginning of the last week of July each year.
If you happen to be there on its first day you'll be accompanied around the exhibits by a brass band. And find yourself at a buffet at the end in Piazzetta Senesi :)
But it isn't just an outdoor art exhibition.
The six week programme also includes art contests and musical events: concerts, choirs, and jazz in the Chiesa di San Martino church. And altogether unexpected performances of slack-lining across the sky between one rock and another.
Stone balancing. And an end of event dinner under the stars.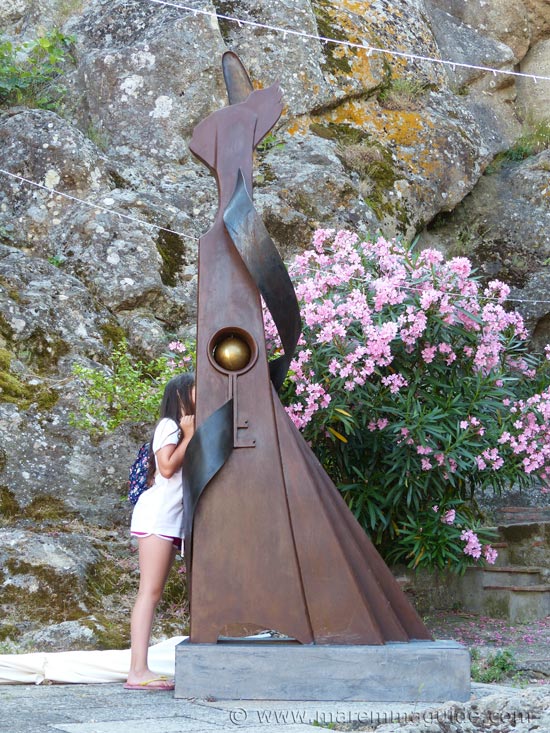 There's also a painting exhibition in the Civic Centre, which you'll find in the newer part of town.
The full programme for each year can be found via this link: www.mostralarocca.it/programma.php It is only in Italian, but pretty easy to work out what is on and when.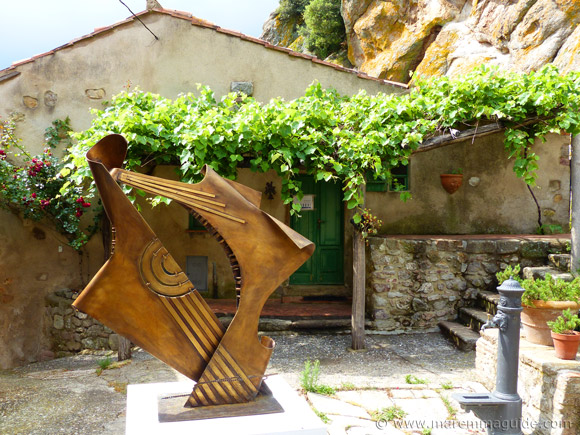 Each year the theme and collection of exhibits is different. So you never know what awaits you around the corner.
Marble.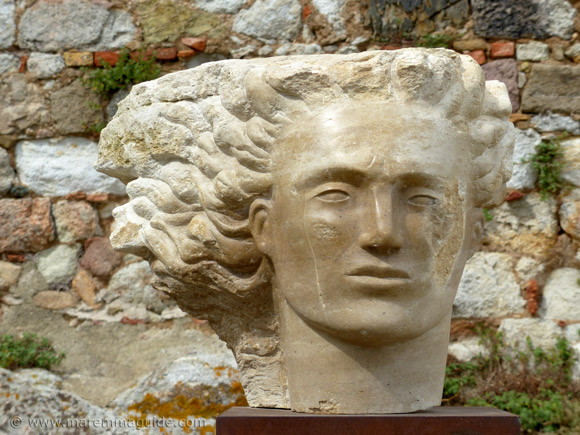 Metal.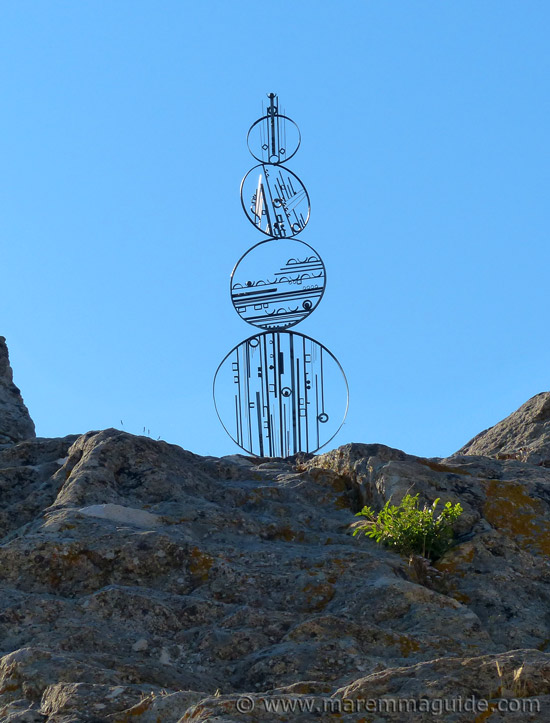 Or papier mache!
Papier mache
From a girl and her adoring cat that you can't see, sat under her swing.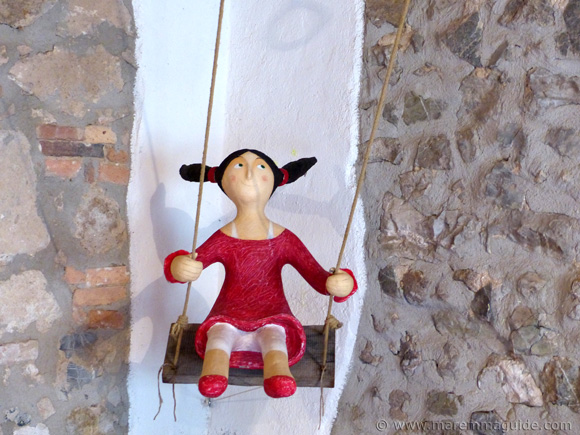 To a "stack" of animals from a children's fable, at the top of steep stairs.
The red "ribbon" was in fact a length of knitting that wound it's way up and down the medieval streets of Roccatederighi. Coming to rest in a doorway in a piazza. Unfinished. Sat in a basket with its knitting needles and ball of wool still attached.
With the open invitation for you to sit a while and add to its ever growing length. A row. Or more. Up to you.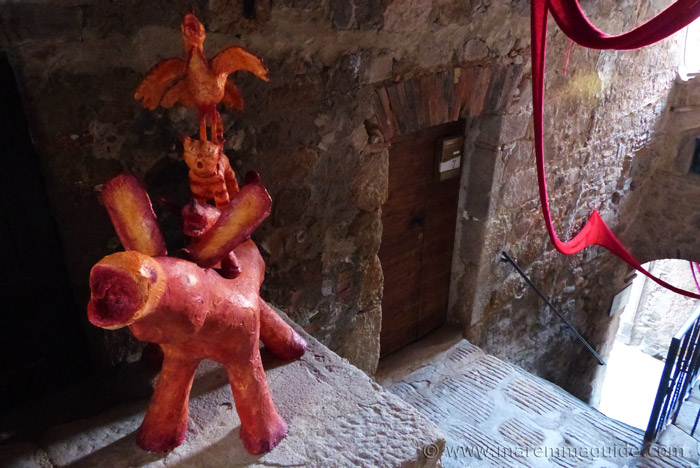 Tremendous terracotta
In 2014 there were some pretty amazing terracotta works of art.
The "vendemmia". The detail and life in this was stunning.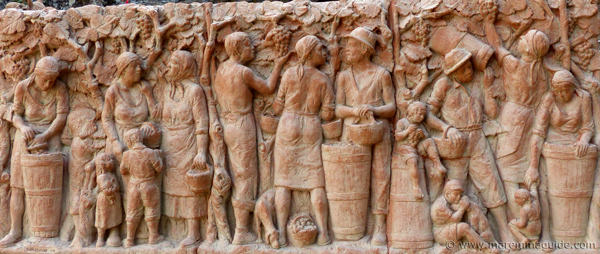 And full-size nude riders on horseback.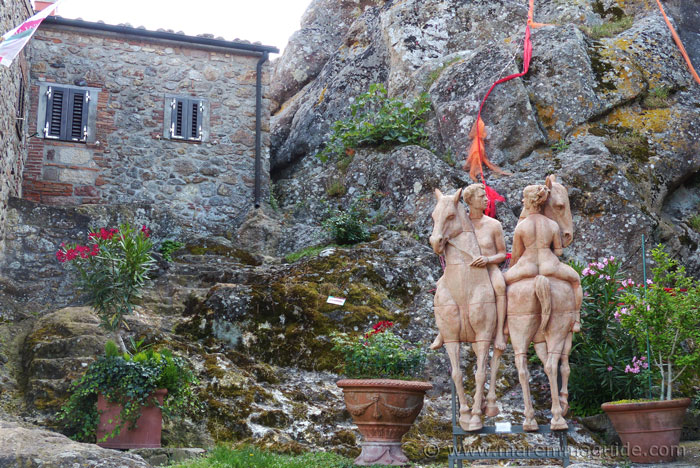 Intriguing recycled metal art
But what I particularly look forward to each year is Roccatederighi's astonishing recycled metal art. the exhibits always brings a smile to my face. And make for some wonderful photographic opportunities.
One of our favourites from the 2014 Mostra La Rocca.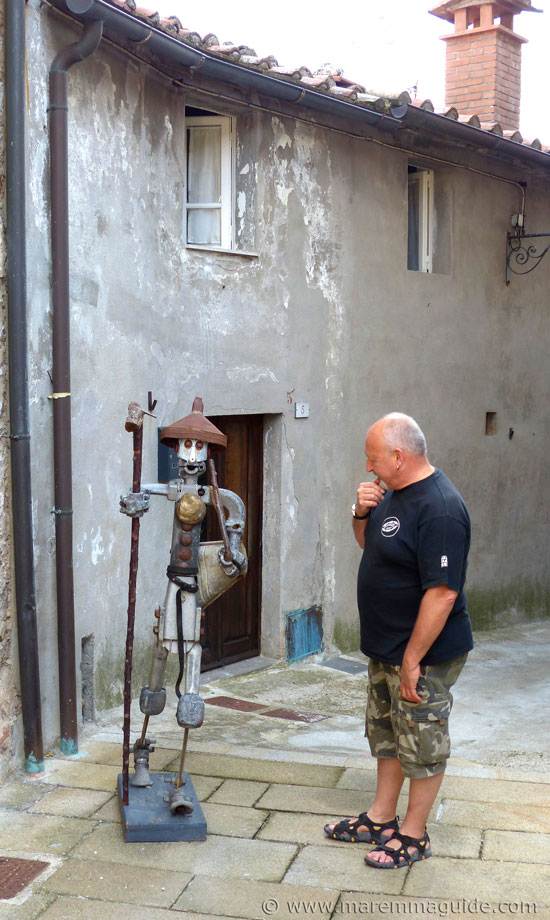 And his friend.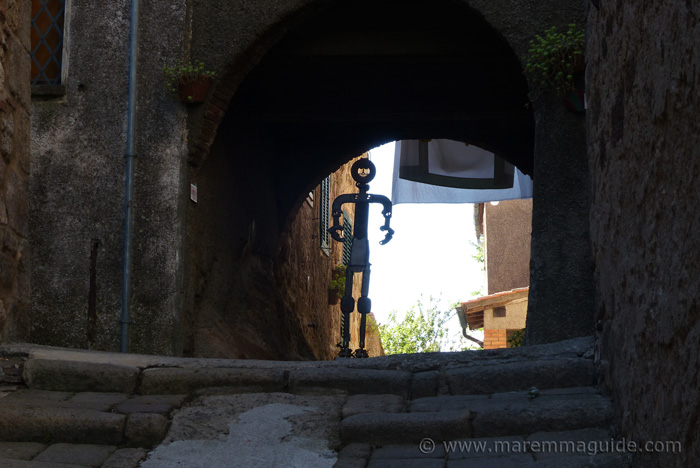 The fish. Can you make out what the recycled parts were originally?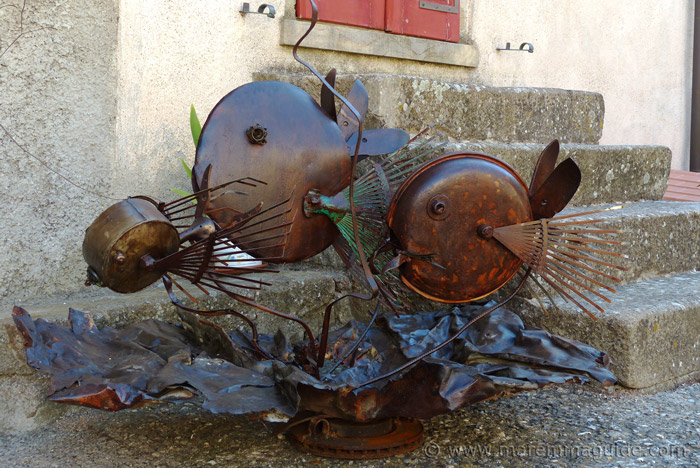 The lizard.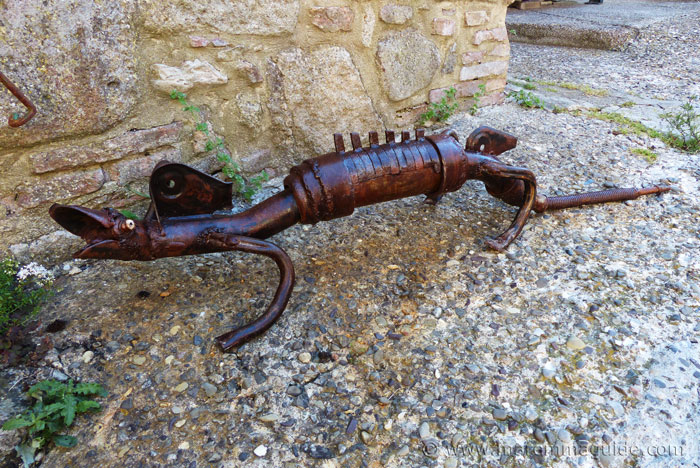 And the spider's web.
Now, whilst my "assistant" knows that it is made from metal. And that that spider, big as he is, isn't going to move. She is still is biting her lip! I'm a "mama cattiva!". It's not the first time (nor will it be the last, but don't tell her) that I will ask her to stand in front of huge spiders to give a perspective to the shot!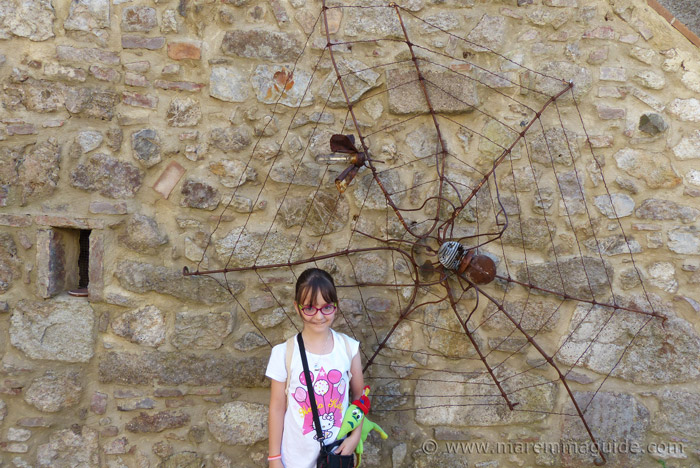 The biker.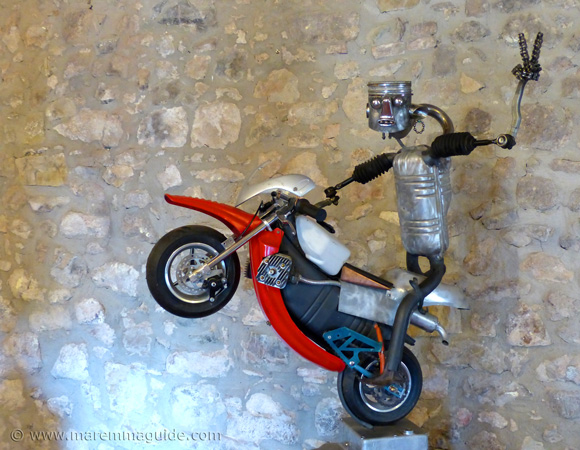 And this year's nutty man!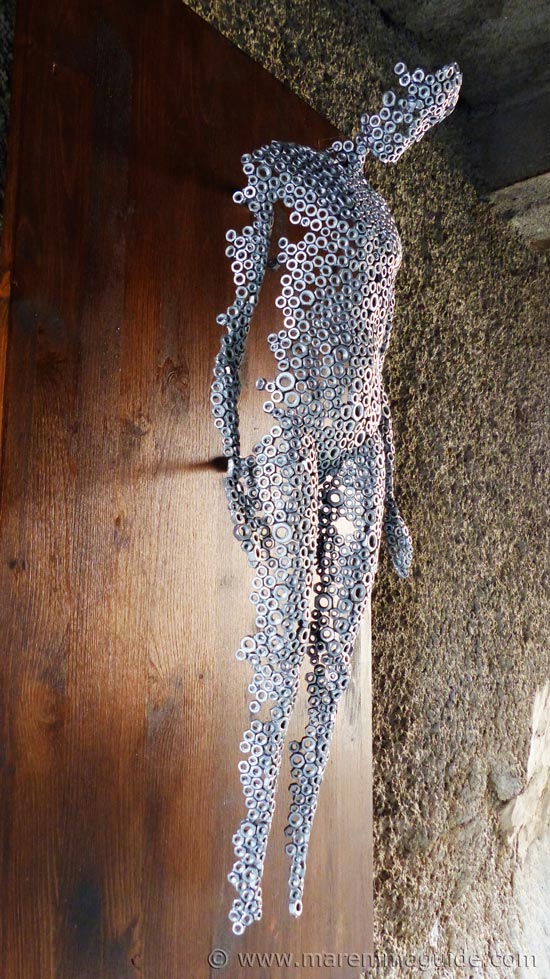 Some more of the 2016 exhibits
When a piece of wood "talks" to you. It's Maremma olive wood, so it would. Naturally. Wouldn't it! As magical things always happen in Maremma :)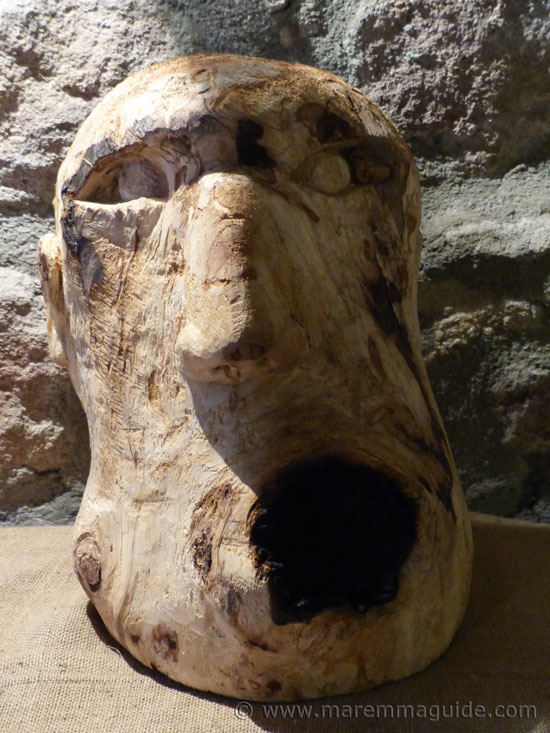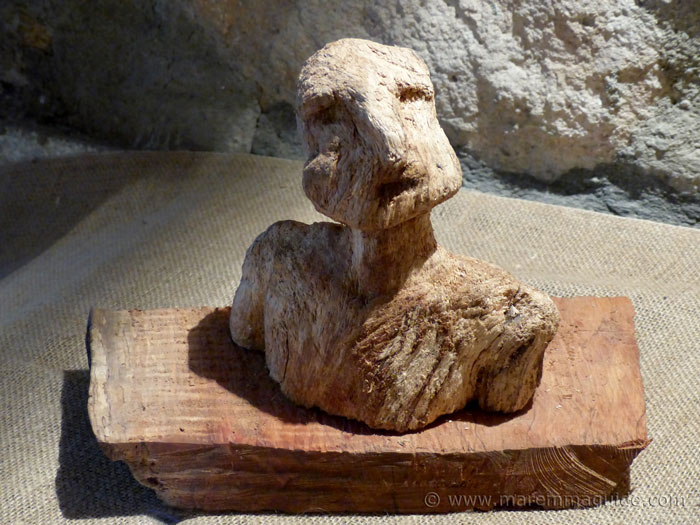 Not an exhibit! But in today's world of modern art it just as well could be!
Title, "washing day"!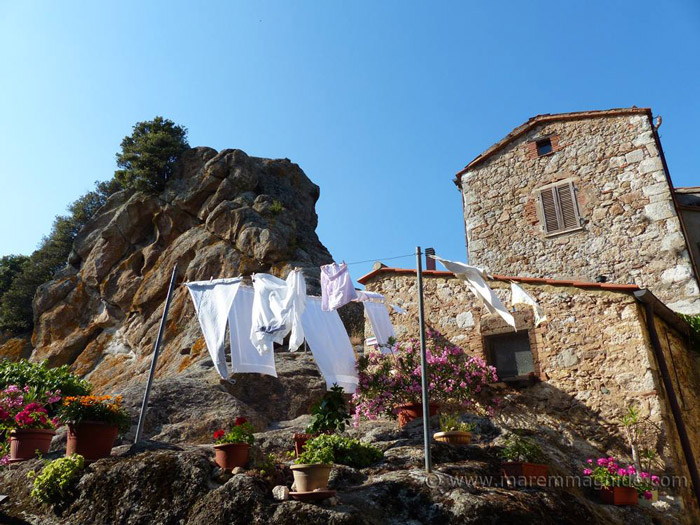 Another door and another heebie-jeebie moment
Another normally closed "cantina" door to the public and scary art inside!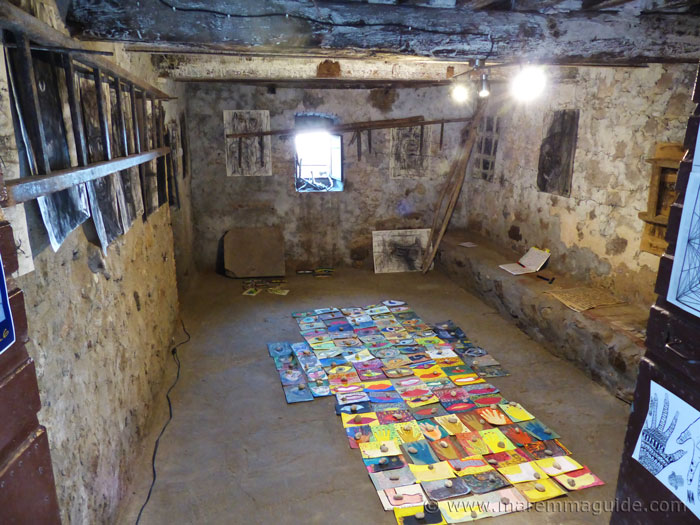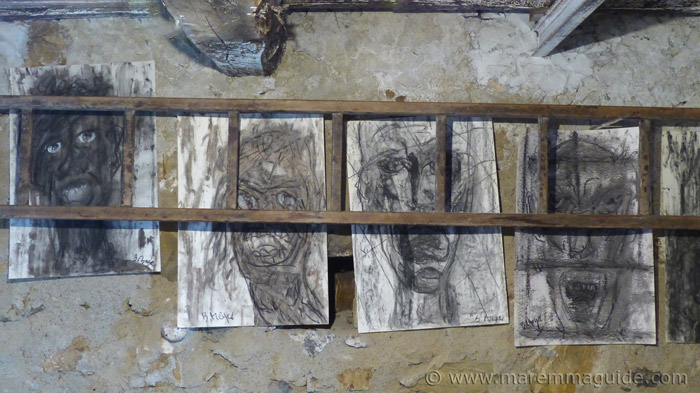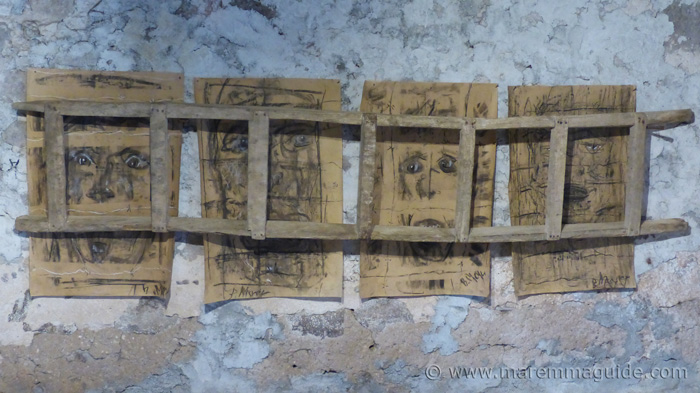 And if they weren't enough, there is a big bad wolf.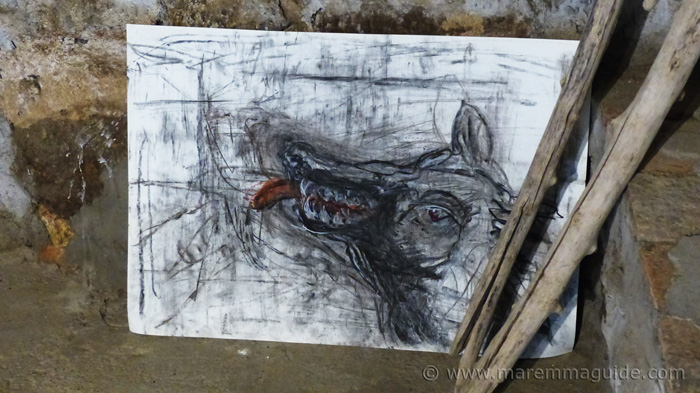 Cubes
Spot the silver hexahedron behind this bronze figure. It's not the only cube in town!
This year Roccatederighi also hosted an international cube-art contest, with the best of the operas exhibited in some odd places.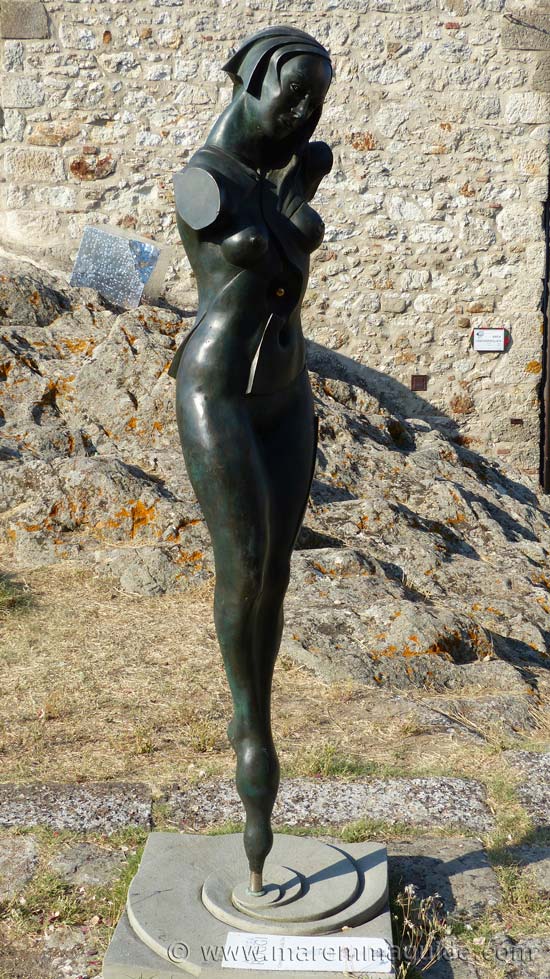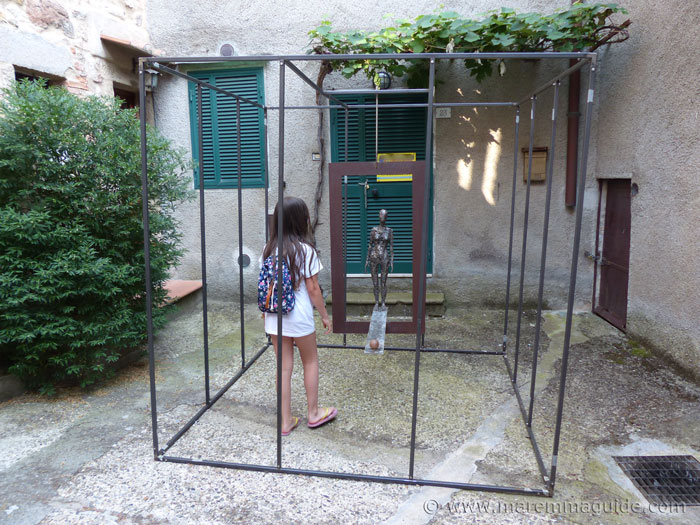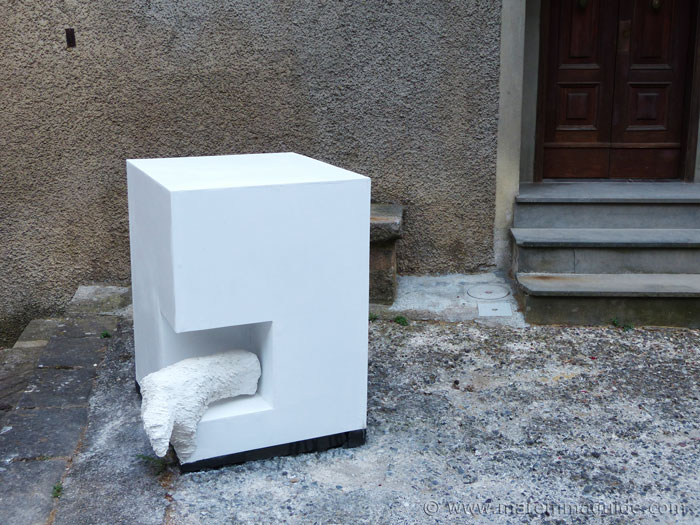 Metal sculptures
Female figures by Federico Molinaro.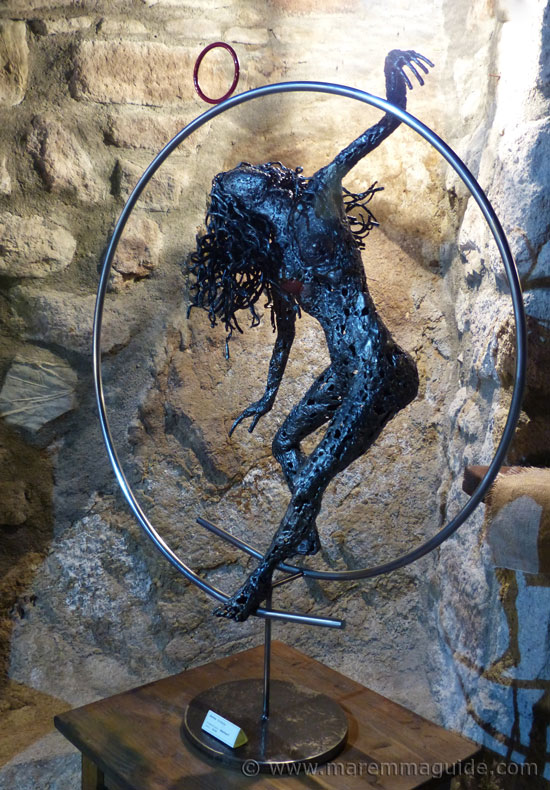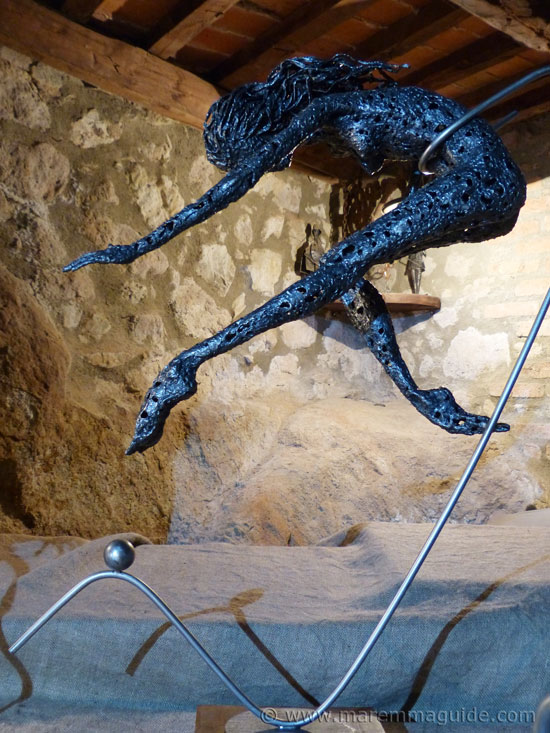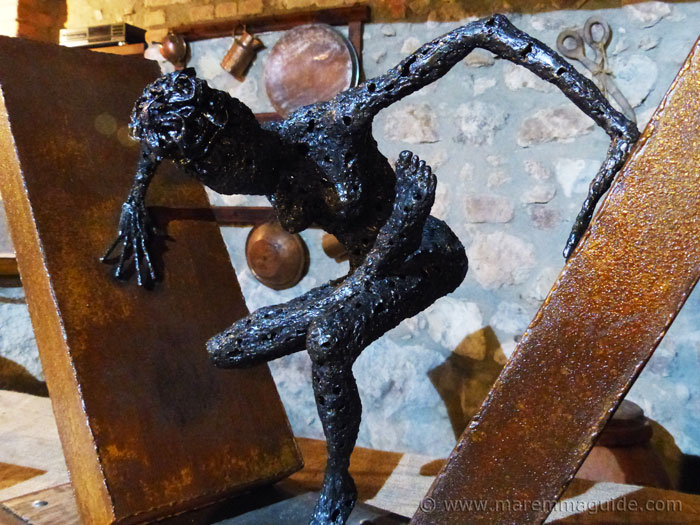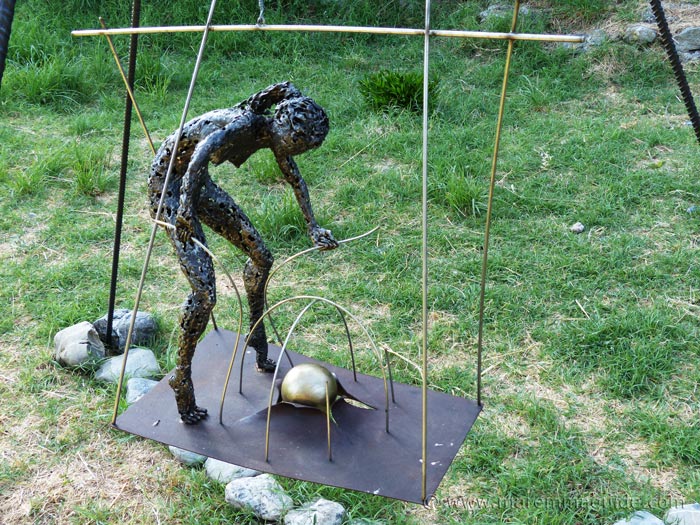 And a wing. Or is it? what do you see?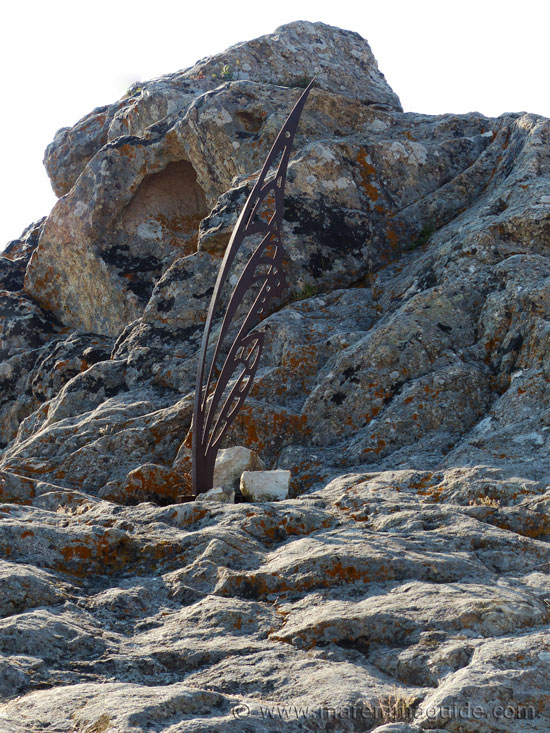 Installations... and a word to the wise
A word to the wise. For mums of those with little fingers! if when you visit Roccatederighi during the Mostra La Rocca, you find a door open with a similar installation to the one in the photograph below. Be pre-warned that there will probably be on the floor behind it a tray filled to brimming with a glistening black entity.
An entity that reflects back your image. That looks like a thick black liquid. But it might not be.
That "invites" you to touch it. Because. Because it just does!
That is crude oil. So if you have inquisitive children and happen to be elsewhere in the room when they find it... take a copious pack of baby wipes with you!
I learnt the hard way! And "my inquisitive little fingers" were old enough to know better!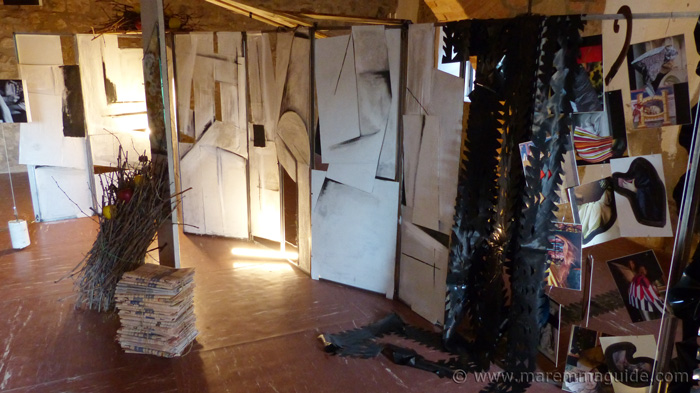 Another room and an invite to contribute to a pile of crumpled paper exhibit on the floor in the corner of the room. Explain that one to kids who have been told from time in memorial not to do that! And that it is art!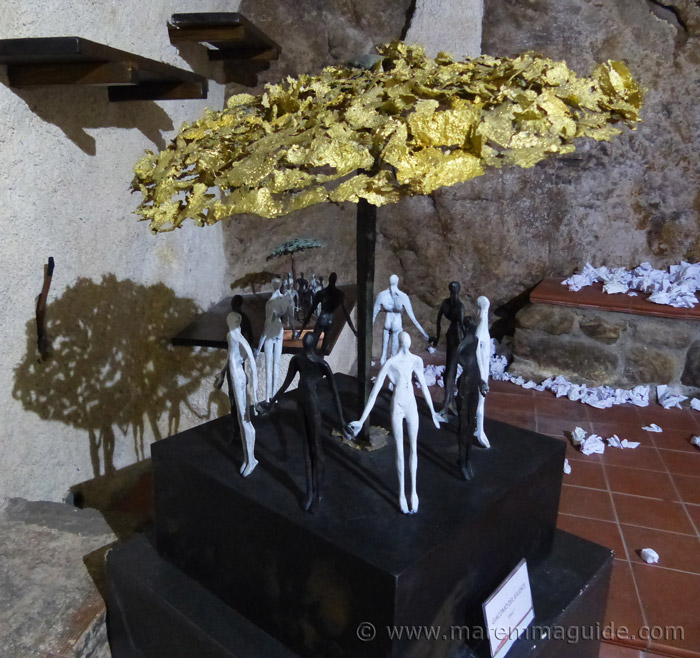 Mosaics
The "Percorso di mosaico" - the mosaic path.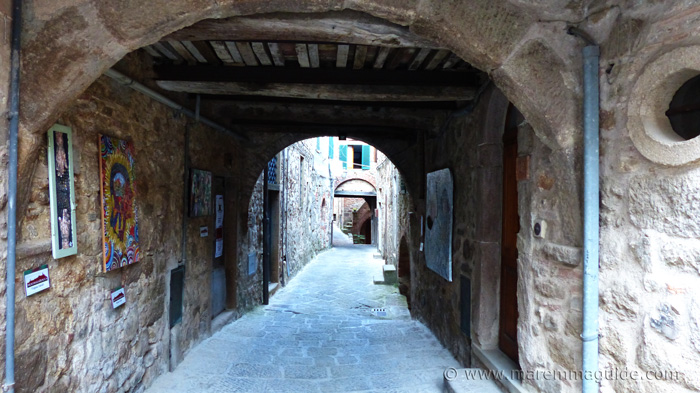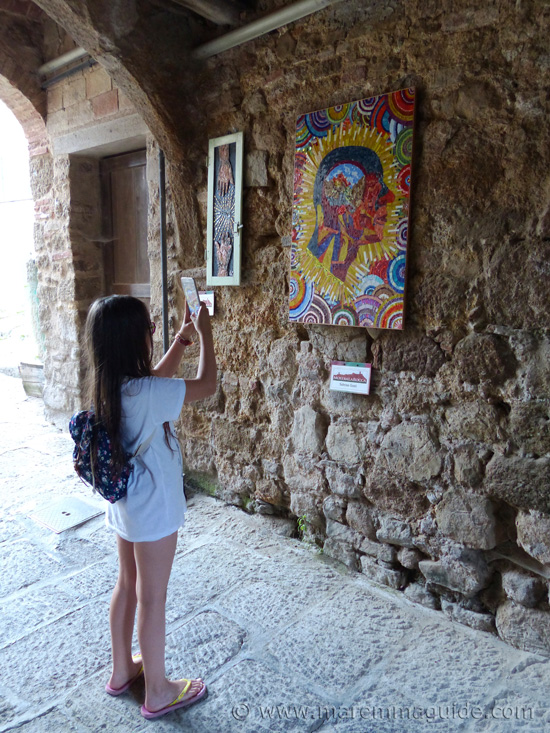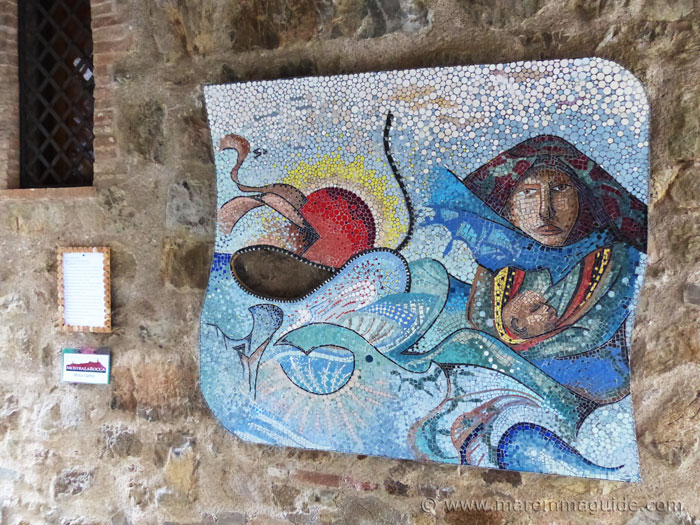 And another scary corner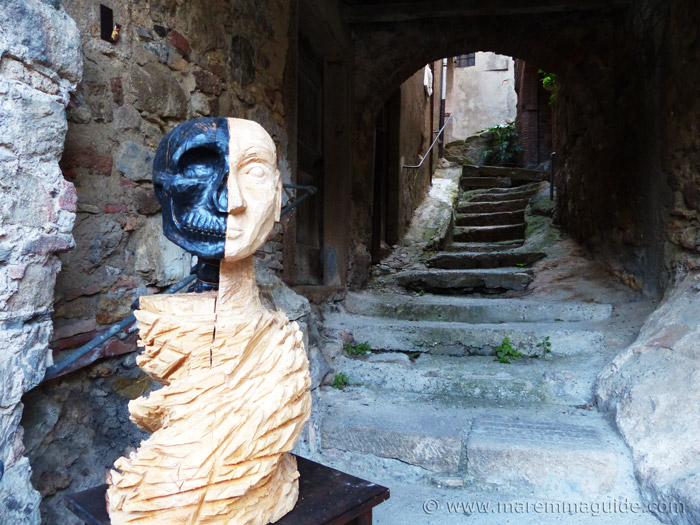 Have fun at the Mostra La Rocca in Roccatederighi!