A Porto Santo Stefano restaurant that isn't in Porto Santo Stefano!
A rather special Porto Santo Stefano restaurant that isn't in Porto Santo Stefano! Well, it is, but it isn't down in the port. You will have to drive up and up and up the hillside behind this beautiful Maremma location, well beyond what you estimated the distance to be. So much so, that the conversation in your car will turn to suggestions about turning around and finding someone for directions!
But when you finally approach this Maremma restaurant, you cannot miss its entrance and the view.
Walk up through the aromatic garden to the front door and you'll find a dining room in traditional Tuscan stone, flooded with light from its wall of windows. And waiting staff - dressed in formal black and white - to welcome you.
But it isn't either of these two things that will strike you as you arrive. It is the fact that the chef (and owner), Umberto Amato, when told of your arrival, leaves his kitchen to greet you personally. And then, when you are seated, returns to have a chat about what is on the menu. The whole wonderful experience of eating out at La Fontanina starts from that moment.
What we had wasn't on the menu! Umberto described his à la carte dishes for that day and then offered us an alternative: a "degustazione" - a tasting of fish dishes option. Not one to turn down the suggestion of a chef, and nor were my lunch companions, we went for that.
First. Three things about the photographs.
One: I'm not a professional food photographer!
Two: there were three of us all taking photos of these dishes so I couldn't hang around getting the lighting or focus spot on.
Third, I wanted to eat what was in front of me!
The La Fontanina restaurant fish dishes
They started with four appetizers!
Note. The portions in my photographs are the "degustazione" tasting one for three people.
The antipasti - starters
Three delicate baskets of cold seafood. Octopus, celery and tomato salad.
Insalata di polpo, con sedano e pomodorini.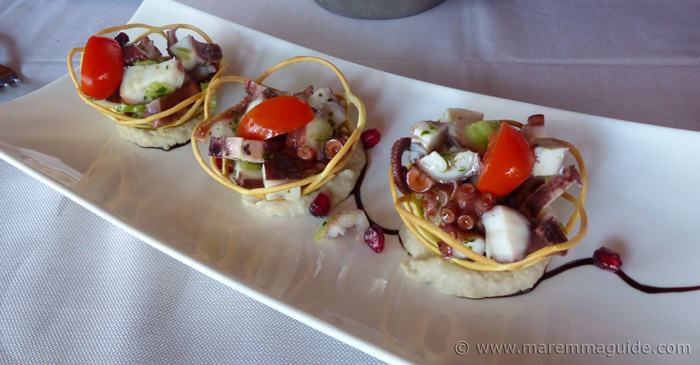 Then a cold Italian seafood salad with dried Shi Drum and pomegranate. The rocket salad was picked fresh from their allotment next to the restaurant that morning.
The restaurant also sources its own vegetables, fruit and olive oil from its allotment, orchard and olive grove. And, Umberto has been known to wake-up his younger neighbour - sleeping-in after an early morning return from the discotheque - to ask him for a fruit or two from his garden that he fancies using in a dish that day!
Ombrina essicata alla tramontana con melograno.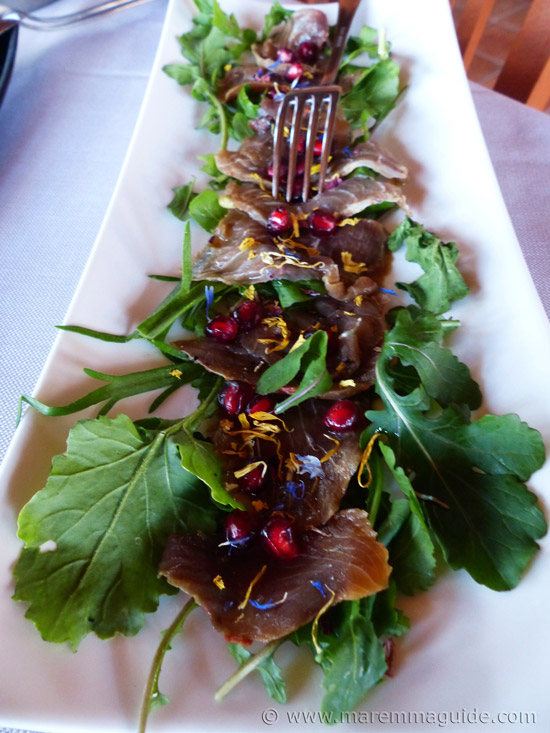 The dish of steamed mixed seafood. Il Profumo di Mare: Insalatina di Mare al Vapore.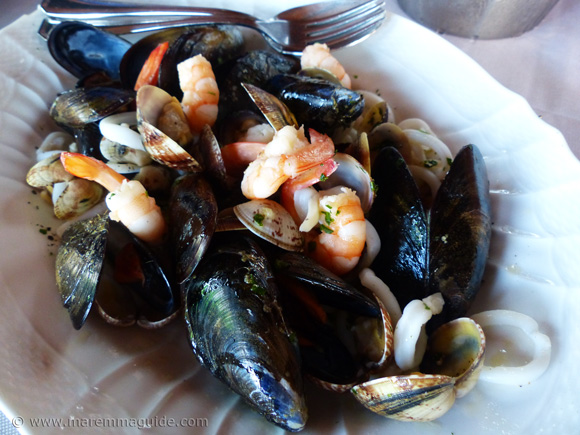 This one was a take on couscous flavoured with saffron, with marinated anchovies, which was nothing less than exquisite. I am going to return just for that dish!
Tortino di couscous con alici marinate all'ansonica, aspretto di frutti di bosco.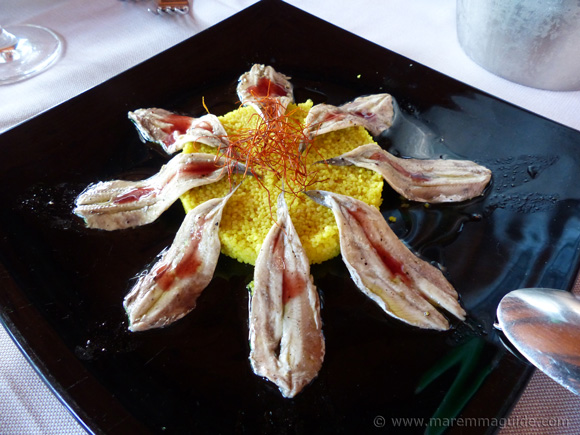 The bread is homemade too, very tasty, and comes out warm from the oven.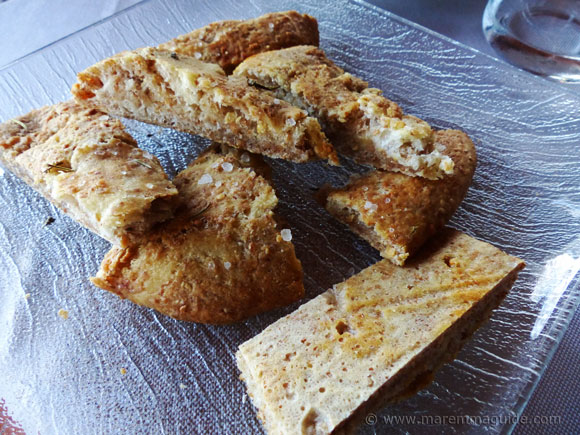 The first courses - primi piatti
While we were there there was an extended family gathering on a table next to us celebrating a wedding anniversary. Umberto had prepared a dish for them that he also wanted us to try.
An Italian seafood risotto of Pippin apple and local prawns made with a scampi bisque. It brought a whole new meaning to "left overs"!
Risotto con mela renetta, mazzancolli locali e bisque di scampi.
The pici pasta dish that I swooned over and could eat every day and never be tired of it: Pici Trafilati dallo Chef con Frutti di Mare e Molluschi. Why oh why did Enrico and Gilberto like theirs so much too?! Pleased, but disappointed they didn't want to share!!
NB. This time, the photo is of a portion for one :)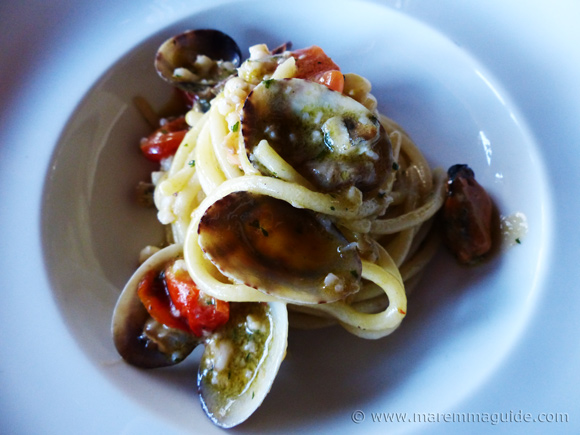 What I thought at first glance was a plate of fried vegetables and fried grated potato, turned out to be fried fish: Frittatine di bianchetti.
Egg and flour fritters of Gianchetti - as they are also known - the whitebait of local "pesce azzurro" (sardines and anchovies).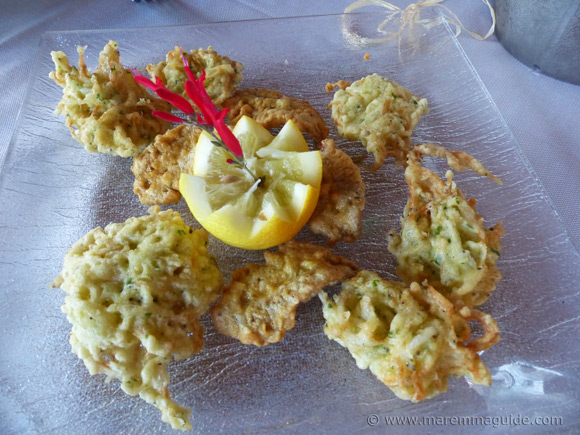 Heavenly clouds ... my only wish is that these were all mine! But I was a good girl and shared! I would have swapped the next dish for more of them. Not because it wasn't good, but because the flavour was too strong for me.
The chef had returned to our table to check with us whether we would want to try this dish as it was made with a very particular and strong flavoured fish, "Bottarga di Muggine". I had never tried cured Grey Mullet roe; it is not something my young daughter would be too fond of having with her spaghetti - she is more of a "pasta pomodoro" kind of gal - but she wasn't with me this time and not one to turn down the opportunity to try something new, I said yes. After all if my other two dining companions had eagerly said yes, I wasn't going to miss out on what they so obviously thought was a great option.
This portion was for one: a huge white bowl with a small depression. Gnocchi di Patata fatti in casa con Bottarga di Muggine.
The sorbet
To cleanse the palate, the sorbet.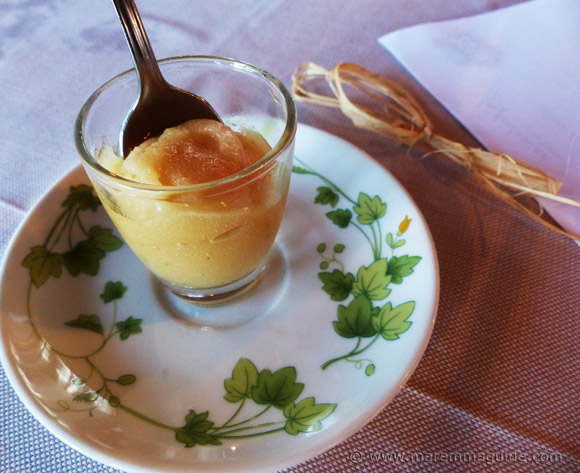 The main course - secondo piatto
When it came to the second course we were all well replete, so the chef offered us a fillet of fresh fish to share. It too was delicious, but I don't remember it's name!
The fish is all sourced locally from along Maremma's stunning coastline and the local lagoon of Laguna di Orbetello.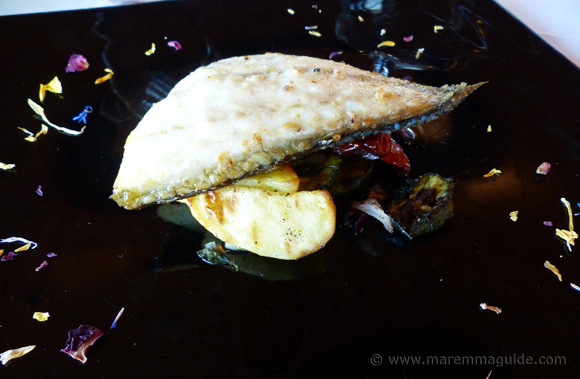 The dessert
The guys refused dessert, but ended-up sharing this too!
A chocolate sponge with hot fondant chocolate in side. It wasn't the best that I have eaten, but neither was it a bad experience!
Want to try it too?
I checked with the chef and he said that the "degustazione" was available - even if it isn't on the menu - if people ask.
If you want to try it - albeit something similar as I'm sure the dishes will vary depending what else is being prepared in the kitchen the day you go - I would recommend that you ask when you book. Tell them you would like to try what Donna at the Maremma guide did!
The à la carte menu
This was the menu on the day I ate lunch at La Fontanina.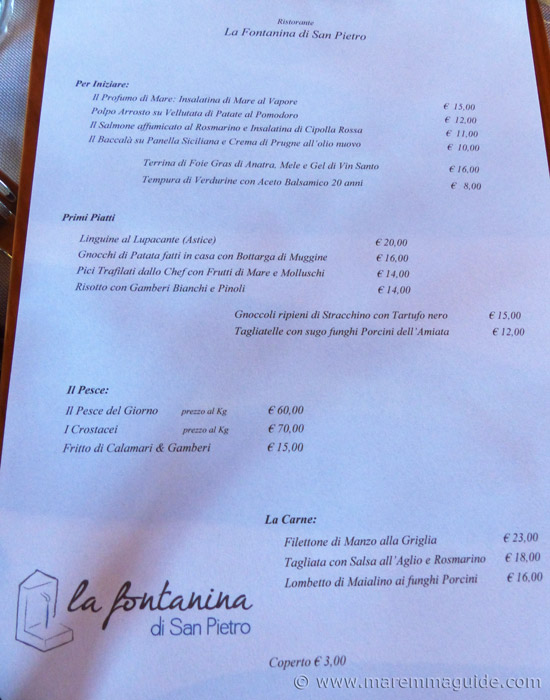 As you will see from the prices, La Fontanina isn't a budget Maremma restaurant, especially when you allow for a bottle of wine, water, coffee and a 12% service charge. That said, for some exquisite tasting fish dishes along Maremma's silver coast - the "Costa d'Argento" - I highly recommend it.
The interior of the restaurant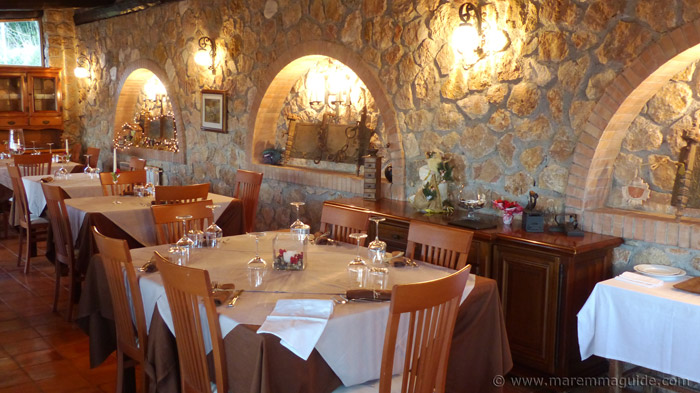 TIP. On a summers day/evening you will want to book one of the dining tables outside with a view for an unforgettable setting. (But like everywhere else in Tuscany on an evening you will need take your insect repellent with you.)
The chef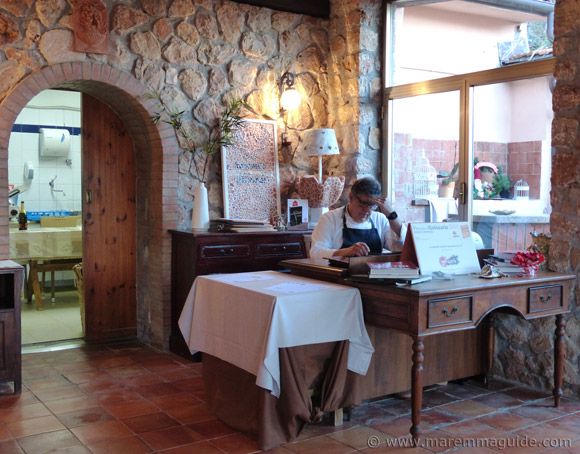 La Fontanina di San Pietro restaurant is a family affair. Umberto Amato and his mother, at more than 80 years old, still cooks alongside him each day.
He told us that he started in restaurant as a small boy in the dining room, allowed only to serve bread and water for two or more years. He then "graduated" into the kitchen to wash the dishes and the vegetables, for another couple of years, before being allowed to cook anything!
He is now one of Maremma's ambassador chefs when it comes to promoting the fish of this very special part of Tuscany.
Buon appetito!