Pratoranieri Follonica beach apartment
A private Pratoranieri Follonica beach apartment rental just a few feet from the sea and sand.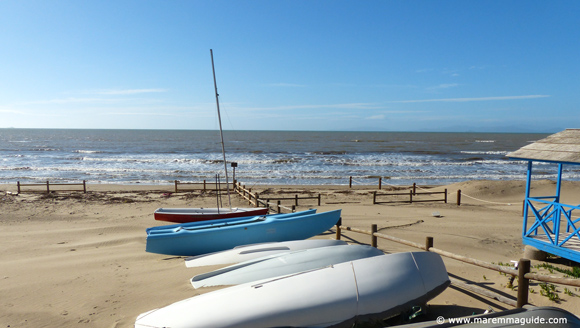 This apartment belongs to Elena and been in her family for more than fifty years: her grandparents brought it for her parents when they got married. And now she is renting it privately as a holiday apartment from the spring through summer into early autumn.
It is a spacious apartment - about 50 square metres - simply presented, but really well looked after.
Since Elena has started to rent it out she has added something new or updated it each year: the doors have been professionally whitewashed by an artist friend to give them a beach house feel. The same lady who made the seaside decoration in the entrance hall. And, gradually, it is taking on a younger, seaside holiday feel about it.
So why does this apartment feature in amongst my list of personal recommendations? Well, it is it's location.
Location: the best beach in Follonica
Pratoranieri beach is the best of Follonica's beaches. Now many other holiday making Italians who have rented out apartments or camped in the same campsite for generations behind Follonica's other beaches will surely, I know, want to take me up on that one. Everybody has their favourite Follonica beach: it is the one that their grandparents took their parents to and then them when they were children. Follonica is like that.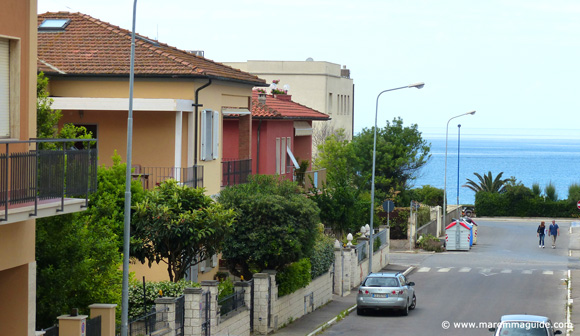 The view of Pratoranieri beach from the bedroom and kitchen windows
But Pratoranieri is my favourite because, away from Follonica's town centre buildings and shops, it has a much more laid back relaxed feel to it. The infrastructure is less intense and much more residential. The old road directly behind the beach is now completely pedestrainised with a cycleway, and benches and flowers.
Whereas the town is for shopping and evening entertainment - there is a lot in the summer - Pratoranieri is for lazy family days by the sea.
Location: everything you need within a few minutes walk
If you want to you can arrive, park your car and forget it for a whole week. The beach is only a stone's throw away. There is a supermarket, chemist, pasticceria, rosticceria, summer beach kit bazaar, gelateria's, restaurants and bars... all within a few metres or a few minutes walk at the most.
AND, breakfast couldn't be simpler. From 06:30 in the morning until lunchtime will the smell of freshly made coffee and baked cakes from the Bar d'Arte across from the apartment will waft in through the apartment windows. Pop down and eat breakfast there at one of the outdoor tables, or bring it back upstairs and drink your cappuccino watching beach goers and cyclists below.
Location: you don't need a car to get here
The main train line along Maremma's coast connecting Roma with Livorno, Pisa and Genoa, stops at Follonica train station. From the station the apartment can be reached on foot in about 15 minutes.
The same view with a little more zoom
The Pratoranieri beach apartment
Elena's Pratoranieri beach apartment is on the first floor of a small residential apartment block.
The spacious double bedroom.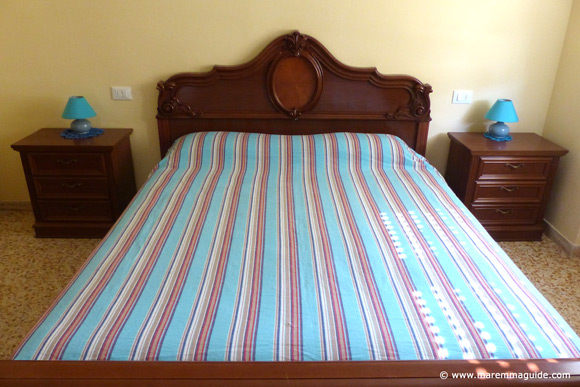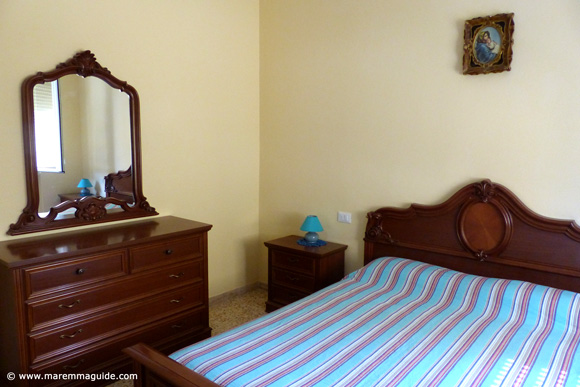 With a very large wardrobe for all of your holiday clothes and more.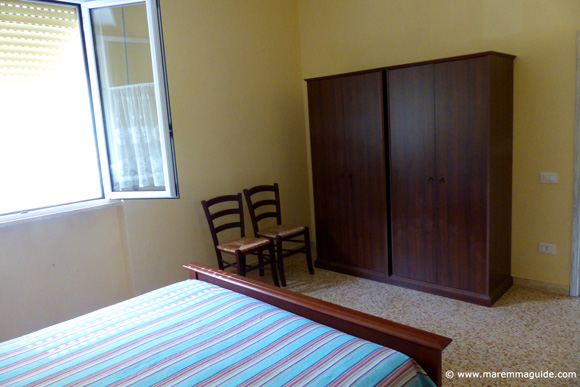 The light and bright kitchen comes with a fitted hob, oven, two fridges and a small television. The dining table seats six. And out of those windows across the street that you will find that small cafe.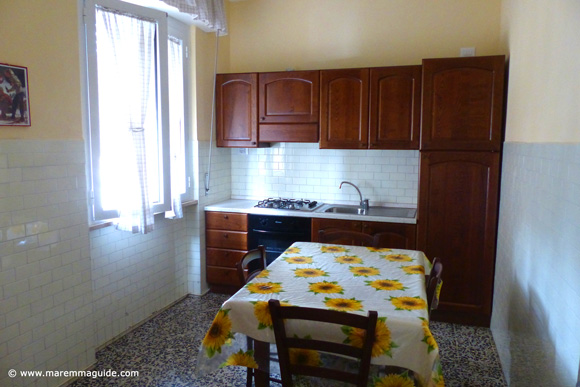 This isn't a new build (it isn't ancient either!) so the rooms aren't tiny and space isn't cramped: Elena's apartment has room to move around and space for all of your things.
Off the hallway, between the bathroom and kitchen there is a walk-in storage cupboard.
View from the kitchen into the inner hall. In which there is a big red pellet stove that heats the whole apartment.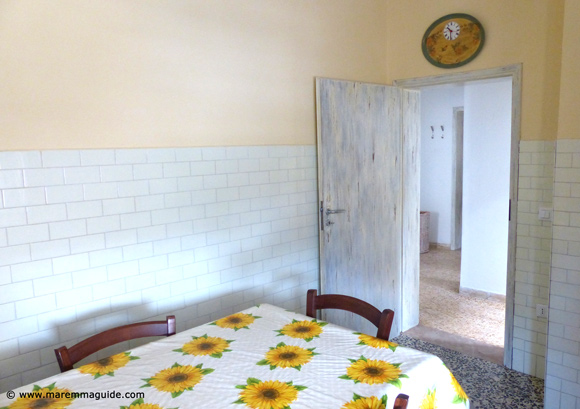 The living room with sofa-bed. What you can't see is a wooden dresser behind me and two single fold-up rollaway beds.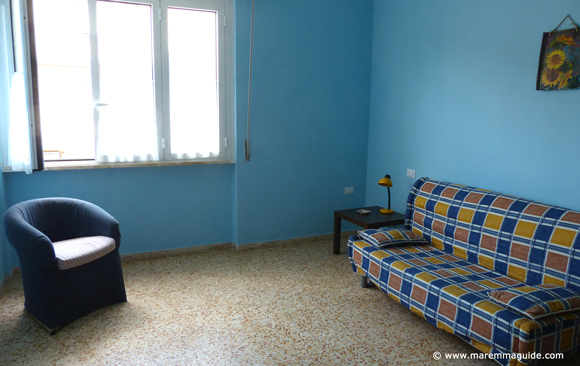 The apartment sleeps a maximum of six people.
There is only one bathroom and it is small, but it has everything you need, including a washing-machine.
Outside on the ground floor there is a private (locked) shed with ample space for beach buckets, spades and bicycles. And there is a washing-line.
Car parking
Whilst parking your car, if you arrive with one, won't be a problem in the apartment block road or those around it during the spring and early summer and autumn months, during the height of summer it will be very difficult to do so.
Pratoranieri is a popular beach, and many of the homes that are otherwise only occupied at the weekends during the other nine months of the year, are rented out during the summer and car spaces become a premium find for those staying here.
But one of the bonuses of this rental apartment is that it comes with its own private, secure - and locked - parking space. Next to the cafe across the road is a paved and secure parking lot, access to which is through a locked wrought iron double gate.
Pratoranieri beach Follonica
Pratoranieri beach with its wide golden sands, shallow warm waters and pedestrian walkway running its length, with enough bars ice cream parlours and restaurants to keep anyone happy, is perfect for families with small children looking for a Tuscany seaside holiday.
Availability, rates and more information
For more information and to check availability and the rental rate, contact Elena directly by sending her an email using the form below.
No need to try your hand at writing in Italian if you don't want to as Elena speaks perfect English - she teaches it English, as well as a lot of other subjects.
Please note that the apartment is available from May to the end of October, but not during the month of July, as it is always rented for the whole of that month by the same family every year.