Residence Principina a Mare
This residence Principina a Mare is a family-run holiday apartment complex situated only a short walk from the popular with families Principina a Mare beach in Maremma, Tuscany.
Residence MareBlu
***
Situated four hundred metres from the Principina a Mare beach, the three star Residence MareBlu is run by the Passalacqua family. A functional, rather than deluxe Maremma residence option, each of the Residence MareBlu's thirty-five one, two and three room (monolocale, bilocale and trilocale) holiday apartments are simply furnished with a small kitchen, a dining and living area, air-conditioning, satellite TV, telephone, hairdryer and heating. Some of the apartments have furnished balconies and a few are wheelchair accessible and suitable for disabled guests.
The residence has a library, a bar, a large communal garden with a childrens playground area and a covered veranda. There is on-site free parking available and Wi-Fi internet access available in the hotel hall (for a fee). Note: there is no on-site restaurant, but half or full board accommodation is available for guests in conjunction with a nearby restaurant.
Residence MareBlu is open from Easter each year. Check availability online with the lowest guaranteed prices, even last minute today!
Via dello Storione, 73/75
Principina a Mare
Marina di Grosseto
Alternative residential hotel and apartment options near the Maremma coast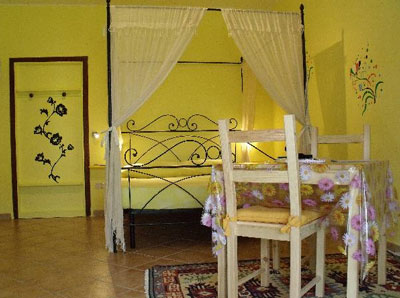 North along the Pineta del Tombolo is the popular seaside location and adjoining beach of Marina di Grosseto, where there is a highly rated Maremma residence "sul mare" - by the sea - option with large colourful apartments in which children under four years of age stay for free: residence Marina di Grosseto.