The Best Restaurants
Follonica and Pratoranieri
The best restaurants in Follonica and Pratoranieri. Follonica is a very popular Italian seaside resort with a wealth of restaurants to choose from, particularly during the summer season when the beach bars and restaurants are also open. The "ristorante" in Follonica that you will find here described here are my favourites and those of my Italian friends and family.
Il Pirata Ristorante Pizzeria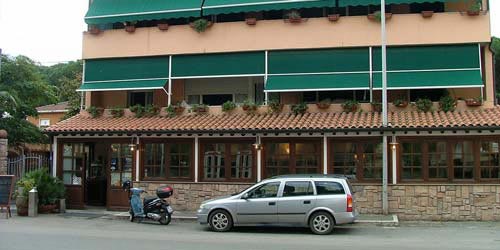 Restaurants Follonica: Il Pirata
Il Pirata is a popular family run business, situated one block back from the coast road and beach. They serve a wide choice of "forno a legna" (wood oven) pizzas, plus fish and meat "primi e secondi piatti" (first and second) courses, but it is for the fish that Il Pirata tends to be favoured. The "Frittura di Paranza" (fried paranza fish) is always a favourite here.
My favourite "primi piatti" are the "Penne al Granchio" (penne pasta with crab sauce) and the "Spaghetti al Gambero con Zucchine e Pomodoro Fresco" (spaghetti pasta with prawns, courgettes and chopped fresh tomatoes). Other members of our family tend to favour the "Polpo lesso caldo" (boiled octopus, served hot) from the antipasti menu and then a pizza or the "Frittura di Paranza".
The pizze bianche - pizzas without the layer of tomato sauce - are also well worth a venture. The "Giannutri", with courgette and prawns, is another favourite.
In the warmer months, the restaurant has an outdoor covered marquee area and umbrella covered tables at the front of the restaurant.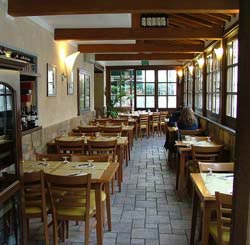 If you would like directions or to take a look at the menu in advance, log onto their website at http://www.pizzeriapirata.it
If you have children, this is a very family friendly place, with child seats (in the summer you will need to reserve one in advance when you book a table), a baby changing and toddler toilet facility specially designed for and restricted to mums and babies, and a small outdoor play area with a Chicco slide etc.
The Follonica children's "train" that tours the town during August, stops outside of the restaurant. A different way of arriving!
Parking is in the nearby residential streets: not always easy to find a space in the summer.
Read more reviews of Il Pirata
Via L.Trasimeno, 22
Follonica
58022
Tel. 0566 56618
Trattoria Il Cacciatore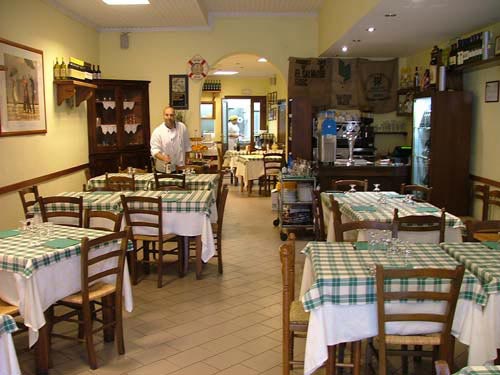 Restaurants Follonica: Trattoria Il Cacciatore
It may be called Il Cacciatore - "The Hunter", but this restaurant specialises in fish dishes! It is a friendly place with a family atmosphere and a young husband and wife team at the helm.
There are many house specialities. Try the "Spaghetti alle Vongole" - spaghetti pasta with clams, the traditional "Tortelli alla Maremmana" - pasta filled with ricotta and spinach, or the "Frittura Paranza". If you have space or a sweet tooth, the deserts are all home-cooked.
In the summer months, there are outdoor covered tables at the front of the restaurant.
Closed Wednesdays.
Via Bicocchi, 25
Follonica
58022
Tel. 0566 55924
Mobile. 339 1274162
La Lanternina 2 Palmieri Ristorante Pizzeria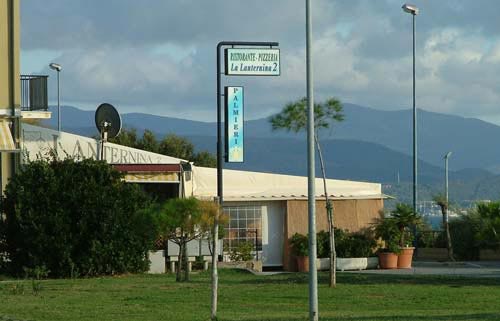 Restaurants Follonica: La Lanternina 2
La Lanternina 2 is a 'proper' restaurant with an extensive menu and you may spend a little more a head here than at some other "Ristorante Pizzerias", but it is worth any difference.
I particularly like the La Lanternina 2 because the pizzas are topped more generously than elsewhere, they have an evening pizza menu with some odd but great combinations, and the "primi piatti" pasta courses are great with good sized portions. (Elsewhere over the last few years, in a lot of restaurants the pasta dishes have increasingly reduced in size: they used to be a satisfying meal in themselves, obviating the necessity for a second course... and therein lies the rationale, I suppose!).
The fish courses here are very good: try the Salmon with Tagliatelle, or the "Aragosta" (lobster) and spaghetti - there will need to be two of you for this one as there is a minimum of a two person order for the dish... or the plate of fried fish. That isn't to say that the meat courses are not good too: they are! The toddler in our group one evening ate "con gusto" (heartily) an entire and substantial grilled chicken dish: a compliment indeed!
They don't keep a still (non frizzante) house white wine, but the house bottled white is a very good crisp wine.
Plus the service is both friendly and efficient, and if you book a table outside for dinner, you can watch the sun go down over the Golfo di Follonica (Gulf of Follonica). And afterwards "fare due passi" (take a stroll) along the beach or pedestrianised Lungomare Italia.
In the summer it is essential to reserve a table in advance. La Lanternina 2 is very popular with holiday makers - italians and "stranieri" (foreigners) alike - who visit Follonica and this restaurant every year.
There is a small public car park just a few metres behind and to one side of the restaurant, which takes away the hassle away of finding a space in the centre of town.
Lungomare Italia, 160
Pratoranieri
Follonica
58022
Tel. 0566 42 679
Mobile 335 5881913
Reviews of all forty-three restaurants in Follonica