A Tuscany beach restaurant for birthday and balmy days
Fish and chips on one of the best beaches in Tuscany
A Tuscany beach restaurant for birthday and balmy summer days. With fish and chips, Italian-style, on one of the best beaches in Maremma. Where the living is good.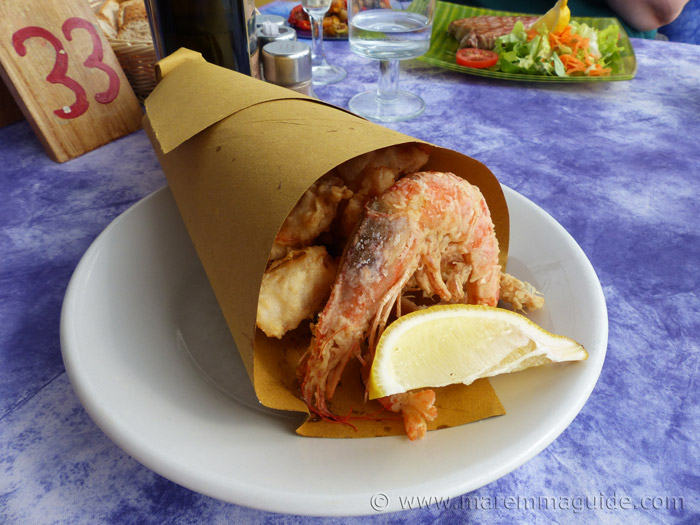 The restaurant is called Ristorante Il Pino. If you are within driving distance of this part of Maremma's coast, I'd make a be-line for a day on Carbonifera beach and lunch. You won't regret it.
The beach is one of my top 10 picks along the whole spectacular 250 kilometre coast of Maremma. Simply one of the best beaches in Tuscany. The food is fabulous. The service is great and even comes with a waxed mustache or two!
And another thing. Dress code is a pair of shorts and a T-shirt, or a kaftan, over your bikini or costume, with your flip-flops. And you are done! Or your best outfit. Whatever. They seriously don't mind.
Their bar is great too and serves slices of their own homemade tarts as well as the traditional Italian breakfast pastries. It is one of my favourite breakfast stops. There is nothing quite like sitting on the patio with a cappuccino and pastry watching the morning sun warm the colour of the sand the sprinkle brilliant sparkles on the waves. (Just made a mental note whilst writing this as a New Year is approaching fast, to do it more often!)
And, on a rare day when the gods are smiling and my other half and I manage some down time together, it isn't a bad place for an aperitivo as the sun sets over the beautiful Isola d'Elba.
The location: Carbonifera beach
Il Pino is situated at the end of a long stretch of stunning beach. "Spiaggia Carbonifera - Carbonifera beach. Part of the Parco Costiero della Sterpaia nature reserve.
It is the yellow building in these photographs.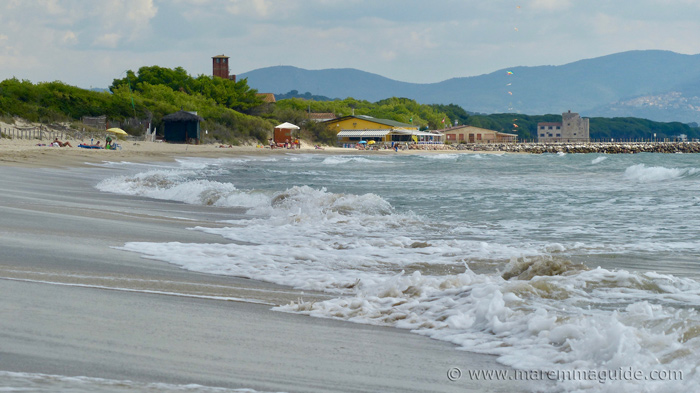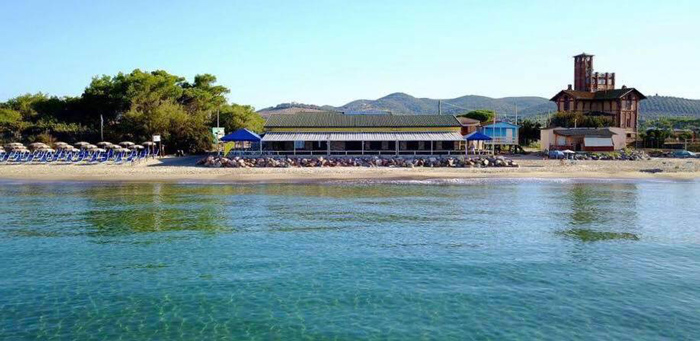 Access from the main coastal road is easy. And there is plenty of (free out of season) parking just across the canal that separates Carbonifera from its neighbour Torre Mozza. Another top 10 of mine.
Carbonifera beach: where the living is easy...
My lunch recommendations
Try the "Spaghetti alle Scoglio" followed by the "Frittura di totani e gamberi" (fried squid and prawns) - in the photo at the top of this page - served in a paper cone.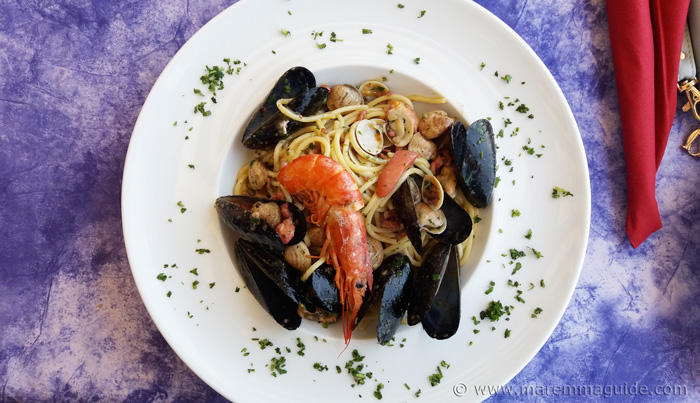 Or "Pesce fresco alla griglia" - fresh grilled fish. If you choose this, you will be asked how large a steak of fish you would like and it will be cut there and then in the kitchen and be brought to you for approval before cooking to your preference. (The price of the dish is determined by the weight of the fish.)
This one is tuna steak.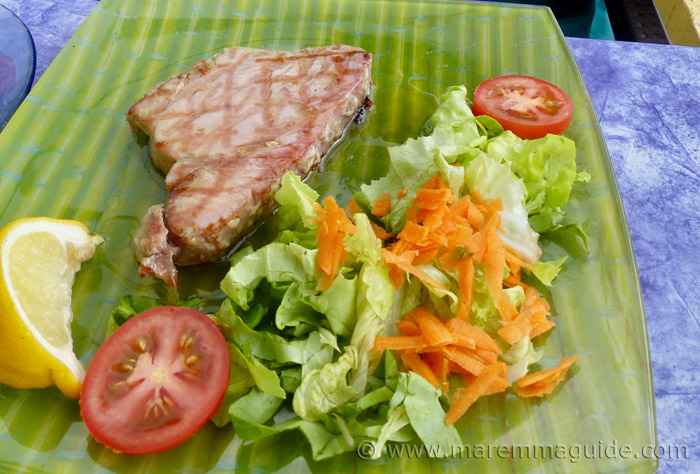 For kids who don't like fish, their grilled chicken with chips will satisfy sea air appetites and with a beach front seat, goes down a treat. Especially on birthday days :)
If you're not to partial to fish either, there is are "terra" (land) meat dishes on the menu too.
Il Pino isn't a cheap lunch option, but nor is it exceptionally expensive. The Spaghetti alle Scoglio is around Euros 12,00 and the fried fish second course - the one in the paper cone - will set you back around Euro 18, if I recall rightly. The fresh fish is chosen every morning from the "pescatore" (fishermen) in the local port. Their pasta is homemade. And all of their desserts are their own.
And the venue. Well, on high days and holidays, their terrace really can't be beat for making a girl - young or her much older mum! - feel on top of the world.
They are open in the evenings too and on a balmy summer night with the lights of the port of Piombino twinkling at one extreme of the Gulf of Follonica, and those of Punta Ala at the other. The Island of Elba silhouetted by a purple orange sunset. Makes for one heck of a romantic dinner location in Tuscany.
Opening times
Well, the sign at the car park says all year. But it isn't. After a busy summer, it closes for a while in October until spring of the following year.
For reservations Tel. +39 0565 20912.
Want to stay the whole day on the beach, Italian-style?
The lovely "bagno" Onda Blu is right alongside.
With only three rows of "umbrelloni" - sun parasols and loungers - from dunes to shoreline. And much more space between those lines and each parasol than any other you will find further down the coast in Follonica territory. When I want a beach day Italian style, the Onda Blu is where I go.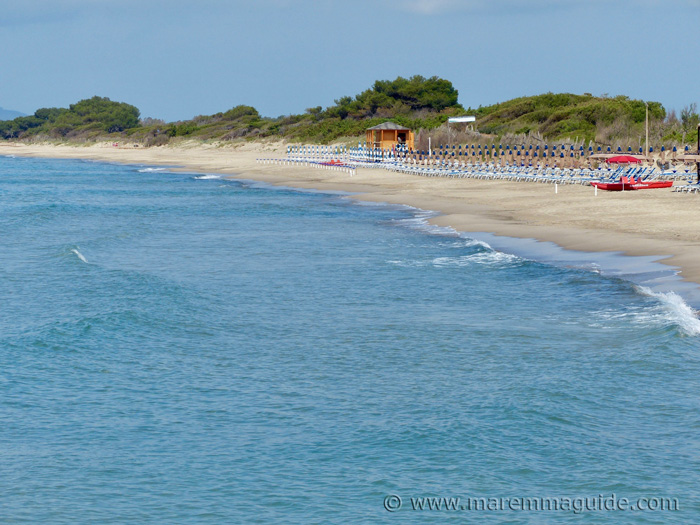 All the facilities you need - and well looked after - are just feet away in the pineta (pine wood) behind the dunes. This "bagno" doesn't have its own bar or restaurant, but then it doesn't need to. As Il Pino is just two feet away.