A Tuscany cottage for sale
for when big dreams of living in Tuscany are on a budget
A lovely Tuscany cottage for sale in a tiny "borgo". With a panoramic view. And some of Maremma's most magical places on it's doorstep. At a budget price that will make you smile.
Ideal for a family of four. Or a romantic hideaway for two, with room for visiting friends.
But you will need to be quick if you are interested, as there is a lot of interest in this sweet home and many people have already visited.
The cottage front door takes you straight into its gorgeous kitchen. Flooded with light and home to the thing that will have you eager to be there every time you drive down the lane to reach it. It's "caminetto": a traditional open fireplace.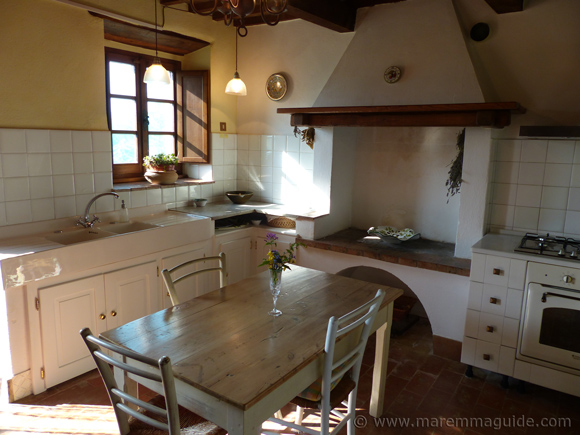 For heating the room if you want to and cooking - pure Tuscany-style - over its hearth. Just imagine what a split-roast chicken or grilled steak you could conjure-up over that.
It even has it's own arched log storage space beneath.
I was sold on this cottage before I even got to look around its other rooms, just because of this kitchen. How I would love a fireplace like that to light of an autumnal evening just because I could.
To warm a bottle of wine next to it. And to chat with friends as, like moths to a light, we gravitate to its warmth and embers.
And for when you don't want to light it's fire. There is a built-in electric oven and gas hob. And central heating.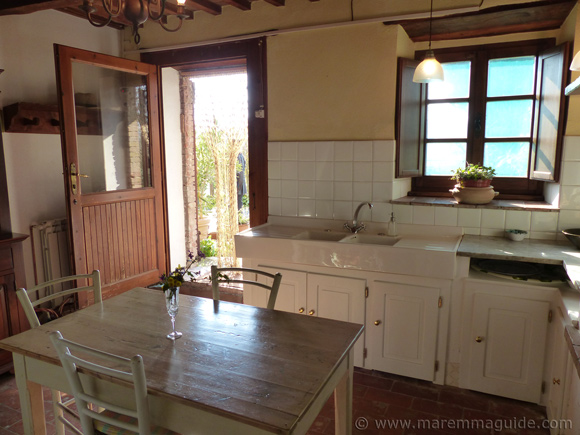 The owners, a Danish couple, haven't fallen out of love with it. On the contrary. But they are now elderly and are looking for younger hands to continue to love it they way they have.
They fully restored it in 2012.
The majority of the furnishings which they have brought or had made over the years - all of which seem well at home here - are staying; unless you don't want them to.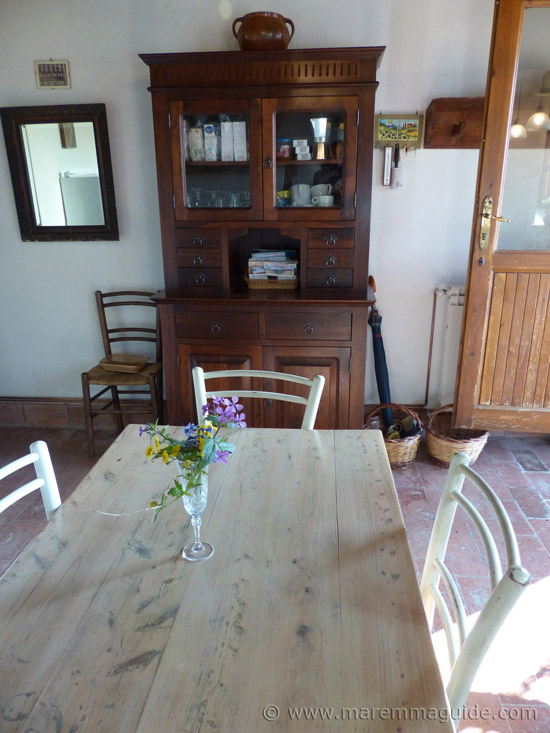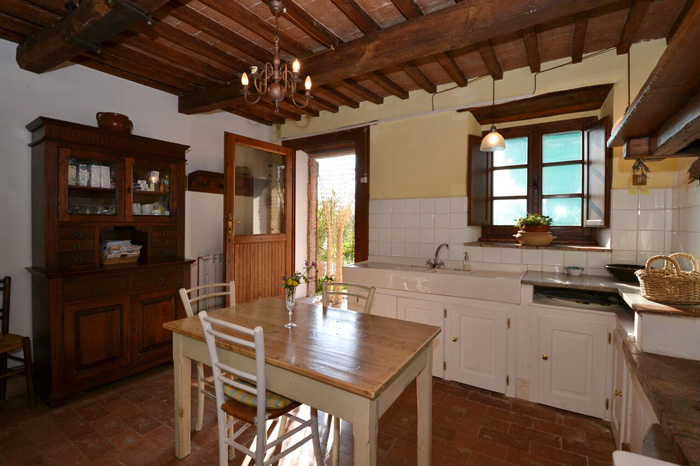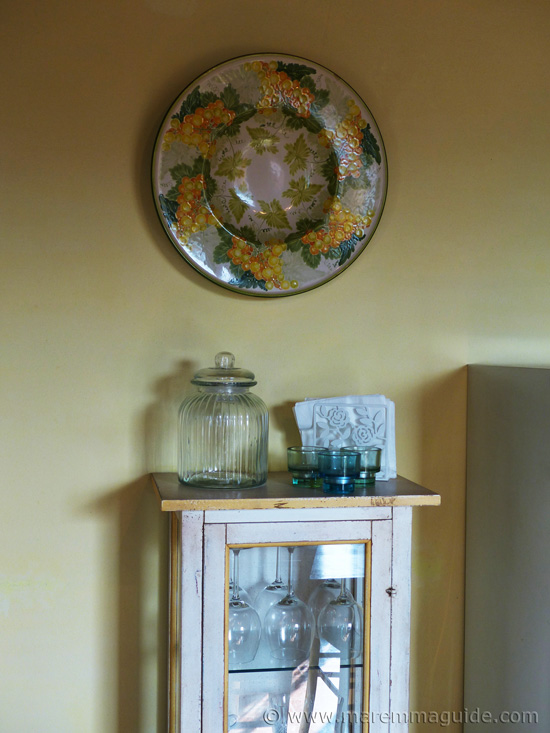 Your front door on a winter's afternoon. Facing south-west, it catches the afternoon sun.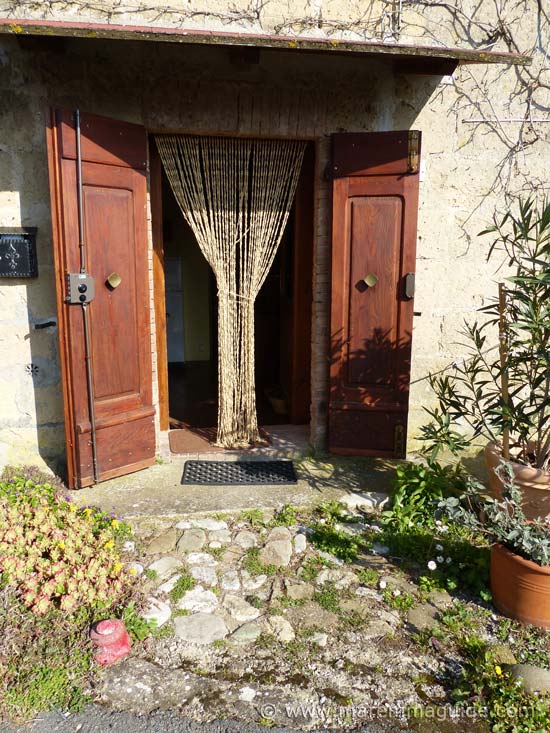 The cottage is semi-detached, built in local tufa stone. The same stone that makes the nearby hill top towns, sat on their immense outcrops, so distinctive and different from other parts of Tuscany.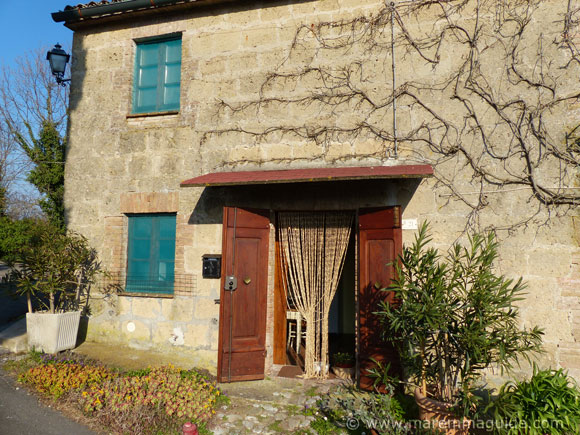 As does the cottage's garden located in front of the house. Which is why you'll find a cat or two soaking-up its rays under your vine-covered pergola!
The perfect place to take your early morning mug of tea in your slippers and Jim-jams and be at peace with the world.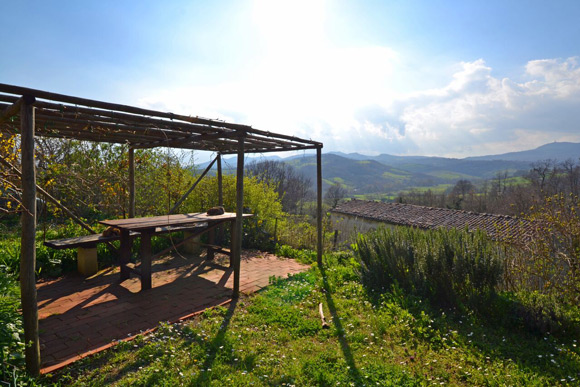 Just part of your view.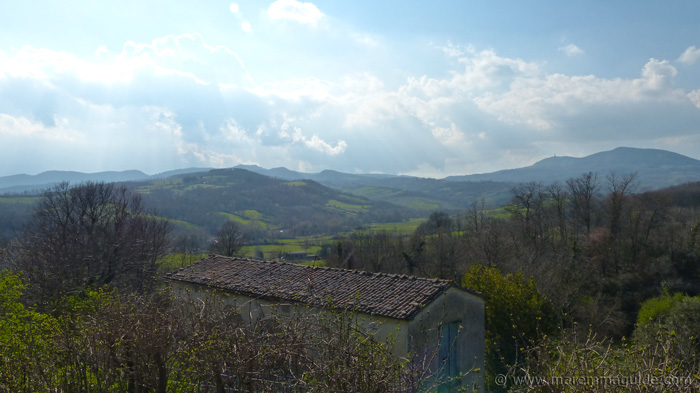 The living room
Back indoors, the second room of the house is the living room. Which, just like the kitchen, with its terracotta floor and wooden-beamed ceiling, is a lovely homely room. It isn't huge. It isn't cramped. It is cottage size.
The glass-paneled door leads to the kitchen. The archway to the bathroom and utility room.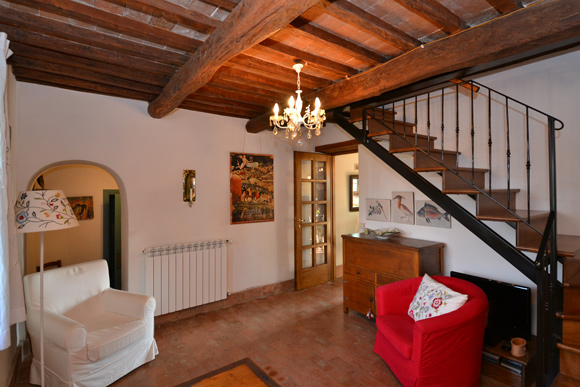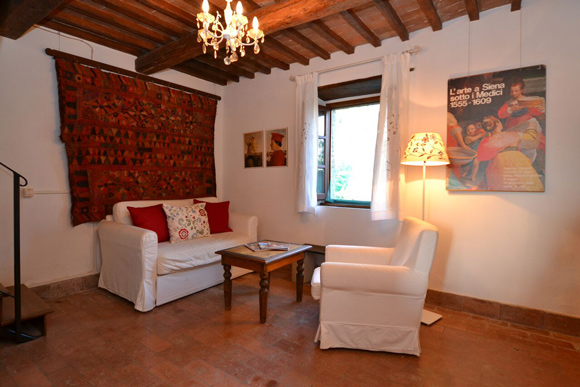 The bathroom
The cottage bathroom - in shades of blue - has an ample-sized shower (behind the darker blue tiled wall) and traditional white fittings.
It is the only bathroom in the house, but it has ample space to move around and accommodate the towels and trappings of a family.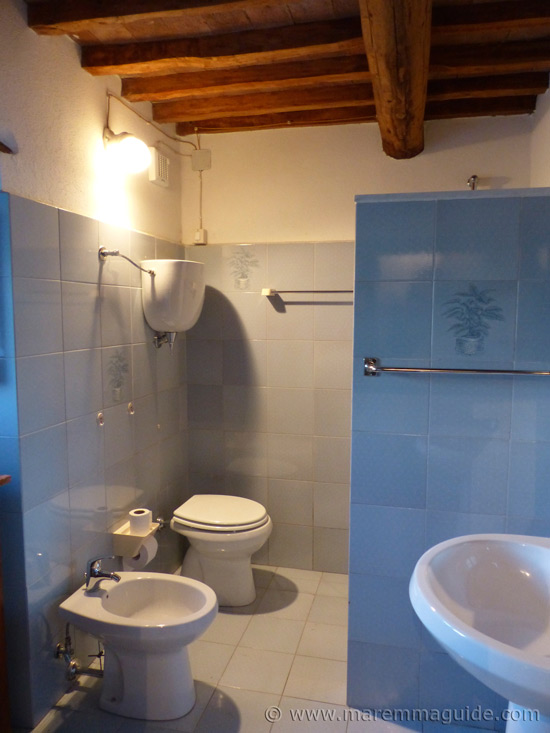 And double windows to let the birdsong and butterflies in whilst you are cleaning your teeth!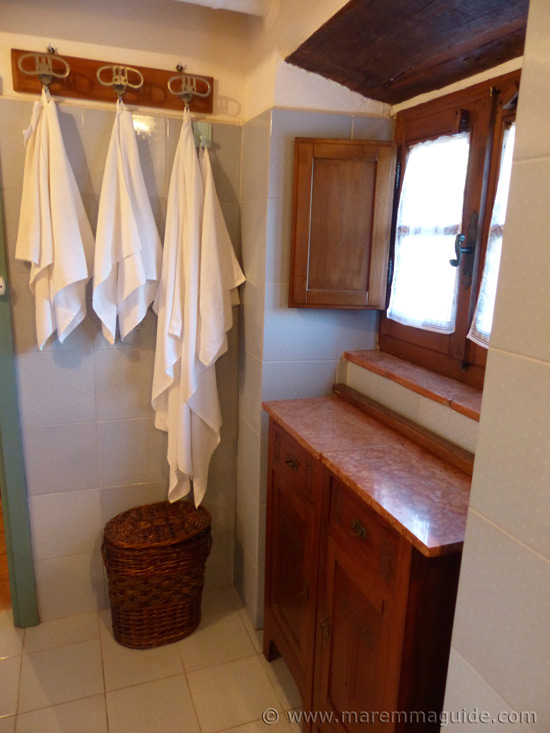 Utility room
Next door to it is a utility and storage room - about the same size again as the bathroom - with it's own large deep sink. Perfect for washing those muddy boots after a walk along the hedgerows picking wild asparagus in the spring, or from a trek in the woods in the autumn porcini mushroom and truffle hunting! Hanging-up all of your coats and storing anything else you might want out of sight.
It is also home to the hot water and central heating boiler.
Upstairs
Upstairs you'll find the cottage's two bedrooms.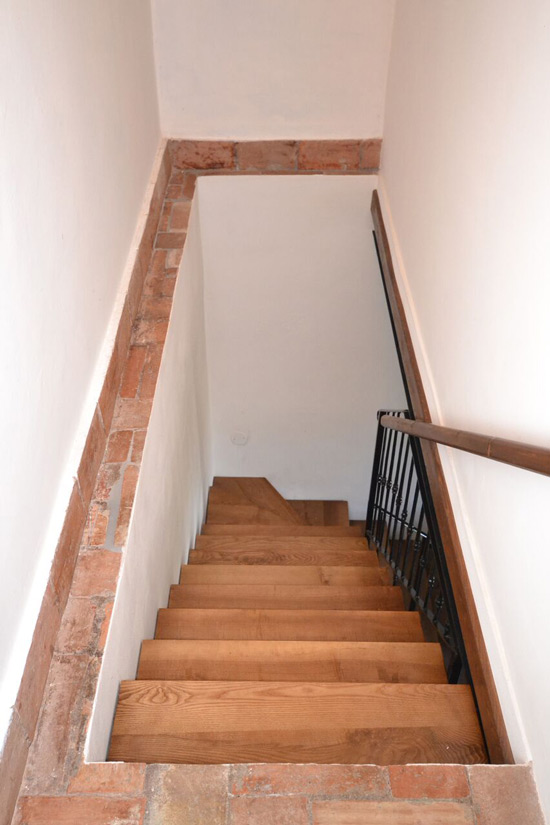 The light green bedroom for dreamers
At the top of the stairs on your right, at the front of the house, is this lovely double bedroom. Overlooking the garden and the view.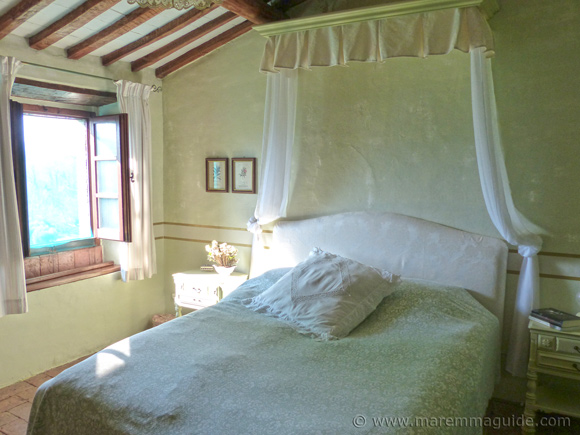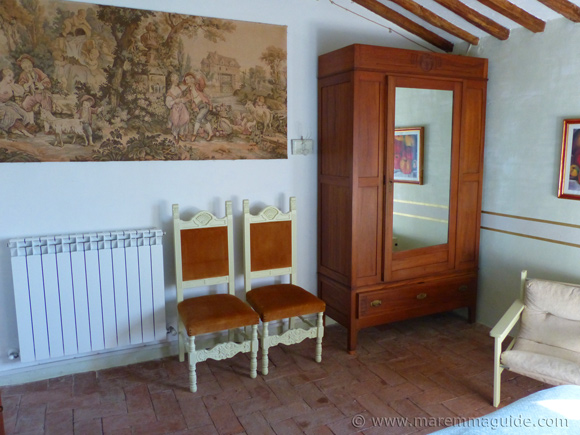 The light blue guest bedroom
And on your left, at the back of the cottage, is this light blue bedroom. Big enough too for a double bed, but used instead at the moment as a guest bedroom and study.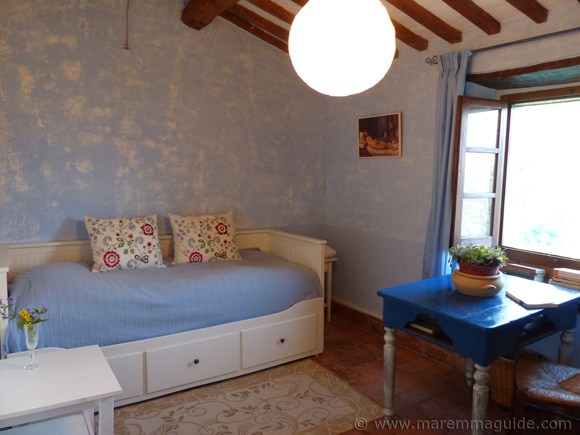 And just like the front bedroom, this one's double windows flood it with light too.
I could happily sit there with my laptop, tapping away writing pages for my website. Transferring downstairs to the garden table for a change of scene and some company from the gentle nudge of a cat at my side.
It's the little things that make life so good.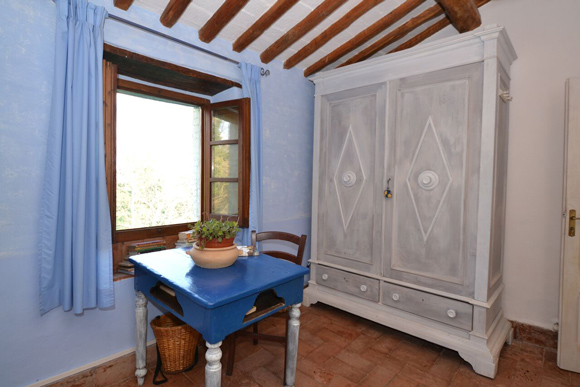 In total the cottage is about 80 sqm.
Dreaming big isn't about size.
The "borgo"
Talking of which, the "borgo", or hamlet, where you will find this Tuscany cottage for sale is tiny.
The rest of the borgo. Apart from an old barn that's for sale too. That's it.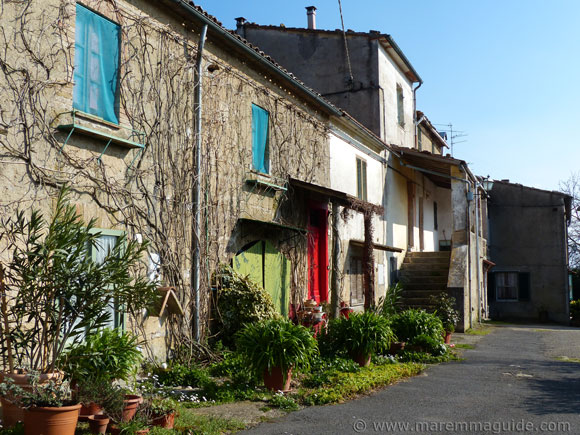 Immersed in Tuscany countryside you may be. But isolated you are not. The centre of the nearest village is only a kilometre's walk away down the lane.
a little note about the garden
A little note about the garden.
Land around a borgo was historically common land in Italy, for grazing etc. As the centuries passed, the residents ceased keeping livestock and gardens were established. And such is the case in this borgo.
With the agreement of the owners of the properties here, the common land was divided-up into private individual gardens. The cottage garden is enclosed by fencing, as are the others. But on the deeds, the gardens are collectively still registered as common land.
Something extra!
A few feet away from the cottage's front door is its garage. But you can't really call it that. For one reason, no car has set foot (or tyre!) inside it for years and years. And secondly, because it is too lovely to be called a "garage". And calling it an outhouse sounds worse. But why?
Well, because it has two full-width double, half glass-paneled, doors that face south-west, just like the house. And it's own small garden in front of those doors.
With just a little imagination - I didn't need any when I first saw it! - it would make a fabulous, light-filled art studio. Or garden house. It is deep enough to easily house a day-bed, chairs and an easel.
And at approximately 15 sqm in size, it could even be made into an independent guest room.
OK. I'm a romantic. And it will need some work to get it there. But not that much.
Shops
The village only has a post office, hairdressers, and a restaurant. So for supplies you will need to head into town at Castell'azzara. Less than 9 kms away along an easy and fast, but "wow!" of a scenic route.
You'll want to buy your bread there every day just for the view getting there and returning home.
Magical places in Maremma on your doorstep
Oh boy, this cottage has some places to visit within a short drive away. Some of my best-loved in the whole of Maremma.
Mesmerising Sorano
If there is one place I head to when I have a day free it is Sorano. Still off the tourist track because it's sister down the road, Pitigliano, is still stealing all of the attention. It's streets and precipice drops, with their Etruscan caves, will have your jaw dropping and your camera shutters whizzing.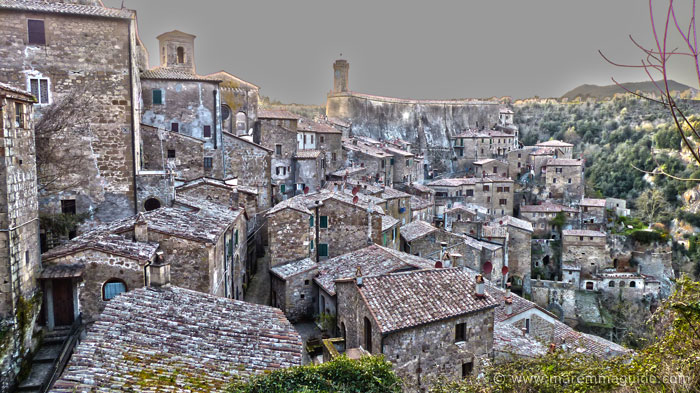 Just 14 kilometres away.
Stunning Pitigliano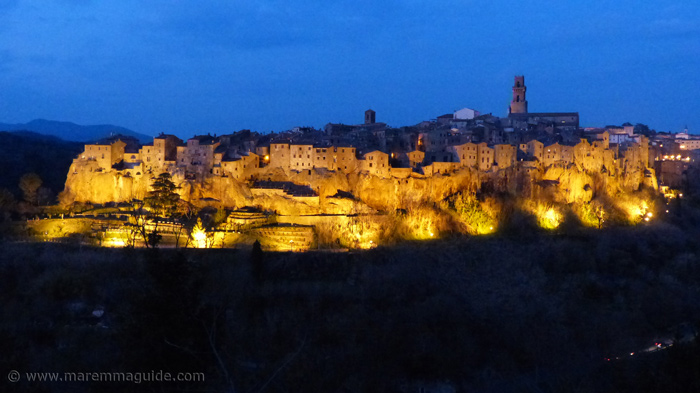 Just 23 kilometres away. What more do I need to say.
The mysterious Etruscan Vie Cave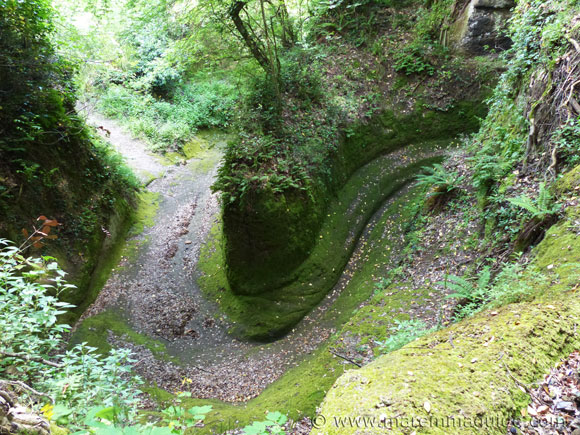 No one knows for sure why they were carved by hand up to twenty metres deep through the local bedrock. More than twenty-five centuries ago. They remain one of Maremma's biggest mysteries.
Walk them you must. Starting at Pitigliano, some of these semi-underground passages will take you all the way to Sorano and Sovana.
The tiny but once so grand Sovana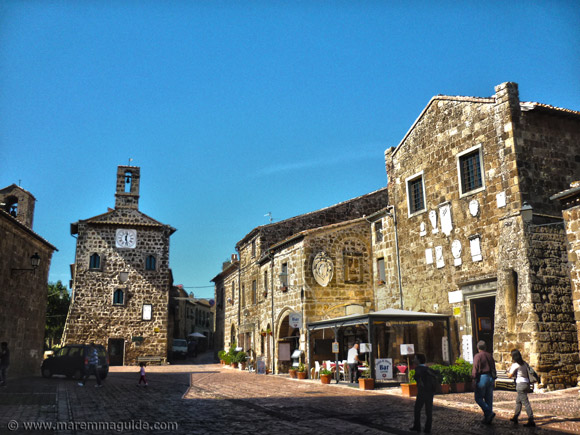 Twenty-five minutes away. A bit longer on foot via the Vie Cave.
The natural thermal springs at Saturnia
Get out of bed and jump straight in your car early of a morning, and fifty minutes later you could be soaking in the herapeutic thermal waters of Saturnia's natural baths. With them practically all to yourself that time of day. Now tell me that doesn't sound like a piece of heaven on earth.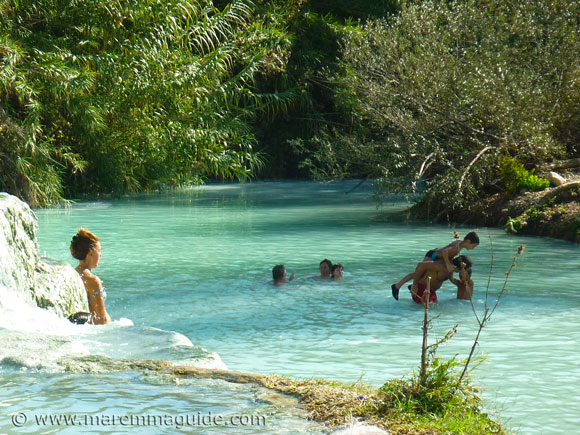 Just 42 kilometres away.
And the beauty of Monte Amiata - Maremma's volcanic mountain
Maremma's Monte Amiata, a winter wonderland for skiers and home to legends and tales enough to fill any autumn night with wonder. A drive up to the top when it is wearing its glorious autumnal coat is not to be missed. Or a picnic on its slopes anytime of the year.
An hour away.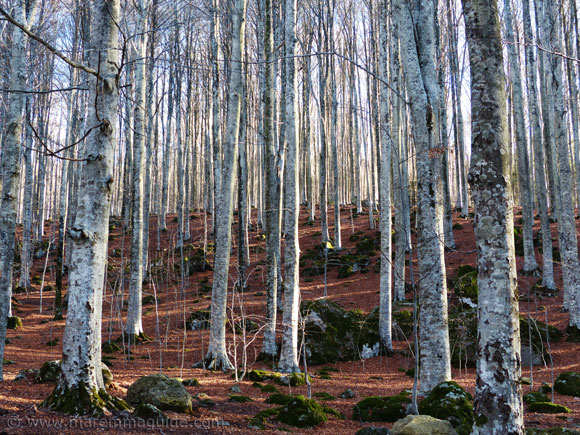 For more information
For the asking price and more information about this Tuscany cottage for sale, contact Rita and Riccardo - the husband and wife team of the Tuscanary real estate agency that I recommend here in Maremma - via this email form.