A Tuscany hill town home in the heavens
A Tuscany hill town home that will make you feel as though you are on top of the world.
And. Not one. But two. Lion, Witch and Wardrobe doors. In an ancient olive mill. That take you into the magical medieval world of Montelaterone. A small castled town sat on the pinnacle of a foothill of Maremma's stunning volcano, Monte Amiata.
With 360 degree views that will make your heart sing.
The ancient olive mill
With thick stone walls, handmade "cotto" floors, and chestnut wooden beams, Montelaterone's old olive mill - for this is virgin olive oil territory, and a rather special type of oil at that - has recently been restored and converted into six, completely independent, apartments.
Each one with it's own garden and a private parking space alongside the start of the property in the quiet lane below. With shared access to the mill up between the gardens.
Two of the apartments are now for sale. The other four have all been sold.
These aren't your two doors, but they are opposite. Along with a very narrow street with the name of Via del Amore - the street of love.
The short cut up into town.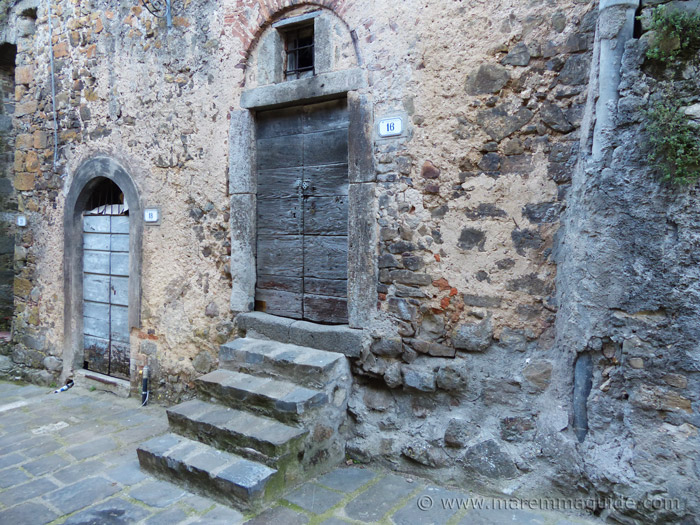 The "on top of the world" apartment
The first apartment, with views that make you feel as though you are on top of the world, is this one.
On the way up the garden path...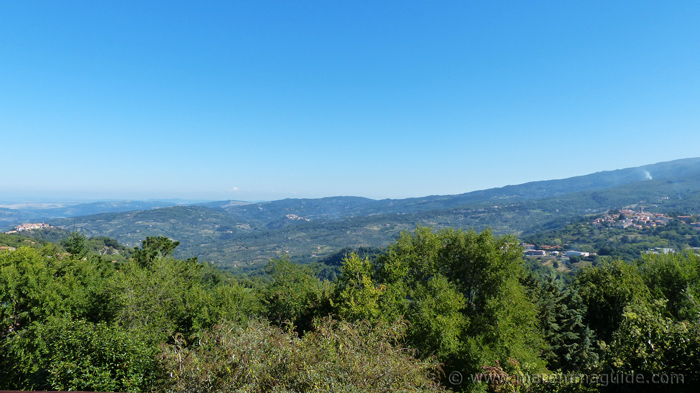 The further up the path the more incredible it gets. From left to right...
The village of Montegiovi.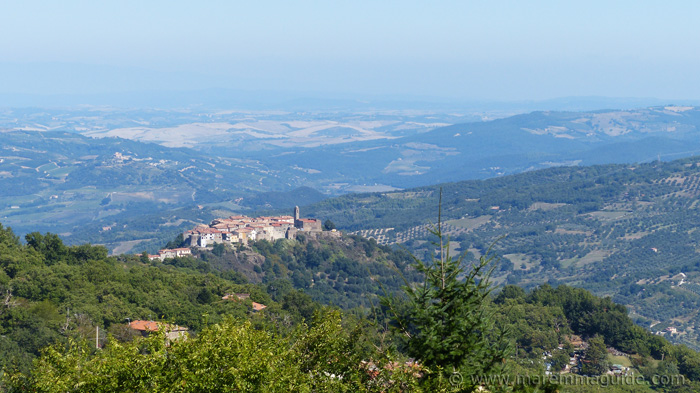 The town of Seggiano and the pretty medieval castle, Castello di Potentino, on the left below.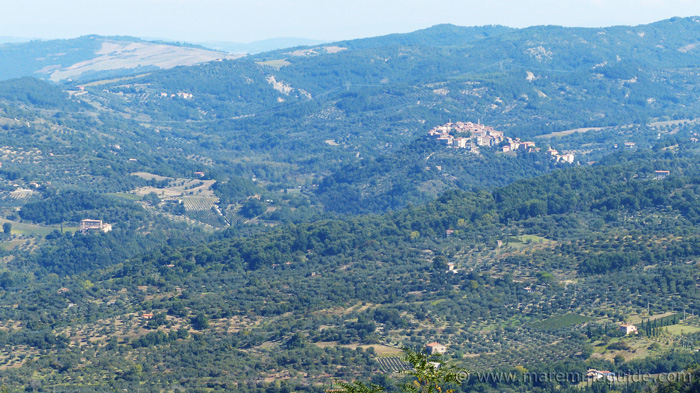 And then, the pastry heartland of Castel del Piano at the foot of Maremma's (extinct) volcano, Monte Amiata. With shops, supermarkets, bars, and the best pasticceria around for miles. People take a drive to here just for coffee and a sweet treat!
the apartment kitchen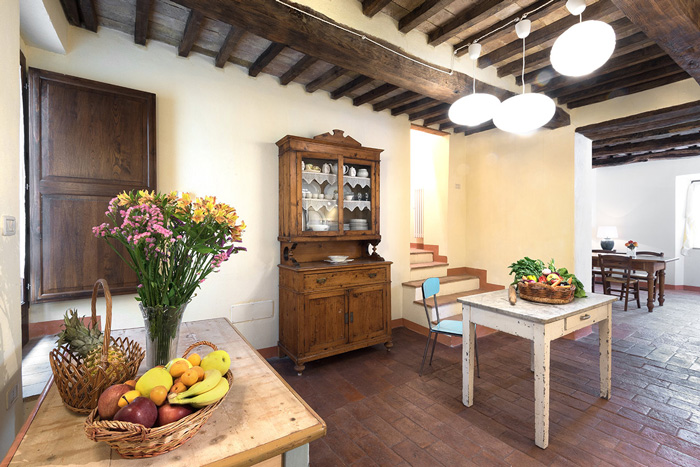 When you walk down the steps from your front door into the kitchen - the door in the photographs above and below - your ears will hear something and your brain will acknowledge it. But it's significance won't register for a while. Your attention will be on looking around and taking in what you see.
But then it will. It is the simple sound of your footsteps. But not as you usually hear them.
Their sound is dull. Cut short.
Difficult to describe, it is a sound that is deeply comforting.
A product of thick stone walls and "cotto fatto a mano" (handmade terracotta tiles from deep Siena clay, still made and furnaced in wood following Etruscan methods). That together blanket and absorb echoes as they have done for century after century.
the living room with a view
And some of the thickest chestnut ceiling beams I have ever seen in Tuscany.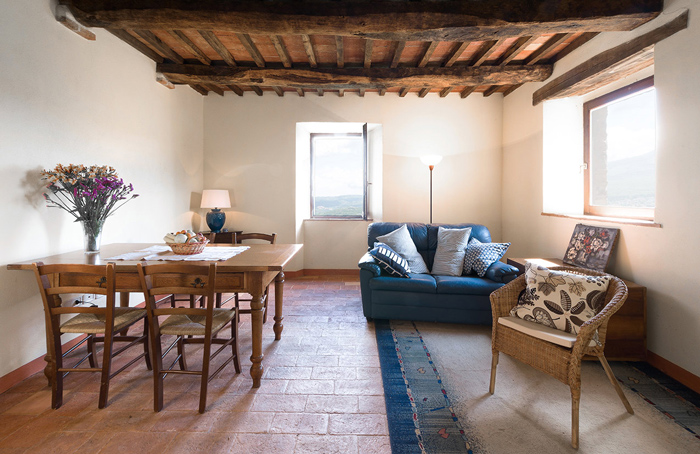 the double bedroom with a view
The bedroom comes with an ante area before you walk through it's open stone-arched entrance, that is home to a large wardrobe and an ample laundry/store room at its end.
When the architects were designing the layout for this apartment they could easily have put the bedroom door in the arch - bricking it up - and leaving the wardrobe area and store room accessible from the internal corridor. But that would have meant destroying an original and beautiful feature. And no one was going to do that!
And for another original feature, take a look in the en suite bathroom of the second bedroom.
the bathroom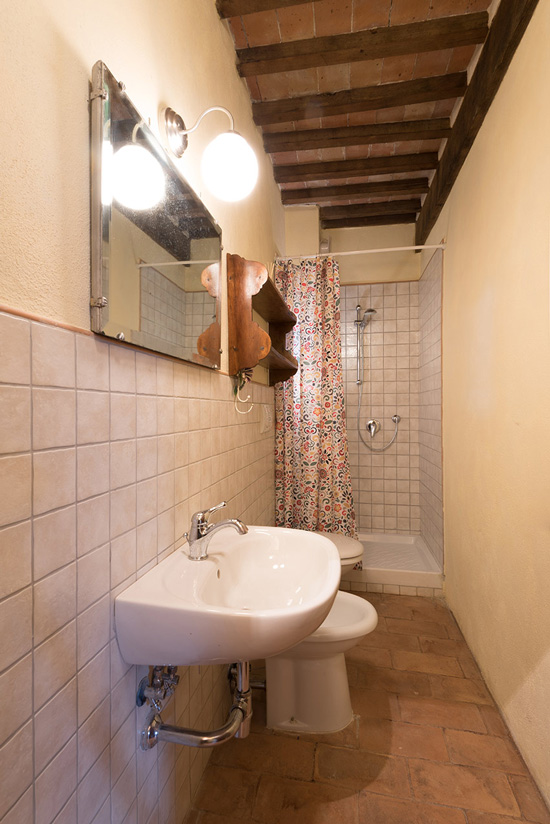 the en suite second bedroom with a view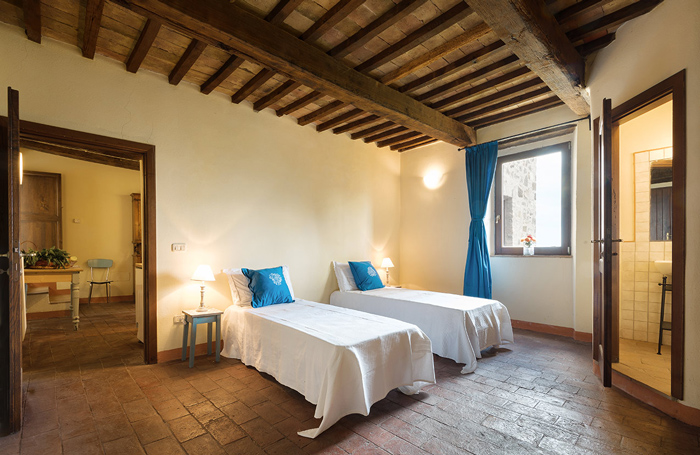 This bedroom has three particular features. The first is its uninterrupted view of Monte Amiata... from the loo!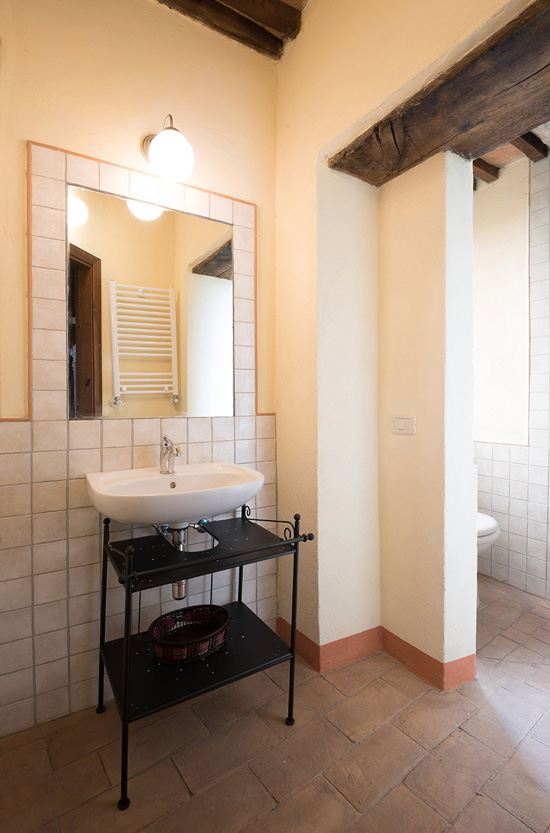 The second is something you don't see everyday.
To the right of the (open) shower are stone stairs. Solid. Ever so solid. Stone stairs. That once took the "frantoio" up to the upper floor of his mill. But today take your neighbour up to her apartment. They are so very thick that I doubt you will ever hear her.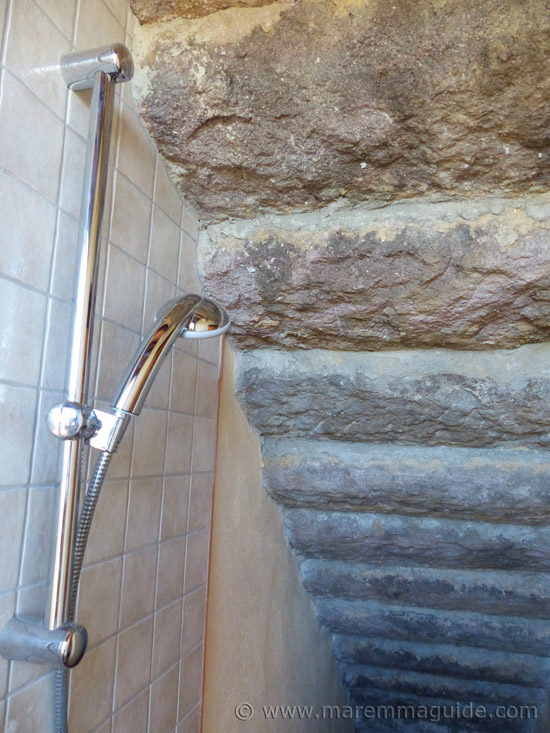 And the third you will either love. Or decide to cover with a wardrobe.
It is the second of the apartments "Lion, Witch and Wardrobe" doors. For it opens straight onto the same medieval street as the front (kitchen) door. A street that ranks amongst one of the oldest in Tuscany.
A little big note. This street has very little "traffic". We are talking a very occasional car. A mini tractor for transporting oil and wine. And a Tuscan cat or two.
The permission for the restoration didn't permit it's removal.
It makes the bedroom perfect for older teenagers and guests who - with the key! - can come and go without disturbing the remainder of the household.
Or for renting out as a bed and breakfast room.
the floor plan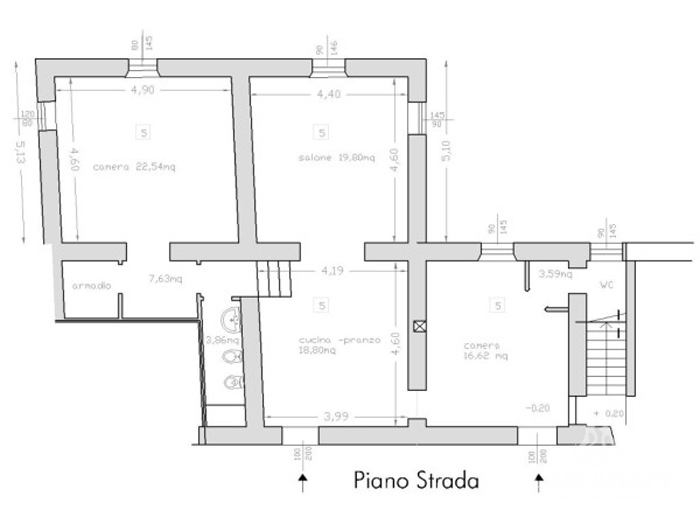 the terrace garden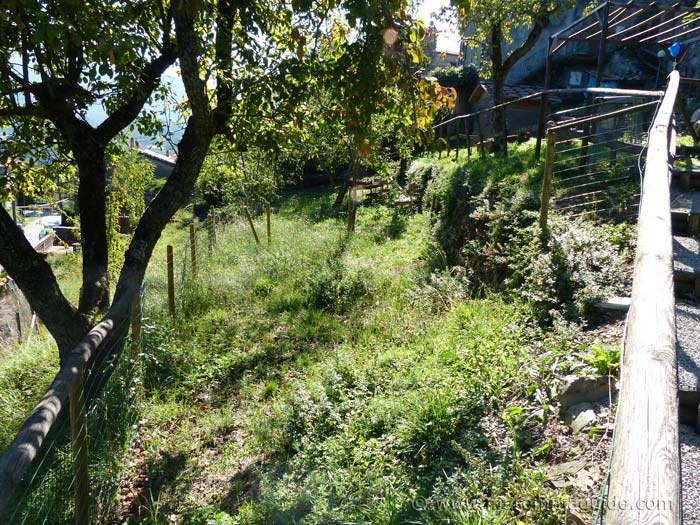 Yes, it needs a trim! But nothing that an hour and a cup of tea couldn't easily sort. Ready for some garden chairs, a table, a book, and a bottle of chilled wine :)
What you won't realise is that all that green is trying to tell you something. It is the end of September. After a summer that started this year way back in spring, with temperatures that scorched everything. Earlier than usual. But here, up on this terraced hillside below the olive mill, everything is still bright green and flourishing.
So much so that the area of communal garden opposite is literally bursting with rampant rosemary and other fragrant bushes.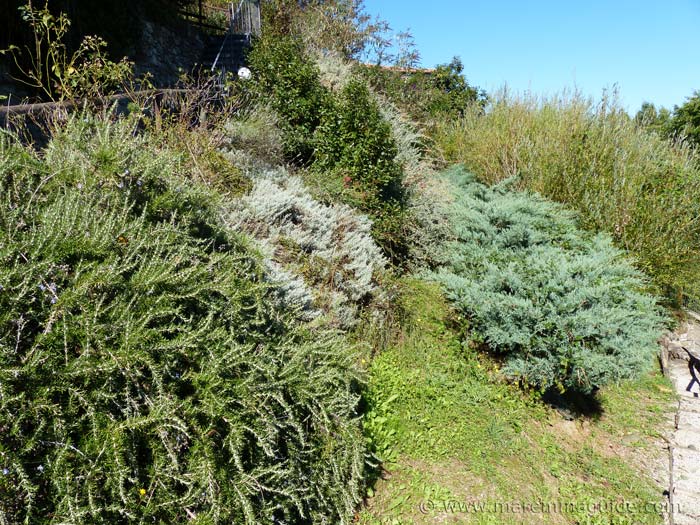 Just pick a sprig or two on your way up to your apartment with your shopping and you'll have all you need to conjure up a kitchen full of divine aromas and plates of traditional Tuscan roast and baked fish.
With just a little love and attention, this apartment's small garden could be an oasis of colour and scent.
Plant a lemon tree and you'll have that twist for your G&T right above your head!
The loft apartment
The second remaining apartment is at the very top of the mill. The Loft.
With two double bedrooms.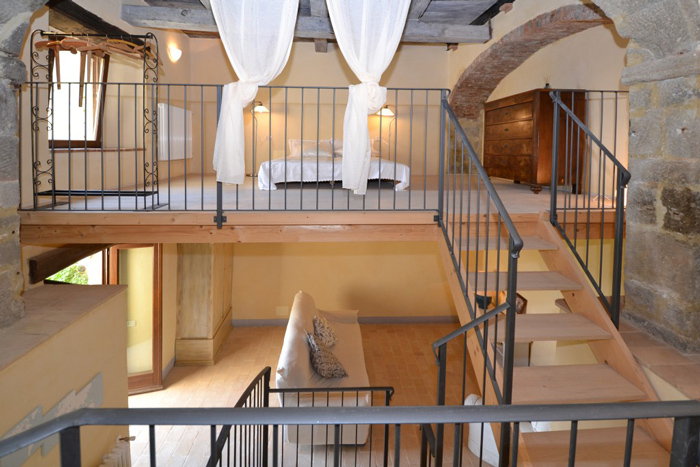 And a garden with that stunning view accessible directly from the kitchen door.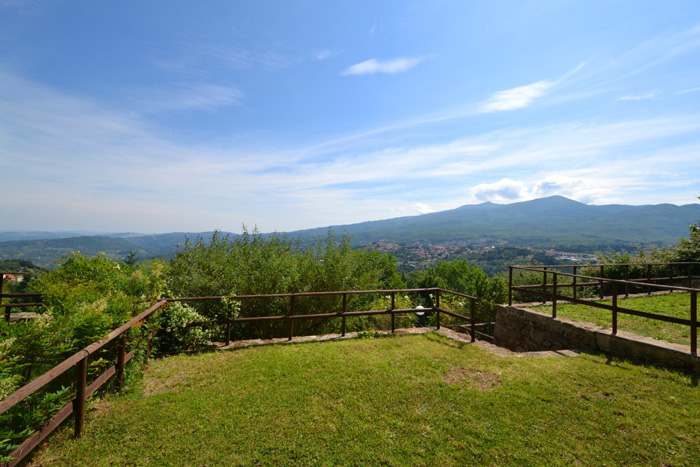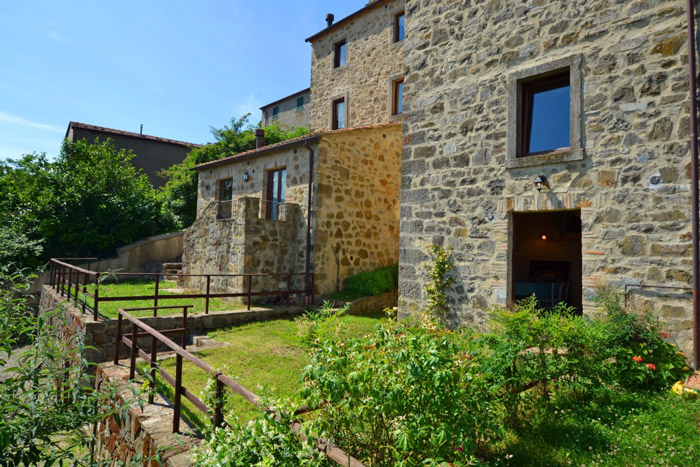 the bedrooms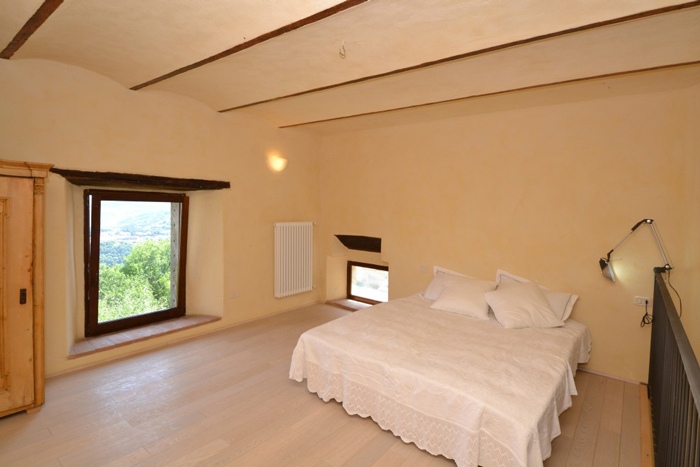 the bathrooms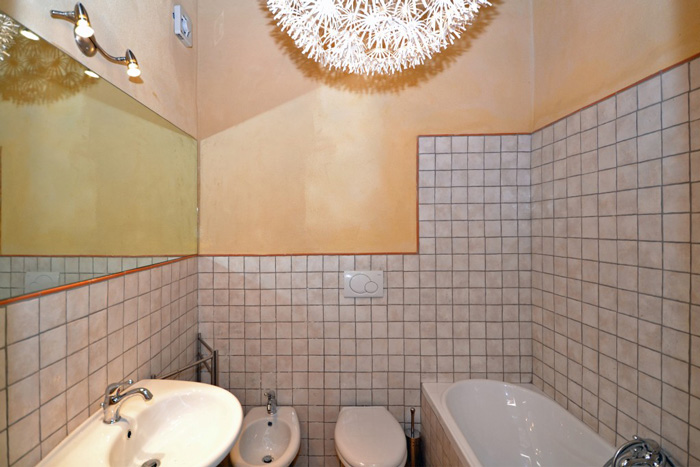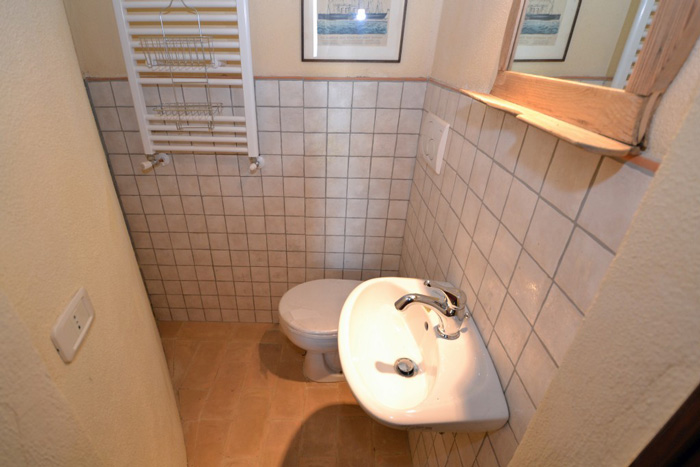 Shopping
For shopping, you have the choice of two towns: Castel del Piano and Arcidosso. Both on your doorstep. But if you don't want to take the short drive or bus to reach them, then the recently re-opened bar in the centre of town - in the main Piazza del Popolo - has you covered.
Once owned and run by a very jovial woman - famous for miles around for her warm hospitality and infectious radiance - it was always abuzz with visitors from morning to night. For their daily breakfast, after lunch coffee, and aperitivo on the way home for dinner. And just for a coffee and a chat. With her.
When it closed a few years ago, Montelaterone died a little.
But four local women decided to do something about it. To help keep the town alive. Which it is. And have re-opened the premises as a bar, store, and meeting place. Holding events throughout the year. And it is working.
When I was there a youngster came in for a nibble of salami whilst her grandmother collected some bread. She had forgotten to order it, but the young woman serving that day had put some by for her anyway. She hadn't the necessary change in her apron pocket. But that didn't matter.
Then a man for some toilet rolls!
And us for some cool drinks and a chat.
It has become a focal point again for local people. Including the numerous international artists and musicians who have chosen to live in the area.
For more information
Both apartments fall in the price range of between Euro 100,000 and Euro 200,000.
Maremma's coast is only a 45 minute drive away. And four natural thermal spas only 30/40 minutes.
The famous wine mecca of Montalcino is a 30 minute drive. The stunning city of Siena just an hour. Pisa airport two.
For more information and the asking price for each, location details etc, send a message directly to the Maremma real estate agents handling the sale, Rita Renzi and Riccardo Giuntini, via the email form below.
Montelaterone
Take a walk around Montelaterone and it's 13th century castle, the "Roccaccia".