Tuscany Wine Tasting
in Maremma's Medieval cellars
Tuscany wine tasting doesn't get more memorable than this: in deep vaults and cellars under medieval streets in Maremma's hill towns.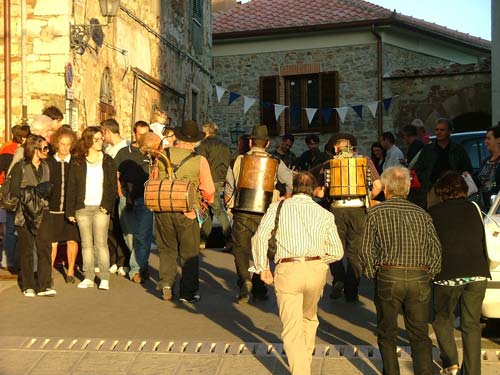 Each year, many of Maremma's towns, villages and hamlets celebrate the important grape harvest and first wine production, but only a few open their cellars. And those that do, usually do so only once a year. So, take a tip from me: if you are in the area of one of these events or planning to be nearby, take a detour and you will return home with a very unique experience of Tuscany: a rare glimpse of below a town, often three or more levels deep, with wine thrown in!
In the tufa towns of Maremma the cellars are of Etruscan origin: in stunning Pitigliano a whole hidden city of interconnecting chambers. The upper levels used today for the pressing of the grapes and the even cooler levels for storing the wine. Wine tasting in Tuscany doesn't get more evocative or memorable than that :)
The "cantine aperte" - open cellars - weekends are whole town affairs with many opportunities to try in a really informal and relaxed atmosphere great local non-vintage family wines as well as the more famous local Super Tuscan IGT, DOC and DOCG Maremma wines. And they ideal for the whole family: with street music, theatrical floats, costumed parades, poetry, artisan and handicraft markets, brick-a-brac, sweet stalls, traditional food stalls selling fried sweet pastries or salty schiacciata breads...
TIP: the queues at some of the home-cooked food stalls can be long as the next batch of fried delicacies comes out, so take some snacks with you to help with the wine or spot the stalls early and be ready!
A little word of advice if you are at all claustrophobic...
I am, but I have visited the deepest of Maremma's cellars and will do so again as soon as the next opportunity arises, albeit if quickly!
Hopefully, to help take some of the anxiety of the unknown away, this is what you can expect:
The cellar paths are stepped most of the way, but not always evenly. Some have a thick rope attached to the descending walls to help your descent.
The cellars are well lit and are not the dark horror movie type!
The initial cool air in comparison to the heat outside soon becomes thicker and more clammy the deeper you go.
Some of the larger cellar rooms have smaller anti-rooms: these can feel even more confining, especially if full of people.
TIPS:
Try and avoid the times when there are lots of people in the cellars or if there is a queue to go down or return up: that way you can feel a little freer to come and go as you please as fast as you please, if you know what I mean!
When the cellars first open or just before they close is a good time. If they are open during the day, then lunchtime is a perfect opportunity.
If that sounds more than you can deal with, don't be put off visiting these events as many of the cellars are large spaces that open on the ground floor into the street, so you don't have to miss anything!
Your own private guided wine tour in Maremma
If joining a group tour isn't quite the image you had in mind for a once in a lifetime wine tasting experience in Tuscany, but one where you get to choose the pace and duration of the tour and the location - as close or as far as you want from where you are staying - is much more like it. And where your guide has you sipping wine in places that no organised tour company ever could...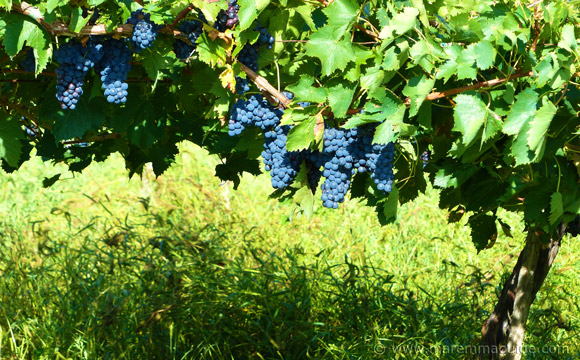 Then pop on over to this page and let me introduce you to two guides who love arranging magic days out in Maremma.
The Tasting Tuscany Wine
in Maremma Calendar
A little note. Some of these Maremma wine tasting events start in one month and continue into the next. You can check the dates as they are published by the event organisers in the widget at the bottom of the page.
April and May
SORANO - Cantine Aperte
Part of the Festa di Primavera (Spring Festival) celebrations, with gastronomic food stands, rock bands and a market, the cellars are open between 15:00 and 22:00 on the Friday and from 11:00 to 22:00 on the Saturday and Sunday.
July
BIBBONA - Visita e degustazioni in cantina
The wine tasting in these cellars isn't under the town, but in the cellars of the farmhouses around Bibbona.
Tuscany wine tasting in September
ISOLA DEL GIGLIO - Festa dell'Uva e delle Cantine Aperte
This grape and open cellars festival is the islands gastronomic event for the month of September. Held near the castle the islands wine cellars are open from 19:00.
MANCIANO - Festa delle Cantine
A three day festival and an important one for the town, during which it celebrates the completion of the grape harvest, the first new wines, and local speciality foods such as Aquacotta, bruschette, ciaffagnoni, panzanella, pizze fritte and an array of locally produced sliced meats. The streets are filled with artists and musicians and the cellars in the historic centre are open with tasting of "Ciaffagnoni" (crepes), wine and local typical speciality foods from 20:30 on the Friday, 19:00 on the Saturday and 17:00 on the Sunday.
PITIGLIANO - Settembre di Vino
Pitigliano's September wine festival. For four days the ancient cellars beneath this Etruscan town are opened as well as the interconnecting underground tunnels and galleries. Pitigliano on any day is a very special place, but the opportunity to visit beneath this town carved out of tufo rock and taste its wines is something else.
The cellars are opened at 18:00 each day.
SASSO d'OMBRONE (Cinignano) - Sagra del Capitone
As part of the weekend sagra, with street stands and dancing on the Saturday night, the towns cellars are also open for visiting.
SCANSANO - Degustazioni di Morellino e Prodotti Tipici
Morellino wine tasting with pizza, theatrical performances and live music.
SCANSANO - Festa dell'Uva
This annual grape festival makes for a great morning or afternoon out and has a wonderfully friendly atmosphere. It is the home of Morellino di Scansano DOC wine but beer lovers are catered for too! There is an artisan market, theatrical floats, roaming street musicians... as well as barbecues and food stalls. The cellars in the historic centre are open all day.
October
ARCIDOSSO - La Castagna in Festa
At this gastronomic event of chestnut beer and foods, guided woodland tours, ancient woodland crafts and shows in the castle, the wine cellars of Arcidosso also open for visits.
CALDANA - Festa d'Autunno
During the autumn festival in this small Tuscan hill town, some of the deepest cellars in Maremma are opened as well as ones underneath family homes in the narrow streets. The publicity tells of antique objects and traditional goods stands, but you will mostly find brick and brac with some handicrafts and commercial sweet stands. (Sometimes the advertised bouncy castle for kids is no where to be seen!) A friendly event worth a visit for the cellars alone.
Photograph at the top of the page was taken at the festival in Caldana.
CINIGNANO - Festa dell'Uva
This costumed festival has open cellars, food stands, theatrical paper mache floats, and a poetry competition... as well as wine!
MONTICELLO AMIATA - Festa della Castagna
As part of this important October chestnut festival in Tuscany, on the Saturday at 17:00 the cellars in the historic centre of Monticello Amiata will be opened for visits.
SASSOFORTINO (Roccastrada) - Festa della Castagna
The cellars in Sassofortino will be open as part of this three day chestnut festival gastronomic event based upon local speciality foods and, not surprisingly, chestnut recipes.
VALLERONA (Roccalbegna) - Festa della Madonna del Rosario
A weekend of festivities with tournaments, street performers, games, exhibits, food stalls, juggling acts, street dancing, a costumed parade and a wheelbarrow palio! And the town cellars are opened each day for visits.
November
MONTEPESCALI (Grosseto) - Qualita in terra antica
Open wine cellars with the opportunity to taste quality products produced from Maremma's lands.
TATTI - Sapori d'Autunni
As part of the autumnal festivities in the "borgo" (village) of Tatti within Maremma's metalliferous hills, the cellars in the historic centre will be open for visits. Wine tasting in Tuscany with a difference!
Take a stroll around the historic heart of this village and you will find one of the narrowest medieval alleyways I have ever seen.
More Tuscany wine tasting opportunities...