Unusual Sculptures
from Maremma, Italy
Contemporary Italian Sculptures
by Fabio Pallanti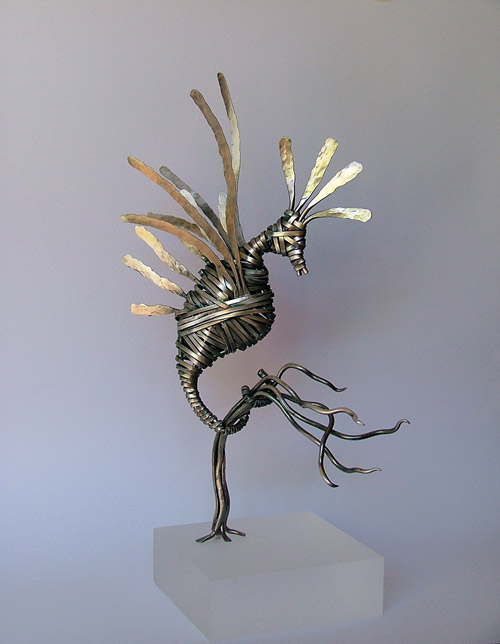 These striking and unusual sculptures are from the goldsmith workshop of Italian jewelry designer Fabio Pallanti in Maremma, Italy. They are wonderful "artigiano" (artisan) works of art that in any home or office etc will be talking pieces for years to come.
Click on the photographs to view larger images

Influenced by his passion for the sea, Fabio's unique designs have a remarkable life-like quality: the combination of his direct observations of ocean creatures whilst sub-aqua fishing and his exceptional natural skill in forming three-dimensional objects.
His simply stunning Italian designer jewelry is testimony also to the skill of this man in creating beautiful and extraordinary objects.
From a very young apprentice silversmith in the workshops of Florence to Florentine goldsmith of over 35 years experience, he has a following of Italian clients - and more recently English admirers - who return year after year to commission or purchase his creations. There is an adjective used by all his Italian customers that perfectly encapsulates his style: "particolare", which means particular, distinguishing, special.
Each of Fabio's sculptures are completely handmade by him in solid sterling (92.5%) silver, copper and brass.
The following are a few more examples of his work.

The Jellyfish Sculpture
Fabio's jellyfish sculpture is one of my personal favourites. It has such a tactile quality about it that whenever I see it I am compelled to touch it.
Other fans have decribed it as, "Very fluid, very captivating!!", "Beautiful, so graceful", "Feathery beauties from hard silver, wonderful!!"
The Cerianthus - Tube Anemone - Sculpture
| | |
| --- | --- |
| | Click on photo to view larger image |

The top photograph is of the finished Cerianthus or Tube Anemone sculpture, whilst the two below show the sculpture during different stages of its creation.
The first photograph on the left shows the copper tentacles soldered into place inside the silver bodies of the cerianthi.
The second on the right shows the silver tube anemones nearly finished. To create further depth and interest an oxidising agent was applied to each of the cerianthids and then polished away on the silver tube bodies. This left the solid copper tentacles blackened, with a mixed finish to the tubes.
The Octopus Sculpture
The sculpture is of an octopus at rest. It is in solid sterling (92.5%) silver and is attached to a sedimentary rock from a small cove - a "caletta" along the beautiful Maremma Grossetana coastline.
To see more of Fabio's work...
This STILE DI PALLANTI Italian Designer Jewelry link will take you to Fabio's website where you can see his equally stunning jewelry creations.