Yellow Pages Italy
Italian Yellow Pages Online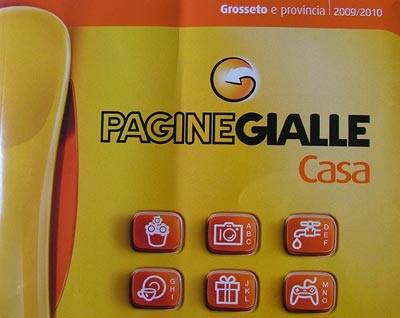 Yellow Pages Italy are called "PagineGialle" and in every Italian household they are accompanied by the "PangineBianche", the residential Italy phone directory. Here you will find the English version search options by business name, location, business category, product, and even telephone number.
The online version of the Italian Yellow Pages may be found at www.PagineGialle.it. The PagineGialle website is available in English, German, French and Spanish, as well as Italian.
The links given below will take you directly (each opens in a new window) to the English versions of the search pages.
The results will be in Italian, of course!
Main Search Page
Search by keywords or company name, location and nearest major town or city.
Link: http://www.paginegialle.it/index_ing.html
Search by Category
Search all advertisers by category of product or type of business, eg: Clocks, Jewelry and Gifts; Clothing; Office and Business Supplies; Food and Related Products; Sport and Leisure... etc
Link: http://www.paginegialle.it/cat/pagine_gialle_naviga-.html
Search by Product
Search in English by the product you are looking for.
Link: http://www.paginegialle.it/index_prodotti_ing.html (Sorry, the page no longer exists on the PagineGialle website.)
Search by Telephone Number
Find out who telephoned you or sent you a fax etc.
Link: http://www.paginegialle.it/index_numero_ing.html
Looking for the residential Italian Telephone Directory - the PagineBianche - online?
Residential and Business
Italy Telephone Directory
PagineBianche
This Italy Phone Directory link will take you to the Maremma Guide page with the English version PagineBianche.it website links (like above) for each of the search options: person, company or institution, telephone, fax number or address, post codes and international telephone codes, local emergency service numbers, Carabinieri, Tax Police and State Foresters Corps, or Codice Fiscale (Tax Number).