Bugatti Car Pics
100th Anniversary of Bugatti Cars Celebrations in Maremma Tuscany Italy
These Bugatti car pics were taken during the Bugatti 100 years anniversary celebrations in the stunning Piazza Garibaldi in the historic medieval centre of Massa Marittima on the afternoon of 28 May 2009, with the Cattedrale di San Cerbone (cathedral of Massa Marittima) as the backdrop. It was a truly wonderful spectacle.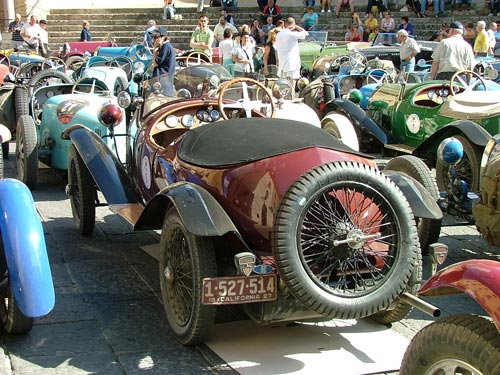 "A Bugatti museum on the roads of Maremma"
For three days in May 2009, as a celebration of the 100 years anniversary of the founding of the Bugatti company in 1909 in Alsace, Germany by Signor Ettore Bugatti, Maremma (and island of Isola d'Elba) became the only place in the world where it was possible to admire together more than thirty different Bugatti car models and 130 different Bugatti classic cars. It was an unrepeatable and unique opportunity.

The publicity for the event read:
"This will be the largest Bugatti meeting ever to be organized worldwide, with classic cars taking part in it coming from 18 different countries.
These engineering masterpieces will be joined by their modern descendants, the Veyron GS, that will be setting their imposing tyres on Italian roads for the first time.
When the time came to draw a map of the route for the BUGATTI INTERNATIONAL MEETING, at Bugatti Club Italia – founded in Milan, where Ettore Arco Isidoro Bugatti was born – they never had any doubts: no other Italian region like Maremma could offer the perfect combination of locations of great charm and roads that seem to be designed to guarantee a pleasurable drive through natural sceneries, alternating dense forests by the sea, hills with century old vineyards, plains covered in olive trees and sunflowers.
Along this inebriating route, Bugattistes will take advantage of stopovers in medieval villages, old cathedrals, monasteries, private villas and castles where they will enjoy snacks based on top quality local products while soaking up that particular atmosphere, half-way between sporty and informal, yet exclusive, that characterizes the most authentic "Bugatti Style".
It is no coincidence that Maremma – one of the least populated areas of the peninsula - is the first Italian destination, listed in 11th position, on the chart drawn up by the New York Times concerning the top 44 destinations to visit worldwide." Extract from the official press release for the Bugatti International Meeting 2009.
People came from miles around to stop and admire, chat and dream. Often, when empassioned enthusiasts come together, something special happens that touches all who take part and leaves lasting memories. May 2009 in Maremma was no exception.
The photos both on this page and in Bugatti photos Part Two are not professional images by any means, but I hope they have captured for you some of the magic that was in the air that day.
The Bugatti Car Pics
Can you help? I would love to put the names of each of these Bugatti cars next to their photos: if you can help, please contact me.
Click on each of the Bugatti car photos to view larger images.
| | |
| --- | --- |
| | |
| | |
| Bugatto Logo | |
| | |
| | |
| | |
| | |
| | |
| | |
| | |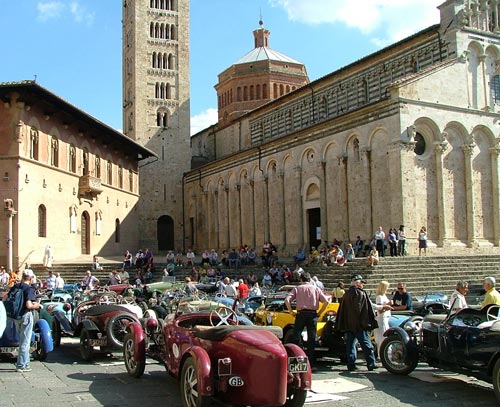 Explore some more...
Find out about this undiscovered part of Tuscany and Lazio where the beauty of the panoramic views from the hill towns and villages will take your breath away: the Maremma Guide home page