Pictures of Tuscany
...the part you didn't know about!
I want to show you pictures of Tuscany that you won't be expecting and which don't include any of the main tourist cities or sites because they were all taken in a special part of Tuscany most people have never heard of: la Maremma.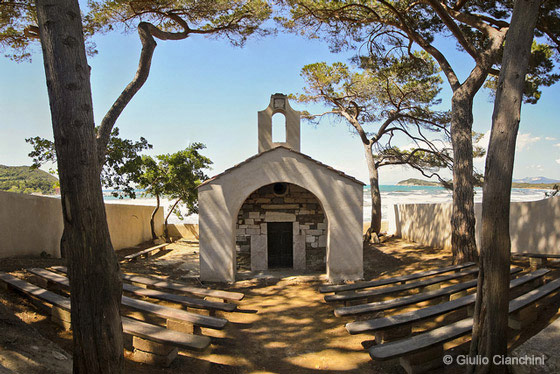 Now you could argue, and I would agree with you, that the Tuscany most people do know about and have read about in travel guides or visited is special. You only have to look at the images of the rolling landscapes and medieval hill towns to appreciate its beauty. And the cultural cities of Firenze, Pisa, and Siena etc are, indeed, special places.
But the land called Maremma that sweeps along the Tuscan coastline from south of the port of Livorno all the way down to the northern territories of Rome and inland across thickly wooded mountains and hills, is magical. Not only because it is home to mountainous landscapes of hot volcanic vapours, wild boar and wolves... But because it has a way about it that touches the souls and steals the hearts of those who visit before they even know it. And this is no transitory holiday love affair: for Maremma will have you returning again, and again... until the day you decide to just stay! Don't say I didn't warn you!
The gorgeous photo above is of the tiny church of the Capella di San Cerbone on the beach in the Bay of Baratti and is by very kind permission of Giulio Cianchini. It would make a stunning wedding location but for the fact that, unfortunately, you cannot get married here. But you can in the tiny church enclosed in fortress walls at the top of the hill in the medieval hamlet of Populonia.
Pictures are worth a thousand words...
La Maremma
The wooded hills reaching down to the sea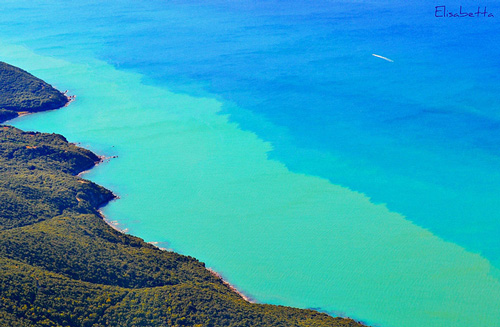 Wild Tuscany photos: the wonderful Parco Regionale della Maremma by
©Relisa
Photos of Tuscany Another stunning shot of the Parco Regionale della Maremma - also known as the Parco Naturale della Maremma by
©Dario Morelli
A view across the olive groves and wooded hills to the sea from the ruins of Montemassi castle - Castello di Montemassi - a great place to visit to sit and stare and imagine life in the middle ages when the castles were occupied.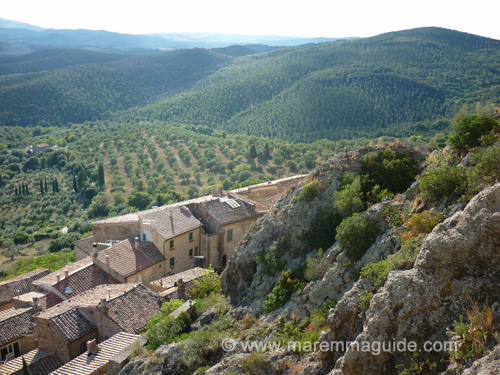 Pictures of Tuscany:
Montemassi
in October
The beaches all to yourself
Tuscany beaches all to yourselves dotted with medieval towers that were built as protection from Saracen pirate raids not so long ago...
The long beach of
Capanna Civinini
near Punta Ala on New Year's Day
This beach is in Maremma Livornese, and although it doesn't have foothills reaching down to its shoreline as in Maremma Grossetana, it still has two of its own towers.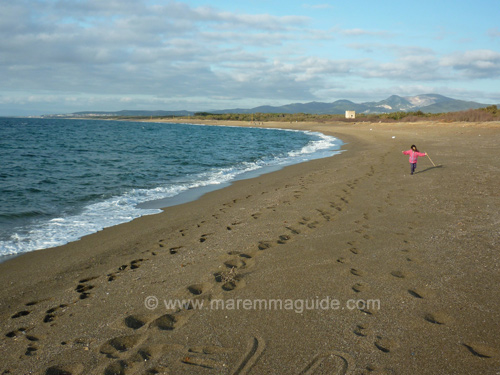 Torraccia beach
Maremma in February
And the wild and wonderful beach of Marina di Alberese from which you can count three white look-out towers. Access is limited - ticket only - during the spring and summer months.
Marina di Alberese beach in March
The Etruscan treasures
Nestled deep in woodland and not visible from the beautiful bay of Baratti that lies just a walk away, this necropolis is one of the most important Etruscan sites in Italy, yet you will probably have never heard of it. Many of Maremma's treasures are still buried under agricultural land or woodlands, the outlines of which are clearly visible from the air but hidden from sight when you are literally on top of them. It takes an archaeologist with a camera and a kite to reveal them and I am lucky to have made friends with just such an expert in Maremma: you can see some of his Kite Aerial Photography images here.
This site and the necropolises and tombs down by the beach - one of which is nearly thirty metres in diameter and contained not only the dead of a noble Etruscan family but two of their chariots - were literally buried under 2,500,000 tons of black iron ore slag. Now the "Parco Archeologico di Baratti e Populonia" - the Baratti and Populonia Archaeological Park - makes for an amazing morning, afternoon or even whole day out if you love trekking and walks discovering tombs at every turn and wildlife - such as lines of huge black ants - along the way.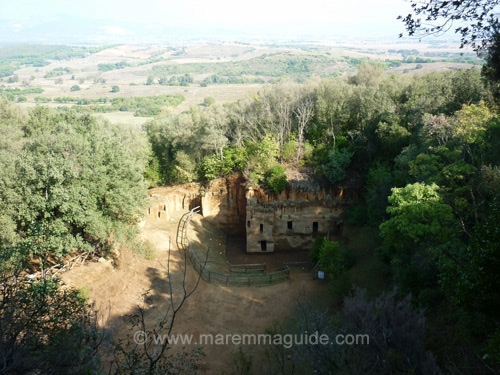 Le Grotte Etruscan Necropolis at Populonia
There is nothing like the next Etruscan treasure and there is not an ounce of gold or a precious gem involved: the incredibly atmospheric, mysterious, magical and at the same time spooky experience of the Vie Cave. This photo was taken in the Via Cava Madonna della Grazie that leads from the stunning tufa hill town of Pitigliano down the escarpment and up the other side of the river valley that is home to the congruence of the rivers of Lente, Meleta and Prochio to the church of Santuario della Madonna delle Grazie. The lay-by by the church is one of the best stopping spots for taking a panoramic image of the town: as you turn the hairpin bend in the approach road alongside the church the view will take your breath away.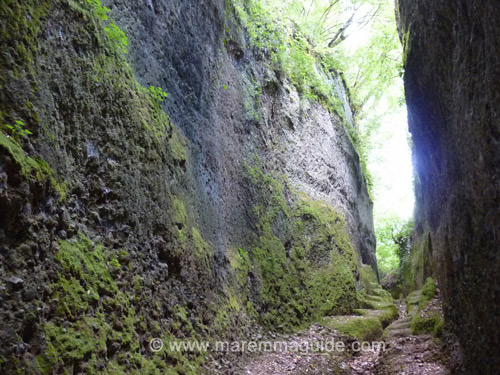 Maremma's Vie Cave: the Via Cava della Madonna della Grazie at Pitigliano
The wildlife
Tuscany is home to a wonderful variety of flora and fauna, much of which has professional and amateur photographers alike out early in the morning or camped late at night with lenses set to capture their images. But, Maremma is a haven of all together another dimension: for much of its lands are national if not international protected nature reserves, national parks and designated areas of international importance. And then there are Maremma's protected marine parks in which whole islands for which access is carefully controlled or indeed completely off limits.
Some areas of Maremma's beautiful woodlands are completely wild and haven't been touched by man in many many years... deliberately so. Wolves and rare falcons have returned to this land.
I wish my partner had had his camera with him early one morning as he saw seven wolf cubs crossing the road in the metelliferous hills: and whilst I cannot guarantee that you will see wolves if you take a drive early morning or evening in those same hills, I can say that you will see one if not more of either foxes, wild boar, deer, badger or a porcupine.
The wild boar in this photograph, however, are easy to capture on film: take a visit to the hamlet of Montioni and the nature reserve in which it sits and you will return home with images like this. Read some more about the wildlife.
A wild boar a sow and her piglets in a hamlet in Maremma
And then there are Maremma's pink flamingos...
Pictures of a Tuscany you weren't expecting: pink flamingos in the autumn in the Riserva Naturale Provinciale Diaccia Botrona by kind permission of
©Giancarlo Gabbrielli
.
I hope these images of Maremma have caught your imagination and inspired you to explore a Tuscany far from the crowds.