Bugatti Photos
100th Anniversary Tour of Tuscany
Part Two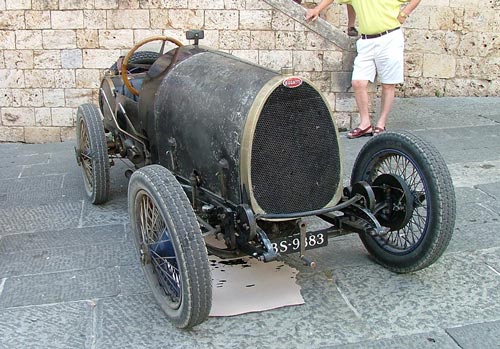 Bugatti photos from the 100th anniversary tour in Tuscany, where 130 Bugatti classic cars with the distinctive E and B Bugatti logo came together in Massa Marittima, Maremma.
These Bugatti photos form Part Two of the Bugatti car pics taken on 28 May 2009, during the celebration held in Maremma, Italy of the 100 years anniversary of the founding of the Bugatti company in 1909 by Signor Ettore Arco Isidoro Bugatti.
Thirty Bugatti car models and one hundred and thirty selected cars with the famous horse shoe-shaped radiator came together to form what was described as an open-air museum.
Almost all of the Bugatti car models signed with the unturned E and B Bugatti logo - the designer Ettore Bugatti's initials - took part in the event. From, "competition voiturettes belonging to the early decades of the last century, to the incomparable Grand Prix, from essential two seat sports cars to cars that were the epitome of technology and luxury in those years." Extract from the official press release for the Bugatti International Meeting 2009.
The cars included Type 13, T22, T23, T30, T35, T37, T38, T39, T40, T43, T44, T46, T49, T51, T54, T55, T57, and T59.
I'm not a car enthusiast, but to have seen so many wonderful old cars restored and tended to with evident passion, on a gloriously warm and sunny afternoon in Maremma, Tuscany, and in particular with the historic centre of medieval Massa Marittima as the background setting, was a real treat. To hear them arrive and similarly to watch their preparations to leave assisted by fellow enthusiasts and adoring onlookers, was a special experience.
The Piazza Garibaldi in Massa Marittima is host to some wonderful and unusual events throughout each year, all of which have a magic of their own, but this was something different for Maremma.
The celebratory tour also took these wonderful classic cars to medieval Castiglione della Pescaia, the Etruscan city of Roselle, the Uccellina Nature Reserve within the Parco Naturale della Maremma, the ENEL Geothermal Power Station at Larderello, the city of Volterra, the Island of Elba, the ruined Abbey of San Galgano, and the castello di Colle Massari.
I hope you enjoy the photos.
The Bugatti Photos
Can you help? I would love to put the names of each of these Bugatti classic cars next to their photos: if you can help, please contact me. Just let me know the number of the photo and the information that I may include. Thank you.
Click on the Bugatti car pics to view larger images.
Click on this Bugatti Car Pics - Part One link to view the previous page of photos.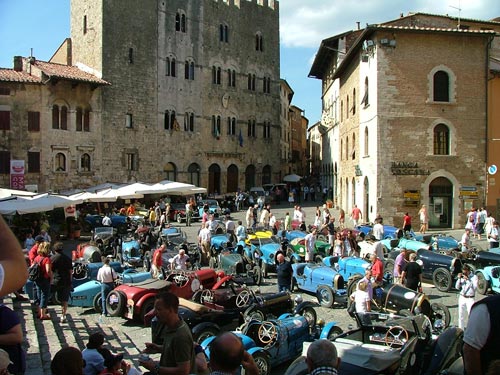 Explore some more...
Find out about this special part of Tuscany and Lazio - Italy's best kept secret - where wild boar root and roam through wilderness woodlands right down to the waters edge along a spectacular coastline with the Tyrrhenian and Ligurain seas: the Maremma Guide home page