Hotel Duca Del Mare
Best Hotels in Massa Marittima Italy
The Massa Marittima hotel, Hotel Duca del Mare, is a modern hotel situated in a quiet area just below the historic centre and only a short walk away from the medieval city walls, splendid cathedral, towers, and Massa Marittima's many restaurants and bars.
It is one of my joint first choice recommendations for a hotel in Massa Marittima: I would book my mum into this hotel in the knowledge that she would be happy, and that is saying a lot! (You can find the link to the other excellent hotel at the bottom of the page.)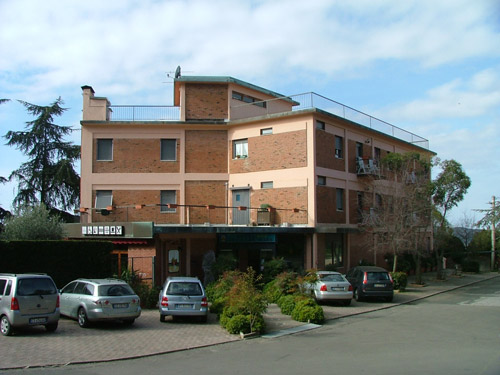 Why it is top of my choices for Massa Marittima.
It is very close to town. Don't let the fact that the location of the Duca del Mare isn't actually within the walls of this medieval city put you off, because the impressive medieval entrance gate into its heart is literally only a stone's throw and five minutes on foot away. It is only five minutes rather than two as the walk is uphill, but it is only two minutes on the way down!
The hotel has its own parking - see the main photograph above - but there is also a large free car public park adjacent to the courthouse in Piazza Dante Alighieri next door.
But, more importantly for me and my mum, the hotel is immaculately presented. The bedrooms and their modern en-suite bathrooms are very very clean. You won't find worn carpets or shabby furnishings here. This hotel is owned and run by the Orlandi family - and has been since 1963 - and the very good care they take of it is evident.
All the bedrooms have private balconies and those to the rear of the hotel have large balconies: the equivalent to an extra room with sun chairs.
TIP: Those on the first floor have very large balconies: you could have a party on them! and panoramic views of the whole of the Gulf of Follonica. Depending on the room, what you may sacrifice a little in internal bedroom space compared to those on the ground floor - but the rooms are still a very comfortable size - you will gain over and over in view and outdoor space. ell worth the small additional cost a night.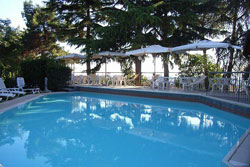 There are ample indoor communal areas to relax in - a lounge with television, bar and large breakfast room - and outdoors, a swimming pool (with hydro-massage and night lighting) to cool off in after a days exploring Maremma, veranda and garden.
The hotel is fully air-conditioned.
Breakfast is included in the price. It is a continental breakfast with something to suit everyone's tastes, including freshly made home made pastries each morning. There is a reason for that small hill into town!
In addition, for those who love outdoor sports such as trekking, mountain biking, swimming, tennis, cycling, and horse riding, they are all available locally. But this hotel is perfect for those with a passion for archery as the owner, Mario Orlandi, is also an archery champion - Italian and European Champion (FIARC). Hotel guests are welcome to shoot with him.
Each of the twenty-eight Hotel Duca del Mare bedrooms have wi-fi, air-conditioning, telephone, television, a balcony and en-suite bathroom with hairdryer.
The hotel is equipped with facilities for disabled people. No pets are allowed.
More photos, independent reviews, availability and guaranteed lowest rates.
My second Massa Marittima Hotel Recommendation
Hotel La Fenice: a converted villa at the top of the town, with a garden and swimming pool.