Italian Shoemakers in Maremma
There are a small number of Italian shoemakers in Maremma who practice centuries old traditional skills passed down through the generations by master shoemakers: Diego Daddi in Suvereto is one such shoemaker.
Diego Daddi
Italian Shoemaker in Suvereto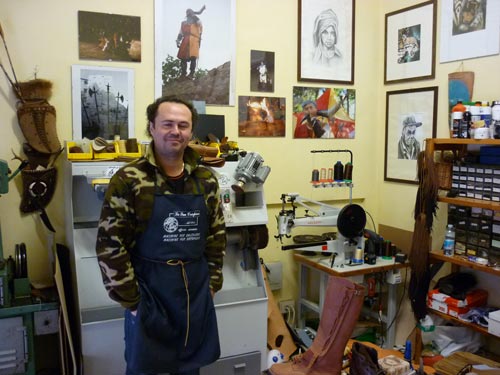 Diego Daddi is an artisan shoemaker and artist with a passion for the middle ages, whose "labortatorio" (workshop) is fittingly situated in the medieval city of Suvereto in Maremma Livornese. I came across one of his business postcards in the Tourist Office in Suvereto and decided to find out more...
I asked him why he had decided to pursue a career as a shoemaker - particularly as the life of an artisan in Italy is anything but easy - and, perhaps not surprisingly, he told me that from a very young boy he has always loved making things in leather, from belts to bags to armour.
Seven years ago, he started to sell his work at medieval shows and festivals. Then a chance encounter with another shoemaker led him to a three year apprenticeship with a master craftsman in the last years before he retired. A rare opportunity indeed to learn a traditional skill from old hands and one which has enabled him to turn his passion into a livelihood.
Originally opening a workshop in Venturina, Diego transferred to Suvereto - his birth place and home town - in March of 2009. His shoes and boots come in two varieties: those that are entirely hand stitched in Tuscan leather, or those that are hand and machine stitched.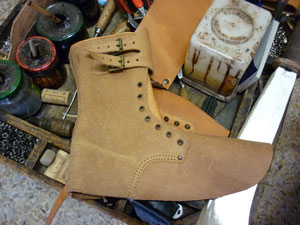 The Handmade Italian Leather Shoes, Boots and Handbags
Diego's modern-day designs range from "Maremmane" to "Derby" to "Clarke" to "Inglesine", plus a variety of "cacciatore" hunters boots, "stivali buttero" the Maremma Butteri cowboy boots, and "francesine" French boots.
He also makes a summer range of Italian leather sandals for men and women.
The Italian shoemaker sandals
The Medieval Shoes and Handbags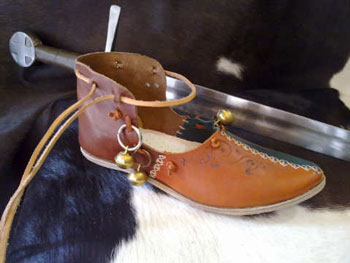 His medieval shoes are replicas from the "alto" middle ages period 1200 to 1300 and comprise of shoes for men and women peasants, as well as knights and nobles. All entirely made by hand and with natural and authentic materials. Diego showed me the roll of dried animal intestines that he uses!
Find out some more about his middle ages shoes... the medieval shoemaker.
Something more exotic...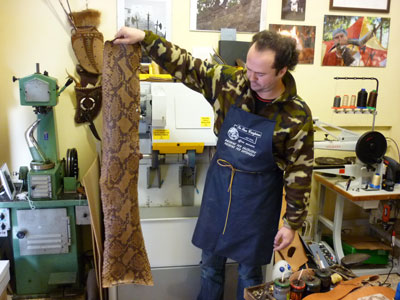 Diego also makes python skin wallets and handbags: not to my taste, but with the same quality artisan workmanship nonetheless.
Prices and Commissions
If you are a lover of handmade Italian shoes and are visiting Suvereto I would highly recommend a visit to Diego's "bottega". The prices of the shoes and boots in his workshop are very competitive - they are on a par and in many cases less than those of mass manufactured shoes in my local Maremma town high streets!
Don't live in Maremma? Don't worry, but he is happy to take commissions for just what you are looking for and send them on to you (by FedEx) anywhere in the world.
Location and Opening Times
Diego's workshop can be found along the one-way street that encircles part of Suvereto's medieval city walls. As you drive towards the historic centre of Suvereto from the south, you will see the medieval "porta" (gateway) in front of you, at which point the road bears ninety degrees to the left and starts to take you around the old walls. Qule Pellaio di Diego can be found on your left, just after the chemist ("farmacia").
Monday to Friday 08:30 to 12:30 and 14:30 to 19:30
Saturday 08:30 to 12:30
Quel Pellaio di Diego
di Diego Daddi
Via Don Minzoni, 5
57028 Suvereto (Livorno)
Tel: (mobile) +39 347 1931632
www.quelpellaiodidiego.it