A Medieval Shoemaker
in Maremma
In one of Maremma's captivating castled hill towns there is a medieval shoemaker whose passion for the middle ages shines through into every detail and element of his work.
Diego Daddi is a young Italian shoemaker who apprenticed with an old master and now not only handmakes modern day leather dress shoes, boots, handbags and wallets in the Maremma style, but also makes medieval leather shoes true to their original designs and with authentic natural materials.
The shoe in the photograph above is that of a "Cavaliere-Armigero" - knight.
The Medieval Shoes and Handbags
His medieval shoes are replicas from the "alto" middle ages period 1200 to 1300 and consist of leather shoes for the peasants of the day as well those for knights and the nobility.
I asked him from where he sourced the designs for the shoes, and he told me of his research which took us from Maremma to my homeland of England. The designs and materials that Diego uses for his shoes and bags replicate those documented from archeological excavations and sites. In particular, the River Thames in London along which was found a "rich" site of old worn and discarded shoes all well preserved in the muds of the river bank. He tells me that this site is the largest of its kind and that there is none better.
His materials are all those that would have been used by shoemakers in the middle ages: leather, "cuoio" (hide) and strings of dried animal intestines that he uses for the stitching together with leather cord.
As a young boy, Diego always loved making things from leather - belts, bags and even armour for the medieval festivities and re-enactments here in Maremma. Now as a man he has combined his two passions into his daily work and it shows: his work is unique and of the highest quality.
| | |
| --- | --- |
| The "trovatore" troubadour or minstrels shoe worn around AD 1350. | The "arcere" archers shoe made of cow hide. |
| The "armato" shoe worn by armed men. | A medieval womans shoe from between the eight to tenth century. |
| "Scarsella in pello bovino" - medieval bags made of cow hide with cattle, goat or horse hair. The closures are either buckle, wild boar tooth, or cow horn tip. | "Scarsella in volpe" - a fox purse made of cow hide and fox fur that would have been worn by those of high rank. |
Cavalieri di Ildebrandino VIII di Suvereto
- The Medieval Knights of Ildebrandino Suvereto VIII
If you have read the above, this probably won't come as a surprise, but Diego is also the President of the Cavalieri di Ildebrandino VII di Suvereto - the medieval knights of Ildebrandino Suvereto VIII: a group born out of a common spirit and passion for the story of their small "borgo" in Maremma. As well as knights, the group comprises of medieval archers, horse-riders, and ladies in costume.
Their weapons - one-handed swords, axes, knives, daggers, shields and battons - costumes and customs used whislt re-enacting fencing duels and battles in the medieval alley ways and town squares of Tuscany all follow carefully those of the middle ages period between 1200 and 1300.
The Cavalieri di Ildebranino are available for hire for medieval commemorations, dinners and events if you are interested. Would make for a Tuscany wedding for a difference that no one would forget that is for sure!
Diego's Modern-day Handmade Italian Shoes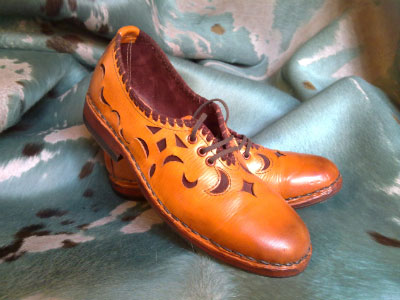 To take a look at Diego's modern range of handmade leather shoes and for details of the location of his workshop and opening times, go from the medieval shoemaker to the Italian shoemakers in Maremma page.