Italian Wine for Dummies
Italian Wine for Dummies, written by experts Mary Ewing-Mulligan and Ed McCarthy, is a friendly and un-intimidating guide to understanding the complexities of Italian wine. Easy to read, concise and clear but still providing sufficient information for any professional to have within their book repertoire.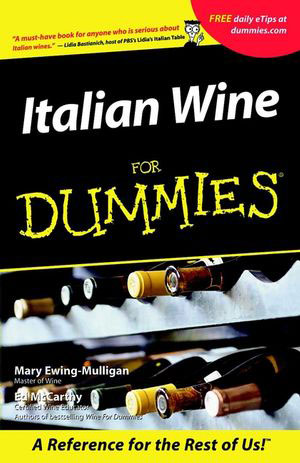 The book:
covers the major wine-producing regions of Piedmont, Alpine Valle d'Aosta, the Riviera in Liguria, Lombardy, Emilia-Romagna, Trentino-Alto Adige, Verona, Venice, Tuscany - Chianti, Montalcino, Montepulciano and he new developments in Maremma - Umbria, Marches, Abruzzo, Molise, Rome, Campania, Apulia, Basilicata, Calabria, Sicilia and, lastly, Sardinia;


explains the major grape varieties and the environmental effects - terroir - upon wines produced in different regions;


tells you how Italian wines are named and demystifies the labels;


suggests complimentary food;


tells you how to prepare wines for drinking and storage;


and includes a pronounciation guide.
Plus the authors include their own wine choices from each region.
If you are planning to experience Italy through her wine - whether at home or on a wine tasting tour, then Italian Wine for Dummies
is a great book to help you plan to do so. If you think that this book is for you and the latter is the case, then you might like to know that it also comes in Pocket Edition
weighing in at just over 45 grams (1.6 ounces).
The Dummies series of books also includes Wine for Dummies by the same authors which has great reviews, and French
, Red
, and White Wine for Dummies
.
Explore some more...
Check out a further selection of Italian wine guides


Find out about Maremma's Tuscan and Latium wines, her vineyards and wineries, the festivals and trails, tasting and tours, labels and maps... and even Tuscany vineyards for sale. Go from Italian Wine for Dummies to the main Maremma Wine page by clicking on the link below.


Find out some more about Maremma: take a visual tour with the Photo gallery: Pictures of Italy - from undiscovered Maremma