Italian Wine Producer
Gianpaolo Paglia
Poggio Argentiera
A refreshingly frank and non-pretentious interview with Italian wine producer, Gianpaolo Paglia, of the relatively new vineyard and winery Poggio Argentiera in Maremma, Tuscany.
Born and bred in Maremma and professionally an agronomist, Gianpoalo brought the start of the Poggio Argentiera estate in Morellino di Scansano vineyard territory in 1997, with his wife Justine Keeling, an English marketing manager.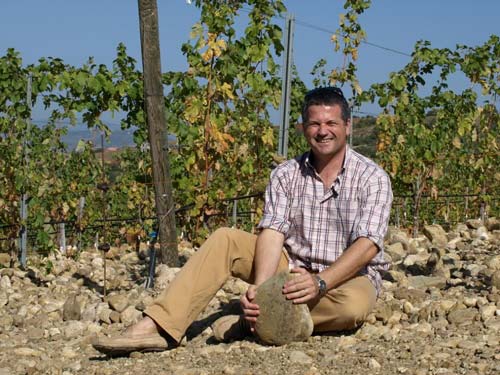 Italian wine producer Gianpaolo Paglia
Today it extends over 22 hectares near the coast in Alberese and in Fontequaranta, near the small village of Baccinello, Scansano, with additional leased and controlled vineyards in Pitigliano and Sorano and Manciano.
Their modern winery was built in 2002 and, although young, it has already acquired an impressive record of international awards and critical acclaim.
The Interview
What have been the major hurdles in establishing your new vineyards?
Well, to be honest, it is money.
You continue to receive considerable acclaim for your wines: congratulations! What do you consider to be your biggest achievement so far?
A good distribution all over Italy and a decent distribution abroad. Press is important, but a good sales network is even more important.
What was the deciding force behind your decision to change Poggio Argentiera to organic production?
I believe that we could improve the quality and the style of the wines by changing the approach in the vineyards. We still have to prove that true, but we hope so.
Your comments in your New Years Eve blog post, "Cosa abbiamo fatto, cosa faremo", about the economic situation was very pertinent for many businesses. If you could ask for one thing to help businesses like yours in Maremma in 2010 what would it be?
We are capable of making good products and we live and operate in a beautiful location. The only thing that we really miss is the promotion, especially abroad, so I would suggest to learn to work together as a group and use the resources that we have, that very often would be more than enough if they weren't wasted.
What role do you feel Maremman wineries should play in promoting tourism to the area?
I think that they should be in the front line, because wine and food are really among the best assets we have as a touristic area.
Poggio Argentiera has been described as a "boutique winery". How do you feel about that? How would you like it to be described?
I don't really know if that suites us. We are just normal people, very determined to do well and very pragmatic too. I don't like to depict myself as someone different from who I am. I'm in this business to succeed, because I like it and because I believe that we are good at doing it. I'm a winery that tries hard to make a good job.
What Maremma wines would you recommend to someone contemplating purchasing them for the first time? And what foods would you pair with them?
I would probably suggest a Morellino di Scansano, with a good plate of pappardelle al cinghiale (pappardelle pasta with a wild boar sauce).
What do you consider to be the top three best of Maremma wines?
Avvoltore (Moris Farms)

Capatosta (Poggio Argentiera), and
Grotte Rosse (Salustri)


And, lastly, what is you favourite place in Maremma?
Orbetello, my birthplace. I love it.
---
My thanks to Gianpaolo for taking time out of his busy life to do this interview for the Maremma Guide.
Read the interview with Gianpaolo's wife, Justine for her perspective on the challenges they face as Italian wine producers in Maremma.
Or, visit their great Poggio Argentiera website at www.poggioargentiera.com for all the information you might need about their wines, vineyards and winery, their Blogs - Gianpaolo's in Italian and Justine's in English - plus lots of photographs and videos. You can even purchase their wines directly from them online (Italy and UK only at the moment).
Visiting Maremma? Then why not arrange to taste their great wines? But do call or email a few days in advance just to make sure that it will be possible on the day/at the time you are thinking of.
Poggio Argentiera
Localita Banditella, 2
Alberese 58100 (Grosseto)
Tel: +39 0564405099
Fax: +39 0564 405749
email: info@poggioargentiera.com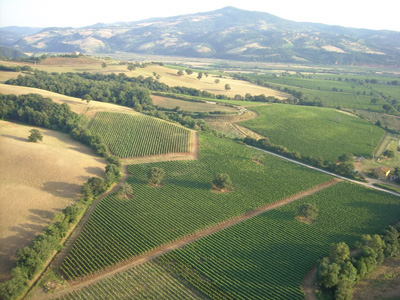 One of Poggio Argentiera's Tuscany vineyards in Maremma