Interview with Justine Keeling
Winemaker in Maremma
Poggio Argentiera
An exclusive interview with Justine Keeling, an English woman making wine in Morellino di Scansano territory in Maremma in Tuscany with her husband Gianpaolo Paglia.
Together they have planted the vines and built the winery that is Poggio Argentiera. And, although still young, it has already acquired an impressive record of international awards and critical acclaim.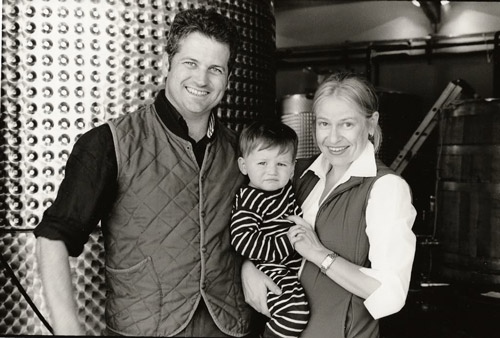 Justine Keeling with her family at Poggio Argentiera in Maremma, Tuscany
The interview
Justine, thank you for agreeing to be interviewed. Please introduce yourself and Poggio Argenteria to the readers of the Maremma Guide.

I grew up in rural England, did the 'bright lights, big city'' thing in London until rural life reclaimed me, and sent me to Maremma to make wine.
Poggio Argentiera was a really small winery when we started, and we were very green, but we had the enthusiasm. I don't climb inside the vats to clean them anymore, or go out on the tractor to the vineyards, and that original enthusiam has evolved with experience into something more measured and businesslike.
Although the winery has grown considerably since the beginning, we're still small, and I think that keeps our finger on the pulse.
Maremma is to Tuscany what Somerset is to Devon or Cornwall - quite lovely in its own right, but mostly overshadowed by Sienna and Florence. I'm happy with it that way - most of the year we've got it to ourselves.
You generously donated all of the income from your on-line January wine sales to aid the people of Haiti. Was that a decision you made as a woman and mother, or part of a wider social conscience philosophy of the winery?
I think I'm like most people, putting spare change in collection boxes, or occasionally sending a tenner, but this time it just seemed right to make the gesture that bit bigger.
Although there are an increasing number of women winemakers in the world, the business is still very much a male dominated environment. What challenges does this present for you in Maremma?
I've worked in different industries and they are all male dominated, and farming is no different, not least because of the sheer physicality of the work. In the end, you need two things: good wine and the ability to sell it - and those two things are not male preserves.
I have found that, culturally, women are not given the same respect within a working environment as would be the norm in northern Europe or the States, plus, this is a very rural part of the country where traditional gender boundaries are still quite firm.
I think the challenge is for the Maremman wine industry to glam up a bit, shake the mud off its boots and acknowledge what women can contribute - 3 of our 4 key staff are ladies.....(and only one of those is in an office job).
What unique dimensions do you feel that women bring to winemaking?
Same as anything else - we have a multi-tasking gene, and winemaking certainly needs that! We are buyers, drinkers, lovers of wine, we have opinions about it and what makes it 'good'. We have a refined palate, (scientifically proven to be more so that a male one), and I think we have new ideas, a fresh approach...
What advice would you give to a young woman planning a winemaking career and wanting to make her mark on the wine world?
Marry a rich man.
Congratulations on being awarded ''Tre Bicchieri'' for Finisterre 2007 from Gambero Rosso's Vini d'Italia 2010. To have your wine included amongst those considered as "extraordinary wines" is a considerable acclaim, especially for a relatively new winery. How do you plan to surpass that?!
Awards are nice things to have ; everyone likes applause; but really, awards are not the goal and they don't shape our objectives. We simply want to make better wines each year.
What is your next biggest challenge for Poggio Argenteria?
We have had an identity as the new kids on the block, but that is past and we don't miss it. We now want to be identified as an independent winery, solidly getting on with making the best wine we can. I think part of that identity must also be tied up with our excitement about local varieties and how they can give us such memorable wines, and the challenge is to promote those.
Whether to actively promote tourism in Maremma - and spend some some considerable money in doing so - has been debated by local authorities and tourism boards for some time now. Do you feel wineries should play a proactive role in attracting tourism to Maremma? If so, what?
Northern Tuscany got glorious art and we got glorious beaches, (you can call me a philistine as you pass the sun lotion). We also have fabulous food and wine and these must play a role in sustaining tourism in the area.
We need Grosseto airport to take commercial trafic and we need investment into creating a wine route as slick as in South Africa or California.
What Maremma wines would you recommend to someone contemplating purchasing them for the first time? And what foods would you pair with them?
You have to try Morellino di Scansano, (ours, clearly) and if you're in the area, with wild boar and pasta. If you've just run out of boar, then a really good steak, seared in the pan with salt, pepper, and garlic should do it.
What do you consider to be the top three wines from Maremma?
1. Capatosta, Poggio Argentiera

2. Avvoltore, Moris Farms

3. Alture, Antonio Camillo
And, lastly, please describe your favourite place in Maremma.
Marina di Alberese in June - fantastic beach, perfect weather, no people!

---
My thanks to Justine for both her time in doing this interview and for her responses which make for such an interesting read.
Read the interview with her husband Gianpaolo Paglia for his an equally frank and honest views as an Italian wine producer in Maremma.
Visit their great Poggio Argentiera website at www.poggioargentiera.com for all the information you might need about their wines, vineyards and winery, for Justine's Blog - and Gianpaolo's in Italian - plus lots of photographs and videos. You can even purchase their wines directly from them online (Italy and UK only at the moment).
Visiting Maremma? Then why not arrange to taste their great wines? But do call or email a few days in advance just to make sure that it will be possible on the day/at the time you are thinking of.
Poggio Argentiera
Localita Banditella, 2
Alberese 58100 (Grosseto)
Tel: +39 0564405099
Fax: +39 0564 405749
email: info@poggioargentiera.com