Maremma Italy Videos
My latest Maremma Italy videos. You will find videos of this wonderful part of Tuscany and Lazio throughout the pages of this web site that will take you to places - above ground and under - that you would never have known existed until you started reading this Guide, and which you won't find anywhere else.
But to get you started exploring straight away and wet your appetite for more, here you will find my most recent videos. You'll get to see some of the local wildlife along the way too! But rarely another tourist :)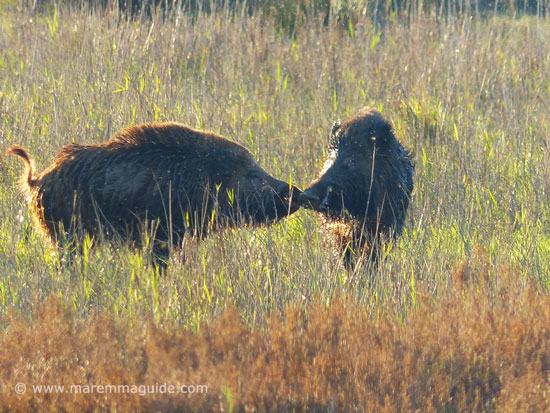 Saturday night in Maremma: "just talking, not kissing, OK!"
Sabato sera in Maremma: "solo parlando, non baciare, OK!"
Riva del Sole beach: out of season paradise in Tuscany
If your impression of Tuscany beaches is that they are covered in regimented rows of sun loungers and parasols and are only for the summer, think again... Riva del Sole is a piece of paradise in the autumn and into early November. With accommodation and flight prices at their lowest and weather warm enough for a tan, what isn't there to like about having a long stretch of fine pale sands within a nature reserve all to yourself? Rive del Sole beach.
Having fun in Maremma... the simple things
The medieval streets can be very narrow here in Maremma!
Fiumara beach Grosseto
Fiumara kite surfing beach is one of my very favourite beaches in Maremma, but not because of the surf. Find out why.
Cala Civette
Those people who know of the out of the hidden cove of Cala Civette adore her and will trek through wild boar woods to reach her fine sands. But will you?
Le Marze beach
Untamed and wild, Le Marze beach is just waiting for you to build your beach house on its never-ending sands, ready for the sunset over the ocean.
Insects in Italy
Subscribe to my YouTube Channel
Have my new videos delivered to your watch list each time visit YouTube: just pop on over to my MaremmaGuide Channel on YouTube now via this link and click on the subscribe button. Then you won't miss anything. And you can flick through a menu of everyone of them, from beaches to hill top towns, to local food and places to get wed!