A Travel Guide to Italy
Best-selling Books & Website Recommendations
Looking for a really great travel guide to Italy? Here you will find all of the best-selling travel guide books, plus my personal recommendations by region of websites that are perfect for those planning independent travel in Italy.
The Online Travel Guides
Italy
My first two are actually Blogs written by people living in the regions of Italy where they live. Both are simply excellent.
Your Piemonte Guide
Building upon her successful and much loved Blog, "Creative Structures", Diana Strinati Baur has transferred her seven years of insider knowldege of Piemonte (Piedmont) into a new Blog called Piemontescapes - the tastes and textures of northwestern Italy - www.piemontescapes.com. Here you will find a wonderful array of information that will guide you through the sights, sounds, tastes and smells of this beautiful part of Italy. Even if you aren't planning a trip to Piemonte in the immediate future, bookmark Diana's writings for those moments just for you - with a cafè and favourite pastry - and read about the Ligurian and Piemontese cuisines, the wines and wineries... If you don't book a flight after doing so, I will wager that Diana's gorgeous photographs will have trying out a recipe or two! Enjoy.
She also offers bed and breakfast accommodation that is an oasis of relaxation, with reviews that make you want to book straight away. I will be booking in one day soon!
Your Guide to Umbria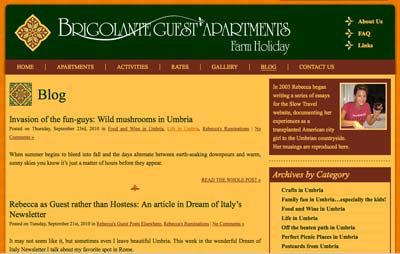 Rebecca's posts about life in Umbria and the region itself are true gems. Written in a wonderfully relaxed style and with an equally wonderful sense of humour, they are brimming full of information. Which explains why her Blog, "Brigolante" - www.brigolante.com - is so well loved and followed by many. If she ever decided to publish her posts as a book, it would become a best sellers overnight.
Don't be put off by the title, "Brigolantes Guest Apartments", in the photograph above. Yes, Rebecca does offer (great) accommodation but my inclusion of her Blog here isn't a publicity for that. Brigolante is a rich resource for anyone wanting to discover Umbria from the inside. I cannot recommend it highly enough as an addition to your more regular travel guides about the area. Find out about the festivals and beautiful villages, the food and the wine... as though you are already there.
Enogh said. Rebecca, find a publisher!
The Independent Travel in Italy Guide Books
For my travels around the globe I always tend to opt in the first instance for The Rough Guide series
, as their concise format gives me a helpful initial start to planning my trip and over the years I have become used to their presentation style.
But whether your favourites are the Blue Guides, Rick Steves, Eyewitness travel guides, Lonely Planet, Foder, the Michelen Green Guides or Frommer's to name just a few, the latest and bestselling editions of them all are collected together here for you to browse in one place.
The whole of Italy
First the Travel Guides that cover the whole of Italy: this Travel Guides Italy link will take you to the page to browse them all...
Travel Guide to Italy
The Italian City Guides...
Going on a long winter weekend city break to Venice for the carnival or a cultural city tour of Tuscany? These city guides are packed with more information than you will find in a composite travel guide to the whole country and most come in pocket/handbag sizes or Kindle downloads.
The Best-selling Regional Guides...
If you're planning a summer holiday exploring a particular region in Italy, then, in the first instance, these guides will be your best bet to get to know the geograpghy of the area, travel distances, the major cities and attractions etc.
I tend to start with one of these and then purchase the individual city guides when I want to find out in more detail about all of the art galleries, museums and recommended places to eat etc.
An unusual travel guide to Lazio and southern Tuscany
A treasure trove of information about southern Tuscany and Lazio that if you have it with you whilst exploring this part of central Italy, will have you lingering longer than you had intended to in a village or ruin exploring a mysterious legend or two... Find out more about this guide to Lazio.
Explore some more...
Find out more about Maremma, her wildernesses, medieval hill towns and special places in the home page...