The Tuscany wine estate with a pigsty that you will want to stay in!
This Tuscany wine estate in Maremma is a great location for tasting Maremma's Morellino di Scansano wines and, together with a visit to the nearby natural thermal springs at Saturnia, tiny Sovana, magical Sorano or the stunning Pitigliano and Vie Cave, would make for a truly memorable day out. That's not to mention the hill town of Montemerano that is within walking distance and has to its name the award of being one of the most beautiful villages in Italy!
And it has a pigsty that you will want to stay in!
But that probably isn't the first thing that this Maremma winery would want you to remember it for! Nor is it what will come to mind as you drive through the impressive entrance gates and up the driveway to the house and vineyards.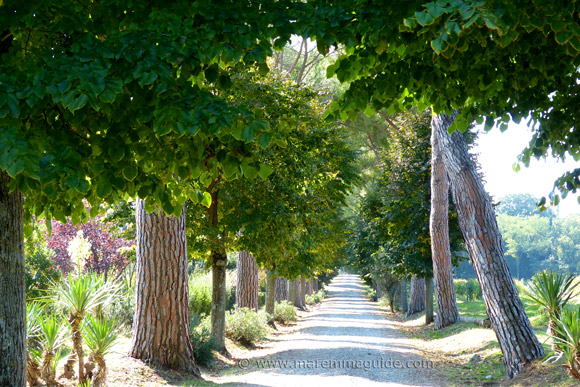 The elegant poolside atmosphere and Californian-style palms and pink villas in the gardens don't give it away either. But it is definitely the pigsty that steals the show! Find out more at at the bottom of the page!
There is a love story...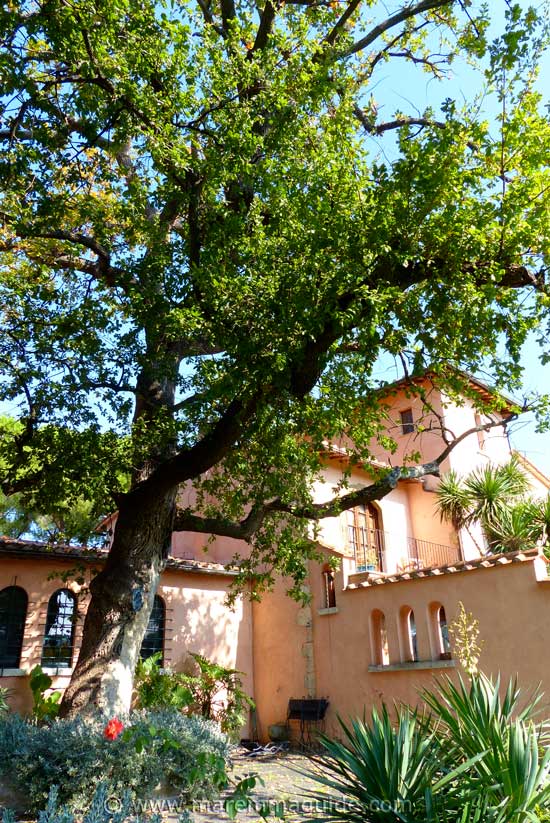 This Maremma winery has a love story attached to it concerning the Marquis from whom Fabrizio's parents purchased the initial part of the estates grounds. A love story fit for a novel of forbidden love that time and obligation refused to permit and which Fabrizio has promised to write! There is even mistletoe growing in one of the trees near the old oak that is part of the story :)
I can't tell you any more or it will spoil Fabrizio's thunder when you visit.
The vineyards are situated where the territories of Morellino di Scansano and Bianco di Pitigliano wines meet. From an initial three hectares, Villa Aquaviva Winery is now an impressive estate of seventeen hectares.
A sensory walk through the winery gardens
Tasting this winery's Tuscany wines will take you on a walk with the owners - either the lovely Annalisa or Fabrizio - through the estate gardens and the vineyard to the new wine cellar.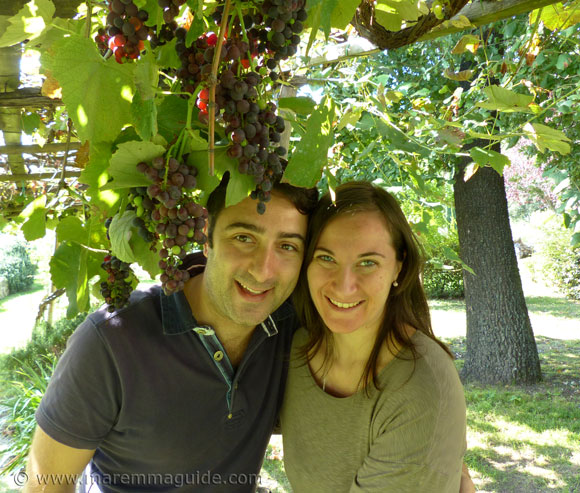 The garden was planted ten years ago in what was once land that the family used to graze their flock of sheep.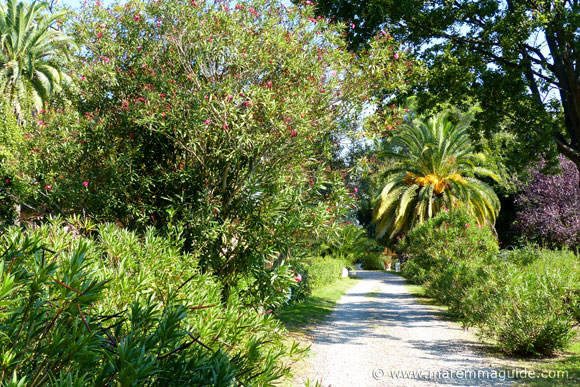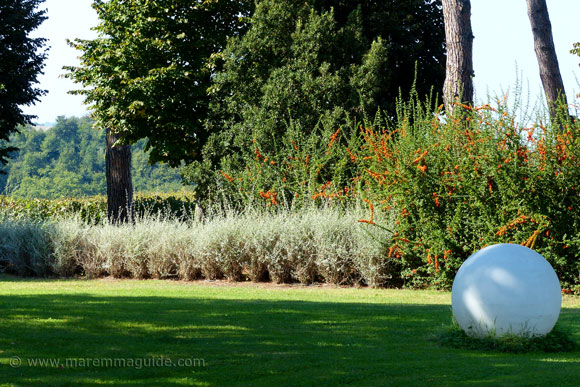 And during this winery tour, the sensory pleasures aren't just limited to the wonderful wines. As you walk and talk you will smell the heavenly scent coming from a flowering Japanese tree: an exotic perfume which I told Fabrizio he should bottle and sell!
And, depending on which season you visit, Fabrizio and Annalisa will pick strange looking fruits for you to try.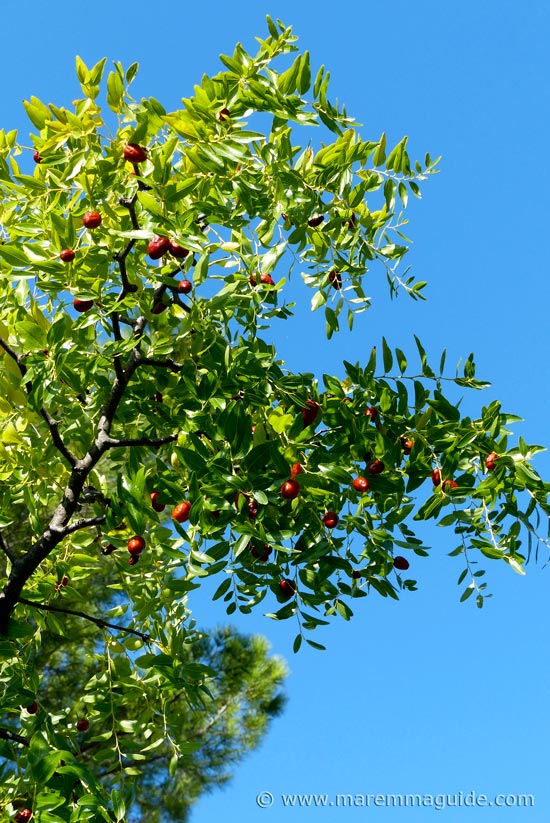 Maremma fruits under a blue October sky.
And walk you under the vines of two grape varieties for you to pick and taste their sweetness, like summer bursting in your mouth. The red ones are the truly special strawberry grape :)
If you have never tried Maremma's strawberry wine - "vino delle fragole" or "fragolino", you have to! The wine festivals and open cellar days in the autumn are great opportunities to be offered a small glass of this special wine that it is illegal to sell but not to make for personal consumption ;)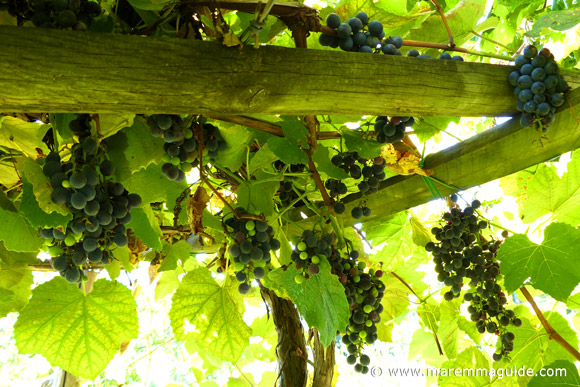 The "uva fragola"
And if you are anything like me and love huge oak trees! there is another ancient oak one in the garden by the winery villa, that has bark that is just calling out to be touched and photographed in its own right.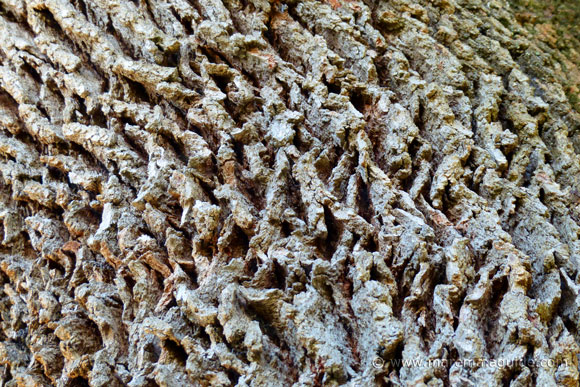 Sit under it and there is this breathtaking view.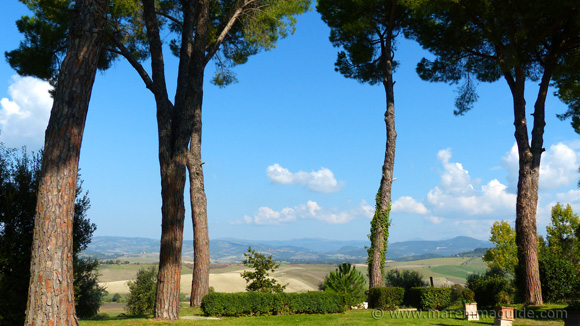 The Tuscany wine tasting
There are three wine tasting options, the first two of which come with ten choices, so that makes twenty-one possible ways to taste Villa Aquaviva's Tuscany wines!
Decide on whether you want nibbles with your wines (potato crisps, nuts, olives an pretzels), or some light food (prosciutto ham and cheese). If you opt for the wine tasting with light food, you also get to try the estate's own extra virgin olive oil on bruschetta.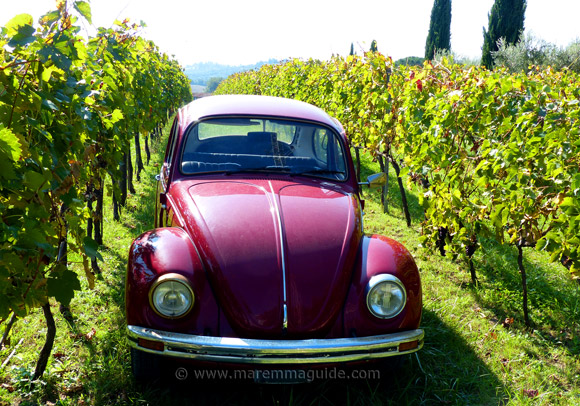 Then you just need to decide on how many wines you want to taste and whether you want to try the red wines, the white wines, or both! Prices start at €5,00 for the two wine options with snacks, or €7,00 with the cheese, ham and bruschetta. All the way up to tasting all eight of the winery's wines with nibbles at €30,00 and with food at €32,00.
TIP If you are going to try eight glasses, I would recommend that you eat more than just pretzels!
Alternatively, the third option includes all eight wines accompanied with a "degustazione" (tasting) of eight different courses in the winery's La Limonaia restaurant. That one will set you back €85,00 per person.
Both Fabrizio and Annalisa speak English fluently, so you don't need to worry about communicating in Italian unless you would like to. But give it a try even if you aren't too sure: you're in Tuscany after all and Maremmans are very gentle folk who smile a lot!
And here is no exception, for whilst Fabrizio will tell you about the wines it isn't a formal, rigid affair. You'll find the conversation gravitating to food and life and, before you know it, you will be doing the talking and new friendships will be formed.
The original winery cellar now used for small group wine tasting.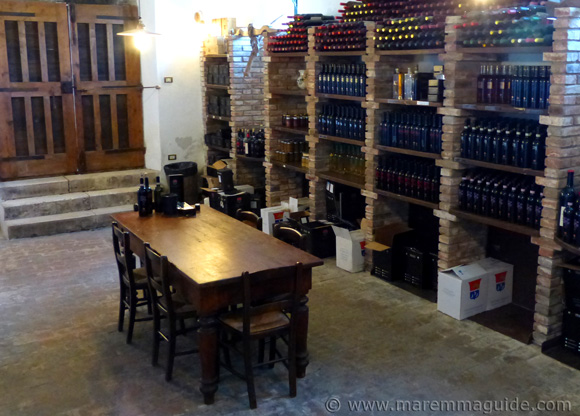 And the new much larger cellar designed by Fabrizio's father.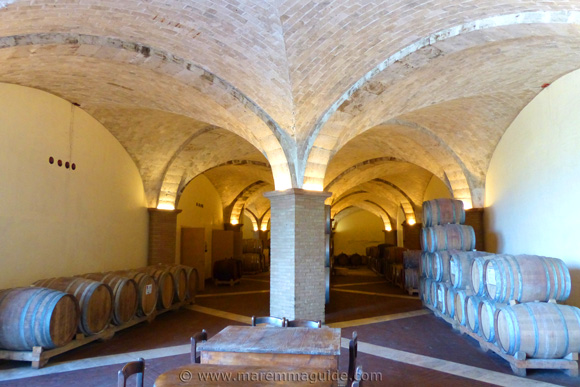 Some of the Villa Aquaviva Winery wines: the red Morellino di Scansano DOCG Vigna Pian di Giomo Rosso della Maremma Toscana.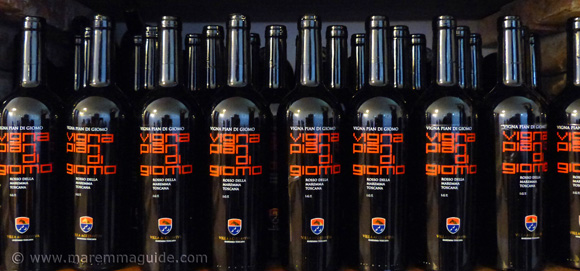 And the white IGT Tuscan Maremma Chardonnay.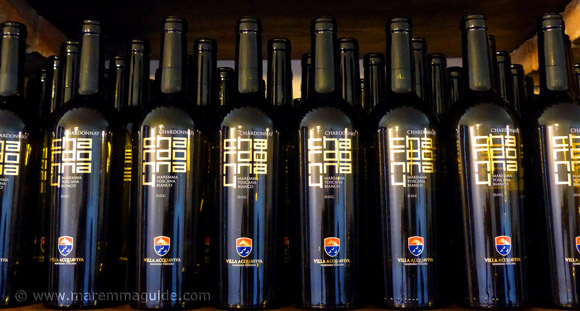 They even make a wine for women! Made from Alicante and Sangiovese grapes that are ripened on the vine long after others, until they are really sweet, this one is a red raisin wine called Nottambula. Dark like the night ("notte"), it is named after Fabrizio's brother - I'll let him tell you the story why - and is perfect to drink whilst eating chocolate! :) Or cheese.
Heavenly, it deserves another :)

Any wines you purchase after the tasting come with a 10% discount.
Contact Villa Aquaviva at info@relaisvillaacquaviva.com, tel. +39 0564 602890, fax. +39 0564 602895
The winery restaurant - La Limonaia
The Villa Aquaviva winery is a family business.
Whilst Fabrizio's father and brother tend to the vines and make the wine, and Fabrizio leads on sales and the winery's accommodation, his mum is the chef in their on-site restaurant. And it is here that she also makes their "confettura" (jams) and bottles the honey - "miele millefiorie" - from their bee hives that you can buy too. It is a decadent, solid, but creamy smooth, honey that tastes simply divine on its own eaten from a teaspoon!
(I had better say too that it is his dad that bottle the olives for sale!)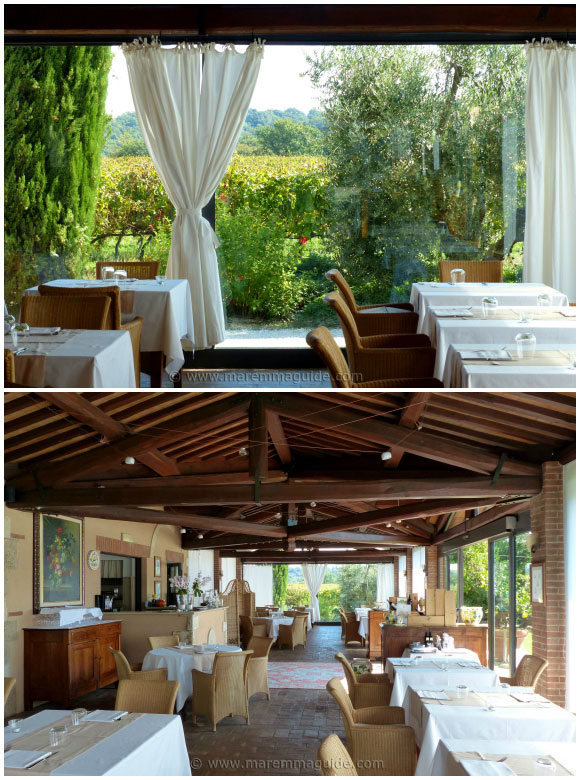 The substantial use of glass "walls" gives the restaurant a garden room feel to it. The same approach has been applied to the reception and dining areas in the main building, so that even in the midst of winter you are transported outdoors and the garden is brought inside.
Prices for antipasti such as, "Fiori di zucca in tempura di farina di riso con gazpacho di pomodoro", or, "Charlotte di zucchine, crema di patate e formaggio con pancetta croccante", start at €10,00.
First courses such as, "Zuppetta di fagiolo con bietoline di campo", start at €10,00, or "Riso con funghi porcini e lardo di colonnata", at €16,00.
Second courses include, "Trancio di Baccala al vapore, ceci in guazzetto con pomodoro e rosmarino", at €22,00, and, "Petto d'Anatra al Marsala con sformatino di cipolle rosse", at €25,00.
Desserts - "i dolci" - start at €12,00 and include "Mousse di ricotta con frutti di bosco" and "Semifreddo al croccante con salsa di cachi".
The Tuscany winery accommodation
The winery accommodation at Villa Aquaviva comprises of both a hotel and an agriturismo. But you won't tell the difference between a bedroom in either. In fact, as Fabrizio explained, the only difference will be the heading on your receipt when you leave. For reasons of local Italian legislation, some of the accommodation must be classed as a hotel, and the other a farmhouse accommodation.
There is a black and white connecting theme throughout, from the wedding banqueting room, to the wine labels and the lights that resemble mini moons in the gardens.
The villa hotel.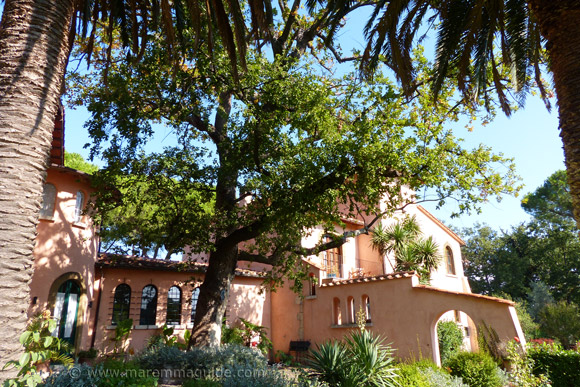 The breakfast room in the farmhouse.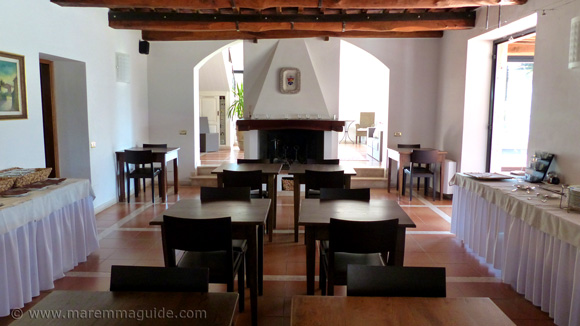 The vineyards at Villa Aquaviva come right up alongside the swimming pool, farmhouse, and restaurant. Fabrizio and his family have deliberately kept the rows between the vines grassed and mowed, just like the garden, as they want them to be seen as a natural extension of the garden that guests may wonder through at will.
The old pigsty!
Why would you want to stay in a pigsty? Well, this one has been converted, and the third of the three bedrooms - the one at the bedroom at the end whose door you can't see in this photo - opens directly onto thick, soft, mowed, grass and row upon row of vines.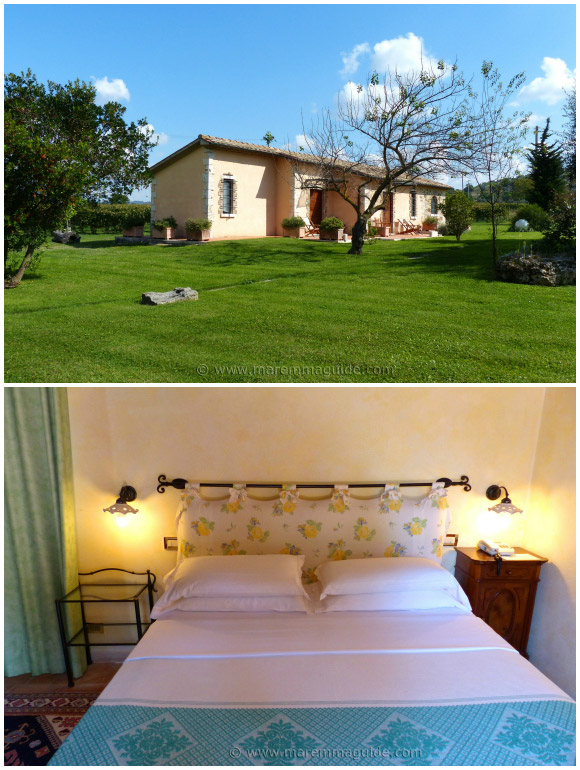 It isn't overlooked by any other rooms. So you can step out in the morning in your pyjamas and pick a grape or two and then sit in the chairs on the terracotta terrace in front of your bedroom door soaking up the sun. Whose dreams of Tuscany don't include something just like that?!
Fabrizio's father and brother deliberately leave grapes hanging on the ends of each row near the accommodation, rather than picking them to make wine, for just this reason!
In the evening, the moon in Maremma rises above the "collina" - the gentle hill on which the medieval village of Montemerano sits - in front of the bedroom and casts a silvery light over the vineyard.
And if you feel like a gentle walk, you can reach Montemerano on foot directly from your bedroom door, through the vines and then the wood: a distance of no more than 1.5 kilometres. The only thing you will meet on route is a local animal or two!