Wineries in Maremma where you can have a great time without knowing anything about wine
Three wineries in Maremma where you can have a great time tasting Tuscany wine without knowing anything about it!
Intimidated by the thought of driving onto a Tuscany wine estate to taste wine with the owners? Wouldn't know the difference between a terroir and a terrier until one bit you? You're not alone! But sipping wines in a Tuscany vineyard is a dream that just has to be fulfilled and I have the solution for you! Three wonderful wineries in Maremma where you can taste great wines to your hearts content without, for not even a fleeting moment, feeling a fool.
Life in Maremma isn't complicated: the wine, generous hospitality, and the conversations that follow between new friends, are all that matter.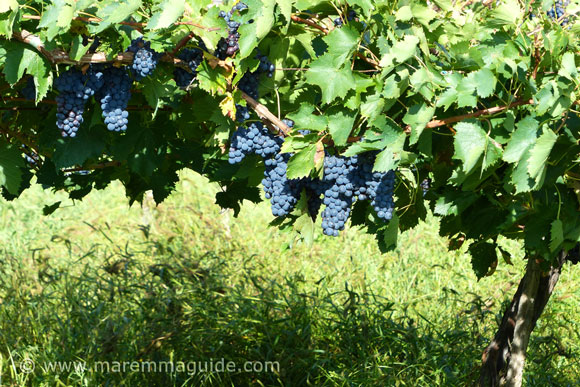 A Tuscany wine estate with a pigsty that you will want to stay in!
To be remembered for its pigsty is not, perhaps, what this stylish Tuscany wine estate would probably wish to be remembered for - at least not at the top of the list - so you will have to read the page in full to find out why!
Villa Aquaviva Winery at Montemerano in Morellino di Scansano wine country is a Maremma winery, hotel and agriturismo complex with a WOW! panoramic view.
For the fellas reading this, I would choose here if you want to inject a little romance into your wine tasting trip with your girlfriend or wife - the winery has a love story attached to it - and perhaps treat her to an upmarket lunch on site next to the vines.
The winery's location is ideal if you are planning on visiting what is described as one of the most beautiful "Borgo" - villages - in Italy, Montemerano. In combination with any of the nearby Saturnia thermal spa, Pitigliano, Sorano or Sovana, would make for a memorable day out in Maremma.
A hilltop winery in Maremma you won't want to leave, and that is before you even taste their wines!
The second winery in Maremma is for those who love to be immersed in nature and whose hearts and souls remember things like the warm embrace of a hill top breeze and uncomplicated hospitality. For whom the little surprises in life are the things we remember the most.
Podere Castellaccia, also in Morellino di Scansano DOCG country and on the edge of the Parco Naturale della Maremma, is also perfect option if you have children: the gentle farm dog called Stella will have them not wanting to leave, and you get to tour the estate and vines with a tractor :)
And it is only a very short drive away from one of Maremma's wild and most famous beaches, the wonderful Marina di Alberese.
There are three wine tasting options and one of them will leave you without the need to eat dinner!
A tiny Tuscan vineyard in Maremma that isn't on any map!
And my third offering is a Maremma vineyard that you could happily claim to have discovered when you get back home: for it has yet to appear on any Tuscany wine map. But it will soon!
A tiny Tuscany vineyard that is the women of the family's hobby - makes for a great convenience when they need bottle of wine for the table they tell me! - but which is already winning awards. It doesn't produce that many bottles, so you won't get to drink their wines in very many places, even in Maremma. Although a Swiss restaurateur discovered them this year too and returned home loaded with cases!
The women winemakers in Maremma.
It is just a short hop from one of the places you must see in Maremma - Massa Marittima - with a view of the Gulf of Follonica coastline in the Monteregio di Massa Marittima wine area.
Discover Podere La Carrareccia winery.