The winery in Maremma you won't want to leave, and that is before you have tasted their wines!
The Podere Castellaccia winery in Maremma is one of those places whose warm embrace and surprises will have you asking to stay before you have even tasted a drop of the magnificent wines!
Take the drive up and up and up a gravel track in Morellino di Scansano DOCG wine country to the very top of a hill and it all starts the moment you step out of the car.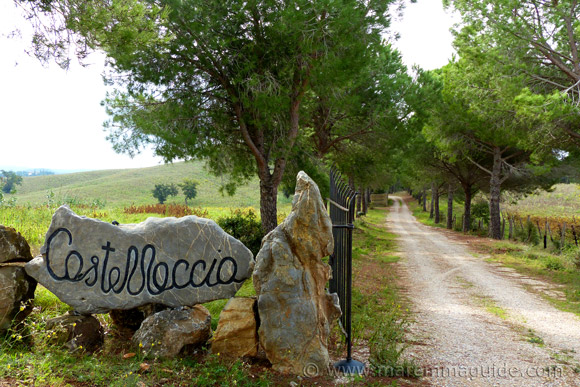 The soft caresses of a hill top breeze that envelopes you, greets you, and makes you smile. The warm welcoming smiles of sisters and winemakers, Sara and Barbara Pellegrini. And the "please hug me" greeting of Stella, the young farm dog who is bursting with love and wanting to share it.
Gentle and affectionate, Stella falls on her owners feet as often as she can as they are walking and talking, in order to make them stop and cuddle her. She is one of the softest and approachable dogs I have ever met - a cross between a Border Collie and a Maremma Sheepdog.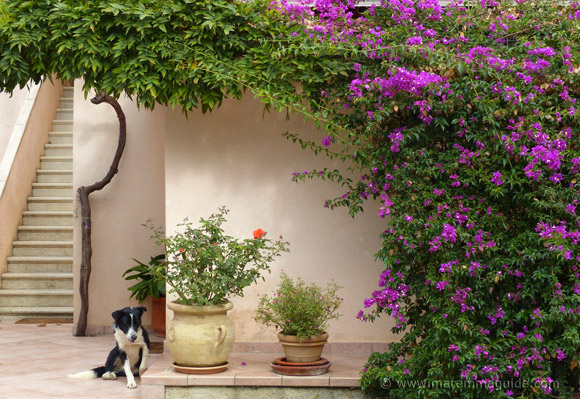 Then it is the three-hundred and sixty degree panoramic views...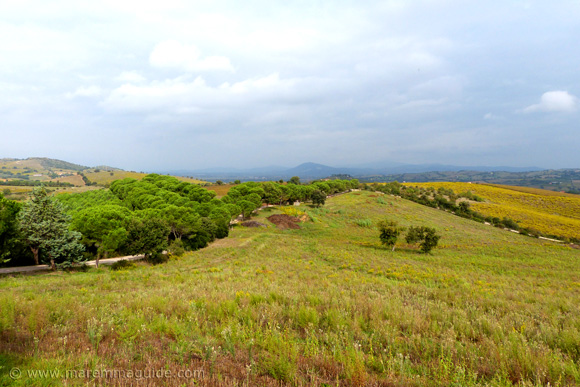 Over 80 years ago and as part of his arable farm, Sara and Barbara's grandfather, Sinibaldi Pellegrini, started growing grapes in the hill of Podere Castellaccia where a farm has stood since 1800. But it was their parents who started this Tuscany wine estate in earnest. Planting vines on a piece of land that no one else wanted.

The estate is now spread over fifty hectares, eleven of which are covered in row upon row of "vitigni autoctoni" - local indigenous grape vines - Sangiovese, Canaiolo, Ciliegiolo and Malvasia.
And the soft surprise that you notice when you enter the new wine cellar.
A stunning room with an incredible sound quality fit for a symphonic orchestra and which defies the fact that it two years of digging and explosives to create it within the bedrock.
But that isn't it. It is the magical change of the sound of your own voice, discernable as soon as you enter the room. It looses all its hard edges and conversations cease to be just a collection of noises... OK this one is hard to describe: you will have to go and listen for yourself!
The bedrock behind one of the doors - ask Sara to peek inside to see it!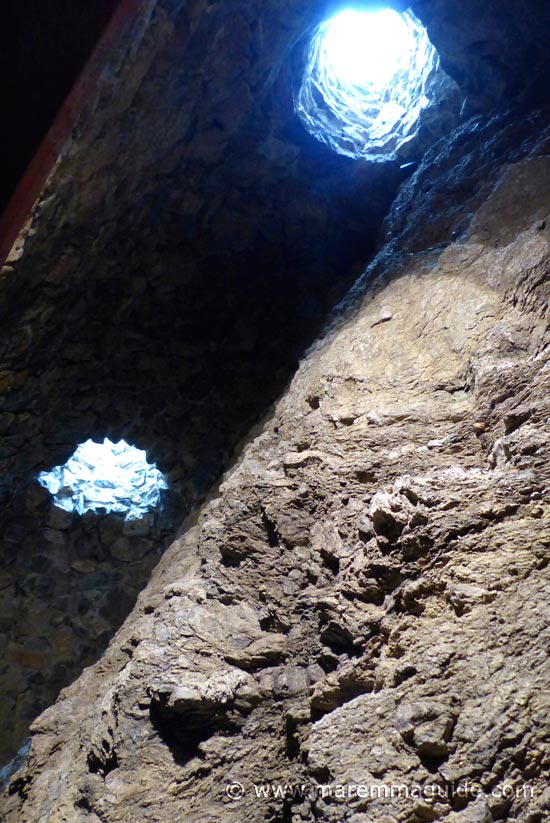 TIP for husbands...
Your wife is more than likely to fall in love with the glass-topped table in the entrance to the cellar that Sara and Babara's father had made, with its ancient olive tree trunk base that just calls out to be touched... I did! So a head's up: it isn't for sale and shipping it home, even if it were, would cost you a king's ransom. Just thought I'd let you know :)
The stone-arched cellar and the barrels of reserve wine :)
But it is Podere Castellaccia's little surprises that will clinch it!
The surprises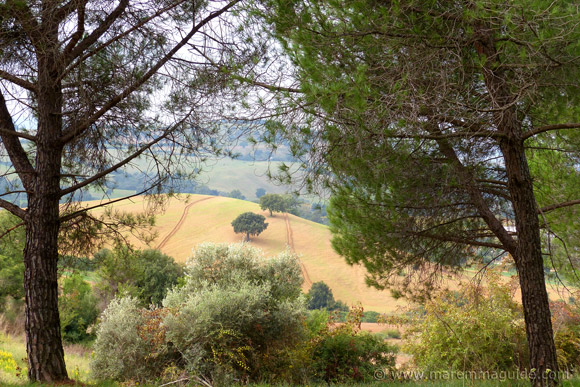 Catching the sight of what looks like a religious sculpture as you make your way up the hill and then as you get closer realising that it is a traditional hayloft - a "pagliaio". So rare these days.
Turning the corner to enter the driveway and finding then the worlds largest porcini mushroom hiding behind a tree! ;)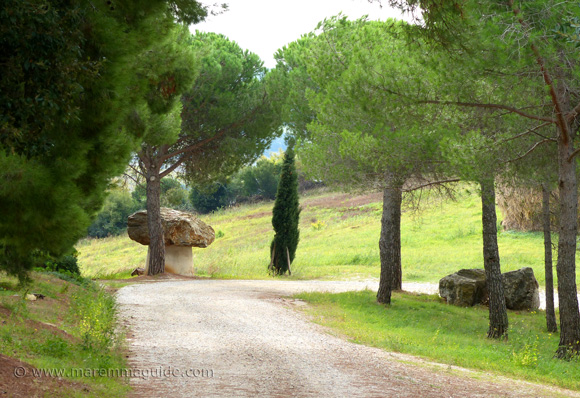 Taking a stroll around the farm garden with Stella and not believing your eyes when they catch a shot of intense blue and a flash of emerald green. Walking closer and finding peacocks and peahens hiding behind olive trees :)
Beautiful isn't he?
Apparently during their mating ritual, their "love songs" can get a little ear piercing at times, especially if they are keeping close company with you by the swimming pool!
I don't think I would mind one bit to catch this display.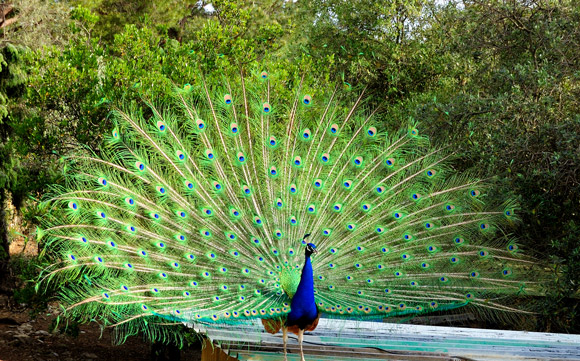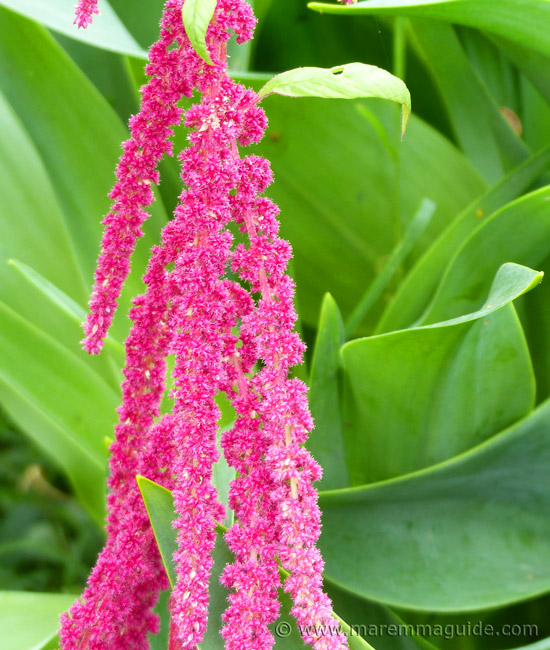 A shock of pink flowers in October in the farm garden.
And then this stunning and unusual Tuscany landscape that will have the photographer amongst you begging for the tractor to stop and get off.
Podere Castellaccia is not only home to olive groves and vineyards alongside the Parco Naturale della Maremma, but it also has a splendid eleven hectare "pineta" - pine forest - which, in turn, is home to "funghi" (mushrooms), "istrice" (porcupines), wild deer and boar. You will easily see where they have been during the night!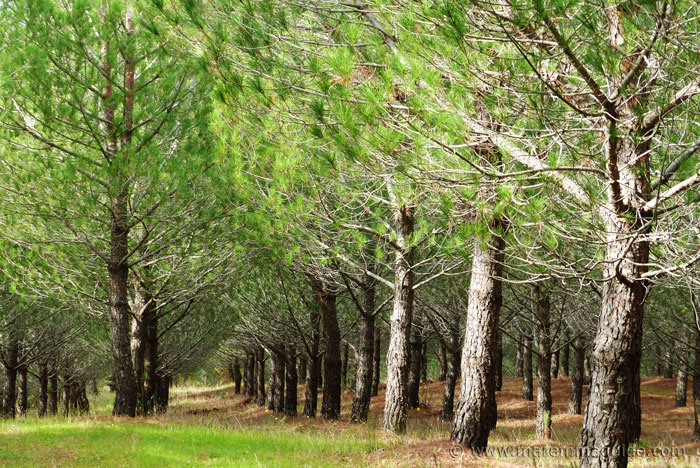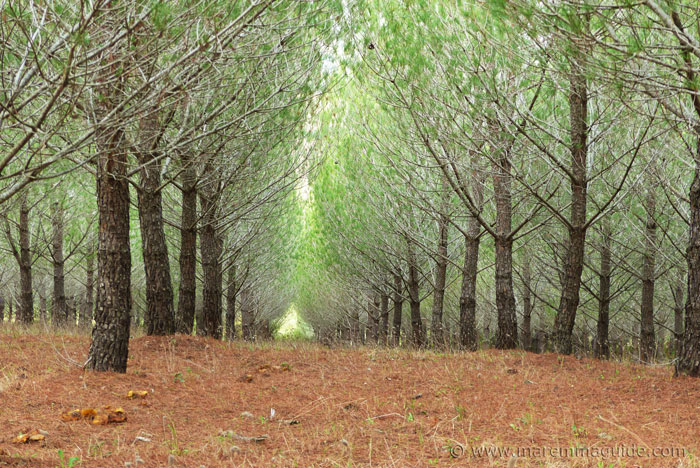 But there is one more surprise... for your children.
Tasting their Maremma wines and the tour
Tasting Tuscany wines with Sara and Barbara is a wonderfully relaxed affair and an oh so memorable experience. Their natural hospitality abounds.
And you won't have to worry about remembering your Italian or getting your phrase books out, as they both speak English fluently :)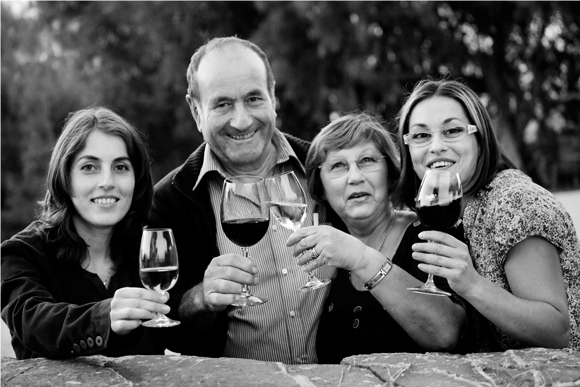 Tasting Tuscany wine in Maremma :)
Their winery offers three wine tasting options; one of which will leave you not needing to eat dinner that day!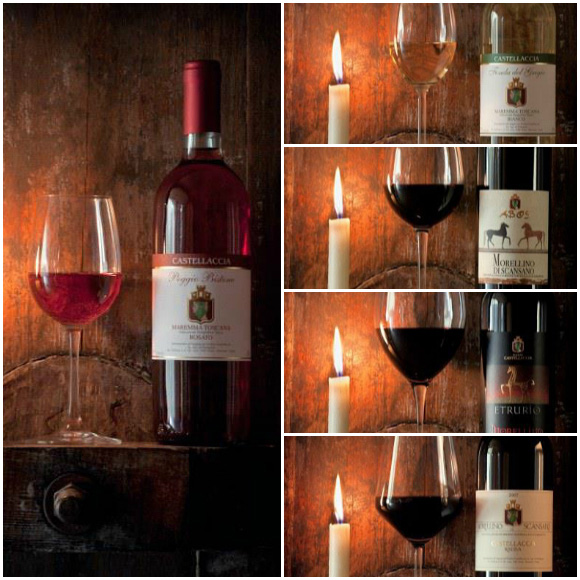 All of the food for each of the three "degustazioni" comprises of local, seasonal specialities that you won't find on the shelves of supermarkets, all of which are 0 km :)

The first - called Delizie del Palato - lasts between an hour and an hour and a half and comprises of the tasting of three wines - the "bianco" white wine IGT Fonda del Grigio, and from the red wines of Vitazzaie, Abos or Etrurio - and olive oil.
Bruschetta with the estates own extra virgin olive oil and pecorino Toscano fresco cheese and "salamella piccante".
A minimum of four people are needed to book the tasting and the cost is Euros 11,00 per person.
The wine tasting takes place in the atmospheric arched ceiling wine cellar.
The second option - the Profumi del Morellino - lasts between one and a half and two hours and comprises of the tasting of five wines and olive oil. The wines of Bianco IGT Fonda del Grigio, the Rosata IGT Poggio Bistone, and three of the Morellino di Scansano reds: the Vitazzaie, Abos, Etrurio or the Riserva Castellaccia.
Bruschetta with olive oil, pecorino cheese, crostino, and the salamella piccante.
A minimum of six and a maximum of thirty people. The cost is Euros 15,00 per person.
Note: the wine tasting and tours are available between 1 April and 15 October each year.
Take a stroll through the Tuscany vineyard and pick a grape or two...
The Morellino di Scansano Tuscany vineyards during the grape harvest - the vendemmia - in September.
The third option - the Nettari di Bacco - includes a tour of the Morellino di Scansano vineyards.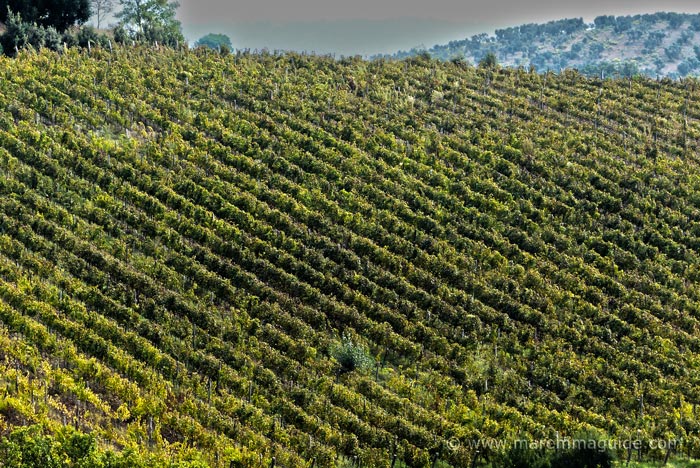 It lasts between two and two and a half hours and comprises of the tasting of six wines. The white and rose wines, from the reds - including the Riserva Castellaccia - and from the two grappa's: the Grappa di Morellino di Scansano Sinibalda, and the Grappa Riserva.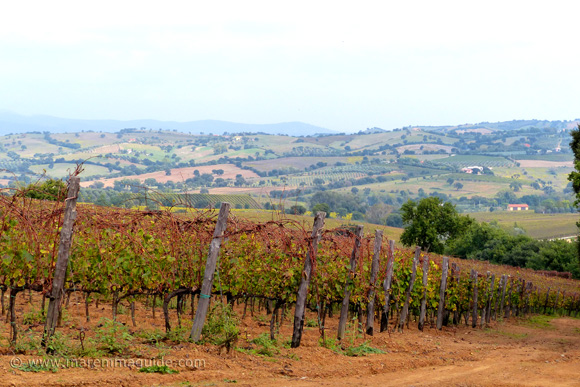 Morellino di Scansano vines in October.
The food includes the bruschetta with their extra virgin olive oil and the Maremma specialities of ricotta cheese, the Aquacotta soup, pecorino Toscano "fresco" and "stagionato" (fresh and mature Tuscan cheese), salame Toscano, salamella piccante, prosciutto Toscano, crostini, and "dolce della casa" - that homemade dessert :)
After the tasting, comes the tour of the winery and the estate which will take you through the pineta to the vines and back again. So you can realise that dream of walking in a vineyard and picking a grape or two!
Minimum six, maximum thirty, people. The cost is Euros 25,00 per person.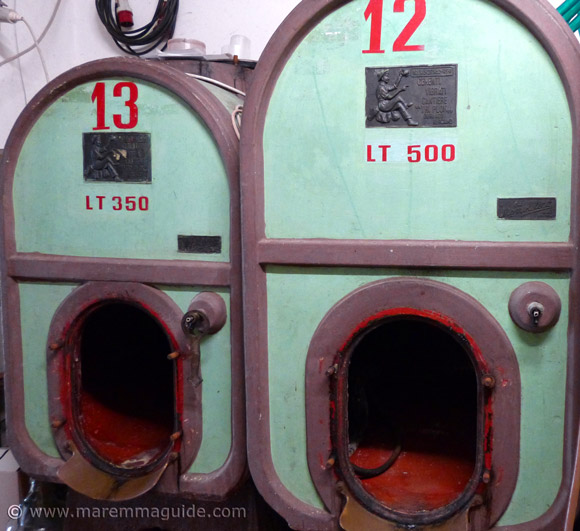 The ancient fermentation tanks.
Don't you just love the fact that the label on each of these old tanks isn't just any old label, but a piece of art in its own right :) I love the details in things...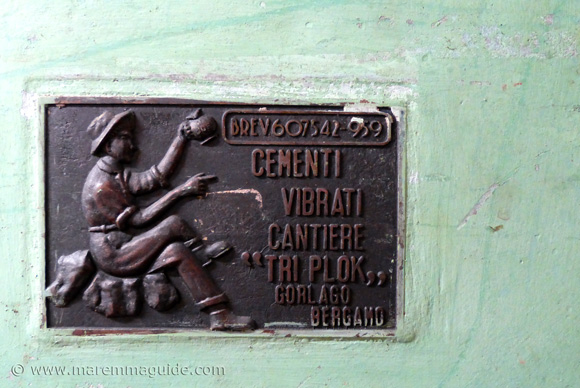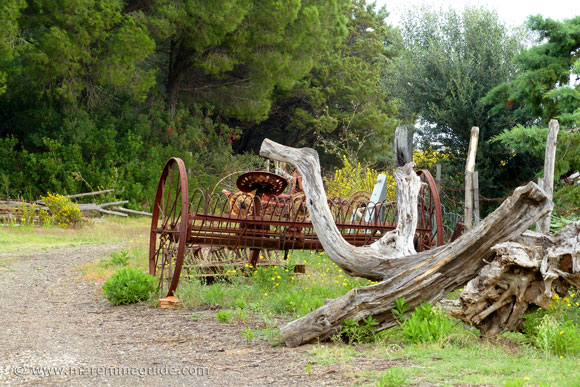 The Tuscany wine tasting tour takes you with the farm's tractor - and herein lies a secret that will thrill your kids, but I can't tell you!
Want to stay in this Tuscany winery?
This Tuscany winery has lovely farmhouse accommodation with a swimming pool with a view in front of the cellar :)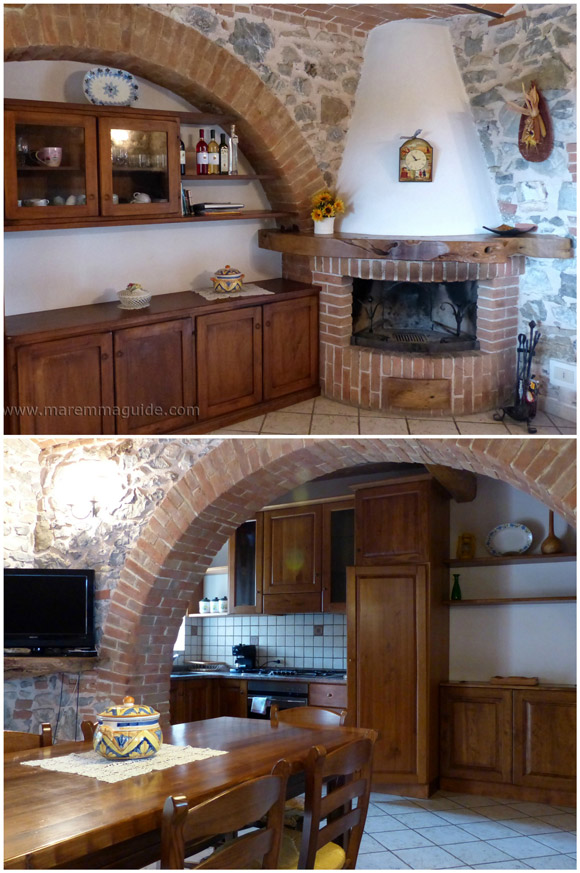 The converted stables with its terracotta ceilings and view of the Maremma coastline has a traditional Tuscan open fireplace: of no use I warrant during the summer, but if you are planning on staying for an autumnal or winter break, then what could be nicer than lighting it and snuggling in with a bottle from the wine cellar?!
Contact Podere Castellaccia
To book a wine tasting or stay, contact Barbara:
on +39 349 4263272,
Fax. +39 0564 406012,
email info@poderecastellaccia.it
One of the lastest additions to the Pellegrini family! I nearly took her home with me!!