Unique Silver Jewellery
Italian Designer Jewelry from Maremma
Unique silver jewellery from a small silver and goldsmith workshop in Maremma, Italy: handmade unique jewelry that turns heads made by an undiscovered artisan in an undiscovered part of Italy.
These stunning pieces of silver jewelry have each been designed and handmade by Fabio Pallanti, a Florentine goldsmith now living and working in la Maremma.
His work ranges from very fine jewelry in the Florentine style and his own contemporary designs in solid 18k gold (you can see some of his creations in gold in the Italian 18k gold jewelry page - link at bottom of page) to these wonderful designs in solid sterling (92.5%) silver.
He told me that when he was young, he had wanted to study at art college, but never did. Starting instead an silversmith apprenticeship early age of fourteen as his father and uncle had done before him. You won't find folders of drawings in his workshop as he rarely designs first on paper. His hands follow the designs he holds in his head that have taken form from the individual gemstones with which he works.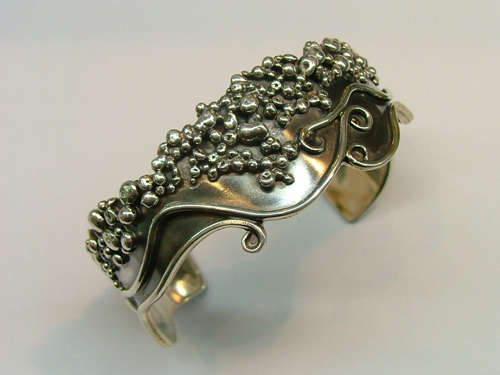 From extremely fine filigree Florentine rings and Italian gold necklaces to abstract and contemporary pieces in silver, all of his jewelry radiates the natural talent of this man. I have never met a more unpretentious and down to earth Italian jewelry designer. But then that was just one of the reasons I am sure why I fell in love with him!
The unusual and distinctive nature of his designs and the quality of his workmanshio have built him a loyal and longstanding following of Florentine customers who return to him year after year for those special birthday and anniversary gifts. I hope you enjoy browsing here some of Fabio's work. Although I see his creations in the making every day, they never cease to captivate me.
Handmade Silver Bracelets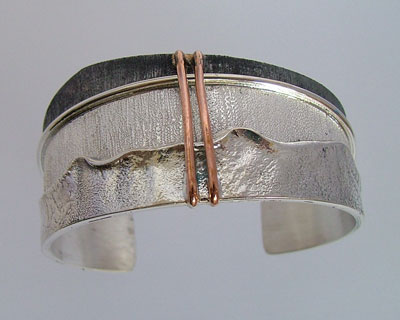 These are a just selection of the wonderful range of Fabio's handmade silver bracelets: each individually crafted and completely unique. Unique silver jewellery with a definitive style.
The bracelet above is a show of contrasts: four different sterling silver finshes in one with the additional highlight of two copper strands. A distinctive piece that will set off any outfit, but particularly a black winter jumper or dress.
| | |
| --- | --- |
| A sterling silver cuff bracelet full of movement with two solid copper balls as contrasting decoration against the oxidised and polished silver. | A custom cuff bracelet the design of which was cut out entirely by hand. |
| One of Fabio's gold and silver bracelets: reticulated silver soldered onto a solid sheet silver base, oxidied, polished and with the additon of two 18k gold "stitches". Elegant and eye-catching. | A sterling silver cuff bracelet perfect for summer days when the warmth of the copper will accentuate a tan. |
Unusual Necklaces and Pendants
Unique green turquoise jewelry doesn't come much more so than this octopus!
These unusual necklaces and pendants are definitely for those who like to be noticed! Beautifully crafted with natural gemstones, they make for very special presents.
Turn one of these Italian necklaces over and the reverse tells you of the quality of Fabios' workmanship: for they could be worn that way and still be considered a stunning piece of design each bearing his hallmarks and signature.
| | |
| --- | --- |
| A classy Italian pendant with a natural sapphire gemstone cabochon at its centre. | A really elegant cut rose quartz pendant. |
| One of Fabio's green tourmaline jewelry pieces, this time with a natural pearl. | I love this labradorite pendant and am determined to keep this one! |
Natural Gemstone Rings
Opal and silver jewelry: an Australian boulder opal ring set in sterling silver with 18k gold balls to accentuate the warmth of the gemstone
Fabios natural gemstone rings in sterling (92.5%) silver are designed to showcase the individual beauty of each gemstone: unique handcrafted rings that will definitely get your fingers noticed!
| | |
| --- | --- |
| A red ruby ring with 18k gold bezel setting for either a man or woman. | A carnelian cabochon framed with a design in pure silver. |
Italian Earrings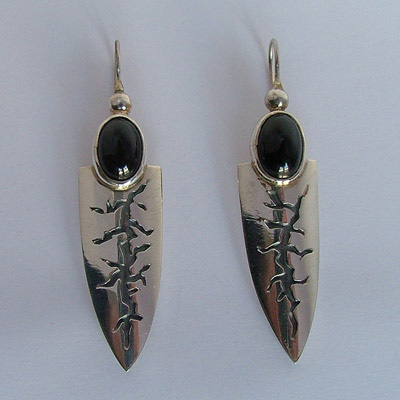 Unique silver jewellery: Italian earrings with style
These Italian earrings with black tourmaline gemstones are anything but conventional and make a dramatic statement. Fabio hand cut out by saw each of the internal design details, soldered these pieces to matching background pieces of sold sheet silver, made the bezel settings for each of the black tourmaline cabochons, and the earrings inserts and soldered the whole together. Then oxidised the silver to give the dark colouring to the centre design, and polished each earring to a magnificent shine.
Where to buy Fabio's unique silver jewellery
Fabio's workshop in Maremma is for now a private workshop, closed to the public. But you can see more of Fabio's work and buy his handmade jewelry online via his website: Italian Designer Jewelry.