Italian 18k Gold Jewelry
Italian Designer Jewelry by a
Florentine Goldsmith in Maremma, Italy
Stunning pieces of Italian 18k gold jewelry designed and crafted by Florentine goldsmith and Italian jewelry designer Fabio Pallanti, in his workshop in Maremma, Italy.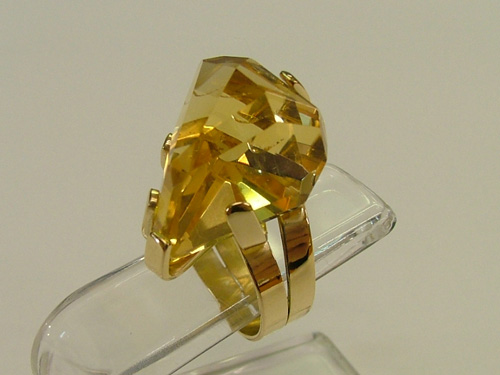 His wonderful unique jewelry creations include pieces inspired by his passion for the sea. Designs that at one and the same time follow and enhance the natural beauty of an uncut gemstone, to traditional Florentine jewelry with intricate filigree patterns.
The striking ring in this photograph has been handcrafted in solid 18k yellow gold to hold a very unusual cut citrine gemstone.
Called "Peridot Fish", the Italian pendant below is part of Fabio's peridot jewellery collection. I suspect he was thinking of going fishing when he created this!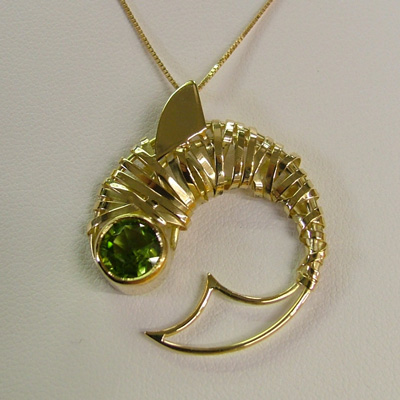 Italian 18k Gold Jewelry: Peridot Fish Pendant
Having trained from a very young age as an apprentice silver and goldsmith in his home "town" of Firenze (Florence), Fabio opened his own goldsmith workshop in Florence, and then in San Gimignano with his silversmith cousin (where I first met him), before moving here to Maremma.
He has a clientele following who return year after year to him to purchase or commission a piece to celebrate a birth, birthday, or anniversary etc. The giving of jewelry, particularly solid gold jewelry, to women on these occasions is very much an cultural tradition in Italy.
Although each of his pieces of jewelry is unique, the Florentine women whose partners or husbands have purchased a design for them readily recognise Fabio's work when worn by a friend, colleague or relative because of its definitive style and fine quality. Italian jewelry with an instant "WOW" factor.
The photographs of the bracelets, necklaces, rings etc that follow are just a few illustrations of his work.
Italian Gold Bracelets
This example of one of Fabio's Italian gold bracelets was a commission from a client who wanted her own Australian opal gemstone incorporated into a solid 18k gold piece.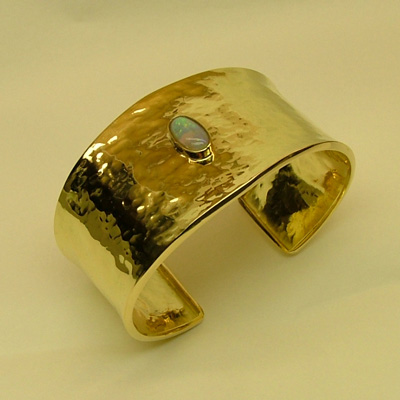 Italian Gold Rings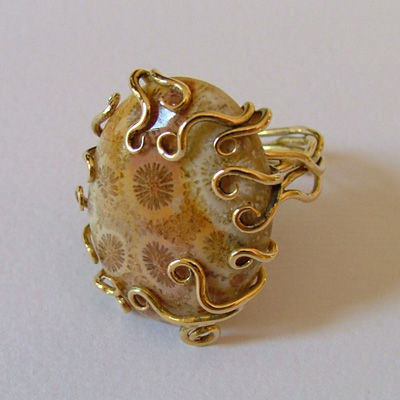 The very unusual ring in the photograph above is a polished "cabochon" of "corallo fossilizzato" (fossilized coral) in a wonderful yellow gold setting.
The Florentine ring below is in white and yellow gold with a bright green "smeraldo" (emerald) and two white "diamante" (diamonds).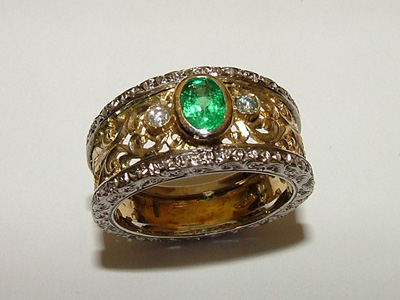 This simple ring design in 18k yellow gold perfectly complements the beautiful cut rutilated "quarzo" (quartz) gemstone that it holds.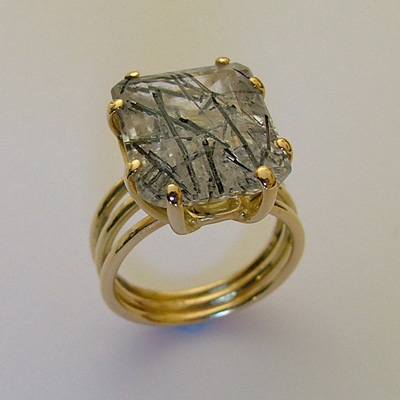 Gold Italian Necklaces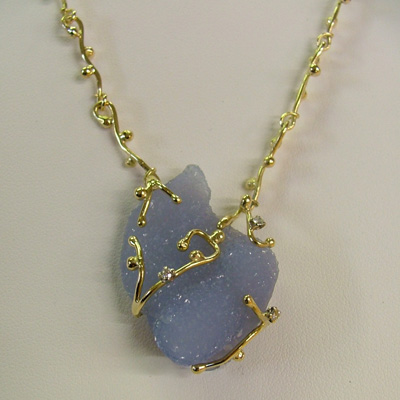 The Italian gold necklace in the photograph above features not only a wonderful piece of blue chalcedony but also a unique and very beautiful completely handmade Italian gold chain with diamonds.
The chain is as much the centrepiece of this necklace as the stone itself and took many hours to make.
The second of Fabio's Italian necklaces shown below is a chrysoberyl necklace in both white and yellow gold with diamonds.
It is called "Chrysoberyl Comet" and I just love it!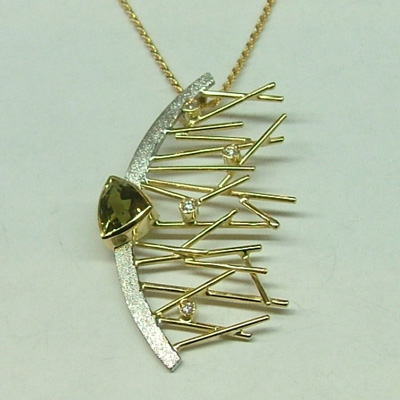 Gold Italian Pendant
This red ruby pendant is another of Fabio's creations that have their origins in his passion for the sea.
Gold Italian Earrings
These examples of Fabio's Italian 18k yellow gold earrings are anything but traditional Italian earrings! He makes those too, but for this page I wanted to show you some of his other stunning designs: each of which have a wonderful elegance about them.
These beautiful earrings feature two matching blue/silver Tahitian pearls with a wonderful luminescence. Fabio also makes a matching pendant.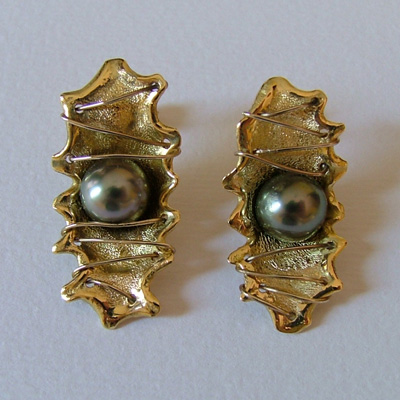 This pair is from Fabio's Australian opal jewellery collection: The design is in both white and yellow 18k gold, with two boulder opals.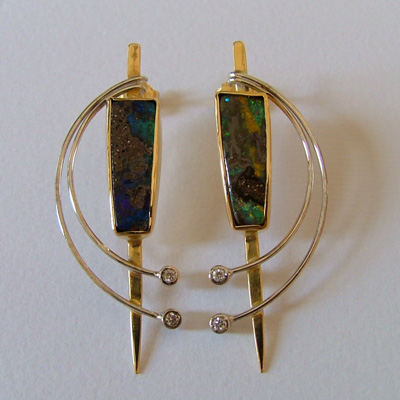 And this last pair are 18k yellow gold with two white freshwater pearls. Simple lines, but pure elegance. They are called "Tribal Queen".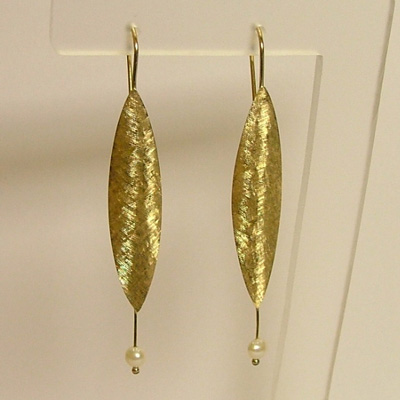 Italian 18k Gold Jewelry: Freshwater pearl and yellow gold earrings
To see more of Fabio's 18k Italian gold jewelry
This STILE DI PALLANTI Italian Designer Jewelry link will take you to Fabio's website where you may see more of his unique Italian jewelry and purchase or commission a piece of your own. (The page will open in a new window.)
Fabio also makes striking and unusual sculptures in silver and copper, unique silver jewellery, and unique copper jewelry.