Wild Boar Videos
from Maremma in Tuscany and Lazio, Italy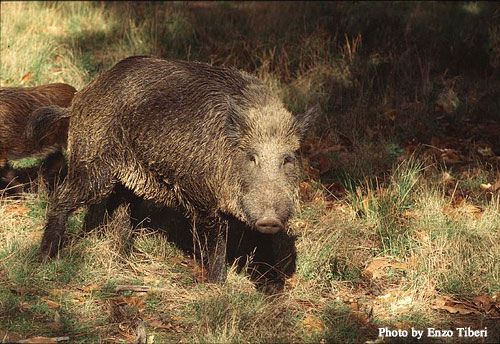 These wild boar videos were filmed in Maremma in Tuscany and Lazio: a vast land of nature parks, reserves and protected woodlands in which wild boar, horses, wolves, deer, foxes, porcupines .. roam and root freely in holm oak woodlands, thick Mediterranean macchia and along the pine forests that back Maremma's spectacular two-hundred and fifty kilometre long coastline with the Ligurian and Tyrrhenian seas.
Padule di Scarlino
On a Saturday evening in December in the wetland of the Padule di Scarlino...
The hamlet of Montioni
This video was taken at dusk one late September evening in the tiny hamlet of Montioni in Maremma Livornese, from where Elisa Bonaparte Bachiocci once rule Tuscany as the Princess of Lucca and Piombino and the Grand Duchess of Tuscany..
The car park near the bar and restaurant may not be the most natural of settings in which to see wild boar, but Montioni is emersed within Montioni Park - Il Parco Interproviciale di Montioni - and in all but a few metres at most in any direction are the protected woodlands, some of which are untouched by human hands.
It always beings a smile to my face to see so many families of wild boar families in such close proximity to the spot where many hunters also gather to take their morning and after lunch coffees!
I hope you enjoy the video.
This text will be replaced
Early evening in October in Tuscany, again in Montioni: we stopped for a coffee on the way home and took these shots.