The Best Maremma Apartments
Simply the best Maremma apartments for a perfect holiday in this very special part of Tuscany.
These Tuscany holiday apartments are in locations as diverse as fortress towers along Maremma's beautiful long coastline, in medieval palaces in picturesque hill top towns, villages and hamlets, and in traditional Tuscan farmhouses surrounded by olive trees and vineyards. They will set your imagination alight before your plane even touches the ground! Have fun choosing!
Medieval Tuscany Town, Village & Hamlet Apartments
Massa Marittima

Set in a restored medieval palace in the historic heart of the jewel in the crown of Maremma, stunning Massa Marittima, these self-catering apartments are reason enough to make Massa Marittima your holiday base for a while.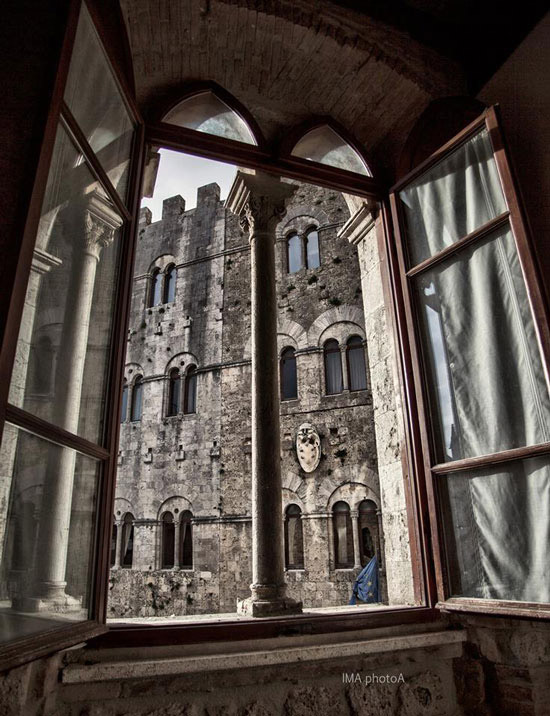 With everything you need around you - from an enoteca/delicatessen, and bar in the palace arches beneath your rooms, to restaurants, bread and wonderful pastry shops, a cathedral, piazza's and medieval alleyways to explore - all you need do here is relax and absorb some of the dolce vita that is in everyday rural life in Tuscany.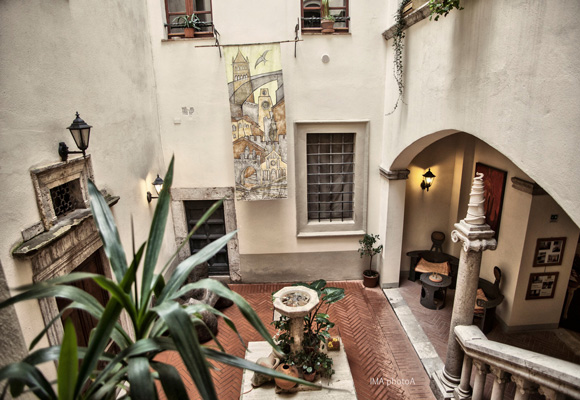 The Massa Marittima apartment accommodation.
Montemassi

For lovers of medieval castles and history, and simply for lovers, a romantic bed and breakfast apartment - with its own kitchen too - in one of the most stunning settings in Maremma.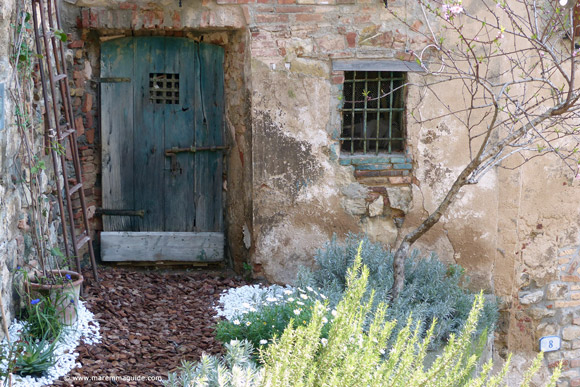 If the history that you can literally touch in the apartment and walk on in this twelfth century house doesn't make your head spin, then the panoramic view across Maremma woodlands and olive groves all the way to the sea and the Isola del Giglio and the island of Corsica will have you swooning.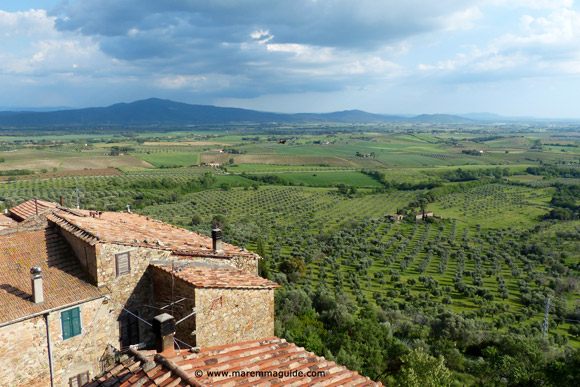 When my young daughter visited Gabriella's Via di Corte home with me and it was time to go, she said, "but do we have to mum? I want to live here..."
The Maremma Apartments in Tuscany Villas
Luisella's Villa, Follonica
Tuscany coast and countryside. If you don't want the hustle and bustle of being located in a coastal town with everyone else on holiday, finding a special apartment close enough to be able to see the sea but with no one else around to disturb you isn't easy. Even more so if you dream of being in a Tuscany countryside setting with olive trees, spring and summer flowers abound and a WOW! factor when you open your windows in the morning.
But I have found one for you.
This lovely traditional Tuscan villa sits within its own olive grove on a hill just outside of town and is only minutes away from the beaches of the Gulf of Follonica. With a lovely spacious apartment with stunning panoramic views, gardens and a shady private terrace in which to read, relax and dine...
Tuscany Thermal Spa Apartments
Civitella Paganico


Only a five minute drive from the natural thermal springs of Petriolo loved by the Romans and still enjoyed today, these apartments enjoy a breathtaking view of the foothills of the Monte Amiata volcano in Maremma, the Sienese hills towards the wine territory of Montalcino, and the stunning the valley of Val d'Orcia: see the stunning scenery from the swimming pool in the photograph above.
A truly enchanting place in a setting of pure tranquility, Poggio alla Rocca is a restored medieval "borgo" (hamlet) situated high within Maremma's Tuscany hills. Holiday experiences don't come much better than sipping an aperitivo under the stars in the night sky alongside the pool.

These apartments are ideal not only for couples seeking a romantic location, but also for friends travelling together, and families with small children. Each apartment is air-conditioned, has two bedrooms and can sleep six people. There's also a jacuzzi/hot tub.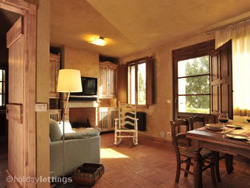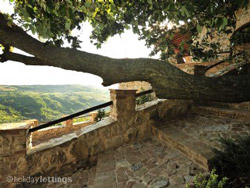 The city of Siena (less than 40 kilometres away), the Abbey of San Galgano, the medieval towers of San Gimignano, Montalcino, a golf course, and the beaches of Maremma are all within easy reach by car.
A big bonus if you are planning your Tuscany vacation well ahead, is that the owners offer substantial discounts on early bookings. There is also a 30% discount on last minute bookings, but you will have to take your chances on availability!
Semproniano
Il Borgo di Semproniano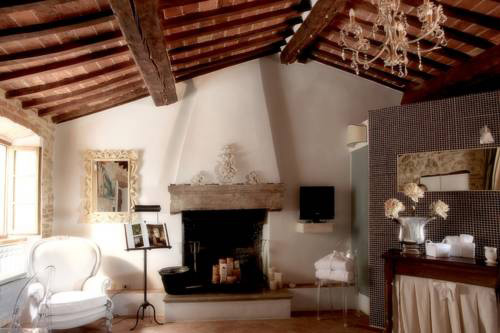 This time old Tuscan style in an amazing setting: a medieval hamlet only ten minutes away from a natural hot thermal spa made by gods. The apartments at Il Borgo di Semproniano will give you that taste of traditional Tuscany terracotta floors, open fireplaces, and exposed wooden beam ceilings. And they come with and fully kitted-out kitchens and a second to none hospitality.
If that wasn't enough to tempt you, the prices are very competitive.
Tuscany Farmhouse Apartments
Orbetello farmhouse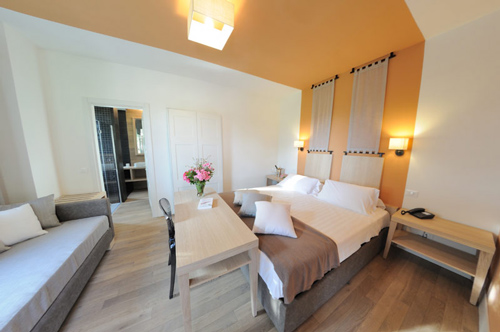 Probably the best breakfast you will eat in Maremma will be at the restored farmhouse of Podere del Priorato: each morning they prepare an expansive buffet of local farm produce including cheeses, hams and cakes and pastries... you could easily skip lunch!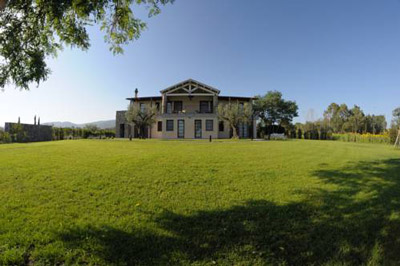 The farmhouse is situated only a few minutes drive from the beautiful Costa d'Argeno (Silver Coast) and Monte Argentario, the coastal and lagoon town of Orbetello, and the stretches of Giannella and Feniglia beaches along the old Aurelia road in Albinia.
Each apartment has a kitchenette, en-suite bathroom, air-conditioning and free wi-fi. They also offer double or twin bed accommodation.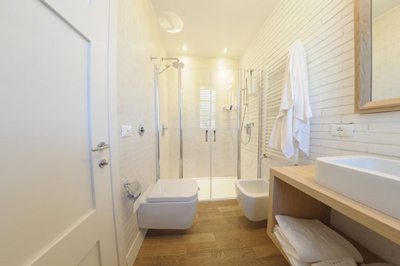 Monterotondo Marittima farmhouse
The only things you are likely to meet on walks or bike rides from this is organic lavender and olive farm are wild animals!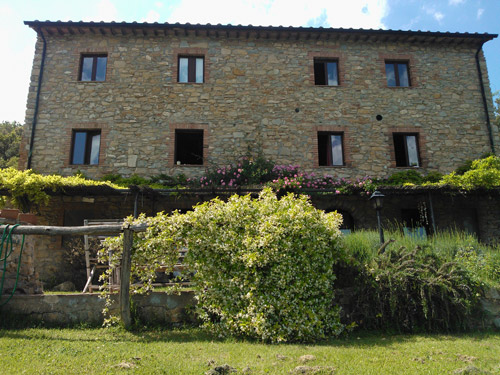 Lovely apartments with splashes of warm colour and a very special swimming pool. A perfect place for chilling-out big time.
But if you fancy a few activities to break up dozing on the terrace, you can choose from yoga, meditation, massage, cooking, ceramic, painting, alabaster sculpture, English and German language courses, all available on site.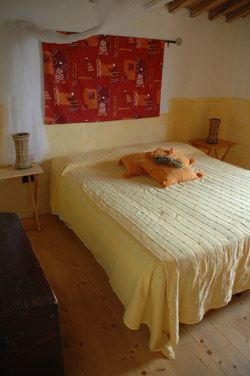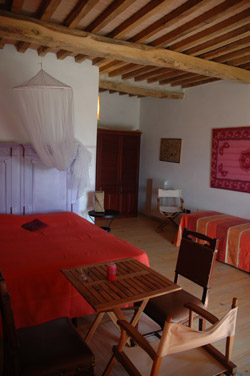 Marina's Le Castellacce farmhouse
Tuscany Coast Apartments
The Pratoranieri Follonica beach apartment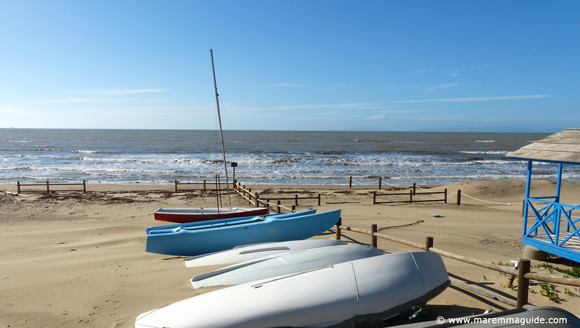 This Tuscany beach apartment is one of my favourites because of its location.
Just a stone's throw from the best beach in Follonica, with everything you need for a great seaside vacation within a few minutes walk away - including a great breakfast bar and pasticciere in the street below, with its coffee and warm pastries aroma's wafting into your apartment windows from 06:30 in the morning :)
And you don't need a car to reach it.