Maremma Tours
Tremendous tours in Tuscany!
These Maremma tours won't just take you to special places in Tuscany, but around, over and under wild and wonderful places in Maremma in Tuscany!
They are Tuscany tours like no others: for those who don't want to follow a flag or an umbrella stuck in the air behind fifty other people!
No Tuscany tour operators offer tours that are solely based in Maremma. Indeed you will be hard pressed to find many that even dip a toe or two into this land as part of a wider Tuscany tour. But that isn't surprising as, falling outside of the the main Pisa, Florence, Siena triangle tour circuit, Maremma is still one of Italy's best kept secrets, and so there is little demand. For now that is.
And the very few that do only venture as far as the less than a handful of Maremma towns that have managed a mention or two in some guide books on Tuscany.
But there are local tour guides, as well as guided cycling, mountain biking, horse riding, walking, trekking and, of course, winery tour operators here who cater for the Italian, German, Swiss and Austrian visitors in the know about Maremma. Professional environmental and cultural guides who were born and grew-up here, whose tours and routes will reveal to you the beauty of this land and a Tuscany you hadn't expected. And they speak English, even if you wouldn't know from their web sites!
You'll find them here.
Guided tours in Maremma Tuscany are perfect for children too :)
Guided day and half day tours of Maremma
These private guided tours of Maremma will show you wondrous things and give you the opportunity to really experience, rather than just see, everyday life in rural Tuscany.
Walk the narrow - sometimes so narrow you will have to squeeze through if you are wearing a rucksack - medieval alleyways and streets. Sit and savour a coffee in a piazza with your guide as she tells you about who walked across its stone slabs and held it siege for four years!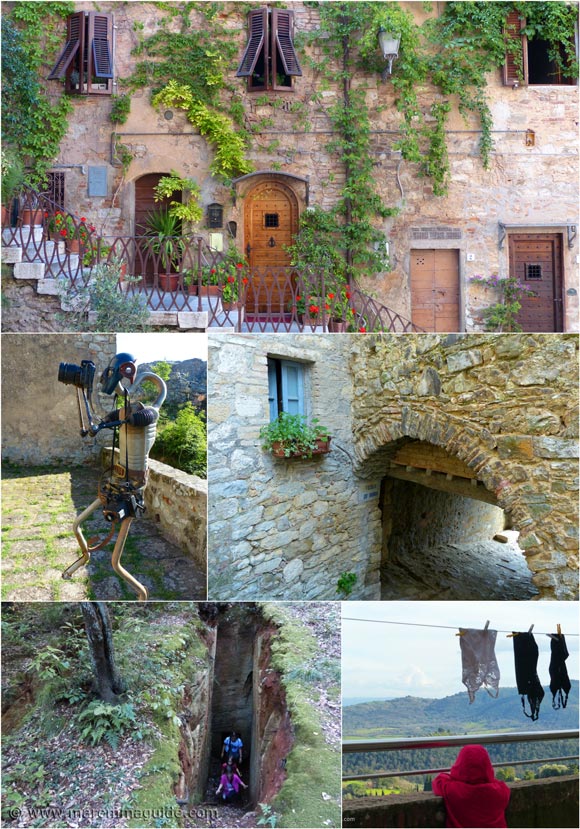 Visit the powerhouses of Maremma's old nobility and walk where once they would have held court, plotted and schemed for control of her metal rich hills, in now roofless hill top castles with views from their walls that will leave you speechless. Stand in one and spot the castled pinnacles of surrounding hills that were home your enemy one day and your alley the next.
Listen whilst eating your gelato to the tale of an incredible red-headed noble beauty who, despite the machinations of men in power all around her - including the Pope - managed to survive five arranged marriages, being declared a bigamist, and marry the man she loved whilst retaining rule over the whole of Maremma. Of how her love story went sour after her only son was murdered as a boy and how, when her daughter married she disappeared, in all probability because she wanted to.
Visit Maremma's coastal towns and when you are staring out to sea, hear the tales of Barbary Coast pirate raids that slaughtered and devastated them and took Maremma's women to the Ottoman slave markets.
Walk folded-double down into the dark of Etruscan treasure tombs and learn of the tomb raiders and the gold and jewels and chariots they found.
Take a private guided tour of Maremma's wineries that won't have you pit-stopping from one showroom to another, but instead have you walking down the rows of vines, around the cellars, and being welcomed as new friends into the farmhouse.
Design your own itinerary
If any of that sounds like your cup of tea, find out more and start designing your own itinerary - whether for a full or a half day out or more - at a pace that suits you, with two lovely cultural guides called Natascha.
Grosseto, Maremma's city of salt revealed
Walk atop stupendous five-pointed star Medici walls and stroll Italian-style around this most relaxed of all Tuscany cities, discovering it's tucked-away treasures as you shop along the way. Grosseto's, Maremma's ancient city of salt, will surprise and delight you at every corner.
Take a guided tour and see things that you will miss otherwise, even though they are right in front of you!
And for something completely unexpected
Now, just as Maremma's land isn't the usual Tuscany you will have seen in coffee table book images and travel guides of rolling tilled hills and landscapes tended by mans hand for centuries, with lines of silhouetted cypress tress on the horizon leading to lone farmsteads and stone villas.... Maremma has a more adventurous terrain :)
Some Maremma tours are unusual as well. And these two are no exception.
Although a large part of Maremma's coastal and river plains are now given over to typical Tuscan settings of beautiful olive groves and vineyards belonging to famous wineries, they are new, rather than centuries old.

Until drainage works were completed after the second World War, much of what you see now was marshland, rife with mosquitoes and malaria.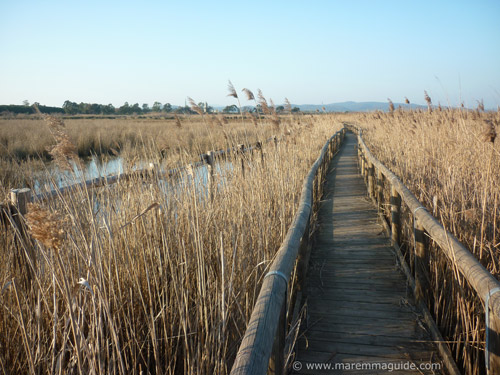 The Oasis Faunistica del Padule di Scarlino.

The rest of Maremma is still wonderfully covered in dense oak woods and thick Mediterranean macchia as far as the eye can see, home to plumes of hot vapours that provide this area with thermal energy.
Tuscany excursions underground!
Guided tours of Tuscany with more than a touch of adventure: underground.
This one is in caves and potholes that were once medieval silver mines in a nature reserve that is the highest point in Maremma's metalliferous hills and home to rare falcons. Excursions in Tuscany like no others!
And this one will take you subterranean with the potholers of the Spelogiolo Society of Massa Marittima into an only recently rediscovered old mine. Much easier going under foot than the first, it is great for children too. Galleria Giulia.