Excursions in Tuscany like no others!
Tuscany day trips with a touch of adventure
Excursions in Tuscany like no others! If you are looking for a typical picture postcard tour of Tuscany or a wine tasting tour, then you'll have to skip to the bottom of the page. (There are some really lovely ones.)
Because these, instead, are day trips in Tuscany, in "la Maremma", with more than a touch of adventure. And are nothing like any guided tours you have found so far. They will have you on your bottom down a medieval silver mine, deep inside a wooded hillside home to boar and porcupines.
And on a dune buggy. On a Tuscany sightseeing tour that will take into the heart of Siena tasting wine. And along the sands of some of the most beautiful beaches in Italy.
The Tuscany excursions with a difference
The first takes you underground deep into Maremma's metalliferous hillside, down natural caves and potholes that were once medieval silver mines and are now home to wild animals, bat colonies and bones!
Be prepared to wear a hard hat and get a bit muddy!
The Location
The excursion into Maremma's silver mines takes place in the very special "Riserva Naturale delle Cornate e Fosini" - the Nature Reserve of the Cornate and Fosini - on the Cornate di Gerfalco, the highest massif in Maremma's metalliferous hills.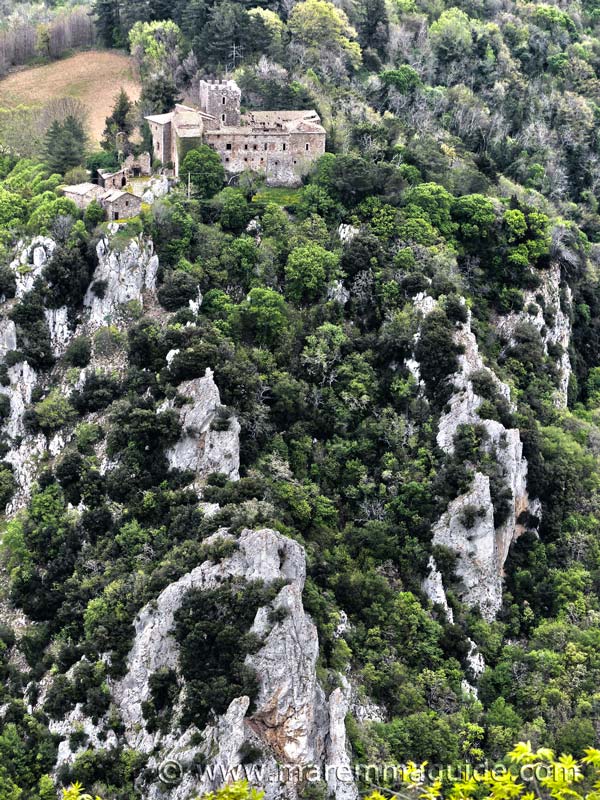 Castello di Fosini - Fosini castle
The reserve was established in 1996 to protect the rare "Falco pellegrino" (the Peregrine Falcon) and "Falco biarmicus lanario" (the Lanner or Feldeggs Falcon). Which live there in the skies above the calcareous grass and scrub lands, and forests of chestnut, hornbeam, oak, and holm oak.
The present day border between the lands of Grosseto and Siena runs through the Cornate, and battle for control over these mineral rich hills - mined for sulphur, zinc and iron as well as silver - was a perpetual part of their middle ages history.
The ancient quarry that you will see in the hillside opposite to the one you will be exploring is still in use, but only on a strict concession basis for the restoration of Siena's magnificent cathedral. For the stone that is found here in the Cornate is the "rosso ammonitico marmo" - also known as the "marmo persichino" - a pink ammonite marble.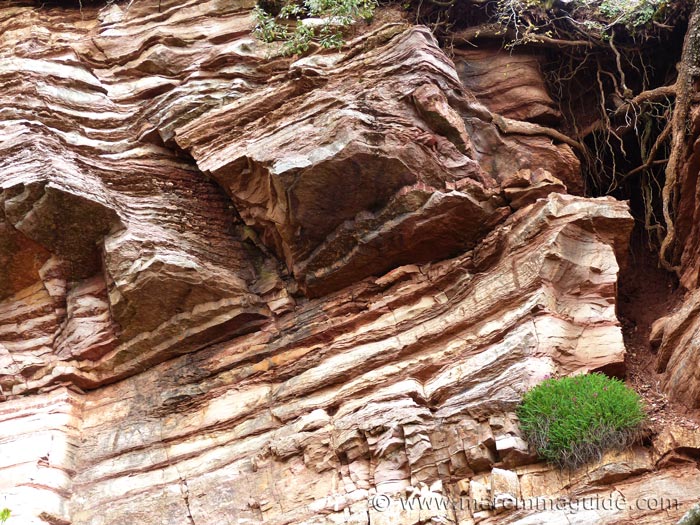 When the weather is clear you can see from the hillside all the way down to the Tyrrhenian sea, the Tuscan archipelago and the island of Corsica. A stunning panoramic view.
And if the sparkle of the sun on the sea is too much to resist, the Cornate is within easy reach of Maremma's gorgeous coast: you can be there in just over 30 minutes. In fact many summer clients book to explore the mines whilst on a beach holiday as a change to sunbathing and for a touch of cool air.
You'll also only be 15 minutes from another great place to visit, San Galgano Abbey, and about an hour from the centre of the lovely city of Siena.
Your Tuscany excursion guide
Your guide for the tour is Simone. Born in these parts, he knows them like the back of his hand and will tell you all about the flora and fauna that is endemic to the Reserve, the mineralogy, and the local mining history while you are walking through the woods and exploring the caves.
He is very easy going and readily and happily deals with any and all questions you can throw at him! Which is why he is such a star with the teachers and pupils alike of school trips that come to visit Montieri, Gerfalco and the hot rocks of Le Biancane just down the road.
And, although he didn't speak English when I went on the trip, I have it on good authority from his wife Fiona who is part of the team, that he can! So you'll get by fine on this Tuscany tour if you don't speak fluent Italian, especially as there is lots to see in a short space of time.
The Medieval Silver Mine Tour
The tour of the mines is a couple of hours long and you'll be given a hard hat with its own fitted torch. You'll need it! The moment after I took these photographs - with flash - the group had gone and I was left in pitch black taking my shots!
The cave floors aren't running with water, but they are wet, slippery and muddy in places. You need to be of sure foot and some of the descents are very acute, so I can practically guarantee that you will end up with a muddy behind!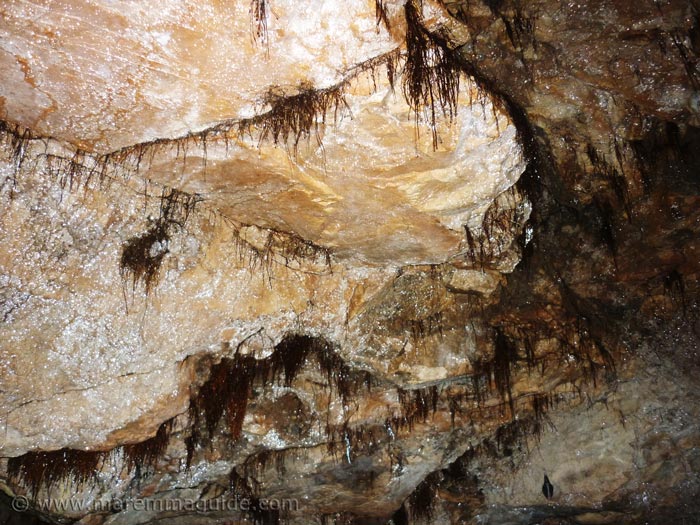 Spot one of the the local residents, asleep.
The fine brown tendrils that hang in clumps from the cave ceiling are tree roots from the plants above ground. Their roots find their way between fine fissures all the way down into the cave hollows, where they drink the moisture in the damp atmosphere that collects into drops. It is this supply of water alone that keeps the trees up top alive during the heat of the summer season, when rain is very very rare and water supplies are dry.
Down into the mouth we go!
The iron cross that you can see in photograph - in the one above you can spot it on the right-hand side of in the lower third of the image - is is sunk deep into the cave floor and is an old mining relic.
From here Simone takes you down - it's a slippery slope down - further into the cave to see a medieval inscription in the cave wall made by miners.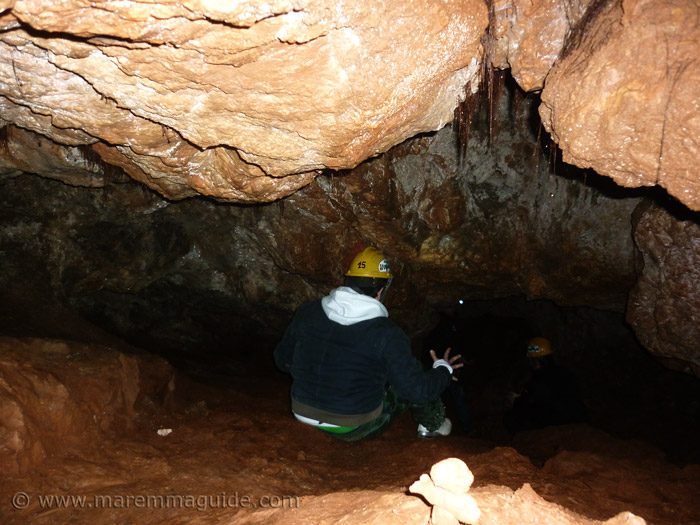 On our way back out into the daylight. Spot the tiny shaft of sunlight up ahead. Up the slope we slid down.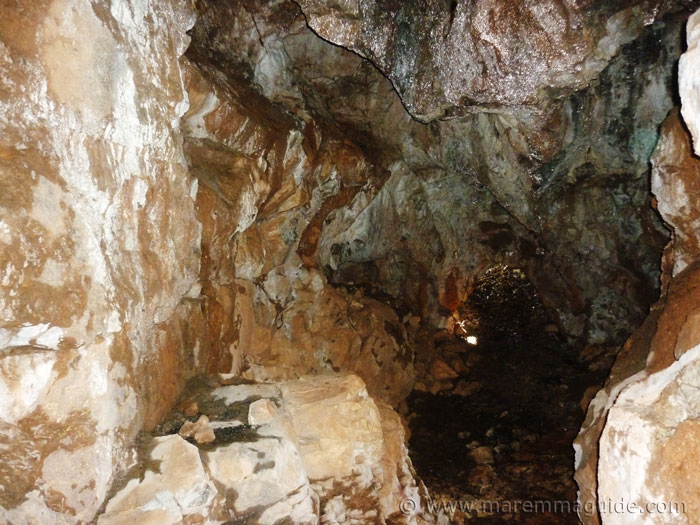 Children and grandparents...
In my opinion, but only you will know your own children and their abilities, this excursion isn't for young children or elderly grandparents. Teenagers, no problem. You don't need to be fit to have a great time on this trip - it's not a trek (you'll only be walking very short distances) - but you do need to be firm of foot! There aren't any ropes or rails, but Simone will help you down and guide you where best to put your feet and hands etc.
TIP: Girls, don't wear your best clothes! You'll need warm clothes - it is cool inside the caves and the moisture in them makes their floors slippery, so you will also need walking boots/shoes with a really good grip.
We are going through that hole.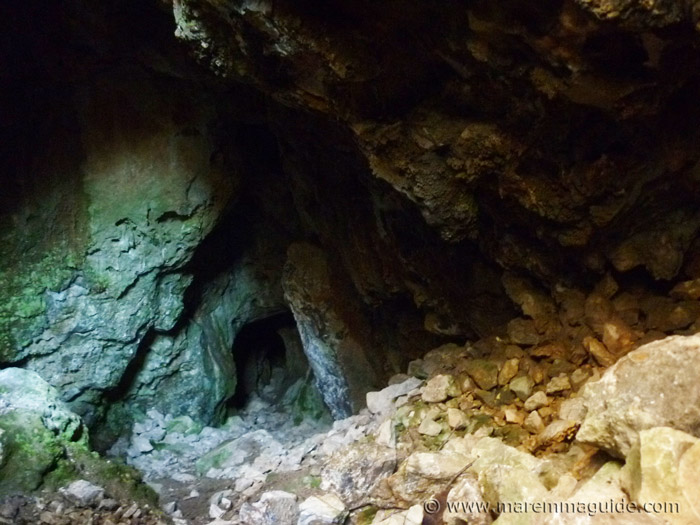 But don't be put off: if I can do it, you can! The trip isn't a professional caving or potholing expedition! But it is one that you'll remember, probably more than any other Tuscany tour you go on.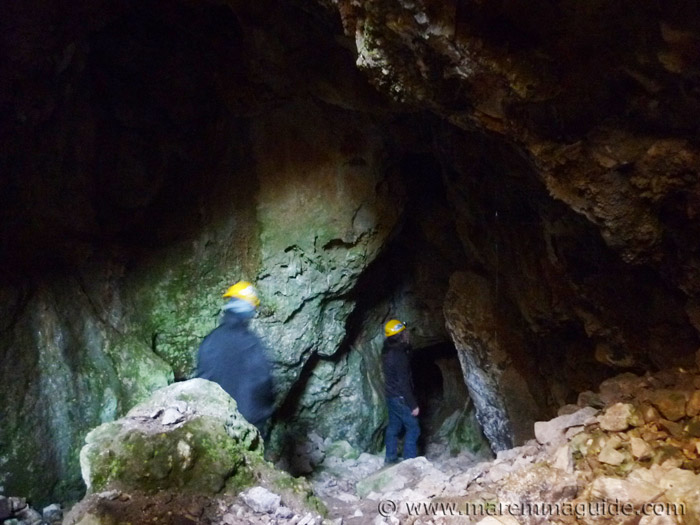 Another cave and Simone goes in first to check for wild animals, particularly wild boar. He tells us that they will come out where you are waiting: so stand back!
The Cornate is home to foxes, badgers, weasels, martens, hedgehogs, owls, barn owls, owls, jays, jackdaws, crows... and more. But not all of them live in the caves!
Wild boar
The Cornate woods are home to many and you will see the evidence of their presence earlier that morning, or the night before, as you walk through the Mediterranean macchia vegetation.
When I took the trip we heard movement in the undergrowth in front of us, which turned out to be a boar! It was bright daylight and lunch-time! Simone made our presence known loudly and it took off!
In any event, even if these woods are a protected area in which hunting is illegal, it is better to be recognised as a human than be considered a wild boar by another!
But we didn't go down that ladder!
Bats
The cave ceiling is home to a bat colony which was in hibernation - it was January - and Simone informed us that if woken, they will leave the cave in search of food, but their hibernation reserves won't be sufficient to sustain them and they will die. So, please take extra care not to disturb them.
Contrary to popular belief, they won't head for your hair if they take flight!
This pothole is twenty-five metres deep and at its base a gallery runs horizontally along the sub-strata through the hillside until it joins another vertical "pozzino" . There is only the one way in and out.
Simone doesn't take you down this one! But reliably informs us that it has a pile of bones at its base! Which brings me to an important warning.
Warning! Please be aware
The Riserva Naturale delle Cornate e Fosini is open to visitors and the start of trekking routes through it are marked along its access road - which used to be the main road through these hills and which Simone informs me you can still drive their length to reach Siena.
But the potholes aren't!
Their entrances, like the one in the photograph above, aren't covered. And there are many of them, some right alongside the footpaths and some in the macchia bush vegetation that you wouldn't know were there until you were upon them. So, a word of advice. Don't go exploring inside these woods and their caves without a guide.
The Video
More...
The young men and woman in this photo who went down the mines with Simone and me had been quad-biking with him in the morning. Now, I'll happily explore a cave, but you won't find me on a quad-bike ever! And got muddier down the cave than they did on the bikes! So be warned!
If you are lucky and there is time, you might even get to be taken to the ruin of the "Castello di Fosini" (Fosini castle). A 12th century fortification that once belonged to the Bishops of Volterra before it became the property of the medieval Pannocchieschi family, and then the Counts of Elci. It is located further into the park at the source of the River Pavone.
It is the one in the photo towards the top of this page.
More Tuscany adventure tours
If the excursion I went on leaves you wanting more, Simone and his wife Fiona also offer other cave excursions in the local area and a full day course of climbing lessons with caving experience.
As well as trekking, hiking and walking tours (from easy to difficult), kayaking in a beautiful spring-fed freshwater lake, archery and high-rope courses, horse-riding lessons and half and full day trail rides through the Tuscany countryside.
Plus some very different guided tours of Tuscany that will make for some unique memories.
3 Tuscany sightseeing tours by dune buggy
Three very different guided tours of Tuscany in a dune buggy. All with the wind in your hair!
1. From silver mine to geothermal hot rocks, to stunning San Galgano Abbey and Arthur's sword in the stone
The "calanchi rossi" - or "le roste" as they are known.
The first takes you to the "Le Vecchie Miniere" that you have just read about. Maremma's red mountains and geothermal vents. Hot springs. A tiny walled medieval village in the metalliferous hills. And the lovely San Galgano Abbey near Siena.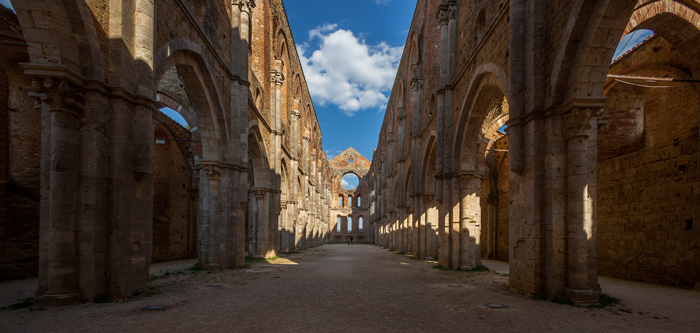 San Galgano Abbey, Tuscany by
Aurelio Candido
.
To the centre of stunning Siena's with wine tasting along the way
The second takes you from the Fosini castle in the photograph at the top of the page to the stunning stone medieval bridge of Ponte della Pia della Tolomei. Where the ghost of the murdered Sienese lady, Pia, wanders of a night!
And then to the heart of Siena's city centre and its stunning central Piazza del Campo. With some - optional - Chianti wine tasting along the way.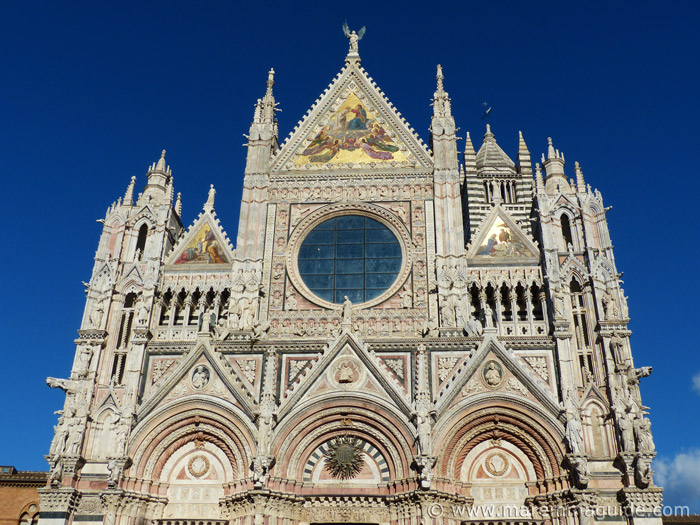 Maremma's Renaissance jewel and gorgeous beaches at Castiglione della Pescaia
The third takes you to Maremma's spectacular medieval and Renaissance city of Massa Marittima. A not to be missed place to visit off the tourist track in Tuscany. And then on to the wild and wonderful coast. Taking in a millionaire's port and the gorgeous beaches of Castiglione della Pescaia and Punta Ala.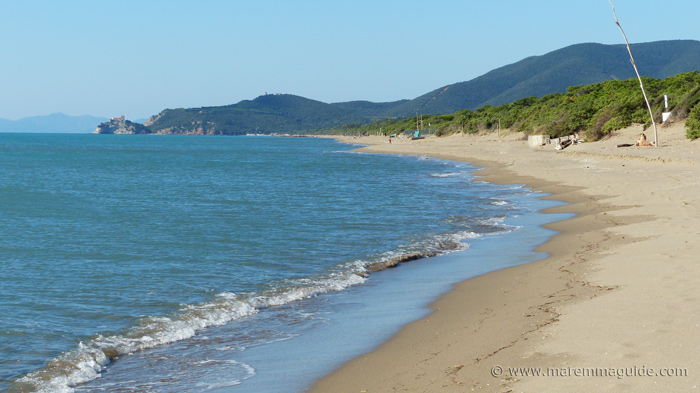 And.
Quad bike ATV tours
For a rush of adrenaline! Introductory, half and full day Quad bike tours. See parts of Tuscany in a way you hadn't imagined: off road! Definitely a Tuscany one day bike tour you won't forget!
Don't want to drive one or don't have a driving license? Then you can even just hold on tight while Simone takes you on an hours tour!
For more information...
For more information, details of availability and prices etc about these tours and outdoor adventure activities in Tuscany, contact Simone and Fiona directly using the email form below.
More day trips and excursions in Tuscany
More day trips, excursions and sight seeing tours in Tuscany that will take you:
from Florence to the Cinque Terre,


from David's Michelangelo into the Tuscan hills on a Vespa, and


to San Gimignano and the very special island of Giglio, floating on a sparkling turquoise sea.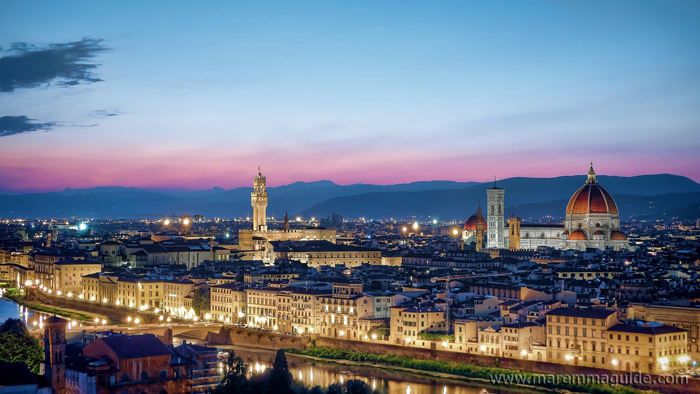 More Maremma tours
For magical days - at your own pace - with guides that will ensure that you don't miss a thing, click on over to the Maremma tours page and drop a request to Natascha and Natascha.
A taster of what's in store...
Maremma's spectacular towns and treasures
From tufa towns cut into and sat high up on tufa gorges, with mysterious Etruscan Vie Cave roadways between them. To dreamy cathedrals and and castled hill top towns and gold-filled tombs. Maremma has it all.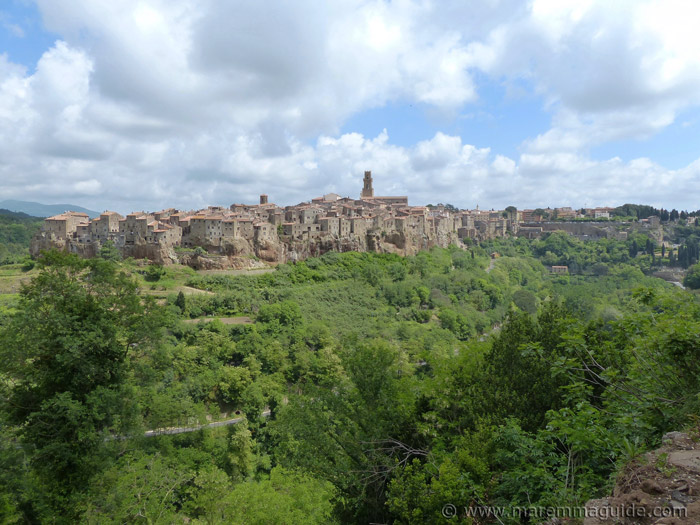 One of a kind private wine tasting tours
To one of a kind wine tasting tours that will have you sat around the kitchen table chatting away with the winery owners over a glass or two.
Take a look at the best Maremma tours.