Beautiful Landscape Pictures
More Beautiful Landscape Photos
from undiscovered Maremma in Italy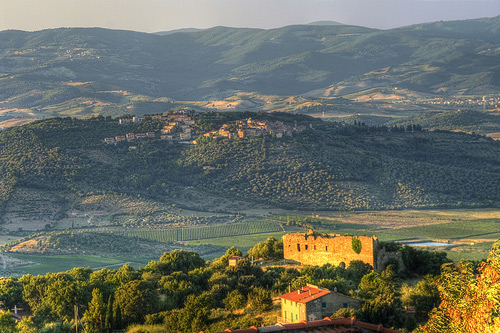 These Maremma scenery landscape pictures are simply beautiful landscape pictures of an unspoilt and as yet still undiscovered part of Italy.
Comprising the latest landscape photographs of Riccardo Senesi, they have captured so well the sheer natural beauty of this land and compelled me to compile this second page of photographs of Maremma's beautiful natural landscapes.
As with other local Maremmani photographers that I have had the pleasure to become aquainted with during the course of writing this website, Riccardo's love of this land simply shines through in his photographs. My thanks go to him for his great shots and for his kind agreement for me to include his work in my website.
The photograph above is of the town of Caldana (first established over a 1000 years ago in the ownership of the bishops of Roselle), viewed from Etruscan Vetulonia. There is a lot of facinating history in Maremma!
The Maremma Scenery Landscape Pictures:
Part Two of the Maremma Landscape Photography Gallery
Click on the photographs to view larger images.
This photograph of the natural beauty of La Riserva Naturale della Diaccia Botrona (The Natural Reserve of Diaccia Botrona) in Maremma, Tuscany, is simply stunning.
The wonderful south shore at Castiglione della Pescaia, with Monte Argentario in the distance. This shot was taken by Riccardo on a bad weather day, but for me it is all the better for the atmosphere that it conveys. I just love walking along a beach in weather like this.
The Golfo di Follonica (Gulf of Follonica) with the beautiful Isola d'Elba (Island of Elba) in the background.
Another lovely shot of Castiglione della Pescaia.
The small medieval village of Buriano at a height of 300 metres above sea-level (viewed from Vetulonia) in Maremma Grossetana.

The medieval hamlet of Sticciano. Here the tranquility is so very profound it calms the heart and soul...

From here you can see the massif of Poggio Ballone in southern Tuscany, upon which sit Buriano, Vetulonia, Tirli, Scarlino, Gavorrano, Caldana, Ravi and, where it reaches the coast, Castiglione della Pescaia.

A view of Montepescali: a lovely quiet medieval hill town with wonderful panoramic views of Maremma Grossetana. Drive up the only and narrow approach road with olive trees planted on the steep slopes and you will begin to wonder what you will find at the end...
The beautiful hills of Maremma Grossetana near Preselle, Scansano in Tuscan Maremma.
To view more of Riccardo Senesi's beautiful landscape photos in his Flickr photostream, click on the link which will open in a new window.