Punta Ala Beach Tuscany - Castle Cove

Punta Ala castle cove is a Tuscany beach with lots of things to do and see. This beach is one of my favourite coves in Maremma: it isn't ever crowded and keeps the whole family happy for hours. But if the kind of beaches you love are wide stretches of golden sand with bars and restaurants nearby on hand, then this cove isn't going to be for you. Just around the headland, Punta Ala's long, sandy and very popular main beach will give you just that.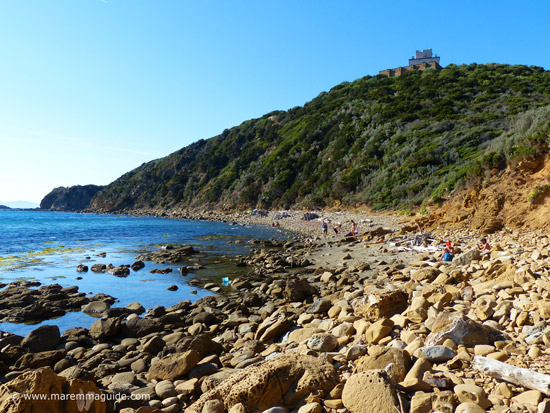 My daughter prefers climbing over rocks and exploring rock pools to a stretch of sand and the same beach games and castles anyday and the cove of Punta Ala castle is the kind of beach she loves. That being said, there are a few patches of coarse sand to be found, which I can testify to are still good for buildingall sorts of imaginary cities and garages for crabs etc.
My husband has a passion for fishing and the fishing to be had here here is good. Both line fishing and sub aqua. It is a popular weekend spot amongst sub-aqua fishermen who live as far afield as Firenze.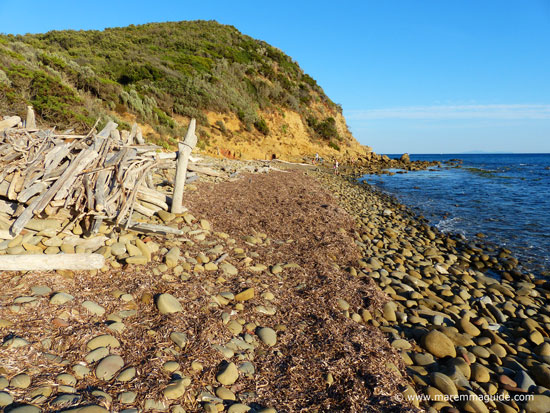 The snorkelling is good here too.
I like to explore and take photographs, and there is a lot to photograph....
All the things you can see...
A castle - Il Castello di Punta Ala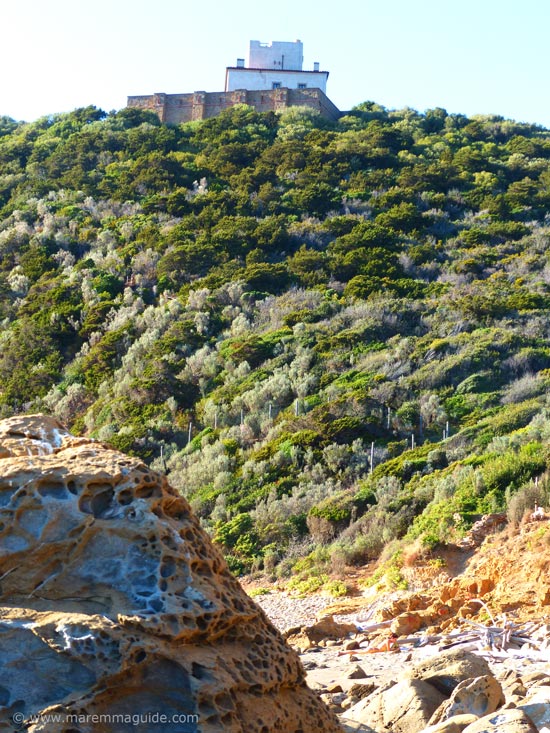 The "Castello di Punta Ala" (Punta Ala castle), also known as the Torre di Troia Nuova was built in one year - between 1562 and 1563 - by Cosimo I de 'Medici to defend this part of Maremma's coastline from Saracen pirate raids. Originally a tower, the fortification became a castle when it was renovated and extended in 1788. It is a link in the chain of coastal defenses along this part of what was the land ruled by the Grand Duchy of Tuscany.
To the north it can communicate visually with the older tower of Troia - the Torre di Troia Vecchia on the tiny island of Isolotto dello Sparviero - and Punta Ala's other tower, the Torre Hidalgo (tower of Hidalgo). To the south it has a clear view to the Torre di Cala Galera (the tower of Galera cove) beyond which lies the fort of Rocchette and the stretch of beach to Castiglione della Pescaia.
It is now a private residence.
Isolotto dello Sparviero
The coastline at Punta Ala is unmistakeable in Maremma. the promontory that marks the southern end of the Gulf of Follonica is punctuated with an islandcalled Isolotto dello Sparviero upon which sits a medieval tower, the Torre degli Appiani.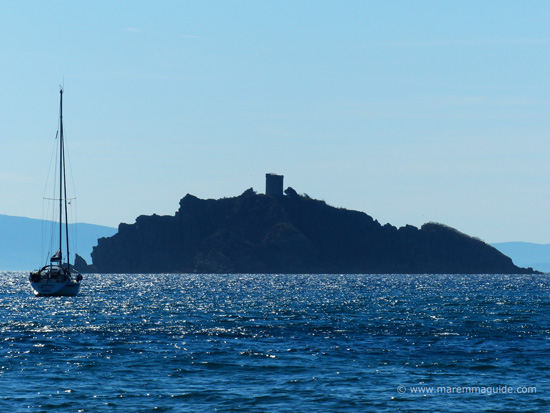 Isolotto dello Sparviero - also known as the island of Troia
Between the cove of marina and its cove, Cala del Porto di Punta Ala, and the Isolotto dello Sparviero, are a set of rocks called the "Scogli Porchetti" - little pigs - and "la pinna".
La Pinna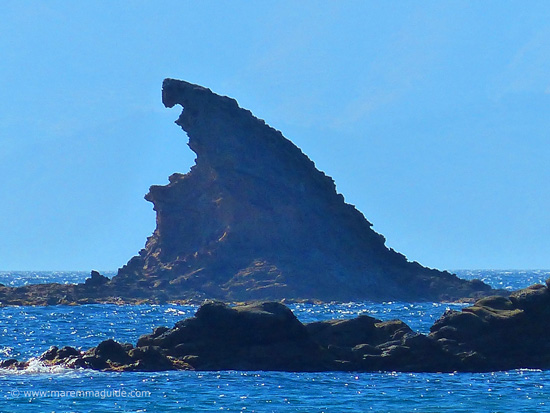 The "la Pinna" that looks looks like a shark fin from the distance
Torre di Cala Galera
To the south, another promonotry with another tower, this time that of the Torre di Cala Galera - the tower of Galera cove.
The tower was built as a look-out tower built by the city of Pisa in the thirteenth century, became the home of a garrison until 1847, and is now a private residence available for vacation rentals. Self-catering accommodation in Tuscany doesn't come much more unique than that.
The the sea life
Little Maremma treasures that make an afternoon on the beach so very special: the seven-armed starfish, Luidia ciliaris. You should have seen the shells occupied by ... literally "running" away from this starfish. Apparently it is a ferocious eater... eeekkk :( Its mass of tiny tubed feet on its underside were a wonder all in themselves. This one is a youngster in a youngsters hands, but they can grow to around forty centimetres in width.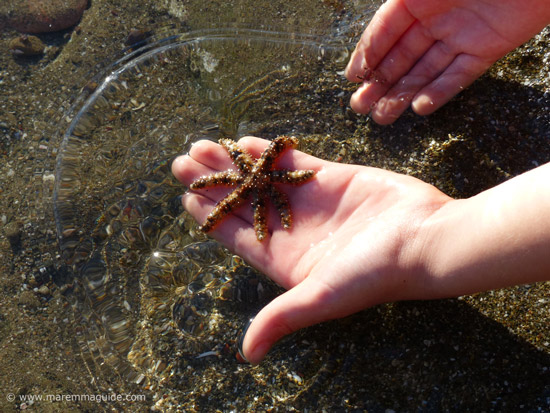 The colours of Maremma: red - a sea tomato. Not for cooking, but definitely for photographing.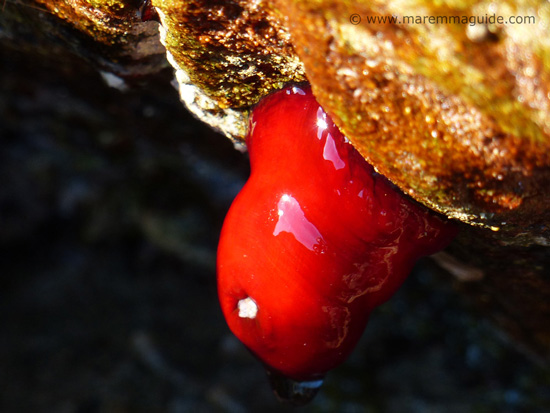 Pomodoro di mare, Actiniaria - Sea anemone
A lonely whelk...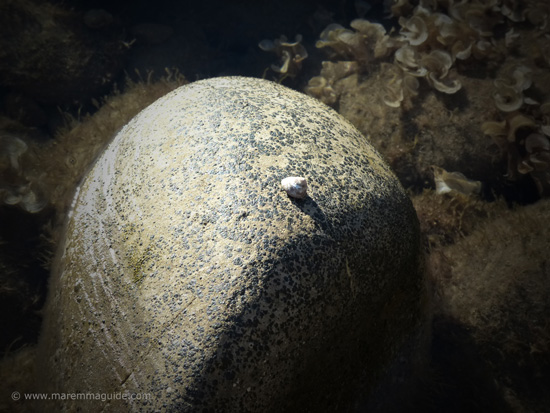 The colours of Maremma: blue and green. The green "grass" in the sea water is the seagrass Posidonia oceanica. A great indicator of water quality - as it only grows in the cleanest of Mediterranean waters - it plays a vital role in preventing coastal erosion and produces "olives, meatballs and potatoes" each year. Find out more...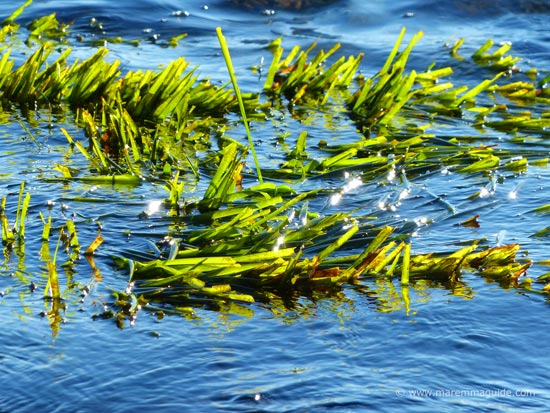 The underwater algae...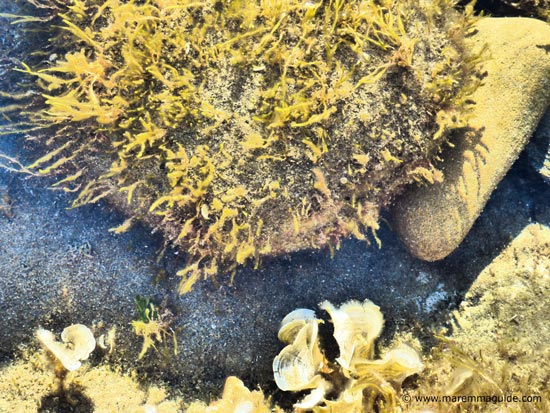 And this beach has some lovely bleached white driftwood "tents" which offer wonderful places to welcome sahde and are perfect places to hang your towels and costumes to dry... And id one isn't free when you arrive, they will be by about six o'clock in the evening when I sat and took this video. Alternatively, you could build another and customise it as you like... a great thing to do with the kids :)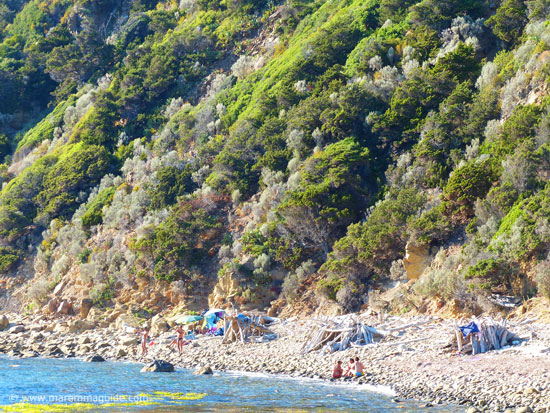 Punta Ala camping informal style
The view from inside... bliss on an autumn afternoon in Maremma :)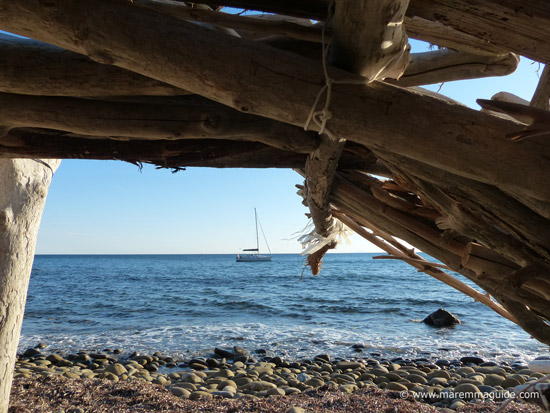 The video
I made a promise to say that the rock sculpture at the end of this video was made by my daughter! Actually, she made lots...
Access and parking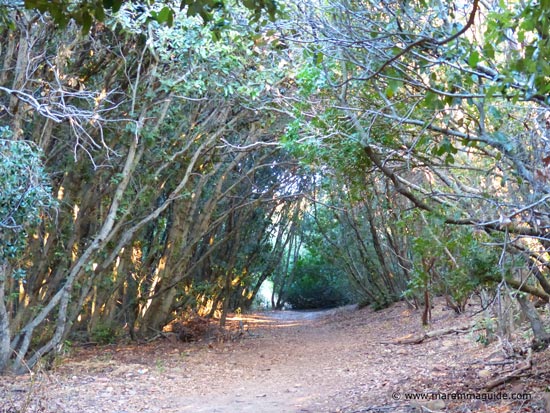 Access is easy going most of the way through Mediterranean macchia. The only slightly difficult part - just needs a steady footing or a helping hand as it is a bit steep, but it isn't anything in terms of difficulty likesome other Maremma coves - are the last few steps in the sandstone.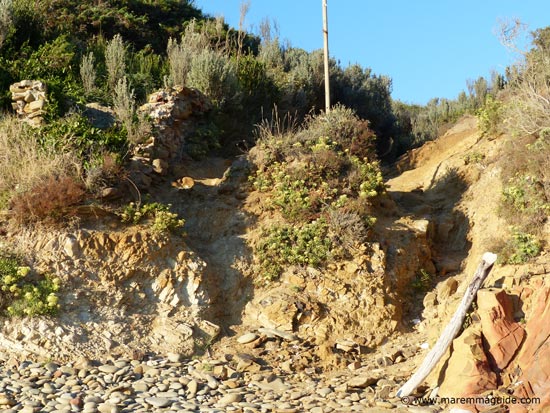 Parking is easy. There are parking bays along the road from which the beach path starts. Although the bays are marked-out with blue painted lines - which in Italy normally indicates that they are pay and display etc - I have never seen a ticket machine.
The map
Refreshments
Take your own! There are no bars or restaurants here. But there are lots to choose from and shops too, in Punta Ala itself.
Want to explore some more?
There is a coastal footpath through the macchia that takes you all the way from here past the coves of Cala Tartana, Cala Tartanella, and Il Poggettone to the promontory and at the cove of Cala Galera. From there you can see the beaches of Rocchette, Roccamare and all the way to the town of Castiglione della Pescaia.
Other nearby Maremma coves and beaches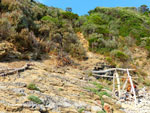 Cala Il Poggettone
Cala del Porto Punta Ala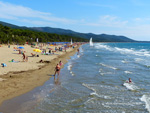 Capanna Civinini