The Best Family Vacations in Italy
Maremma Holidays
The best family vacations in Italy are to be had in Maremma: I know from personal experience. In this very special place there is something for everyone to do every day that will keep them happy and leave them with smiles on their faces as they fall asleep with excited anticipation of the day to come.
Young or old, mum or dad, grandparent or aunt, they won't want to leave Italy's best kept secret in Tuscany and Lazio.
Find out why...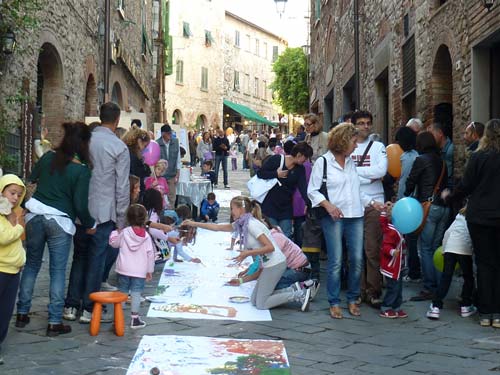 10 reasons why the best family vacations in Italy are to be had in Maremma
Special things to do together that make for memorable experiences
1. "Cantine Aperte": open cellars
Whilst at first glance this might sound like an adult only wine thingy to do, trust me! the experience of stepping into an arched doorway under a medieval "palazzo" apartment building in a hill town in Maremma, and then following the steps carefully down and down and down, level by level until you are in the heart and cool of the hillside upon which the town has been built is quite something special for the whole family to experience together.
Some cellars even have rooms carved out of the bedrock at each level in which during the autumn harvest festival season there are stalls selling local produce and arts and crafts.
Visit the spectacular town of Pitigliano carved out of the cliff side tuff rock upon which it stands and you will experience an ancient underground city in which the local wine is pressed as well as stored! Tuscany wine tasting
2. Endless days at the beach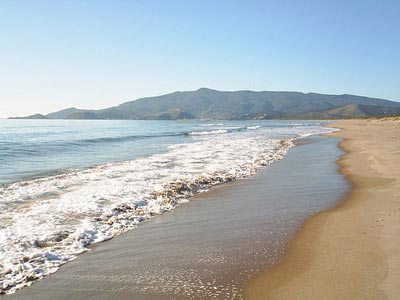 With a coastline that stretches for over 250 kilometres Maremma is a haven for beach lovers. Explore the rocky pools, paddle and splash in the endless warm shallow waters or run for miles along wide golden sands... Maremma's beaches are a haven for children and adults alike. And with over ninety gorgeous ones from white to black sands to visit you could stay for three months in Maremma and still not visit the same beach twice!
Don't forget to pack a picnic for a relaxed family lunch in the shade of the pine trees - le pineta - that reach down to the sands. Prefer the more organised formal "bagni" with sun parasols, chairs and bar and restaurant facilities: well there are lots of those too. Maremma Italy beaches.
The photograph of Feniglia beach in Monte Argentario is by kind permission of checcastef.
3. Eating dinner outdoors with a whole town: the "Sagra"
Enjoy a home-cooked meal of traditional local speciality Maremma dishes prepared by the best cooks in the village with absolutely no need to worry about your youngsters making too much noise or wanting to get down from the table because they are bored!
The whole town and the inhabitants of its surrounding villages and hamlets will be out for the evening to wine, dine and dance the night away, often to live music with a "spettacolo" (show) thrown in. Children and grandparents included: in fact you will probably be served by one of the towns youngsters.
And your meal will cost you less than the same at a local restaurant! Le Sagre
4. A taste of history like no other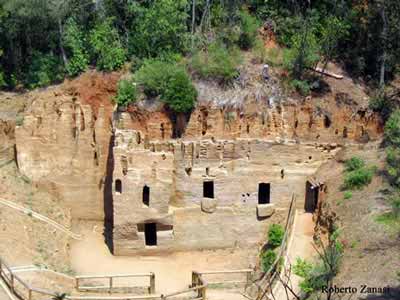 Visit the only Etruscan city ever built by the sea at Populonia on the hill above some of the most important necroples in the whole of Italy in the breathtaking Bay of Barratti below. I always bring my visitors to the Parco Archeologico di Baratti e Populonia and they always ask me to take them again the next time they visit. And then again.
A day out truly not to be missed for the sheer beauty of the environment let alone the incredible necropolis and tombs: they will take your breath away.
5. Horse riding, trekking and lessons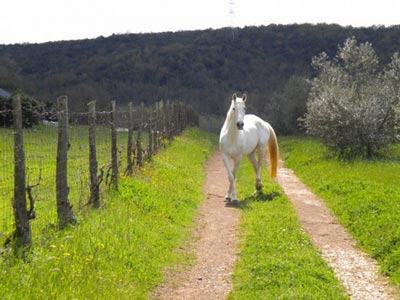 Book an equstrian guided tour of Maremma for the whole family, along her never ending beaches and protected woodlands. Or, stay on a Maremma Tuscany farmhouse with horses and go horse riding, trekking or take some lessons with the owners amongst their olive groves, orchards and vineyards.
6. Take a train through a mountain to an abandoned medieval mining village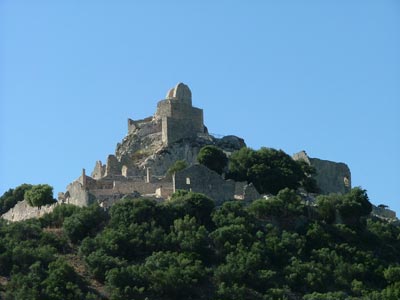 A visit to the Parco Archeominerario di San Silvestro near Campiglia Marittima will take you on a tour of mineshafts (hard hats and all) and on a mining train through the hillside along the Lanzi-Temperino mining gallery. A great experience for young kids, but not for granny's that suffer from claustrophobia! Out at the other end and in the sunshine again, you can walk (take water and a sun hat!) to the abandoned medieval mining village of the Rocca San Silvestro. A guide will meet you there to tell you about the site and on most weekdays you can have the place all too yourself.
Makes for a great afternoon or morning out, but do check tour times so as not to miss the last one of the day: http://www.parchivaldicornia.it
7. Go island hopping amongst the Tuscan Archipelago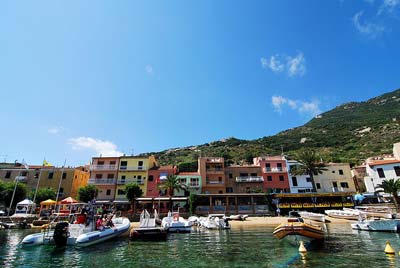 The best family vacations in Italy - Photo of Giglio Porto by kind permission of
lultimavoltache
The beautiful Island of Elba is only a 45 minute ferry crossing away from Maremma's city port of Piombino, but less well known are the stunning islands of Giglio and Giannutri a short ferry ride away from the lovely Porto Santo Stefano in Monte Argentario.
8. Indiana Jones and The Tomb Raiders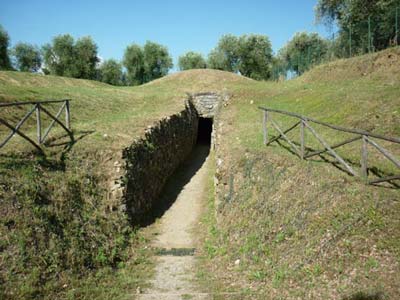 Visit - entirely for free - the Etruscan tumulus treasure tombs found at Vetulonia and feel like Indiana Jones for a morning or afternoon as you walk down the dromoi pathways into the dark recesses within: an ancient history lesson that your kids won't forget! Vetulonia's Etruscan tombs.
9. Take a dip in a natural hot thermal spa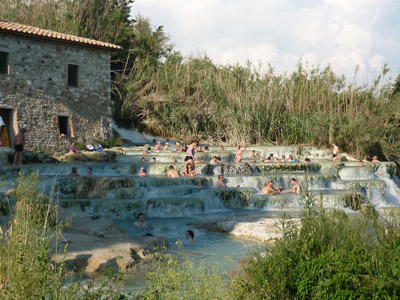 The best family vacations in Italy
A fun alternative to a day at the beach. Emersed in Maremma countryside are hot sulphurous thermal springs that fill pools and source waterfalls that the whole family can enjoy, including your toddlers in the natural shallow "bath tubs". Sourced from the residual heat of Maremma's volcanic Monte Amiata they are warm enough to take a dip in even in the depths of winter and completely free. Maremma Spas Italy.
10. Visit Pisa, Siena, Firenze, San Gimignano, Montalcino, Roma...
Maremma may not have a famous cultural city of its own, but within easy access for a day trip or two for mum to go shopping in Italian boutiques, or for some major sight-seeing, are the Leaning Tower of Pisa, romantic Florence, the city of Siena, the towers of San Gimignano, walled Lucca, the Brunello wine town of Montalcino... and even the Eternal City of Rome.
Make your base in breathtakingly beautiful Maremma for a taste of the real dolce vita that is found in everyday life here, and on the days you want to up the pace take a drive in the knowledge that when you come "home" eveything you have fallen in love with will still be here.
The Best Family Vacations in Italy continued...
Ten more reasons why the best family vacations in Italy are in Maremma: plan the best family Italy vacation
Plus: five secrets to having fantastic family holidays in Tuscany