Maremma Photos of the Month for 2010
Hidden Tuscany and Lazio Revealed
This is the Maremma photos of the month collection for the year 2010: explore the unique aspects of this very special land in Tuscany and Lazio through a photographers lens. I hope that they inspire you to visit and take some of your own.
Photos of the Month for 2010
Click on the photographs to view larger images
September 2010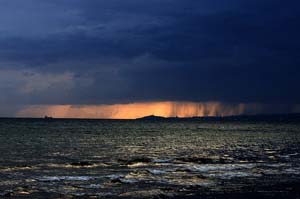 The Maremma Guide Photo of the Month for September 2010. It is of a thunder-storm arriving over the Golfo di Follonica (Gulf of Follonica) and Mar Tirreno (Tyrrhenian Sea) along the costa della Maremma (Maremma coastline) and was taken by Carlo Micheloni in September 2010 with a Nikon D300 camera.
Carlo lives in Tatti near Massa Marittima, is a hobby photographer and vice President of the Follonica FotoClub. I want to thank him for agreeing for me to include his photo in this Guide. You can see more of Carlo's photographs of Maremma at his Flickr photostream.
October 2010
The Maremma Photo of the Month for October 2010. The small Tuscan hill town of Montemassi: like many of Maremma's hill top villages and towns it has a rich middle ages history full of battles and feuds much belied by its now peaceful existence. In this instance, this particular medieval town is a place famous for a fresco described as one of the greatest masterpieces of the gothic figurative culture in Tuscany.
I chose this photograph as the photo of the month for October for its wonderful perspective of the layer upon layer of Maremma's wooded metalliferous hills under rain-laden October skies. It was taken by Riccardo Senis who lives in Grosseto in Maremma, the city at the heart of Maremma Grossetana.
Many of Riccardo's other spectacular photographs of La Maremma kindly grace the pages in this website - for example a collection of his beautiful landscape pictures of this unspoilt and as yet still undiscovered part of Italy.
You can see all of Riccardo's wonderful photographs of Tuscany and wider Italy at his Flickr photostream. My thanks, as always, go to him for his kind permission for me to include his images in my website.
Click on the links to read more about Montemassi and its medieval castle.
November 2010
The Maremma photo of the month for November 2010. It is of the "spiaggia" - the beach - at Principina a Mare, Grosseto, and was taken in November by Marco Marroni with a Canon 5d Marl II camera.
Maremma's long stretch of coastline with the Ligurian and Tyrrhenian seas is simply stunning. But for me her beaches and coves are even more beautiful during the autumn, winter and spring days when you can have one entirely to yourself and watch a storm or two throw up some incredible white surf waves over the sands... all watched over by a medieval tower on the promontory. Or, catch a warm, sunny day and spend a lazy afternoon basking in the sunshine dreaming... Maremma is good for your soul :)
My thanks go to Marco for his kind permission for me to include his wonderful shot in the Maremma Guide. You can see more of his great photographs in his Flickr photostream.